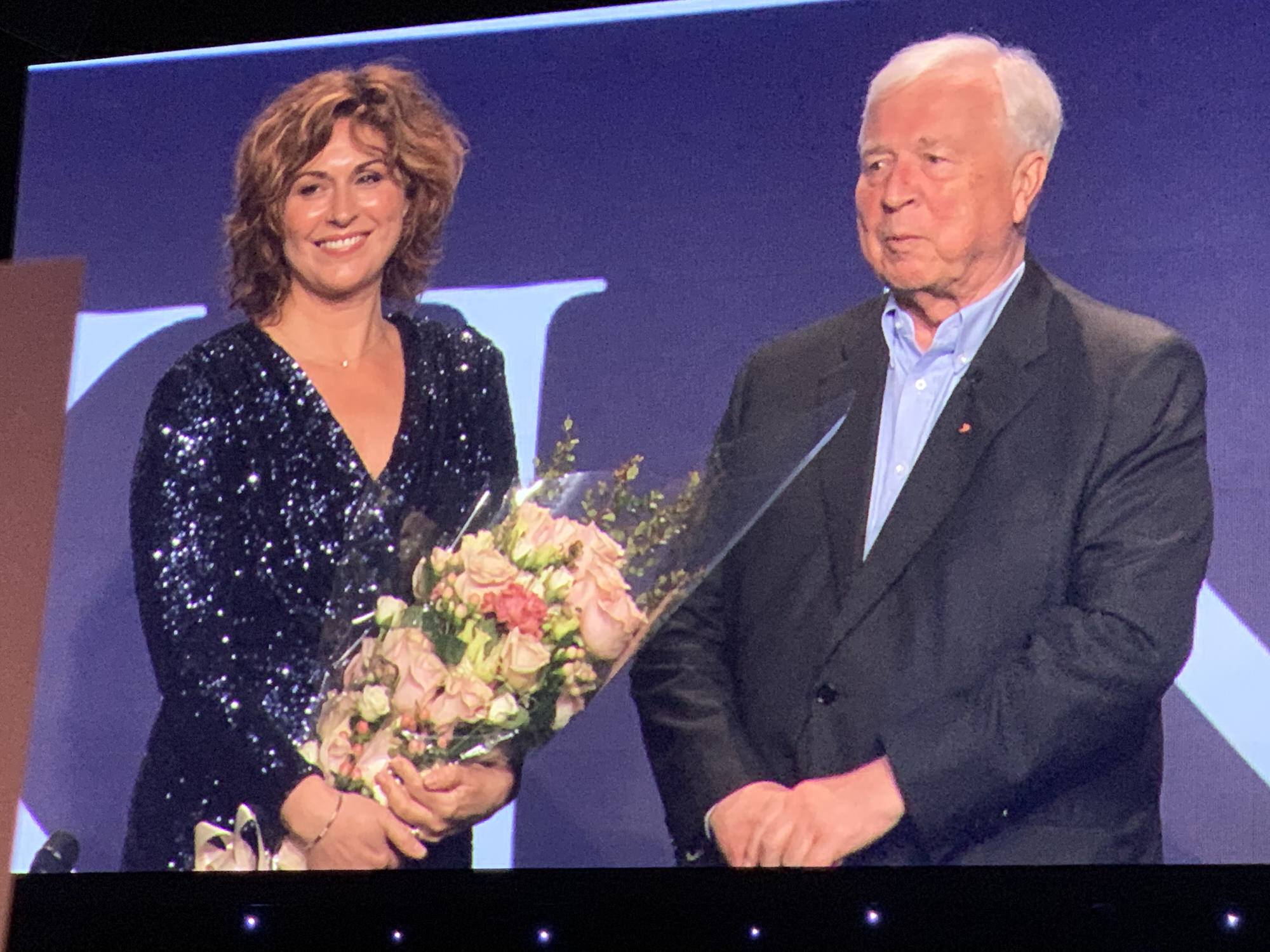 5 Things I Learned About Viking During The Chairman's Presentation
Originally Posted On: https://www.avidcruiser.com/2020/01/5-things-i-learned-about-viking-during-the-chairmans-presentation/
Last week I flew from Greensboro, North Carolina, to Los Angeles, California, for the naming of Viking's newest ocean ship, Viking Jupiter. The event consisted of the naming of Viking Jupiter as well as dinner. The ship's godmother, Sissel Kyrkjebø, was at the event and performed for us after dinner.
As tempted as I am to say that Sissel's performance was the highlight of the night (look up her song Where The Lost Ones Go with Espen Lind), there was another shining star that would make an appearance that night. During the event Founder and Chairman of Viking, Torstein Hagen, took to the stage to speak about Viking's accolades and plans for the future. This included plans for new ocean ships and, perhaps most ambitious of all, the unveiling of two expedition ships, Viking Octantis and Viking Polaris.
Here are five things that I learned about Viking during the event in Beverly Hills.
People Really Like Viking
"We are the travel company that covers the most water on earth," Hagen says.
It's true. Viking covers the most water of any travel company, but with a current fleet of 79 ocean and river vessels sailing around the world, that should come as no surprise. What may come as a surprise, though, is the sheer number of ships in the fleet. It raises the question of demand.
Viking currently has six ocean ships operating and six under contract or construction – so clearly there is demand. That demand seems to be, simply put, because people really like Viking.
"In the last eight years alone, Viking has introduced more than 60 new river cruise ships and six ocean cruise ships to become the largest small ship cruise line with a current fleet of 79 river and ocean vessels around the world. In 2020, Viking will launch seven new river ships. Six more ocean sister ships are on order, with options for four additional ships. These options could bring Viking's total ocean fleet to 16 ships by 2027."
During his presentation, Hagen touched on the demographics of the typical Viking guest. This guest is over 55 years old, English-speaking, well-educated, affluent, curious and active, and interested in history, science, culture, and music. This demographic makes up a large part of the cruise industry – and there is no shortage of people over 55 who are well-educated and are interested in learning. So, since that demand clearly exists, why not build more ships?
Equally important to demand is satisfaction. There can be plenty of demand for cruise ships or vacations, but there are an array of companies that travelers can choose from. So what else is Viking doing to make sure that its extra-large fleet stays booked? It has to differentiate itself in some way.
Torstein Hagen. © 2020 Britton Frost
A lot of this differentiation comes from what Viking has learned from its river cruise product. During his presentation Hagen stated that "Ocean cruising is a drinking man's cruise" and that "River cruising is a thinking man's cruise." He carried on to note the problematic use of the word man and that Viking should be the "thinking person's cruise."
This "thinking" focus comes in many forms. On no Viking ship will you ever find a casino. You will find that excursions are included in the cruise fare. You do not have to pay for internet, meaning that communication and knowledge are at your fingertips. Hagen states that while some of the bigger cruise companies tend to say, "Our ship is the destination," Viking will say, "No, the destination is the destination." And because of that – these voyages are focused on learning about the history, science, culture, and music of a region rather than anything else.
Simple Isn't A Bad Word
Another reason that people like Viking may be its simple approach. Some of us are used to cruise lines being extravagant, all the added bells and whistles are what makes the experience; but for Viking, simple isn't a bad word. And trust me – there are still bells and whistles.
Hagen stated that when he entered into the cruise world, he was told never to use the word luxury. He carried on to say, "Many people confuse luxury with opulence … In my mind, it's simplicity. Make things simple. You can still be elegant … But one of the characteristics of being simple is being quiet."
Many would look at being simple as a bad thing. There is always a desire to go above in beyond. But it seems that in Hagen's mind, being simple doesn't mean that you can't do that. Look at Viking's model when it comes to inclusive fares on the oceans. It is, in fact, quite simple. You know what you are paying, and you get what you pay for without having to be nicked and dimed or worry about hidden costs. Simple.
A stateroom aboard Viking Sun. Photo © 2017 Aaron Saunders
The interiors of Viking's ships are some of the most beautiful on the waterways. And again, they are simple. Simple in this instance means refined, tidy, purpose-built, and practical. One example is the TV remotes in the staterooms. Hagen joked that oftentimes you feel like you need a 13-year-old grandchild to accompany your TV remote. Viking has what its website calls an intuitive remote, a remote that has very few buttons that you should, hopefully, be able to operate without having to make a long-distance phone call to a younger relative.
Viking Is Joining The Expedition Market
It started with a first draft in 2013. Now, seven years later, it is becoming a reality. Viking will introduce two expedition ships in 2022, Viking Octantis, and Viking Polaris. The ships will accommodate 378 guests and house 260 crew.
The first draft of the Viking expedition ships. © 2020 Britton Frost
Onboard the ships, there will be two submarines that carry six passengers each. There will be no helicopters on board. Hagen says that they thought about helicopters, but because of the noise they would rather not use them as they disrupt wildlife.
Rendering courtesy of Viking
You can see the difference between the first draft of the ships and the final design on the ships. As mentioned previously, the helicopter pad was removed. The design of the bow is likely the most notable difference. The straight bow was chosen as it reduces fuel consumption and still offers the benefits of the previous X-Bow design. There will also be a dynamic positioning system so that the ship does not have to drop anchor. This helps protect the seafloor and lessens the disruption to wildlife.
The godmothers of Viking Octantis and Viking Polaris. © 2020 Britton Frost
Liv Arnesen will be the godmother of Viking Octantis, and Ann Bancroft will be the godmother of Viking Polaris. Arnesen was the first woman to ski solo to the South Pole; Bancroft was the first woman to successfully ski both poles. Together, the women became the first women to ski across Antarctica in 2001. Together they founded an initiative called Bancroft Arnesen Explore / Access Water, which focuses on sustainability.
Read more about the Viking Expedition ships.
The Company's New Expedition Ships Will Sail A Surprising Itinerary
When we think expedition, most of us think to the poles. Viking Expeditions will offer eight inaugural voyage itineraries. Two of these itineraries will explore the Arctic, two will explore the Antarctic, and four of these itineraries will explore the Northern United States and Canada.
One of three Great Lakes itineraries. © 2020 Britton Frost
These US itineraries are certainly a differentiator for Viking, especially as three of the four itineraries explore the Great Lakes. During the Great Lakes sailings, scientists from the National Oceanic and Atmospheric Administration (NOAA) will join guests to conduct research on the region's weather, climate, and ecosystems. These scientists may also host lectures on the region.
When looking at the design of the expedition vessels, you might notice that the vessels are narrow. That is because these ships were purpose built for sailing Canada and the Northern US. To do so the ships must navigate the Welland Canal Locks at which the maximum boat beam is 78 ft.
Though it came as a bit of a surprise that Viking was going to be sailing the Great Lakes, this isn't the first time the company has explored cruising within the US. Viking has been exploring cruising the Mississippi for many years, but so far they have had no luck putting ships on the river.
It's not the Mississippi, but the Great Lakes will provide guests with a cruise experience that is unique to Viking Expeditions. Remember those submarines I mentioned? They'll be used in the Great Lakes as well. Hagen reminisced on drinking Schlitz beer in college stating: "Schlitz is the beer that made Milwaukee famous … Maybe Viking can do that too."
Will Hagen finally get ships on the Mississippi? When asked during his presentation Hagen stated, "The guy who sits next to me at the table is from Louisiana. That's all I can say."
Torstein Hagen Is Visionary, But Also Pragmatic
There was a lot of thought that went into these expedition ships, not just in the design but also in the impact of the ships. The design of the ships is sleek and modern. Perhaps most impressive of all are the small details like having a drying closet in each stateroom and an 85-foot slipway that allows guests to embark on RIBs (rigid inflatable boats) in comfort from inside the ship. These are the things that differentiate Viking, the small conveniences that make life on board the ship easier and more comfortable.
But as visionary and ambitious as Hagen is, he is also pragmatic – especially when it comes to the impact of these ships on local ecosystems. As mentioned earlier, there will be no helicopters onboard. When Viking first started the plans for these ships, it was said that they would run on LNG (liquified natural gas), however there is evidence that LNG is almost as bad, if not worse than coal in terms of greenhouse gas emissions. This is something that Hagen took very seriously, and he joked (or maybe not) that he, "[Has] a side mission where [he's] trying to get the world woken up to this."
I was curious about his commitment to the environment; after all, he is the Chairman of a company with 79 ships in its fleet. But Hagen spoke very clearly when it came to his concerns for the environment, "We are real people. We should deal with real issues…It would be ridiculous to follow everyone else and not take into consideration the scientific facts."
That's just it. Viking doesn't follow the herd.
Three videos exploring Viking's expedition ships:
Read more on Viking: