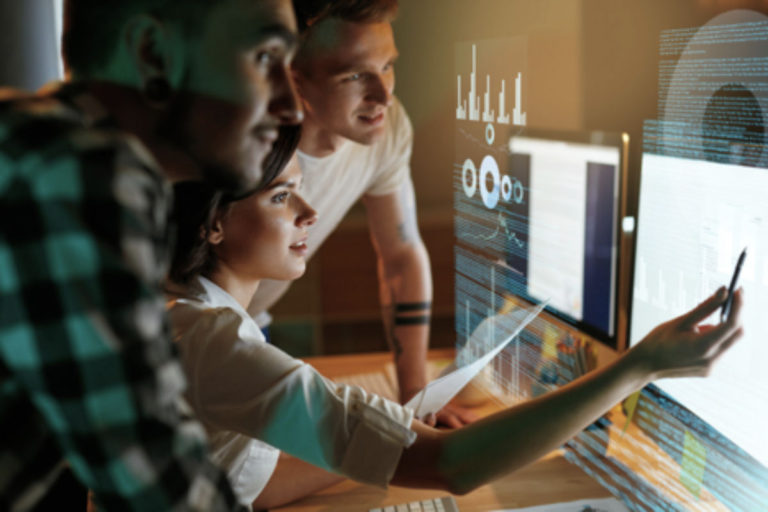 5 Reasons Why IT Careers Are The Most In Demand This Year
Originally posted on https://cupertinotimes.com/5-reasons-why-it-careers-are-the-most-in-demand-this-year/
IT careers are in demand and growing in demand every year. Why is this industry growing so fast though? Learn more about the careers that are growing.
A whopping $3.8 trillion — that's how much the world will spend on information technology this year. $125 billion of that will go towards cybersecurity services alone. That's how big the IT sector is, and it will continue to be a multi trillion-dollar market in the years to come. This is also why IT careers have become some of the hottest and most in-demand professions today. Almost every company, whether big or small, employ these information technology professionals. And with so many opportunities, there's no denying the long-term stability of an IT career.
The big question is, what exactly is driving this immense demand for IT professionals? Why are employers eager to hire information technology specialists? That's exactly what we'll uncover in this post, so be sure to keep reading!
1. Information Technology Is Going Nowhere
Almost half of all households in the world now have access to a computer. In developed countries, more than 80% of households now also own a computer. From 2005 to 2018, the global computer ownership rate has almost doubled. The rate of internet penetration also continues to climb, with 58.8% of the world now being internet users. That's a staggering 1,157% growth rate from 2005 to 2019. What's more, experts say that by 2025, 78% of the addressable population will be internet users. All these figures prove that information technology is here to stay. And we, humans, with our evolving needs and demands, are the driving force behind it.
Rise in Population Means Rise in IT Demand
As the human population grows, so will the demand for information technology. More people will want access to computers, mobile devices, and the internet. Also, consumers will demand more features and better specs from their tech devices. They'd want more convenience from their devices and faster internet speeds. They'd also want the programs and software they use to be safer and easier to navigate. The only way to keep up with all these is continuous innovation. To satisfy this need for continued tech improvements, we need more people in IT. This is why IT careers are and will always be in demand.
More Consumers Means More Businesses That Need IT
With more consumers to satisfy comes the need for more goods and services providers. And the more businesses that open, the higher the demand for IT services. After all, every company needs some form of computing power and internet access.
From farmers to artists and bookstores, every modern business owner requires IT solutions. They need it for business planning, marketing, sales, and customer support. Without any form of IT, they won't last long in this digital world.
The Increased Need for Accessible and Assistive Technologies
New users aren't the only driving force behind the increased demand for IT. The aging population, which now consists of 125 million people, is also a big contributor. The same goes for people with disabilities. After all, these people want to use these technologies as much as the rest of the world does. In fact, assistive technologies are improving the lives of the disabled and elderly.
A few examples of such technologies are text-to-speech and speech recognition software. Many devices also now come with accessibility features, such as screen magnification. Sip-and-puff systems are also helping people with mobility challenges. While these technologies already exist, there's a lot of room for improvements. This is especially true for artificial intelligence, which is gradually removing technology barriers. AI improvements can make it even easier for the elderly and disabled to use technology. As the need for new technologies swells, so will the demand for those who can make these technologies. This is another reason why IT will continue to be in demand.
2. The IT Sector Needs to Address Its Understaffing Issues
A study found that 42% of IT departments in larger companies have an understaffed team. Moreover, 29% said that this problem is hindering their ability to function properly. In another survey, 85% of IT security professionals reported having the same problem. Some IT leaders say that this is due to the lack of qualified candidates. Others are also pointing fingers at the shortage of applicants with the necessary skills.
Either way, this skill and talent shortage is a real problem and a threat to the economy. After all, the software and IT industry in the U.S. alone accounts for $1.8 trillion of the country's value-added GDP. That represents over 10% of the nation's economy. The only way to address this understaffing issue is to get more people in IT. This is another big reason behind the great demand for computer technology careers.
3. Which Is Why There Are Millions of IT Job Positions to Fill
We've already established that there's no shortage of IT jobs, only a shortage of people. So, how many IT jobs are we looking at? In the global cybersecurity sector, there are almost 3 million unfilled positions. And that's only in one area of the information technology sector! In the U.S. alone, there are over 480,000 computing jobs that remain vacant. However, there were only 63,744 computer science students who graduated last year. Even if they all land jobs, there will still be over 400,000 unfilled jobs.
If this trend continues, we can expect the number of unfilled computing jobs to double next year. But that estimate doesn't include the increase in IT users, so it could be much more. All these should already tell you that an IT background will make you a highly-valued talent. You'll have countless job opportunities, not only this year but in the many years to come. And so long as you show employers outstanding performance, you'll be indispensable.
4. The Demand for Cybersecurity Protection Continues to Grow
Cyberattacks are no longer limited to large corporations. In 2018, cybercriminals targeted 58% of small businesses. On a global scale, data breaches compromised 4.5 billion data records in the first half of 2018 alone. This shows a 133% increase in the number of compromised, lost, or stolen records from the year before. What's more, these attacks are worth millions of dollars. The average data breach can cost victims $3.92 million. The healthcare industry has it the worst, with the average cost of a data breach in this sector being $6.45 million.
All these threats are pushing companies to hire cybersecurity experts. They need these security specialists on board, as soon as possible. Otherwise, it's only a matter of time before cybercriminals launch an attack on them. The problem is, there are too few experts in cybersecurity. Also, formal training for cybersecurity has only recently existed. This helps explain why there are currently three million unfilled cybersecurity positions. This lack of cybersecurity pros should already prompt you to pursue a career in this field. Since there's now formal training available, you can jumpstart your career with that. From there, you can earn more certifications to increase your qualifications.
5. IT Careers Are Some of the Most Lucrative Occupations
Since IT is one of the most complex professions today, it makes sense that jobs here are well compensated. The more complex an IT job is, the more skills it requires and the higher the salary is. But even if you start your computer technology career as a help desk staff, you can still earn $32,000 up to $62,000 a year.  Or, you can get certified in IT specializations, and earn way more even in an entry-level position. For instance, software developers can earn as much as $98,250, while web developers can take home up to $83,500 a year. The annual pay for entry-level database developers can also be as high as $98,250.
Some of the biggest paying IT jobs, however, are those involved in security. As the CIO chart shows, information security professionals have an annual salary of up to $116,000. Data security specialists also have a six-figure salary of $105,000. Data scientists also have some of the most lucrative and best IT careers. Their six-figure salaries start from $102,750 and up to $175,000 a year. No matter what type of IT job you choose, rest assured that it will be higher-paying than many other jobs. Of course, your income will go up as you gain more experience and IT certifications. More certifications mean more skills, which is what today's understaffed IT sector needs.
There you have it, the top reasons why IT careers are so in demand now and in the years ahead. We can all agree that information technology is here to stay, which is why there will always be open IT jobs. So, the sooner you get all those IT certifications, the sooner you can start your career. The sooner you can land that dream job that pays way more than the average occupation. Want to stay updated on the latest in tech news? Then don't forget to bookmark and subscribe to our news site!