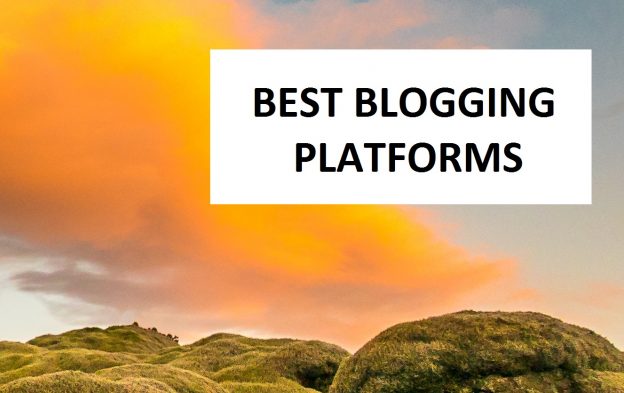 3 Best Blogging Sites (or) Platforms 2019 to create a Blog for Beginners
Originally posted on https://bloggingtek.com/best-blogging-sites-platforms/
The service or software that turns a regular website into a functioning blog is called blogging platform. It is a specific form of a content management system. It is designed to host content in the form of texts, pictures, audio, and videos. There are several free and paid blogging platforms that are available online. Among them WordPress, Blogger and Tumblr are the three best blogging sites for Beginners
WHICH BLOGGING PLATFORM IS BEST TO START A BLOG?
As a novice, you need to select a platform that's easy to start and doesn't need any skills. You also need to know the kind of blog that you want to start. Thereafter, you will need to improve your blog and include more features to cater to your growing audience.
It's important to choose a platform that's flexible and has some room for growth.
Starting with a rigid platform can make it difficult to change things later. You never know how much traction you might pull with your content.
TOP 3 BEST BLOGGING SITES (FREE AND PAID PLATFORMS) FOR BEGINNERS
WORDPRESS
It is among the most popular and best blogging platforms that has two options – WordPress.org self-hosted and WordPress.com. You can create blogs for free with a little customization with WordPress.com. WordPress.org, on the other hand, allows you to download a free software or web hosting platforms to install on your own site. It enables you to customize your own blog.
Powering over 25 percent of the entire web, WordPress is currently the most powerful blogging platform.
WordPress provides extreme extensibility with more than 42,000 plugins that you can use.
Who it's meant for
– Professional bloggers
– Hobby bloggers who want to have the power to control everything in their blogs
– Bloggers who are determined to make money on their blogs
– Bloggers who want to make money for their business.
However, you should know the difference between wordpress.com and wordpress.org. WordPress.com, just like other free platforms will own all your blogs and will only show their ads. This means they will make money off your blog.
If you don't care about who is making money or who advertises on your blog, then you can use wordpress.com. However, if you want to be taken seriously or if you want to earn, then you need to use wordpress.org.
WORDPRESS.ORG
Self hosted wordpress is much better than WordPress.com since you own all your content. You can customize the theme, place your advertisements and install powerful plugins.
Pros
– It comes with a variety of designs
– Search engine friendly
– It has thousands of premium and free themes
– You can add extra features such as online store, forums, and membership options
– It has a number of plugins
– It has a great community hence you will always find someone to help you.
Cons
– Requires you to take care of your own security and backups
– Managing your website requires you to learn a lot of things.
For bloggers who opt for self hosted WordPress, I recommend that they use Siteground as they offer an easy 1 click WordPress install and excellent technical support.
Click this link to get 60% discount on Siteground hosting plans.
Siteground black Friday hosting deal – 2.95/month
Related Posts: How to Start a Blog on WordPress using SiteGround
BLOGGER
This is a free blogging platform offered by Google. You just need a gmail account to use this blogging site.
One can create a blog on blogspot using blogger templates and can give it a unique look. It takes care of all the technical aspects thereby giving you ample time to concentrate on the content. Once you've signed up, you get the subdomain, for eg bIogspot.com. later you can purchase a domain and point it to your blogspot blog.
Blogger is ideal for personal and hobby bloggers.
Pros
– It's free
– Simple to use since it does not require any technical skills
– It has an added advantage of being robust, reliable, and secure.
Cons
– You are limited to the basics
– It comes with limited design options
– It does not receive regular new features or updates
TUMBLR
This is the first mainstream service to combine blogging and social media. You can blog from your mobile or desktop. It supports custom domain names while allowing you to upload photos.
If you like the idea of reblogging your blogs, then Tumblr is the best blog to choose. However, if you wish to develop long term content, then it's not the best place to start.Tumblr is perfect for microblogs, one topic blogs, hobby bloggers, and blogs publishing different types of content such as posts, quotes, videos and images among others. If you don't want to turn your blog into a business or if you don't care about advances in extensions and features then it's the ideal platform.
Pros
– It's free and simple hence easy to use
– It has a social media component integrated with it
– You can quickly blog videos.
Cons
– It has limited features
– Moving it to other areas or backing it up can be difficult.
Wrapping up
If you wish to have the best blogging site, then opt for WordPress . It's easy to use, flexible and affordable. However, when looking for a way to communicate with your online audience, you can give a try with any of the three blogging platforms.Finally you will find the one that suits your needs.