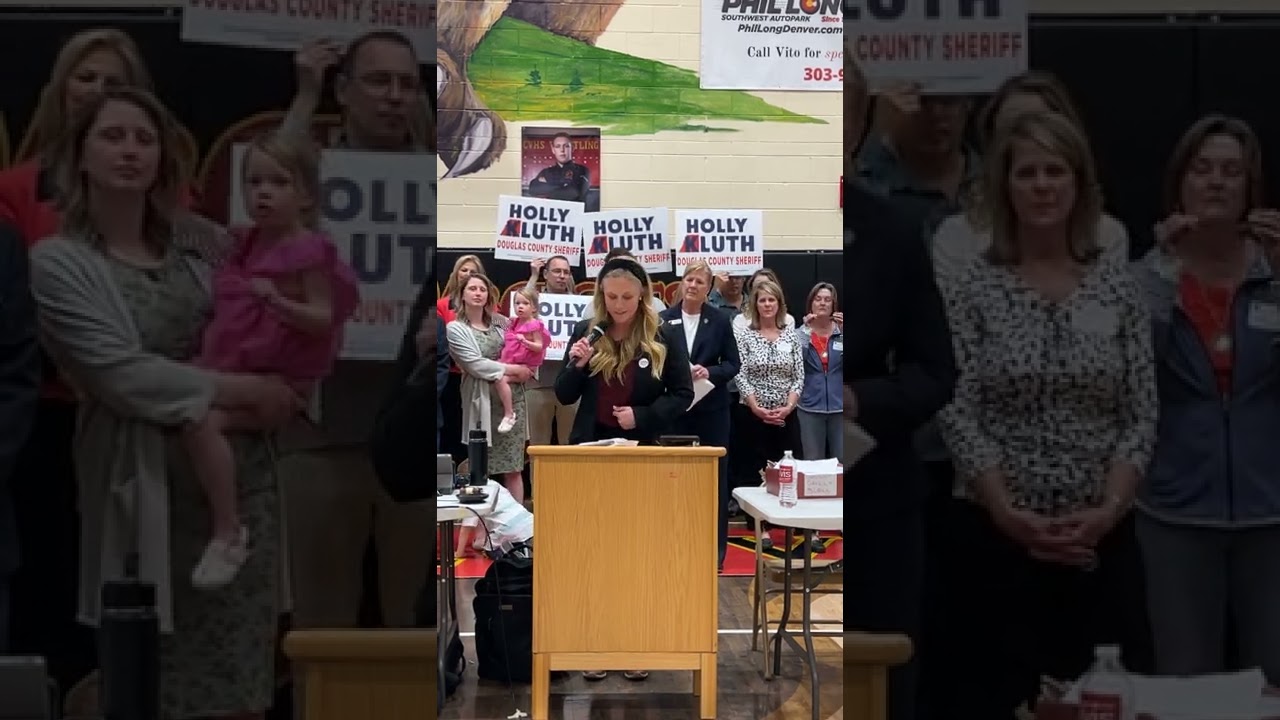 2022 Douglas County Republican Assembly
Originally Posted On: https://www.hollykluthforsheriff.net/douglas-county-republican-assembly
Holly Kluth for Douglas County Sheriff – Nomination Acceptance Speech
Speaker 1:
She was, people please. [inaudible 00:00:04] She was nominated like Mary Renee Anderson and Bill Bell. Holly, do you accept the nomination?
Holly Kluth:
I accept the nomination?
Judy :
Great.
Judy :
My name is Judy [Medland 00:00:56] and this is my very first assembly. Oh boy. I am here to nominate Holly Kluth for Douglas County sheriff. I tell you why I'm casting my vote for her. My husband, Ken, and I have lived in south rural Douglas County for over 20 years. There are several words that start with the letter R that I think embodies Holly and her campaign, relationships, respect, and recognition. Ken and I first met Holly when we decided to sponsor a food truck, sent it over to the Douglas County Sheriff's office to say, thank you. We believe in law enforcement. And that was in November of 2020. We were very humbled when undersheriff Kluth came out and met with us personally, she was incredibly conversational.
Judy :
And I took away from this, that this is what I want in my sheriff, a leader with confidence, a leader with connections, a leader with consideration, and a leader with compassion, both for the department she leads as well as the citizens it serves. Rectitude and right-mindedness. Look, I don't support politics. I don't support politicians. I don't support pandering and I don't support the party line. I support upright platforms from trustworthy people. And I'm here to tell you this about Holly. She is a Christian. She is a constitutionalist. She is a conservative and she is courageous. Holly is the only candidate in this Sheriff's fight whose character, words, and actions are consistently grounded in the bedrock of her Christian faith.
Judy :
Holly is courageous. She is courageous in the face of pressure and attack. She is unyielding in her principles and in her integrity. She is valiant in knowing when to fight and when to restrain. And she is steadfast in standing boldly for the truth, for what is honorable and for what is right for we the people, this is what I want from my sheriff. Someone courageous enough to obey God first, as she upholds our God-given rights as citizens of Douglas County, I'm casting my vote for Holly Kluth.
Hannah Ferguson:
Good afternoon, my name's Hannah Ferguson. And I'm the daughter of Holly Kluth. I think most kids think of their parents as superheroes, but having two police officers as parents, mine actually were. My earliest memories are in preschool, when both my parents in their uniforms came to our class to teach us about gun safety. I was always sitting in the front row with the proudest mom, cause those superheroes were my parents. And not only is my mom a superhero, but she is also my biggest role model. As a woman, I watched her breakthrough barriers and furiously take on roles as the only woman in the room. So, at 10 years old, I joined an all-boys' hockey team. She taught me the importance of getting involved in local politics and leadership. So, in high school, I not only founded my conservative club, but I was president of it. She taught me the value in higher education.
Hannah Ferguson:
As I watched her spend countless nights with two kids after work, studying to obtain her master's degree. So, I also obtained my master's degree. She taught me to do something with my life that impacted people for the better. So, as I watched her as a police officer, caring for people in some of the scariest moments of their lives. I found a passion for caring for patients in the ER at the children's hospital as a physician assistant. Now I can stand up here for another hour, talking all about my amazing mother and what she has done to lead up to being Douglas County sheriff. But I think everyone wants to move on. So, we'll all end up with this. For years, my mom's colleagues at the Sheriff's office, my teachers at school, and many people at different Republican breakfasts, Lincoln day dinners, and other Douglas County GOP events would ask me when she was going to run through sheriff. And my proudest moment is standing up here today in front of you all to introduce you to your next Douglas County sheriff, my mom, Holly Kluth.
Holly Kluth:
[inaudible 00:05:41] Good afternoon, I was looking for some music to play today and I had a lot of suggestions. I was trying to find something upbeat. Someone suggested I shot the sheriff. I'm so glad to be here today. I'm so glad to see so many people stepping out for the first time. So many of you, I talked to on the phone, or I've met old friends at new stepping up because you no longer want to stand by and allow our freedoms to be taken away. I sat where you are for the last couple of decades as a delegate precinct person, an assistant district captain.
Holly Kluth:
I worked on Get Out to Vote campaigns most recently on the school board, our conservatives school board camp. I don't know Mike, Peterson's still here, but delivering flyers to my neighbors as well as others, hundreds of flyers, because it's important. It's important to get those people in. I have kids. There was a time when I was just thankful, they didn't have them in the public school right now, but maybe we could make a difference with them. You know, I haven't ever run for office before. I'm not a politician. I'm a law enforcement leader.
Holly Kluth:
I got my advanced degrees in criminal justice and psychology because I wanted to know how to do my job better. I wanted to be able to motivate employees, lead people and understand mental health issues. And so, I can be compassionate to that. I learned the business side of the office through 16 years of working as an executive, understanding budgets, looking at funding streams, looking at principles of accounting. I went to Quantico for three months and I was there with law enforcement leaders, not just from around this nation, but around the free world.
Holly Kluth:
I took one of the classes was a media relations class that helped me through one of the most difficult times in our County, the horrific loss of Kendrick Castillo, the stem shooting. And I think his dad is here today. I want to recognize him real quickly. John Castillo. Thank you, John, for raising a hero. During that incident, if I hadn't had the experience in training, I did, would've been very difficult to lead an aggressive press, knowing I had to give them the facts, but also knowing that whatever I said could jeopardize the officers and the staff and the students still in the school. And also knowing that every single parent was leaning on my every word to find out if their child was safe. That's what training and experience does.
Holly Kluth:
Our constitutional rights are under attack. We all know that. I want to talk about the second amendment rights because without that we could lose our freedoms. My family is 70 years of law enforcement between my husband and I, we have more guns, more types of guns probably than most of you. We shoot, my kids, we hunt, my kids both got their concealed handgun permits when they were old enough. And I'll tell you, there will be a day if we lose the right to carry a gun that could cost us our freedom.
Holly Kluth:
I spent 13 years on the highway ranch law enforcement training foundation board of directors. It's a 501(c)(3) dedicated to training 2,400 police officers across the state. When I'm your sheriff, I will be on that board again. And I want to recommend that we use the resources we have to help train teachers and those people that keep our churches safe and citizens, because I think that is public safety. I've only got a little bit of time left, but let me just tell you, I will not run a negative campaign. I promised my fellow candidates as well of all of you that I would not do that because although we are an example of freedom here in Douglas County, I want us to be an example of professionalism. And so, I vowed.
Holly Kluth:
And if I'm elected your sheriff, that's the way I will conduct yourself just the way I have in our campaign. So finally, I spent many hours talking to many of you. I think what you want is to be safe, to be free, and to have constitutional rights respected and protected. I'll be honored to be your next sheriff of Douglas County. Thank you.