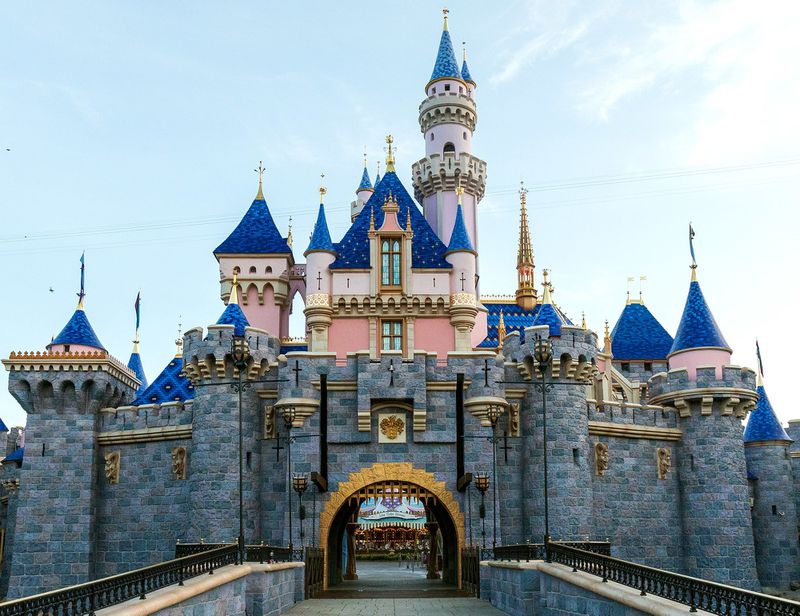 15 Common Mistakes to Avoid on Your Disneyland Vacation
There are many common mistakes you can avoid when visiting Disneyland whether you're a seasoned pro or a first timer coming to the parks. Even if you're a guest that doesn't want to plan each day down to the fine details it is helpful to know what to avoid to make your vacation awesome. Here are some of the most common mistakes I see people making on their Disneyland vacations!
In this article:
1. Waiting Until You Arrive to Buy Tickets
It's so easy to buy your tickets online and whether you buy from an authorized third party to get discounts (our travel partner Get Away Today can get you the best deals!) or from the Disneyland website, you will always save time and money buying them in advance. Rather than spending time sitting in the ticket booth lines your first day, show up with your ticket in hand and get inside the parks quicker!
2. Sleeping In On Your Park Days
The most common negative things we hear about Disneyland all focuses on crowds and waiting in line. But if you wake up early and get to the parks an hour before opening you will find the parks are much easier to manage. This isn't the vacation to be sleeping in every day!
3. Powering Through the Day with No Breaks
If you are visiting for more than a day or two, you should really take a break in the afternoons and go back to your hotel for a nap or a swim. The hottest and most crowded part of the day is in the afternoon- spend that time relaxing back at your hotel instead and come back refreshed for the evening.
4. Only Using the Paper Disneyland Map
Don't get me wrong- I love the paper park maps. We collect them from every visit. But these days it's essential to be using the official Disneyland app since it also tells you current wait times, character locations, and more!
5. Not Using Mobile Ordering
This goes hand in hand with the Disneyland app but even many app users don't utilize mobile ordering. It always pains me to see those long lines at quick service locations that take mobile ordering. Every time we've used mobile ordering we never had to wait that long! It's such a time saver.
6. Only Using the Standby Line
Every single time we go to the parks, I'm always amazed at how many people I chat with that have no idea what FastPass is or how to use it. Don't be that person! FastPass is a way to virtually hold your place in line for popular attractions so you can better spend your time. When you return to the line, you will then get in the FastPass line which is shorter than the usual standby line.
7. Not Purchasing MaxPass
MaxPass is a digital way to use FastPass at an extra cost of $15 per person, per day. This allows guests to book their FastPasses from their phones rather than having to physically walk from each attraction to get them. It also comes with free photo downloads from PhotoPass photographers and the rides! The cost can scare some guests away, especially large families, but believe me it's worth it!
8. Carrying Giant Backpacks
Many guests don't realize that Disneyland actually has lockers available where you can lock up your possessions for the day for a fee. Don't be that guy with the sore back from carrying a 20lb backpack in the park all day! Put that beast in a locker and save yourself the trouble. Plus if you're staying close by, there's really no need to bring so many supplies.
9. Making Too Many Promises to Kids
I learned this the hard way the first time I brought my son to Disneyland. After waiting in a long line to meet Donald, the character left before it was our turn, and my son was in tears. We found Donald eventually, but it was a good lesson for me in preparing him for things he was looking forward to at the park. Rides can go under refurbishment, fireworks can get canceled due to strong winds, or characters can become unavailable… it happens! Don't make big promises and prepare your kids the best you can to have a smooth experience.
10. Expecting Perfection
This is another one I learned the hard way and this goes double for people traveling with kids. Your kids are still your kids- even at the happiest place on earth! Every family can have at least one Chevy Chase disaster moment on a vacation and you can too. Breathe and take a moment to laugh it off. Be realistic- your vacation can be amazing but it's hard for everything to always be perfect.
11. Taking Too Many Pictures and Videos
In the age of social media, it can be too easy to get caught up in the Instagram frenzy and live your life through your camera lens. Put the phone down and be in the moment once in awhile. You can find plenty of videos of Disneyland fireworks on Youtube (probably with better quality than you could take!) so just put the phone down and enjoy the show.
12. Worrying More About Fashion Than Comfort
This can be a slippery slope both ways! You want to be comfortable but you also don't want to show up in your dirty workout clothes. Try for a mix of comfort but still make an effort to look nice. You'll thank yourself later when you see all your pictures! And ladies, don't do heels unless it's only for dinner! You can walk miles a day at Disneyland, it's definitely an active vacation.
13. Not Making Advance Dining Reservations for Popular Places
Although Disneyland is much different than Walt Disney World in that it is easier to get dining reservations, you still should plan to make some for popular restaurants so you're not left hanging in the parks. We always like having at least one a day so I know we have a spot at the table saved after a long day enjoying the rides.
14. Making Your Beach Day Complicated
It's common, if not expected, for most families visiting from out of state to take a day off to head to the beach. Don't make this a complex trip, after all it should be your rest day! Consider taking an Uber so you can relax and not deal with traffic. Avoid taking a pile of beach gear so you don't have to haul it all around. Many beaches offer rentals for chairs, toys, and more. Keep it simple and relaxing.
15. Showing Up Without a Plan
To some extent, I really understand how fun a spontaneous Disneyland day can be without having a planned itinerary. But if this vacation is a once in a lifetime or if you're not local, then you will thank yourself later for planning out your day. Whether that is making a game plan with your group on what rides you want to prioritize, making a reservation for a dining package, or seeing your favorite characters having a plan will help you maximize your time. If you arrive with a plan, it saves precious park time on deliberating on what to do next and what to see.
Plan Your Disneyland Vacation!
Let us help you plan your vacation! Subscribe to our free deals newsletter! You will receive helpful planning information, exclusive Disney deals, and access to the lowest priced Disney tickets anywhere. You can find more information on planning your vacation here:
Get the Disney Dose Newsletter!
Get news and history in your email.