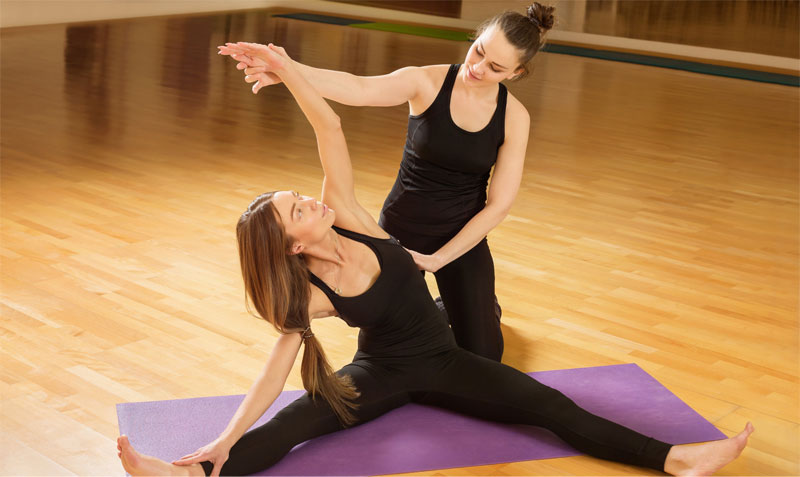 12 Benefits From Having a Private Yoga Instructor
No matter if you've never touched a yoga mat or if you're a seasoned yogi, taking classes with a private yoga instructor can provide huge benefits. Sometimes there's no substitute for one-on-one guidance and yoga instructors are highly trained in offering individualized practice.
Would you love to get started in yoga but have no idea where to begin? Do you want to make sure your poses are benefitting you and not putting you at risk of injury? In a year's time, would you like to be more balanced, stronger, and more flexible?
Private yoga instruction gives you all of these things and more. If you have yoga experience already, a private instructor can help you progress faster than before. They can give you a deeper understanding of asanas and guide you through advanced movements.
When you take classes with a private instructor rather than in a group, you'll find yourself in a safe space. You'll always be treated with the utmost respect and compassion and get the motivation you need to reach greater heights with your yoga practice.
To find out about some of the wonderful benefits of getting a private yoga instructor, keep reading. We'll talk you through why this focused practice could be exactly what you need.
1. Poses Specifically for You
When you go to a group yoga class, you could be sharing a room with ten to thirty people. While many people enjoy group classes, there are some downsides. As each of us is unique, what we need and want from yoga poses differs.
In a group class, you'll receive a far more generalized practice than you would if the class was focused around your requirements. Private yoga classes can benefit both beginners and experienced yoga students.
Beginners
If you're completely new to yoga or you have very little experience, you'll reap the benefits of having a private yoga instructor. While some poses may look simple, even in beginners' classes they may not be the ones right for you.
Each yoga pose has been developed over hundreds of years and should be practiced in the correct way to ensure balance and alignment.
In a private class, your instructor will ensure that each new pose you try is ideal for you. They'll teach you poses to suit your needs and will never rush you into the next one.
There's no pressure in a private class, it will always progress in line with you.
Experienced Yogis
Perhaps you've been practicing yoga for a few years or have even reached an advanced level. You may be feeling stagnant in your regular group classes or have a specific goal that you're struggling to meet.
A private instructor will get to know your level and help guide you through the progress you're looking for. They can identify where you might be going wrong and work with you to attain the poses you've always wanted to.
2. Personal Adjustments
In a group class, it's difficult for an instructor to correct individual poses for each person. Even small misalignments that you may not notice can set you back or create the risk of injury.
As a beginner, these personal adjustments are crucial to give you a solid foundation from which to progress. A private yoga instructor will help you reconnect with your body and make small adjustments to suit your exact level.
If you have some home or group-class experience, you may have missed out on small but important adjustments. This can lead to developing bad habits and performing poses that you never knew were a little off.
Personal adjustments are invaluable for every yogi throughout your practice. Even one private class a month will help iron out those misaligned poses and put you on the right path.
3. Target Your Goals
Would you like to be flexible enough to get into monkey pose (the splits)? How about balanced enough to do sirsasana (headstand)?
Or perhaps your goals are more general. You might like to gain greater all-round flexibility or strength. Maybe it's the breathwork of yoga that you'd like in order to calm your mind and give you greater inner strength.
Whatever your goal is, a private yoga instructor is a perfect person to help you reach it. In a class, individual goals are hard to progress with as you'll be following a guided group session.
But in private practice, you can discuss your aims with your instructor. They, in turn, will develop a clear path of progression to your goal and guide you through each step.
4. See Greater Positive Changes
When a yoga class is designed for a group, it may well contain elements that are too hard or too easy for you. This generalization can slow your progress.
With a private instructor, each pose and sequence will be crafted exactly for your individual level and goals. With focused attention, you'll progress faster and at your own pace.
Your risk of injury will decrease as your instructor will be guiding you specifically and you'll quickly see the benefits of your practice. If hip inflexibility, for instance, is holding your progress back, your instructor will focus on that to enable you to move forward.
This one-to-one focus helps you identify and remove obstacles from your path, speeding up your progression.
5. Get Motivation and Accountability
No matter how much you love yoga, a lack of motivation can derail your practice. Some people find it easier to motivate themselves than others and we all respond to motivation differently.
For many people, the expectations of others can motivate us and hold us accountable. This might be as simple as paying for a class or not wanting to cancel on your instructor. Often, it's positive feedback that we find motivating and rewarding.
With a private instructor, you'll get the support and encouragement you need to stay motivated. Because you'll receive personal guidance, you won't experience the setbacks that might demotivate you in a group class either.
This simple motivation can have a huge effect on your progress and allow you to reach your current goal, the next one, and the one after that.
6. Fits into Your Schedule
How many times have you wanted to do something but been thwarted by a conflicting schedule? From work deadlines to laundry, life is a busy place. But when we put other things before our wellbeing and personal goals, we start to realize that life loses its sparkle.
Group yoga classes can often be busy, fully booked or at times that don't suit your individual schedule. With a private instructor, you don't have to miss out on your yoga practice.
Choose a time that suits you instead. Having a private instructor means total flexibility when scheduling your classes.
Whether you're looking for a private yoga instructor in LA or Alaska, you can prioritize your time. Many instructors will even come to your home so you don't have to spend time you don't have getting to their studio.
7. Get Personalized Home Sequences
Many yogis practice every day, even if it's for fifteen minutes in the morning before work. As a beginner, you might not know how to create your own home schedule. Even if you have yoga experience, creating a home sequence that helps you reach your goals can be difficult.
With a private yoga instructor, they can create home sequences designed exactly to fit your needs. This enables you to continue your personalized practice outside of scheduled classes.
This kind of one-to-one dedication further allows you to build your practice and not have to wait for your next class to do yoga.
8. Ask Any Questions You Like
Nobody likes raising their hand in a group class to ask a question. While no one else will mind, it can be intimidating and you don't want to disrupt the class.
Yet yoga is an ancient and complex practice so it's understandable that we all have questions we're dying to ask our teachers.
With a private yoga instructor guiding you, you can ask any question you like. From pose adjustments to achieving mind/body balance, they'll be happy to explain anything you want to know.
9. Address Specific Injuries or Issues
Everybody can practice yoga but we all experience movement differently. From injuries and disabilities to mental blocks and physical differences, many of us need more specific guidance.
In a group class, it can be tricky for an instructor to cater to your exact needs and take the time to address a specific issue. With a private instructor, there's no problem at all.
Whether you're recovering from a broken bone or you have a disability, your instructor will create a yoga practice that's suited to you. Injuries in particular need to be paid close attention during yoga. Gentle movements can go a long way to help rehabilitate specific injuries but without guidance, you put yourself at risk of making your injury worse.
When you take private classes, you'll immediately realize that yoga is for you, no matter how your body might differ from anyone else's.
10. Receive Spiritual Guidance
Yoga has long been reported to reduce stress and provide greater mental balance. Far from being just a type of physical exercise, the practice of yoga is multi-layered and holistic.
If you're searching for a more spiritual side to life, learning about and connecting with the philosophy of yoga could help. Many private yoga instructors give equal weighting to the meditative and spiritual aspects of yoga practice. They can teach you at the depth you'd like and help you find a spiritual connection in your practice.
11. Benefit From Confidentiality and a Safe Space
In a group environment, many people wishing to try yoga can feel intimidated or even embarrassed. Personal life changes may affect your comfort level in group classes or health issues may stop you from wanting to attend.
When you take a class with a private yoga instructor, you're in a safe space. You can tell them any problems you're having and receive expert guidance and support. As yoga combines physical and mental practices, it can offer wide-ranging benefits no matter what you're going through.
Grief is an example of a huge life change that you may feel more comfortable dealing with in a private environment. Yoga for grief can be very beneficial, giving you the inner connection and space to move through it.
With a private instructor, you know that no matter what emotions you're feeling, you'll be supported. You'll be guided through poses that benefit your circumstances and your practice and requirements are always kept confidential.
12. Deepen Your Practice and Understanding
From beginners right through to experts, we can always deepen our practice and understanding. There are many types of yoga and each student is on their own personal journey.
If you're looking to deepen your understanding or add in a new type of yoga to your practice, private instruction is a great way to do so. Choosing an instructor with experience in the philosophy of yoga practice you'd like to learn about gives you access to everything they know.
This is ideal for yogis who'd like to become teachers and anyone who simply wants to get the most out of yoga.
Boost Your Practice With a Private Yoga Instructor
As you can see, taking classes with a private yoga instructor has many benefits, no matter what level of yoga you've reached. Beginners can build a solid foundation from which to continue their practice and see greater benefits in a shorter amount of time.
Experienced yogis can deepen their understanding of yoga, learn new forms, and reach goals that they may be struggling with. Your private yoga instructor will always develop classes with your individual needs and goals in mind. They'll give you the space and motivation to progress at your own pace without group class pressures.
With a private instructor, you'll see that yoga is for everyone and that there isn't only one way or one type of person it's suited to. This freedom will help you gain the strength, flexibility, and balance you need to get the most out of your practice and out of your whole life.
Follow us for more guidance on how to achieve your goals and good luck with your yoga practice.