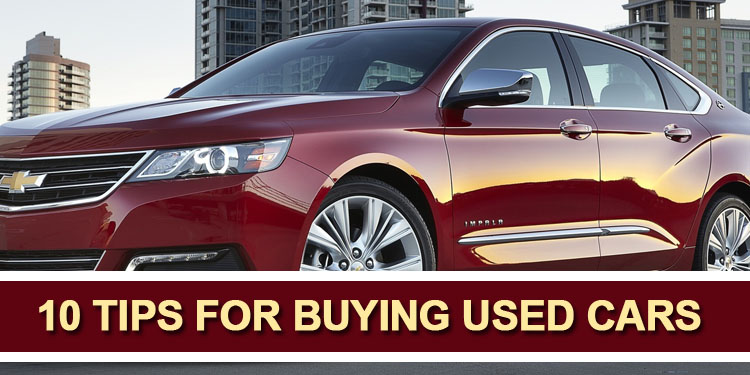 10 TIPS FOR BUYING USED CARS IN PHOENIX
Are you looking for "used car buying tips"? If so, In-Power Motors can help! We put together "10 Tips For Buying Used Cars" in Phoenix, Arizona.
10 Tips For Buying Affordable Used Cars
The price of new cars is found to be overwhelming, especially when it comes to the payment amounts required to keep possession of the car until you own it fully. Because of this, many drivers choose to invest in used cars. With nearly 40 million used cars exchanging owners per year, how do you find the right one for the right price?
There are many choices, many different roads to travel in this process. For some buyers, these roads can meet dead ends or wrong turns. In-Power Motors, however, offers free personalized help and assistance in this endeavor. Regardless of how far into the process of getting a used vehicle you are; In-Power Motors offers free advisers to help you also.
Step 1: Cost
To start off with the right price, if you are taking out a loan, the payment for the car should be no more than 20% of your paycheck after deductions. Even less if you have a smaller budget. When it comes to previously owned vehicles, whether you bought it from a dealership or elsewhere, you will have to show it some TLC sooner rather than later, such as tires or maintenance. Also, other factors are often forgotten in the process, such as gas and insurance.
Lastly, something to consider about costs, it is ideal to have money set aside for a 'just-in-case' moment. Whether or not the car you are purchasing has a warranty, anything can happen.
Step 2: Build a List of Used Cars
We all would love to have that shiny Viper sitting in front of the dealership, new or used. However, it will never fit a budget. The ideal way to go about picking a used car that is right for you is to compile a list of all brands, makes, models, and prices that can fall into your budget. Revise this list and keep it as a guideline to finding that one car right for you. The list doesn't have to be 10 cars, no more than 3 is sufficient as long as it is in the budget.
Something to consider, if the car you are looking at is less than 5 years old, find out if it is certified pre-owned (CPO). Though many dealerships offer a warranty for the cars they sell, a CPO is back by the car makers. You can find a CPO vehicle at its designated dealership (Chevy Cruze=Chevy Dealership=Used Chevy Cars For Sale).
Make An Easy List Using Our Used Car Inventory:
Step 3: Check Prices
Checking all available resources when car shopping is essential. There are different prices for the same car everywhere you go. Private-party sales will usually hold the lowest prices, whereas a CPO car at a dealership would probably run the most expensive. It is ideal to research these prices to make sure you are getting the best, and safest deal.
Step 4: Locate Used Cars in Your Area
If you are wanting a simple place to start your list of used cars, we have an excellent used car inventory page at your disposal. You can search on key details such as price, features, the distance from your, and the odometer reading. It is best to find something local to your area to help on travel time.
Step 5: Know the History of the Vehicle
It is important that you make sure to find out the history of a car before you decide to buy it. Unless you are purchasing from a close friend or relative that can verify its history clearly, one of the first steps when moving towards a buy is to check the Vehicle History Reports.
Using the VIN (Vehicle Identification Number), or in some cases the license plate numbers, you are able to utilize sites like Carfax and Autocheck to get a detailed accident report history, odometer roll backs, and title statuses.
Step 6: Contact the Seller
When you feel you have found the prospective vehicle you are searching for, instead of putting petal to the metal, you should make a phone call or a text to gather as much information on the car as you can. Though it is always tempting to run out and check the car immediately, sometimes you can get information not listed online or on an ad for the vehicle itself that will sway your opinion.
Contact In-Power Motors
Stop by our used car dealership in Phoenix at 2301 West Buckeye Road Phoenix, Arizona 85009 today or give us a call at 1-602-648-5275.
If you are unsure of what exactly you should be asking, we have a used car questionnaire that can help keep you in the right lane for the proper information. The last question on this list is price, though negotiating is tempting in early stages, it is best to see the car's condition for yourself to make any offers. Try to schedule a day time test drive, so you can feel out its condition for yourself.
Step 7: Test-Drive
A test drive is an essential step to the car buying process, both new and old, because it allows you to get a base feel for the car's compatibility to you. In the event of used cars, normally, you are able to focus on its condition while driving to see if there are any major issues with it that wasn't mention in previous research or conversations. Some key things to take note of:
Can you comfortably get in and out of the vehicle?
Is it comfortable and roomy enough for you, backseat included?
Are you able to drive it comfortably, is it too high or too low for you, and can you adjust the steering wheel accordingly for your comfort?
Are you able to adjust the seats to a comfortable and safe position?
Is the check engine light on, is it a problem that is easily addressed if it is?
Are able to spot your blind spots easily and see safely?
Do you smell oil or gas, or anything amiss about the car?
Are the tires old, how is the tread?
Are the brakes in good condition, do they squeal or require force to work?
Look under the hood, even if you are not car savvy, do you spot anything steaming, leaking, or covered in oil? Ask questions immediately if you do.
Do all the features and functions work properly? Test them.
Following the test drive, ask the owner/dealer for service records to make sure that the car has had all the scheduled maintenance.
Step 8: Have the Car Inspected Professionally
In the event that you are not pursuing a CPO car, which has already been inspected and is under warranty so it is little concern, make sure you request to take the car to a mechanic to be professionally inspected. Inspection for pre-purchase usually costs in the ballpark of $100, and you will be the one paying for it, but it is a smart investment.
Doing this will alert you to any problems you may have missed, or that you were not informed of. A third party might resist a little to this idea, however, dealerships will let you take this car to an outside mechanic.
Step 9: Negotiate a Good Deal
One of the most stressful steps of the car buying process is the numbers. If you have a plan, and can be reasonable, you are more likely to seal a deal with ease. Some basic steps in negotiating are:
Know how much you are willing to spend, but never start with it.
Your initial offer should be lower than your maximum price, but within the same car lot as it. Make sure it is reasonable enough, but leaves room for altering.
If the price that you and the dealer find yourself close to settling on is around the right price, and in the same range of what others pay for the same car, you have a good deal.
Chances are, the people on the other end of the offer do not like to negotiate either, don't be nervous.
Step 10: Paperwork
Buying from a dealership will always require you to sign paperwork and contracts in their insurance/finance office. You will be offered many different optional features and warranties such as, anti-theft, prepaid service plans, or fabric protection. Some individuals find a comfort in these offers, and you may want to think carefully on whether or not these are right for you. In the event that you are buying a CPO vehicle, it is under warranty. Make sure you look over the paperwork thoroughly, in many cases, the list of the vehicle's cost is accompanied by fees for licenses, documentation, sales tax, and possible charges for smog certificates.
In the event that you purchase a used vehicle from the owner, make sure that before you hand over the cash, you have the proper title (pink slip in some locations) and registration in hand and signed over. Always try and check the local DMV inquiring on any past-due registration fees that might fall into your responsibility once the purchase is complete. Also, no matter where you buy your used vehicle, make sure you have auto insurance before you drive it away.
Celebrate Your Used Car Purchase
Now that you have keys in hand, with proof of ownership, it is time to celebrate. Maybe this calls for a drive through town to show off your new wheels.
If you would like to find a used car dealership in Phoenix that knows how to take care of their customers, please visit InPowerMotors.com. We have a huge list of 500 down used cars for sale.