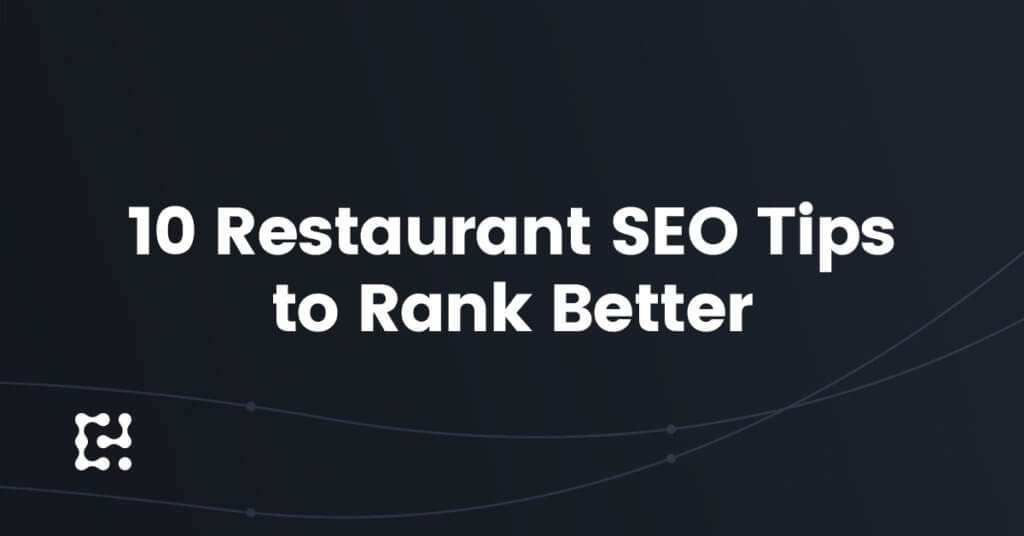 10 Restaurant SEO Tips to Help Your Site Rank Better in 2019
Originally posted on https://patternseo.io/blog/10-restaurant-seo-tips-to-help-your-site-rank-better-in-2019/
Did you know 72% of consumers say that an internet search is their preferred method for finding information about a business.
The mark of a smart marketer is meeting potential customers where they are. They're using search engines to find restaurants like yours.
Are you going to show up at the top of search results when they're hungry? Use these restaurant SEO tips to increase exposure and reach the right people when they need you.
Restaurant SEO Tips to Boost Your Search Engine Visibility
Appearing in local search results is harder than it sounds, especially if you're in a big city with a lot of competition. These SEO tips will help your restaurant move up the rankings in no time.
1. Conquer Local Search
Local searches contain a variation of "near me" or a city. Proper SEO allows your restaurant to appear for relevant, location-specific searches. Why does this matter?
78% of local searches result in offline purchases. This means that most local searches come paired with commercial intent. These people know what they need and want to know the best place to find it.
It also means that appearing in local searches can have a massive impact on your bottom line.
2. Develop a Rock-Solid Content Strategy
First, you need to pinpoint a physical area. Where are you located and where do your customers live, work, and commute through?
Once you know that, you can research effective keywords focused on that neighborhood. There are four main types of keywords to look at:
Head keywords: Terms like "restaurant" or "restaurant near me". These are harder to rank for but generate more traffic.
Niche-specific: Do you sell pizza, sushi, or hamburgers? Niche-specific keywords include terms like "pizza near me" or "pizza in CITY".
Branded keywords: These include the name of your business.
Long-tail keywords: Terms like "the best pizza in Tampa" or "vegan-friendly hamburgers near me". These tend to be easier to rank for but have less search volume.
The best keyword strategies combine all four.
3. Use Social Media to Your Advantage
An excellent user experience leads to better search engine rankings. Social media is an easy way to personalize that experience.
Always respond to customer comments, reviews, questions, and messages promptly. Additionally, post and share content your potential customers enjoy.
Encourage them to engage with you.
4. Optimize Your Menu for Search
86% of consumers look at a menu online before visiting your restaurant. Your menu needs to be easy to use on all devices and optimized for search.
Avoid uploading your menu as a PDF and calling it good (Google can't read it). Including a PDF is a good idea, but it shouldn't be the only option.
Your digital menu is another way to rank for relevant keywords.
5. Use SEO Best Practices to Let Google Know About You
Create and manage your Google My Business listing. This is what appears when users find your business on Google. It's important to keep this information updated.
Additional restaurant SEO best practices include:
Use keywords in H1 and H2 tags, body text, and image alt tags
Be sure you have an XML sitemap
A lightweight, mobile-optimized design
Utilizing keywords with the correct buyer intent
6. Optimize for Mobile
It's important to design your website for a phenomenal experience across all devices. It benefits your customers, and Google may penalize you otherwise. Search engines understand the impact of smart mobile design.
In fact, in July 2019, Google switched to mobile-first indexing. This means they only crawl the mobile version of your site.
Why?
Because 82% of US consumers perform local searches on their mobile device. The most common searches are for the food and entertainment industries.
7. Encourage Digital Reviews
Online ratings are great for social media. But, they also influence search results. Businesses with highly positive Google reviews get more clicks.
Google sees more clicks as an indicator of trustworthiness and quality.
8. Use Structured Schema Markup Data for Restaurants
Schema markup gives Google an inside peek at what your website is about. It also provides extra formatting to your content within search results. You can use the Structured Data Markup Tool to get started.
Use schema markups to format review ratings, menu items, pricing structures, and more.
Note: As cool as it is, it's not easy to do and usually requires outside help.
9. Partner and Network with Local Businesses
Organic backlinks (or inbound links) are a great way to increase your Google rankings. Partnering with local businesses is an easy way to build backlinks and market your restaurant.
Networking and partnership ideas:
Host a joint local giveaway
Organize a regular get together
Collaborate on a new menu item or drink
Put together a community service event
Plan a local competition
After you've worked out the details, ask for a backlink when they promote the partnership on their website. And, give them one in return.
10. Make Your Contact Info Easy to Access and Stay Consistent
Your website and Google My Business listing aren't "set it and forget it" things. You need to make sure they're always up to date with your most current contact information.
This information shows up directly in Google search, so it must be current. Additionally, any contact info on your website should match your Google listing.
Inconsistencies can confuse humans and search engines alike. That confusion can negatively impact your rankings.
Results-Driven Restaurant SEO at Your Fingertips
The in's and out's of restaurant SEO are a lot to take in. Hiring an expert SEO team can help take that weight off your shoulders while you focus on other aspects of running your restaurant.
Pattern SEO specializes in helping local businesses generate a predictable stream of revenue through personalized marketing strategies and automated online processes.
Schedule your free strategy call today!