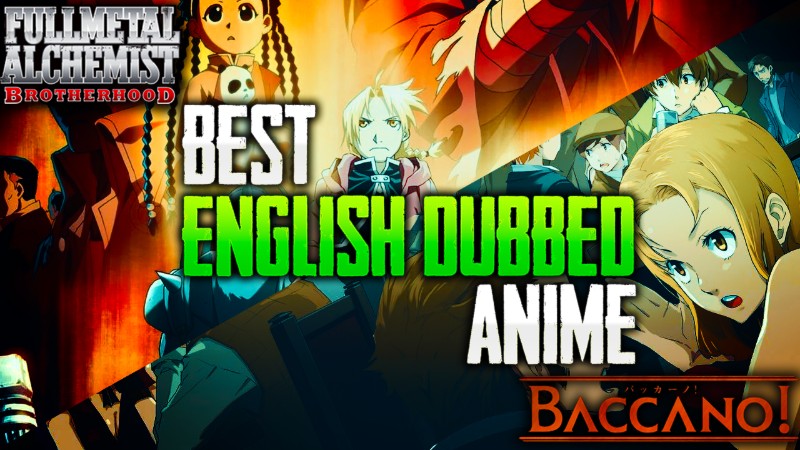 10 Best English Dubbed Anime Online to Watch in 2019
Originally posted on https://dubbedanimehq.com/best-english-dubbed-anime-online-to-watch/
Anime has increased in popularity over the years. Streaming sites like Netflix and Hulu have made English-dubbed anime readily available to watch on any device.  If you're curious what are the best English-dubbed anime shows to watch online, then you're in the right place.
We have narrowed down the list using the following criteria: good voiceovers and quality translations. In addition, we determined the best shows from viewer ratings. So, keeping all of these requirements in mind, we have narrowed down the list to share with you the best English-dubbed anime online that you should watch.
BEST ENGLISH DUBBED ANIME TO WATCH
ANIME #1: BACCANO!
At the top of our list is Baccano. This is a great anime series, and you'll definitely enjoy watching it. This anime is set in the 1930's in America, during the era of prohibition.
The series follows all the different types of gangsters operating in the country at this time. The story shifts across various moments, perspectives, and decades.
The real stars of the anime are its different characters, which range from an immortal young gangster to a couple who robs the mafia to a psychotic killer to and a nervous mobster.
Basically, the anime is full of thick, New York accents and mainly leans into mobster stereotypes. The anime is a great success, and we recommend you check it out.
ANIME #2: FULLMETAL ALCHEMIST: BROTHERHOOD
Another great anime to watch is Fullmetal Alchemist: Brotherhood. The English version of this anime is great. You'll definitely love this anime because there are many heartfelt moments that will tug at your heart strings.
Fullmetal Alchemist is a well-rounded show. There are great fight scenes, an intriguing storyline, and fascinating characters. The anime is set up in a world where the different laws relating to physics are bent by the most powerful scientists called the alchemists.
The two brothers, Ed and Alphonse, are in the hunt for a way that they can repair their bodies, the pieces of which they lost while trying hard to bring back their deceased mother. While questing to reach their ultimate goal of fixing their bodies, the brother must also face off against an unknown and mysterious antagonist that wants to rip apart their very world.
Make sure that you do not miss out on this exceptionally awesome anime, the replica of which you won't find anywhere else. Yes, you heard it right.
ANIME #3: DRAGON BALL Z
The series of the Dragon Ball universe are common among people of all ages. All watch them with a great amount of zeal. Among the widespread different series set, available in the Dragon Ball universe, the most common among them is the Dragon Ball Z. It is a masterpiece of action.
It produces before its viewers some of the best and longest action and fighting scenes. The whole story of the anime revolves around a hero of the other world who comes to be known as Goku. He lands on Earth as an infant, sent with the main motive of destroying Earth.
But, here arrives the twist. He accidentally hits his head somewhere and forgets the mission completely, for which he was sent. A few years later, he now protects the earth from various other alien enemies who seek to cause utter destruction on this earth. This is a complete and ultimate package of action and everyone should watch it at least once. So, watch Dragon Ball now, and enjoy the action.
ANIME #4: FAIRY TAIL
A fantasy world is enjoyed by one and all. "Fairy Tail" is a good dubbed anime and a fantasy anime, full of bright and colorful characters, great action, and some very funny and entertaining moments. The whole story revolves around a very young wizard. known as Lucy. She finds herself terribly cursed by a magical charm.
Lucy is eventually incarcerated and sent to a black market to be sold, but she is rescued by the infamous Fairy tale union. After that, she is offered a spot in their fairy tale union, which she willingly and happily joins. She then assists the various members of the union with different dangerous missions which are scattered all throughout the fantasy land.
This anime is a wonderful piece of fantasy and action. You should definitely watch this and enjoy the awesomeness of the anime. Do not miss out.
ANIME #5: DEATH NOTE
Who doesn't love twists and thrills, when it comes to watching an anime? This English-dubbed anime, Death Note, is one such for you. This anime offers you various backstabs, twists, and turns. It is the perfect one for those who are always in quest of a dark and thrilling tale.
It is a story revolving around a high school honors student named Light. One day, he suddenly comes in possession of a magic notebook, which kills anyone whose name is written in that notebook. Driven by the sense of righteous justice, he then decides to try to rebuild the same world by murdering all those persons, whom he deems to be unworthy.
This act of his attracts the attention of various people all around the world. This group of people is inclusive of a detective named L, who then decides to find this person responsible for all the killings and spreads a task force for this purpose. Death Note is a thrilling anime. This will make your day more happening and wonderful.
6. NARUTO SHIPPŪDEN
Probably one of the best-dubbed anime sequels to be ever released in the anime world, Naruto Shippūden is the sequel to the popular original series Naruto. With a massive collection of 500 episodes, it is sure to entertain long-term fans for a long, long time.
What's even more exciting is that new fans can directly start off without having to go back and watch the first series. The creators continue with their meticulous writing in Naruto Shippūden; this time around, the emotions are much deeper, the animations are rendered better and with increased action sequences,  and the series touches new heights of greatness.
If you do decide to watch at a stretch, you might come across a few filler episodes, but, all in all, the series does keep you glued to your seats. Having said that, Naruto Shippūden also has a great replayability rating,  which means that you can re-watch the entire series without it getting too predictable or boring.
The only true let-down is when you get to the very end of the storyline, you get hit with 15 filler episodes, but the climax makes it all worth it. This is a must-watch series for all anime fans around the world.
7. TOKYO GHOUL
A unique series that follows an enigmatic setting of a ghostly city, Tokyo Ghoul questions evolution's biggest claim – the survival of the fittest. Is it really possible for two species to coexist together? With Tokyo Ghoul, we know that even in a fictional universe, it's far too idealistic to be true. The background score is beautifully composed and perfectly complements the screenplay, and there's no doubt that it employs one of the best animation technologies as well.
The plot revolves around the protagonist who is attacked by a ghoul but manages to survive through an organ transplant. Caught in between the humans and ghouls, he realizes that he belongs to neither race and thus begins his struggle to survive. The story then continues to rapidly expand as both species embark on a full-blown war to extend their dominance.
Tokyo Ghoul is a very special series in the truest sense of the word. The animations, the sound, and the underlying storyline all fit in perfect harmony to provide viewers a very enigmatic experience – something all science fiction fans will admire.
8. BLEACH
Bleach is an interesting series about a 15-year-old Japanese high school student who is specially endowed to interact with ghosts and fight them. An unexpected visit from the Death God kicks off things into full gear. The characters are really well built, and the anime has plenty of them to show off in its storyline. They each have multiple dimensions to them, and you'll be surprised to see them evolve over the course of 366 episodes.
Although a tad rough at times, Pierrot has done a fabulous job at animating the series. For the most part (apart from a few complex scenes), the animations are fluid enough to make viewing a pleasurable experience. What's more commendable is how the writers have intelligently mixed the fast-paced seriousness with humor. This, in turn, makes the fillers more bearable. Coming to the dubbing part, the studio has hired some really great voice actors who fit the shoes of all characters well enough.
Bleach has plenty to offer to just about anyone and should make for great entertainment with all the evil cleansing that Ichigo Kurosaki undertakes in his journey. We're just anxiously awaiting when the Bleach Anime returns for another season.
9. CODE GEASS
Originally aired back in 2007, Code Geass still remains a high-quality fan-favorite that hasn't been toppled in terms of both quality and popularity. Notoriously known for its mind-defying plot twists and turns, it raked up a huge following among mystery and thriller anime fans. Regardless of how the fans felt about the series moving way too fast, there was no doubt about the director's ability to sell stories no matter how poorly it was conceived.
For those who don't like too many sips at once, this anime may be too much to handle. But in a fictional universe, anything goes and you will learn to ignore bombastic developments as the story flows. A long-term fan will know very well that most of these developments don't really contribute much to the climax, they are meant to startle the viewer only, which anime fans will welcome as a change instead of bland fillers.
Code Geass has plenty of tricks up its sleeve to keep anyone, especially mystery fans, entertained throughout. If you are someone who loves this genre, then Code Geass is your best bet of seeking such thrills with every episode. Fans are anxiously awaiting the release of season 3. Follow our blog for the latest updates.
10. BLUE EXORCIST
For long-term manga fans who swore by its addictive writing style, the anime was a breath of excitement and fresh air. They loved every bit of it, and for that very reason, Blue Exorcist managed to land a spot on this amazing list of Best English-Dubbed Anime Online to Watch. Over the course of years, this series has faded away a bit among thousands of other animes, but those who experienced it in its full glory remember it to this day.
If you are a Harry Potter fan, then this anime is going to make you nostalgic. Certain elements are strongly reminiscent of the Hogwarts and its characters and settings. It is rather a mix of all the popular genres out there. Blue Exorcist successfully manages to incorporate fantasy, comedy, action, and a host of other genres into its plot – but the downside to that is that it isn't clear on what it wants to be. Trying to cater to a large audience has its demerits, and Blue Exorcist does suffer from it at times.
Nonetheless, it's a great series that has been humble in its releases. There are a handful of episodes over the years, and you can take our word for it when we say this – you won't regret watching this anime because we didn't.
WRAPPING-UP
These are some of the most famous English-dubbed anime of all ages and times. Hope you will like them too.