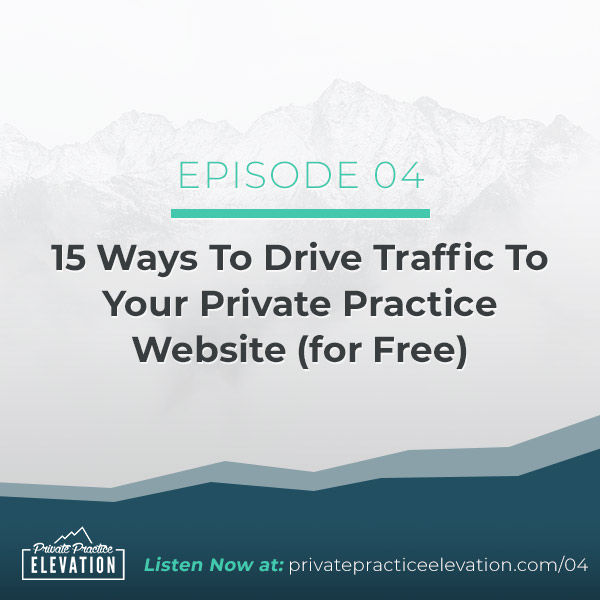 04. 15 Ways To Drive Traffic To Your Private Practice Website (for Free)

Whenever I ask my audience what's the biggest challenge they have with online marketing, getting traffic to their private practice website always comes up.
It makes sense.
You could spend thousands of dollars or thousands of hours and have the most beautiful, well-designed website on the planet.
But if you do nothing with it, no one is going to see it.
As I like to say, "If you JUST build it. No one will JUST come."
What's the point in even having a website if no one is viewing it right?
If you've been looking at your analytics and feeling like your website is not getting the traffic you desire (or need) in order to attract more clients your private practice, it's time to make a change.
You could certainly pay for Google or Facebook ads to pick up that traffic, but I'm a firm believer in starting with some free strategies to get the traffic train moving out of the station.
In this episode I'll share with you 15 FREE ways you can start driving traffic to your therapy website.
Short on time? Just fill out the form below to download all 15 traffic-driving tips in a handy PDF.
Download the PDF Cheat Sheet
Subscribe to get access to your cheat sheet with 15 free ways to drive traffic to your website.
YES! I WANT THIS CHEAT SHEET!We won't send you spam. Unsubscribe at any time.
Subscribe & Review in iTunes
If you're not yet subscribed to the podcast I want to encourage you to do that today. This is the best way to make sure you don't miss an episode! Click here to subscribe on iTunes.
And if you're feeling extra generous, I'd love to hear what you think about the podcast. Reviews help others find the podcast plus I'd really love to hear what you think! Click here to leave a review. Just click on "Ratings & Reviews" then "Write a review." Let me know what you like best about the podcast. Thank you!