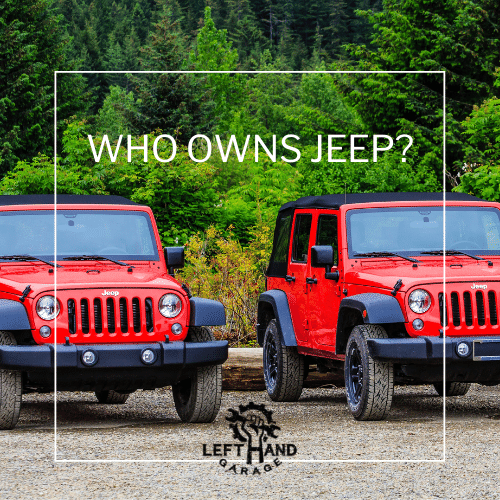 Who Owns Jeep?
Photo from Canva
Originally Posted On: Who Owns Jeep? – Left Hand Garage
The question of who owns Jeep is a common one, and the answers vary based upon the decade or era that such a quandary is poised. The history of Jeep is rather complicated, featuring more twists and turns than your average mystery novel, yet intriguing to all who are fond of these rugged utilitarian vehicles.
The story of Jeep is one that rises out of wartime necessity and features numerous accounts of near demise at the hands of struggling parent companies and a significant number of subsequent acquisitions. Through it all, Jeep has soldiered on, proving to be a survivor across a span of automotive history that has seen many similarly proposed vehicles fade into obscurity.
Born on The Battlefield
Unlike many vehicles, which are designed with the sole intent to captivate the minds of consumers, the Jeep was conceived in the throes of World War II. The United States Armed Forces fielded proposals from any automaker ambitious enough to shoulder the task of providing the military with small, lightweight, pickup truck-style reconnaissance vehicles on an insanely tight timetable.
One of the few early proposals that was received came for Willys-Overland, a small car company from Toledo, Ohio. Other proposals that were submitted included both the Karl Probst designed Bantam and Ford's Pygmy. All models were evaluated through a series of tests, ensuring their fitness for severe duty. Ultimately, Willys-Overland was awarded a contract for the production of their MB Jeep, with an additional contract awarded to Ford at a later date.
The MB quickly gained a reputation for its "go anywhere, do anything" capabilities. On the battlefield, the Jeep was used to transport soldiers quickly and efficiently, even being used as a military ambulance on many occasions. These vehicles were also used to tow anti-tank artillery from location to location, often in rugged terrain.
As WWII began to wind down, Willys set its sights on transitioning the MB into a vehicle for the masses. In many regards, this effort was aided by the unintentional civilian use of military Jeeps in the months and years directly following the war. Due to the logistical nightmare presented by gathering up all of the MB Jeeps scattered about the world after the war, the U.S. military left many of these wartime vehicles right where they were.
Many forgotten Jeeps were acquired by those in war-ravaged European countries, where these saved vehicles found themselves in the hands of civilians. This led to a level of global fanfare toward the war-era Jeep, driving demand and ushering in a new wave of development. This unexpected private sector love affair with the Jeep led Willys to modify their WWII-era MB for consumer purchase. The MB's headlights were improved, a tailgate was added, and seating was upgraded. This new civilian Jeep became known as the Willys CJ-2A.
Soon thereafter, Willys released the 1946 Willys Station Wagon and 1947 Jeep Pickup. Both vehicles experienced moderate success in the U.S. market and beyond, yet Willys still struggled to replicate their wartime success. By 1953, the struggling auto manufacturer was acquired by Kaiser Manufacturing, who continued to produce the CJ model as well as its other Jeep-inspired counterparts.
In 1957, Kaiser released the FC-170, followed by the 1963 Gladiator Pickup and Wagoneer SUV. By 1963, all semblance of Willys' prior involvement with Jeep design and development had been stifled, as all vehicles within the line were now branded under the Kaiser-Jeep Corporation moniker.
The AMC Years
By the late 1960s, Kaiser Manufacturing found itself treading water for survival. With financial trouble looming and sales stagnating, little hope remained. It seemed that the now-iconic Jeep was doomed to go down with the ship, falling victim to circumstance. However, it was the 1970 acquisition of Kaiser Manufacturing by AMC (American Motors Corporation) that stayed the Jeep brand's execution date once more.
At the time of Kaiser's purchase by AMC, however, the Jeep's future did not outwardly appear any less uncertain. AMC had just come off a prolonged period of abysmal sales and consistent financial loss, leaving its fate unclear. The struggling auto manufacturer had recently undergone a change of leadership at the highest level, with CEO Robert Abernathey effectively "retiring" from his role just a few years prior, which was followed promptly by board chairman Robert Evan's formal resignation.
With new blood at the helm, AMC was set to chart a new course, and it appeared as if the Jeep lineup was to be a cornerstone of this new directive. Throughout the 1970s AMC continued to produce and market various Jeep models, including the widely popular CJ-7 early-era Jeep Cherokees and specialty package offerings such as the Jeep Renegade. However, in what was quickly becoming a recurring series of events for Jeep parent companies, AMC was in the midst of a financial nosedive.
In 1979, French automaker Renault purchased a 25 percent stake in Jeep from AMC. The hope was that this working relationship would be mutually beneficial, providing AMC with a substantial enough financial infusion to maintain Jeep production and allowing Renault to share in the ongoing Jeep boom by staking a claim within the European market. Within months, Renault began offering Jeeps for sale within their dealerships.
Chrysler Buyout
By the mid-1980s, AMC was clinging to life, with its only perceived asset of value being their Jeep lineup. At the same time, automotive luminary Lee Iacocca was closely studying the overall value that Jeep would offer within the Chrysler corporations which he presided over. Finally, in 1987, with no gas left in the tank and nowhere to go but under, AMC sold its assets in their entirety to Chrysler.
At the time, Jeep had just released two new models that would shape the company's path for years to come. With the 1984 release of the XJ Cherokee and the subsequent 1986 release of the Jeep Wrangler, Chrysler proceeded full steam ahead. Under the Chrysler corporate umbrella, Jeep operated as Jeep-Eagle, until Eagle folded roughly a decade later.
In preparation for the 1993 model year, Jeep introduced the Grand Cherokee. This proved to be well-timed as consumer interest toward the Jeep Grand Cherokee, and Jeep in general, grew rapidly and sales skyrocketed. The 1993 calendar year saw Jeep cross the 400,000-unit annual sales threshold for the first time in company history.
DaimlerChrysler Era
By the latter half of the 1990s, Jeep sales were booming, moving 500,000 units per year with relative ease. As a result, Chrysler's value leaped dramatically, bringing the company elite status within the global automotive manufacturing industry. However, this ungoverned growth did not go unnoticed. In 1998, Daimler AG acquired Chrysler for 38 billion dollars.
Under DaimlerChrysler ownership, Jeep experienced a mixed level of success. During the early portion of the DaimlerChrysler era, Jeep sales remained strong, but this success was short-lived. In a turn from what had been the company's winning strategy for decades, Jeep began pouring its resources into the development of smaller, front-wheel-drive passenger vehicles that were loosely intended to be reflective of traditional Jeep stylings, such as the Compass and Patriot.
Sales during this period began to stagnate, and consumers, at least in part, looked elsewhere for the source of their all-terrain indulgences. In short order, Daimler was in search of any viable means of shedding Chrysler from their portfolio, as it was understood that this might be the only logical way to recover financially from their ongoing loss.
Cerberus Capital Management Downfall
In 2007, Jeep once again changed hands as private equity firm, Cerberus Capital Management took possession of Jeep. Although Capital had intended to allow Jeep to rebound from its sales slump, this was simply not to be.
Within two years, Chrysler, including Jeep, sought bankruptcy protection and was, in turn, rescued by the U.S. Government. With once-prestigious Jeep in ruin, it would take a special level of attention to resurrect the dying automotive icon.
Fiat Resurrection
The answer to Jeep's dismal sales and tanking performance came in the form of its purchase by Fiat. The Jeep's newly established parent company wasted no time cutting the fat as they shuttered production of the Commander and Liberty models while launching Jeep's first subcompact model, the Renegade. Extra attention was also poured into the continued refinement of interior and driver assistance packages.
As a result of these efforts, Jeep returned to a place of prominence within the global SUV market, despite a lengthy period of sales decline among other Dodge and Chrysler models. In 2012, Jeep topped its previous record annual sales figure of 701,626 and surpassed the 1-million unit per year mark shortly thereafter.
Today, Jeep is still under the ownership of Fiat, and sales continue to boom. Where tomorrow will find Jeep is anyone's guess, but from today's perspective, the company's future certainly seems bright.