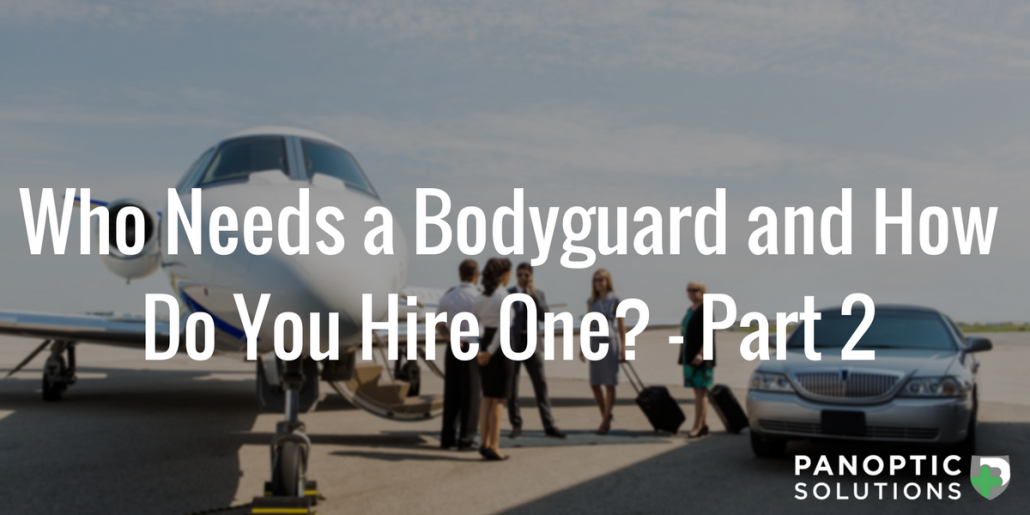 Who Needs a Bodyguard and How Do You Hire One? – Part 2
Originally posted on https://panopticsolutions.com/blog/who-needs-a-bodyguard-and-how-do-you-hire-one-part-2/
Last week we published a blog post and podcast episode outlining the ins and outs of hiring a bodyguard or executive protection agent. In the second and final part of the series we look into the medical aspects of an engagement, the importance of local knowledge, some of the contractual details and what should happen before an engagement commences (which you can listen to here or keep reading).
At the end of this post you can also find a link to a free guide – How to Hire an Executive Protection Agent – that answers the questions in more detail. The guide also includes a cheat sheet with 37 questions you should ask before hiring a provider.
Should We Look For a Medical Capability  in Our Executive Protection Team?
Many clients neglect to consider this, however, at the end of the day, risk is risk, no matter how it presents itself. Risk from injury or illness should be a consideration when planning travel, conducting a risk assessment, or planning an executive protection operation. Every team should have a dedicated medic within it. The risk will dictate the level of medical support required and will range from basic first aid through to a paramedic or even specific team members with paediatric medicine training if the principals include children.
Be aware that there is a significant difference in the level of training and the capability between a basic level of first aid and that of an EMT (emergency medical technician) and then again that of a paramedic. In the event that a client or principal has previous significant medical comorbidities or conditions, it would be strongly advised to consider the higher clinical skill set of either a capable EMT or a paramedic where available.
What Other Threats Will An Executive Protection Agent Need to Consider When Working With A Client?
Clients primarily, and rightly so, think of the physical threats when looking for an executive protection operative, however, there is much more to the role than that.
In some cases, it literally means protecting the principal client from themselves. VIPs are like anyone and can occasionally make decisions that put themselves or their public image at risk. If they are high profile, they are even more exposed as others may well be watching or even stalking them (i.e. paparazzi) looking for them to slip up.
A professional agent will be on the lookout for such risks and discretely step in and make a recommendation to the client that may avoid pending trouble.
How Important Is Local Knowledge For An Executive Protection Agent?
Local knowledge is critical. Executives and VIPs will often travel with their core security team but this should always be supplemented with someone with local knowledge where possible.
As mentioned in our previous post, most providers will team up with a local partner as required. If your prospective provider says they can service you anywhere in the world without local partners you'd best be wary of them as the service will likely be a compromise.
What Are The Typical Insurance Requirements For An Executive Protection Agent?
Most providers will have public liability and professional indemnity insurance that covers their activities. Usually they will also provide travel insurance for their operatives.
If the provider is also providing medical services, it's prudent to ensure they have medical indemnity cover for this as well.
What Agreements Should We Enter Into With An Executive Protection Agent?
In most cases you should ask the provider to sign a non-disclosure agreement (NDA) that covers the provider and their personnel. If you don't have a corporate NDA, your provider will be able to supply one that suits the project.
In addition, it's always a good idea to put together and agreed Scope of Works document. The scope of works should spell out the tasks and any assets (personnel and vehicles, etc) that are included.
What Do We Need To Know About Firearms In Relation to Executive Protection?
The use of firearms for a security details is location dependent. In some countries, such as Australia or the UK, it's illegal for operatives to carry firearms whereas in the USA, it's legal and common place for operatives to carry them.
When we are travelling to a country where it might be legal to carry firearms, if required, we will partner with or hire local operatives that have the necessary licences and experience to do so. This sometimes means hiring off-duty police officers as part of the team.
Either way, be guided by your provider in relation to this.
On What Basis Does An Executive Protection Agent Set Their Fees?
Providers have to factor in a huge range of variables to work out their executive protection and risk management fees. These can include location, time, complexity of the task(s), assets required, level of threat involved (perceived or otherwise), type of client(s), whether or not family protection is involved and much more.
In some cases the service provided may be quite standard and be subject to a standard price whereas in others the price may be calculated on a bespoke basis.
Another critical factor is timing. Different businesses have different protocols but in our case we run on a three-tiered system – is it critical (12 hours notice), is it urgent (1-3 days notice), or is it routine (4 days notice or more)? The fees for these vary accordingly.
Be cautious about selecting your provider based on cost though. A lower cost provider may well be lower cost for a reason. They may not have the experience or even the confidence to match your other prospects so might be pricing themselves accordingly.
Should I Meet The Team Before Operations Are Underway?
Where possible, a provider will introduce you to the security team in advance but this may not always be feasible due to other project commitments. In these cases, you could ask for bios of the team members for review.
At the end of the day though, it's best to trust the executive protection provider to assemble the team to meet your needs.
What Kind Of Preparation Does The Client Need To Undergo For An Executive Protection Operation?
While having a security detail might sound 'easy,' it actually takes a bit of getting used to. Even for someone who has used a bodyguard before, there may be some adjustments needed when working with a new team.
In most cases, a simple briefing of the principal client at the beginning of an operation will do. During the briefing the team may be introduced and some basic protocols will be shared. The team members will have additional protocols or 'actions on' but the client will not need to know most of these.
The most important things for the client to know are what will happen if a threat occurs.
In some cases, more detailed preparation may be needed. This might include 'contact drills' or a rehearsal of vehicle switching but this is usually only for high risk situations or high profile individuals.
Conclusion and Free Guide
There is more to executive protection than you might expect and, for the uninitiated, you can easily make mistakes when sourcing a close protection provider. To help you with the process we've produced a comprehensive guide – How to Hire an Executive Protection Agent – which includes a cheat sheet with 37 questions you should ask before hiring a provider.
And of course, if you are seeking a provider or even just want to have your risk assessed, please contact us at Panoptic Solutions. We'd be glad for the opportunity to discuss this with you and, even if we aren't a suitable provider for you, we will be able to make recommendations or assist you with finding someone.