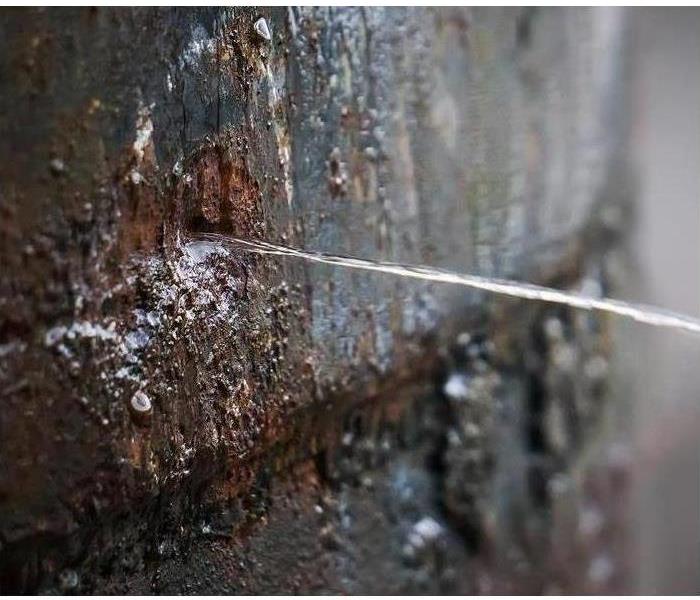 Water Damage from a Frozen Pipe? Here's What To Do
Photo from servproglastonburywethersfield
Originally Posted On: https://www.servproglastonburywethersfield.com/blog/post/198445/water-damage-restoration/water-damage-from-a-frozen-pipe-heres-what-to-do
When temperatures drop below freezing, unprotected pipes can freeze from a combination of exposure, wind chill and subfreezing weather. And a frozen pipe can quickly become a burst pipe, which can do incredible amounts of damage in a short period of time. Read on for ways to avoid a frozen pipe water disaster—and ways to minimize the damage if you do suffer a frozen and burst pipe.
As water freezes in a pipe, the ice first blocks it completely and then expands. This causes the water pressure in the pipe to increase, sometimes up to 1,000-fold! Too much pressure will rupture the pipe. The rupture usually occurs where water pressure finds a weak spot in the pipe, often not at the point where a pipe froze, but between the freeze and a faucet. Then, either during the freezing weather or after the frozen pipe thaws, water seeps or even gushes into your home or office. Sometimes this happens out in the open, but often it occurs in an attic or basement or behind walls or ceilings.
Severe damage can occur before you are even aware that a pipe has burst. That's no surprise, considering that up to 250 gallons of water can flow from a ruptured pipe in just 24 hours. And that kind of damage is expensive: the average insurance claim for residential water damage is $10,000–15,000 and total cleanup costs can reach $70,000.
Keep Those Pipes from Freezing
Avoid that kind of water damage by preventing your pipes from freezing—and that means making sure your pipes are too warm to freeze. Steps taken at the beginning of winter or before a freeze can save you a lot of expense later on.
Warm your pipes
The first step is to evaluate your pipes. Check unheated and un-insulated areas of your house, such as your basement, attic, garage and crawl space. Look under bathroom and kitchen sinks. Examine your exposed pipes to determine which ones are at risk of freezing. Note any pipes that show wear or damage.
Don protective gear and wrap un-faced fiberglass insulation around at-risk pipes in the attic, crawl space or other out-of-the-way place. Don't worry about being neat, just protect those pipes—and don't leave any gaps.
An alternative is to use pipe sleeves. Butt the pieces tightly against each other and seal the slits and joints with duct tape.
Install a heat trace cable, either wrapped around the pipe or running its length. Ready-to-use cable, with one end terminated and insulated and the other end equipped with an electrical plug, is easiest and safest to apply.
Pay attention to the exterior of your home, too.
Disconnect garden hoses from outside faucets to prevent water from freezing in the hose and rupturing the faucet. Drain the hoses and store them inside.
If your exterior faucets have cut-off valves, close them and drain the faucets. If they don't, insulate them with foam faucet covers.
Keep your home warm
Use caulk to seal around doors, windows, exterior faucets and outside outlets.
To insulate a large area, perhaps in the attic or basement, install faced or un-faced foam board by scoring, snapping and screwing it to wood framing.
Using rigid foam insulation, close and seal foundation vents near water pipes, and insulate foundation walls and the ends of the floor joists.
Install storm windows over basement windows or replace broken or old windows with energy-efficient alternatives.
If you have an un-insulated crawlspace, turn up your thermostat to warm it up.
If you travel during the cold season
If you will be away from your home at all during a freeze, take these steps to avoid returning to a burst pipe and a water disaster.
Set your thermostat to 55° F or higher.
Close the valve to the house's main water supply.
Ask a trusted neighbor to check inside your home once a week.
If you heat with propane or fuel oil, give your fuel supplier contact information for you and your neighbor.
Install or subscribe to a freeze-sensing system to monitor your home's internal temperature using a phone or the internet; some even have automatic shut-off valves.
Consider a smart leak/flood detector
Smart leak/flood detectors and water-shutoff valves let you remotely and immediately stop a flood of water, preventing or minimizing water damage. These detectors connect directly to your home's WiFi and offer a smartphone app, so you can control them and receive alerts wherever you are. The app will alert you if there's a drop in pressure, indicating a leak has occurred. Depending on the product's design, you can use the app to quickly shut off the water or it can do so automatically.
Actions to Take During a Freeze
When the temperature plunges, keep a close watch on all your chilly areas and vulnerable pipes.
Turn faucets on to allow a trickle of water to flow through the pipes.
Allow room air to warm pipes by opening doors to cabinets, vanities, closets and pantries.
Set up fans to blow heat into cold rooms or your crawl space.
Run space heaters to warm up areas near pipes, but don't overload circuits or use extension cords.
Keep the garage door closed if it contains water supply lines.
Warm the most vulnerable pipes with a hair dryer, heating pad or even cloths soaked in hot water. Leave the faucet on while you apply heat.
If water pipes inside an exterior wall are freezing, don't hesitate: cut an opening in the wall to expose the pipes to the home's warm air. Place fiberglass insulation around the pipes and against the exterior wall. (Don't worry about the hole—you can cover it later with a hinged door or panel, which will allow access during future freezes.)
Signs of a Frozen Pipe
If you notice any of these conditions, you may have a frozen or burst pipe:
Dripping, bubbling, whistling or sounds of water rushing in pipes or behind walls.
Discolored water coming from your faucets.
A drop in water pressure when you wash your hands, fill your sink or take a shower.
No water at all coming out of a faucet or a toilet that doesn't refill after flushing.
Odd or unpleasant odors from drains, sinks or other areas of your house.
Bulging and discoloration or water marks on walls and ceiling.
Drips, puddles or gushing water.
Your first step is to narrow down the location of the frozen pipe. Remember, frozen pipes tend to be located along exterior walls that are not well insulated, or in basements, attics or crawl spaces. Do this by turning on all the faucets and seeing which ones don't work.
If all the faucets in a single room don't work, the frozen pipe is on the room's side of its split from the main line.
If all the faucets on the floor don't work, the freeze is between where the first and second floor pipes diverge.
If no faucets in the home work, the freeze is likely near where the main water pipe enters the house: at the water meter, in the crawl space or at the water softener, if it is in the garage.
Once you have a general idea where the frozen pipe is, take a closer look:
Visually inspect any exposed plumbing in your attic, basement, garage or crawl space, and under sinks. The frozen pipe may have a layer of condensation on it or even a white area where the condensation froze.
Touch the pipes to check for a temperature difference. A frozen area will be colder than everywhere else.
How to Thaw a Frozen Pipe and Locate a Leak
If the pipe is still frozen, there's no water leaking … yet. This gives you time to prevent or minimize water damage.
Thaw the ice blockage by warming the connecting pipe. Using a hair dryer, start at the faucet or fixture and work your way back. Or use an electric heating pad wrapped around the pipe or wrap pipes with towels soaked in hot water.
Don't use a blowtorch, kerosene or propane heater or other devices with an open flame. A blowtorch can make the water in the pipe boil and cause it to explode and the others can create poisonous carbon monoxide.
When the pipe is thawed out, you'll need to find out if it has burst somewhere along its length. The most likely places are pipes that run against exterior walls or where the water service enters the home through the foundation.
Turn the water on and look and listen for leaks.
If you notice a rushing sound in the walls or a flood of water, immediately shut off the water to your house.
If your pipes thawed without bursting, they may have developed pinhole leaks. Run your fingers over seams and joints to check for hard-to-spot leaks.
If you identify no apparent leaks, check each of your faucets in turn. If you notice low water pressure at a particular fixture, you may have a slow leak in that line.
Halt Water Damage … For Now
You've located water leaking from a pipe, so now's the time to act fast and stop water damage in its tracks. Remember, SERVPRO of Glastonbury/Wethersfield has the resources and expertise to get to your home fast, stop the leak and completely clean up the damage.
Depending on where the leak is and how substantial it is, shut off the electricity to your home to prevent shocks.
For a pinhole leak, wrap duct tape around the pipe; this will often be enough to seal the leak until a plumber or water damage remediation company like SERVPRO arrives.
Another option is to fashion a temporary patch out of a piece of flexible rubber (such as an old radiator or heater hose), place it over the leak, lay a small block of wood over the patch and clamp it in place with a C-clamp.
An even better option, especially for larger leaks, is a sleeve clamp, which is a circular clamp lined with rubbery material that forms a waterproof sleeve for the pipe. (Note: you'll have to buy a clamp sized to your specific pipe.)
If the burst pipe is overhead, drain the water out by punching or drilling "weep" holes in the ceiling.
Once the water has stopped flowing, clean up any puddles. This will help prevent slips and falls, reduce the chances of water damage to home and furnishings, and minimize the odds of mold growth.
Repair Water Damage … For Good
Now that you or your plumber has stopped the flow of water and you've done basic cleanup, you need to dry out your home and repair any damage. It's essential that you dry out your home within about 48 hours, because after that, mold may grow on damp wood, paper and particle board.
An experienced water disaster remediation company like SERVPRO of Glastonbury/Wethersfield can do all the work and restore your home to its before-disaster condition.
Sources: Family Handyman, esurance, Home Maintenance for Dummies 2nd Edition, SFGate, Popular Mechanics, Liberty Mutual, IICRC, Angie's List, Lowe's
When you have suffered a water or other disaster at your home or business, call SERVPRO of Glastonbury/Wethersfield today at 860.633.8791
We're Here to Help
If you do suffer damage from a water disaster, you'll need to act fast. Step one is to call an experienced water damage remediation company, such as SERVPRO of Glastonbury/Wethersfield. We're here to help when you have property and structure damage from a water disaster—and we'll get the job done quickly and completely!
Other Helpful Blog Posts
SERVPRO publishes educational articles on how to protect your home or business from disasters and how to deal with mold, fire, water, sewage, storm and other damage.
Avoid Winter Water Damage in These 5 Home Areas
8 Ways to Prevent Frozen Pipes at Your Business
The Right Equipment for Water Damage Cleanup
SERVPRO of Glastonbury/Wethersfield
1408 Neipsic Road, Glastonbury, CT 06033
IICRC Certified
Ralph DiCristofaro
Certified SERVPRO technicians
Call 860.633.8791
24-hour emergency service
When you have suffered a water or other disaster at your home or business, call SERVPRO of Glastonbury/Wethersfield today at 860.633.8791