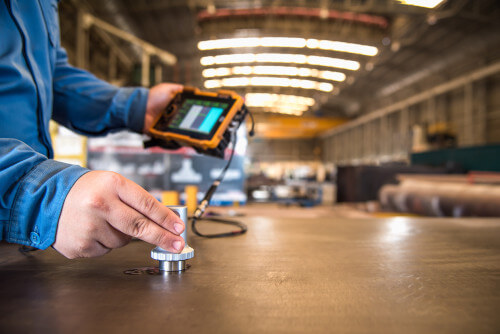 Vocational Schooling for NDT (Nondestructive Testing) Certification: What to Know
Have you ever felt your stomach drop when a plane takes off?
Plane rides are thrilling, but we can only enjoy them knowing that they undergo routine inspection and maintenance. Airplanes, bridges, rollercoasters, and more are all reviewed and improved by nondestructive testers.
Nondestructive testing (NDT) creates a safer world and helps cut down on operational materials and costs. While it's a very technical field, anyone can become NDT certified with the right training.
Vocational schools are the perfect route for anyone who wants to pursue NDT certification. Check out our guide below to learn more!
What Is NDT?
NDT is the practice of inspecting and testing materials or equipment without affecting or "destroying" the usability of the equipment.
NDT applies a variety of technologies and methods. Some can be as simple as visually inspecting a piece of equipment for faults.
Others are more complex. Radiography is sometimes used to see through an object to look for any defects or issues. Ultra-sonic testing uses high-frequency soundwaves to locate any changes in the properties of a material.
You might wonder why NDT certification could be useful. NDT is more common than you might suspect—it provides you with a safer world.
NDT aims to prevent accidents and strives to cut repair costs. If efficiency and providing a helpful service are career qualities that interest you, NDT training could be perfect for you.
Why Choose a Vocational School
Vocational schools are a perfect choice for people who want to learn a trade and get out into the field. There are plenty of vocational school opportunities available for people interested in getting NDT certified.
If you are looking for a faster track, a vocational school is preferable over a college. A college may ask you to complete prerequisites before you can take the classes that your certification requires.
Most vocational schools with NDT programs will only require that you take the classes relevant to your certification, which is why their attendance is on the rise. Vocational schools often also work to help you find a job once you've become certified.
Vocational schools are more cost-effective than traditional 2 or 4-year schooling, and you won't have to deal with a long program. The NDT certification program under the American Institute of Nondestructive Testing lasts only seven months.
How to Get Your NDT Certification at a Vocational School
If NDT interests you, it's possible to go to vocational school and get certified in it. However, it requires some reflection and planning on your part before you get started.
1. Decide on Your Field
As mentioned before, there are different methods used to conduct nondestructive testing. Each method requires special training, so you need to decide which one you prefer.
After you've chosen a field of interest, you'll also need to decide on which level you want to become certified in. An employer may require a certain level, or you may choose to reach for a higher level for more advanced career opportunities.
Within the NDT field, there are levels I, II, and III. Levels I and II typically only require a high school diploma or GED. Level III certification sometimes asks that the student has a 2-4 year degree in a STEM major or at least a year of hands-on experience.
2. Complete Your Training
After you've decided on your field and desired level of training, you can enroll in a vocational school to complete your certification. Along with classes, you will also have to complete hands-on training.
Depending on the field you've selected and the level, the amount of coursework and amount of hands-on training required may differ. It's pertinent that you get documentation proving that you've completed your courses and training.
3. Find Out Where to Become Certified
If you become certified at a vocational school, you will take the test under their supervision.
If your employer has asked you to become certified, a Level III NDT certified employee may conduct your test in your workplace. If no one at your workplace can conduct the tests, you can complete it through an agency like the American Society for Nondestructive Testing.
4. Pass Your Exams
There are several exams that you will need to complete to become NDT certified.
You will have to complete a practical exam to evaluate your ability to perform physical NDT tasks. You will also need to complete a general exam, which evaluates your knowledge on NDT basics.
You will also have to take an NDT specific exam. This will test you on procedures and codes relevant to your specific field of study.
A physical exam is also administered. The physical exam makes sure the candidate has adequate vision and can differentiate between colors. Since visual examinations are routine in the NDT field, this is an important exam.
The Rewards of Certification
NDT certification can provide you with a variety of opportunities. The beauty of an NDT certificate is that you can always expand on it. You may opt to only become Level I certified at first, but you can always build on that training later down the line.
The variety of subfields within the NDT industry provides students with a lot of options to choose from. Vocational schools allow people with an interest in NDT to pursue this field without having to go through an entire degree program.
If you're interested in an NDT certificate and want to apply learned skills in a hands-on job, check out our training program! To learn more about NDT and the jobs it offers, check out the rest of our website.