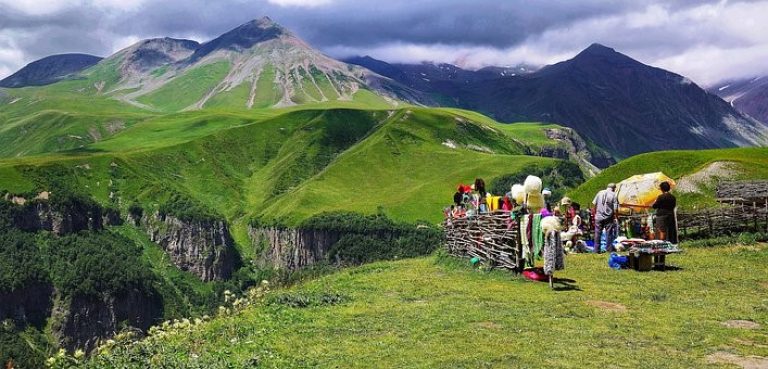 Travel to Georgia – When, Where and Why
Originally posted on https://tourguide.ge/travel-to-georgia/
Georgia is among the popular tourist destinations in the world with millions of visitors walking its see beaches and world heritage sites each year. Whether you are planning a vacation in Georgia for the first time or making another trip to exploit destinations you missed the first time, some several exciting activities and sceneries await you.
You can embark on a summer getaway at the Georgian Caucasus Mountains or catch the panoramic views of the Kobuleti Sea Resort as the sun sets over the vast sea coast. Known by many as the country of flowers and mountains, Georgia has a lot to offer in terms of history and heritage, natural scenery, cultural diversity, seas, and beaches as well as cuisine. Its mountainous villages and Black Sea beaches have made it a popular stop for anyone who loves to travel the globe.
However, like with most destinations, there is a litany of factors that will influence the experience you get. If you are planning to travel to Georgia, it is essential to review the three primary considerations which include:
When to visit Georgia
If you want to get the best of any destination, you need to pick your dates carefully. This can help you get more from your budget and enjoy your time. However, it all depends on your needs. If you love destinations with numerous other visitors, then it makes sense to plan during the peak months. Conversely, if you are more drawn to reclusive sceneries, you can pick a time when fewer tourists are visiting the country. If you are planning to travel to Georgia, here is a brief breakdown of the travel patterns and activities in the region:
Peak months
July and August are the peak holiday months when tourist crowd accommodation outlets in Georgia. This time also gets a little uncomfortable in the low lands of Tbilisi. If you are traveling to Georgia during this time, the mountain areas seem like the ideal place to visit. You can enjoy snow-free hiking and temperatures are also considerably cooler.
Cool and low months
By September, snow starts to fall, making the lower areas more pleasant to hang around than the mountains. Snow continues to fall, and temperatures get colder as you approach the low travel season (November to April). During this time (December, January, February), the snow buildup attracts winter sports festivities and tourists flock ski lodges.
Spring to summer
April and May are generally rainy months, and wildflowers start to invade most of the trailing landscape. This also makes the mountains accessible as the region transitions from winter to summer. You can visit Georgia in June, which is an excellent time if you want to beat the summer rush and still enjoy warm temperatures. After this, the pattern repeats itself.
For many travelers, the European Summer period (May to early October) is the best time to visit Georgia as most parts are accessible. Nevertheless, Georgia does not lack in travel destinations, and you can enjoy both worlds regardless of the time you choose. A Georgia travel guide can help you identify the best traveling seasons, popular activities, tours, sceneries, and destinations. You can also use a weather chart to help you prepare for the dynamic weather patterns of Georgia.
Why you should visit Georgia
Touring in Georgia is different. Even as a popular destination, Georgia is unlike most places you will visit. It is not too crowded even during peak periods, so the region offers a new pure travel experience. However, this might be short-lived. According to Georgian National Tourism Association, the number of people visiting Georgia has increased tremendously over the past few years. Between 2016 and 2017 alone, the number grew from about 6.4 million to 7.9 million, registering a significant 18.8% growth within twelve months. If this trend continues, a few things may have to change ranging from budget to tours and various other concerns.
Nevertheless, now is the best time to save up for your Georgia vacations. Here is why:
Several attractions and destinations
If your travel to Georgia is motivated by nature and scenic landscape, then it is among the best places you can visit. It boasts around 330 square kilometers of the Black Sea Coast. Other highlights include some of the highest peaks in Europe, alpine valleys, waterfalls, lakes, springs and natural reservoirs. Georgia has 860 lakes, and forest covers more than 40% of the country. It boasts over 12,000 historical monuments, 150 museums, UNESCO World Heritage Sites, cathedrals, monasteries, churches, and bridges. Some monuments date back to the 5th and 6th millennium B.C.
Fun activities all year round
Both the mountainous villages and lowland cities offer a myriad of exciting travel activities to engage. Georgia tours are packaged to help you enjoy your time and get the best experience. It all depends on where your preferences lie. The most common travel package is adventurous trips that include mountain biking, rafting, paragliding, scuba diving, mountain climbing, trekking, and horseback riding. Others are cultural trips (historical and archaeological tours), ecotourism (bird-watching, eco-tours and botany tours), health resort and wellness, photography and gastronomic trips as well as sports and conventions. It is ranked at 3rd position for best ski destinations in the world.
The diverse culture of friendly hospitable people
Georgia offers a perfect mix of proud highlanders and sophisticated lowland cities as well as everything in between. Millions of tourists from various walks of life travel to Georgia each year. In 2017 alone, 7.5 million tourists visited Georgia, making it the 4th country with the most growth behind Vietnam, Egypt, and Togo. The Georgian culture is simply admirable, and you can learn more about the country from a travel journal. From the most reputed folk music to fascinating dancing style, pre-historic wine-making tradition, and delicious nutrient-rich cuisine, there is no other place in Europe comparable to Georgian towns. The people are quite friendly, and the region is already a tourist hotspot, so most interactions are naturally respectful, hospitable and fun.
Safe and affordable
Georgia is one of the safest tourist destinations to visit all year round. Like many other regions in Europe, there are occasional theft and mugging in a few places. However, Georgia has one of the lowest crime rates in the world. There are safety measures and frameworks to help you enjoy your Georgian vacations without any worries. Climate, infrastructure, and accommodation all harmonize together to create a perfect place for all kinds of tourists and enthusiasts.
What's more, Georgia does not have the staggering popularity of other European destinations, so prices are reasonably affordable. Of course, the cost of your trip will depend on your budget and the vacation packages you pick. However, services are still moderately priced, and you can always take advantage of low seasons to save even more.
Best places to visit in Georgia
There are several top vacation spots in Georgia for everyone. Whether you are visiting to behold the heritage sites, museums, and cathedrals or seek the peaceful scenery of vast flower gardens, sandy sea beaches, reefs, and mountainous villages, there is no shortage of options. Some of the best destinations for Georgia holidays include:
Tbilisi – Best for lowland urban experience destination
In addition to offering the best attractions in the country, there are several things to do in Tbilisi. This is the capital and largest city in Georgia. Its rise as a popular tourist destination is recent, but the region has been a jewel for many visitors. Tbilisi was founded several centuries ago and is home to some of the most famous antique market in the world. It has a population of over 1.5 million people spread across its ten districts.
The most popular destinations include Chugureti on the left of the river Mtkvari. German expats built this city and still has artifacts from the Soviet Era. Other famous destinations in Tbilisi are Mtatsminda (Sololaki), which is a central district with traditional buildings and Krtsanisi, which is the oldest district where the city was founded. More popular tourist destinations include Isani, Vake, and Didube. The range of attractions comprises lakes, stadiums, museums, cathedrals, parks, fortresses, sulfur baths, springs, souvenir shops, and markets, among others.
Kutaisi – Best for heritage sites and monument destinations
Kutaisi is another famous destination for anyone who wishes to travel to Georgia. It is the second-largest city after Tbilisi and offers a stretch of elegant 19th-century housing as well as UNESCO heritage sites. You can walk down the breathtaking streets to take in the view and witness some of the magnificent architectural pieces of the town.
The glorious Bagrati church and Gelati monastery are a great place to start. Kutaisi has several attractions to offer including Motsameta monastery, Kutaisi State Historical Museum, Sataplia nature Reserve, Prometheus Cave, Vani Archeological Museum, Historical District, Katashki Pillar, and Okatse Canyon, among others.
Gori – Best for cathedral and museum destinations
Gori is a popular destination with historic fortresses, museums, mountain villages, and vast green-lands. It dates back to the 1st century B.C and has been invaded several times for conquering because of its geographical location. It has also been rebuilt each time.
Some of the popular destinations in Gori include Gori Fortress, Virgin Mary Cathedral, Uplistsikhe, Historical Ethnographic Museum, State Museum of Joseph Stalin, Ateni Gorge and Village Gardateni among others. Some monuments, such as the Ruisi Cathedral of Transfiguration that dates back to the 7th century have authentic architecture and style from that period. Gori is a perfect destination if you want to learn the religious and cultural backgrounds of Georgia.
Batumi – Best for urban tourism and beach resorts
The Pearl of The Black Sea, as it is popularly known, offers unique sceneries, picturesque sites and a harmonized mix of traditional and modern European architecture. Some of the highly famous destinations to visit in Batumi include the Beaches of Adjara, Old Batumi City and Batumi Boulevard.
Towards the end of the 19th-century ad beginning of the 20th, European architects took over various construction projects explaining the modern look of the city from afar. Batumi still offers incredible natural experiences such as the Botanical Garden with the world's most extensive variety of flora. You can also enjoy the infamous dolphin show at Dolphinarium in May Park. Other destinations are Piazza Batumi, Makhuntseti Waterfall, Argo Entertainment Center, Batumi Cable Car, Gonio Apsaros Fortress and Shkalta Monastery.
Mtskheta – Best for world heritage sites
Mtskheta is one of the oldest towns in Georgia that was inhabited long before 1000 B.C. It is a UNESCO world heritage site and boasts of rich cultural and architectural history. Some of the best places to visit in Mtskheta include Svetitskhoveli Cathedral, Mtskheta State Archaeological Museum-Reserve, Bebristsikhe, Jvari Monastery, Armaztsikhe, and Armazi Fortress. Mtskheta has several other historical monuments worth mentioning. It lies near other popular destinations like Tbilisi and offers a perfect getaway with numerous attractions. If you are visiting Tbilisi, you can easily reach Mtskheta and avoid the crowded town in the lowland region.
Other popular destinations
Georgia has several different destinations and attractions to offer. As a country covered with forests, lakes, seas, mountains and historic architecture, there is no shortage of travel destinations. The country also has an extensive tourism infrastructure that includes electric train transits and cables. There are tour packages and sporting activities happening all over the country, so you do not have to stay in the same place throughout your vacation. Other places you can visit when traveling to Georgia include Telavi, Kvareli, Mestia, Sighnaghi, Kazbegi, and Borjomi. Georgia has a strong economy that supports tourism, and there are opportunities to visit both heritage and industrial sites.
Conclusion
If you are wondering why there is so much buzz about Georgia tourism, the reasons are quite obvious and straightforward; Georgia's perfect location and unmatched climatic conditions leave it ideal for tourist activity. It is outlined by the Great Caucasian Ridge, the Black Sea Coast, ancient cave towns, mountain rivers, mineral springs, and waterfalls. The region also boasts incredible cultural diversity, lofty highland settlements, sophisticated cities, and deeply rooted hospitality.
You can find a Georgia tour package that exposes you to the best of attractions and popular destinations. You can also create your customized vacation package that includes the places you want to visit during your travel to Georgia. With proper planning, nothing can go wrong in this small safe country. It has some of the best natural sceneries, wines, and historical monuments.