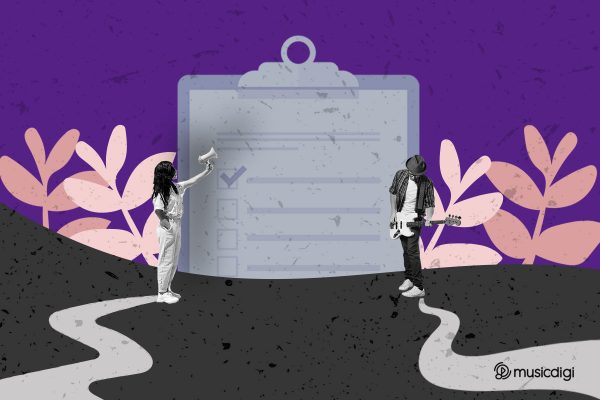 Top Ways To Promote Your Music Independently
Photo from MusicDigi
Originally Posted On: https://musicdigi.com/post/top-ways-to-promote-your-music-independently
While there's no one right way to promote your music, there are definitely things that most artists can and should do to promote themselves. We break down some of the easiest, most effective, and most budget friendly ways you can start promoting your music right now.
Streaming services (Spotify, Apple, playlists)
Most fans use streaming services like Spotify, Apple Music, and Amazon to listen to their favorite artists and discover new music, so you'll want to make sure to distribute music to all major streaming platforms. Getting featured on a playlist is a great way to boost streams and gain new fans. There are playlists for literally everything, so zero in on the best playlists for your music that will help you reach the listeners most likely to add you into their regular rotation.
Read more: How To Get Your Music On Spotify, Apple Music Playlists.
Build a Website
Having your own dedicated website will give fans a way to always find you. Your website lets you promote the most important information you want fans to know, including music links, tour dates, and more. There are tons of free website builders out there to help you make a music website, even if you're not super web-savvy.
Build your mailing list
Always work on building your email list. Your email list is likely the most valuable music marketing tool you'll have. Unlike social media platforms where algorithms determine who sees your content, your emails are guaranteed to land in your subscribers' inboxes.
With Feature.fm you can engage fans, collect emails and increase streams. Sign up to get 30% off your first year of any Marketing Plan plus $10 towards your first ad campaign.
Create an Electronic Press Kit (EPK)
Whether you're sending tracks to blog content writers or trying to convince a curator to include your track on their playlist, an Electronic Press Kit will help you look professional. Think of this as your extended business card, allowing you to quickly share the most important information about you and your music, including your bio, music links, videos, tour dates, press coverage, and press photos for use in media publications about you.
Music Videos
Visuals will grab way more attention, especially on platforms like TikTok and Instagram. Eye-popping videos help capture the attention of new and old fans alike and can be shared almost anywhere. You can make official music videos, live recordings, behind the scenes content, or anything else that helps to express who you are as an artist.
Read more: How To Make A Music Video On A DIY Budget.
Engage your fans on social media
Social media offers the most direct way to stay engaged with fans and promote your music. Stick to quality content and stay human, but don't be afraid to use social scheduling tools to help you stay consistent. Depending on your budget, you can take advantage of Social Media Ads to extend your reach even more. You can get your music on Facebook and Instagram to boost streams and possibly even go viral. If you use MusicDigi to release your music, you can easily opt-in to distribute your music to social platforms, giving you an instant edge.
Read more: How to Distribute Your Music to TikTok.
Get Press & Blog Coverage
Getting even minor media coverage can have a positive impact on your music career. There are tons of opportunities for landing on music blogs, including interviews, new release announcements, and album reviews. To make the best use of your promotion efforts, reach out to Blogs and YouTube Channels where your music would fit in well, and be sure to make a pitch that will stand out from the crowd.
Podcast
Like blogs, podcasts can help you grow your fanbase and are an increasingly popular way to engage fans. Do some research and reach out to hosts with a pitch for a song feature or interview. You can even start your own podcast and use it as a tool to promote yourself to listeners.
To Sum It Up
Always try to take advantage of all the great opportunities, tools, and services within your budget to get your music out there to help you get the most out of each new project. Give yourself enough time to plan and include all the most important elements to help you reach your music goals.
Ready to get your track out in the world? Sign Up to MusicDigi to release your music to all the major music stores and streaming platforms.