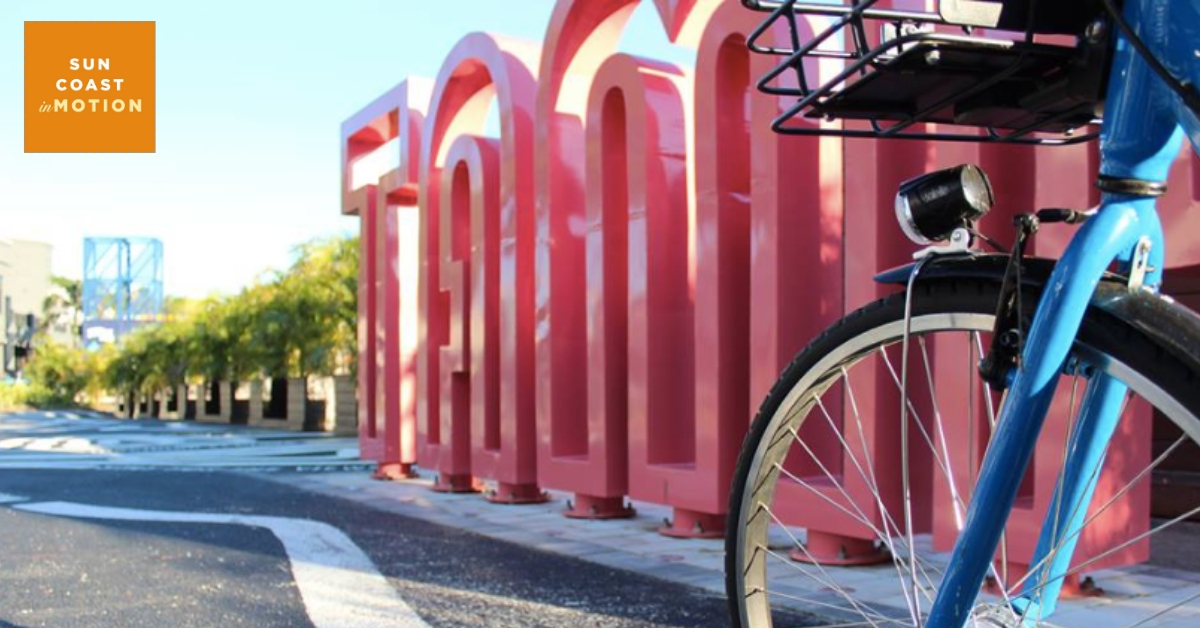 Things to Do in Tampa, FL: Revitalize, Refresh and Connect
Originally posted on https://blog.suncoastinmotion.com/things-to-do-in-tampa-sparkmans-wharf/
Revitalize. Refresh. Connect. These three words sum up things to do in Tampa.  Sparkman Wharf, located right between the Amalie Arena and The Florida Aquarium is the newest premier waterside destination!  It has combined a beautiful park-like environment with an exciting dining garden featuring 9 Tampa Chef's whipping up delicious street food concepts. Not from a glitzy restaurant but instead from inside 10 brightly colored shipping containers. All this plus a Biergarten and a new approach to family fun that's now open Tuesday – Sunday from 11am – 11pm.
Oh, did we mention the sweeping water views?   You are going to love this…
Sparkman Wharf's dining garden features some of the trendiest eateries in Tampa recreating their unique flavors on a smaller scale.   It'll be Revitalizing to visit this beautiful outdoor space with your family. It will feel Refreshing after a long week of work to wind down at the Biergarten with your friends. And last but not least, Connecting with your loved one will always be time well spent.
After reading this article you'll have everything you need to know for your visit to Sparkman Wharf. Here is your guide (in no particular order) of the 9 garden dining restaurants, a peek into the Biergarten and Splitsville Southern + Social! The hardest part?  Choosing which one to visit first!
---
Originally posted on YouTube by ABC Action News
BOAT RUN OYSTER CO. |  TAMPA, FL
Just like their name, Boat Run Oyster Company is a tide-to-table concept driven by the love for the water, commitment to sustainability, and their passion for locally sourced, fresh oysters. Open for business Tuesday – Sunday, let Boat Run be your next go-to for date night and while you're there, be sure to split an order of their delicious Fried Oyster Tacos with your loved one. Yum!
Boat Run Oyster Company | Sparkman Wharf | boatrun.com
BT IN A BOX | TAMPA, FL
When being creative, it's always best to think "outside of the box", but don't let the name fool you, because BT in a Box is definitely creative! Inspired by Restaurant BT, the flagship of the BT brands, they combine a fusion of French and Vietnamese cuisine.  Curating fun and exciting dishes with fresh poultry or Florida seafood. All at amazing prices. We recommend trying BT's Famous Chili Chicken Mixed Greens Salad with steamed organic chicken, ginger, chili, garlic, sesame oil, crispy shallots, mixed herbs, shredded carrots, and peanuts on a bed of organic mixed greens- you can't go wrong!
BT in a Box | Sparkman Wharf | bt-in-a-box.com
FLOCK AND STOCK | TAMPA, FL
Serving up delicious, classic American favorites such as burgers, chicken sandwiches, tenders, and fries, Flock & Stock, brings America's roadside favorites to Tampa, Florida. Check out their full menu here in advance so that you come prepared to enjoy a tasty meal with your friends and family. Followed by relaxing in the outdoor garden!
Flock and Stock | Sparkman Wharf | flockandstock.com
FOUNDATION COFFEE CO. | TAMPA, FL
With so many fun things to do in Tampa, you might need to kick up your caffeine intake.  You're in luck – Foundation Coffee Co. has got you covered  Priding themselves on serving you great coffee, within a great community.  So stop by and fuel up for the long day ahead with a fresh roasted coffee, cappuccino, Americano, espresso, or latte! Order it iced and enjoy it as you sip along under the warm Tampa sun.
Foundation Coffee Co. |  Sparkman Wharf | foundationcoffee.com
GALLITO TAQUERIA | TAMPA, FL
Who doesn't love Mexican food? Combining tacos and sangria is a favorite by almost anyone and Gallito Taqueria serves up some of the best in all of Tampa! Their tacos are only $4 each so you'll want to mix and match them.  They also feature Vegetarian options to ensure any dietary needs are met.  Just don't forget to share with your group of friends!
Gallito Taqueria | Sparkman Wharf | gallitotampa.com
MONTADOS | TAMPA, FL
Montados brings you traditional Spanish-style tapas, shareable appetizers and snacks. They have created unique dishes as well as classics with big flavor and fun. They describe themselves as "Made for the adventurous in palate and spirit". On your visit, be adventurous and try Montados' tostones with juicy pulled pork, salsa criolla, ají panca mojo, and avocado crema.
Montados | Sparkman Wharf | facebook.com/montadostampa
EDISON'S SWIGAMAJIG | TAMPA, FL
Unique by name and in flavor, Edison's Swigamajigcombines the allure of outdoor bohemian dining with a serious seafood menu, craft cocktails, beer, and wine. Plus, their menu actually changes daily to feature fresh ingredients, exciting flavor experiments, and newly interpreted core items. The sample menus posted online are intended to introduce items served to tempt your tastebuds!
Edison's Swigamajig | Sparkman Wharf | swigamajig.com
THE CORNERS PIZZA | TAMPA, FL
The Corners Pizza serves up the most authentic Detroit-style pizza in Tampa! Stop by on your next date night and enjoy a hot slice with your loved one. Indulge in a pie lined with a thick and airy crust with crispy cheesy edges, topped with the most simple and beautiful ingredients. Their menu is short and sweet, but don't let it fool you.  The complexity of flavors in their pizza is truly something that you must try!
The Corners Pizza | Sparkman Wharf | thecornerspizza.com
WHATEVER POPS | TAMPA, FL
To round out number 9 of unbeatable things to eat in Sparkman Wharf is Whatever Pops, which features ice pops, gelato, acai bowls and even grilled cheese.  At Whatever Pops, your can order an incredible Grilled Cheese made with artisan bread that's locally sourced, packed w three different types of cheese and then complete it with tasty dipping sauce! Their gelato is served in your choice of a bowl or waffle cone. Lastly, their acai bowls come topped with fresh fruit, granola, unsweetened coconut, and local honey.  You can also add flax seed, chia seed, or even dark chocolate chips– shh, they won't tell!
Whatever Pops | Sparkman Wharf | whateverpops.com
SPLITSVILLE SOUTHERN + SOCIAL
Splitsville Southern + Social brings a modern entertainment experience where you can knock down some pins and some drinks too!  It not only offers 10 pin bowling but you and your family can also enjoy feather bowling, ping pong, billiards, foosball, darts, and even shuffleboard. The recently renovated Splitsville also comes with Southern inspired cuisine from Chef Art Smith, a two-time James Beard Award winner.  Add to this some hand-crafted spirits and an expansive offering of almost 50 cold can brews!  See the full menu here…
When you visit Splitsville at Sparkman Wharf try the The Funky Chicken.  It's fried chicken breast that's first tossed in their own Fresno hot sauce.  Then it's cooled down with ranch dressing, blue cheese crumbles, Southern slaw, tomato and finally topped with house made pickles.   Find an event and make it a date at Splitsville Tampa!
Splitville Southern + Social | Sparkman Wharf | splitsvillelanes.com
FERMENTED REALITY BIERGARTEN
Adjacent from the outdoor lawn and dining garden sits the Fermented Reality Biergarten of Sparkman Wharf.  Serving up fresh tap beers, wine, cold brewed teas, and more! At anytime almost half of the 30 taps will be offering locally sourced brews.  They also offer fun events throughout the year, which you can stay up to date with directly on their website!
Biergartens are one of the best ways to enjoy the outdoors with friends while sipping on a fresh, cold drink. The best part?
Having an amazing waterside view to share with your family or your special person.
Fermented Reality Biergarten|Sparkman Wharf | frbiergarten.com
Try one, or try them all– these eateries won't disappoint and you'll be amazed at how fresh and tasty all of these different cuisines are!
So what're you waiting for? Come visit Sparkman Wharfin Tampa, Florida and check out some of the best new eateries, bars, outdoor views, and more!