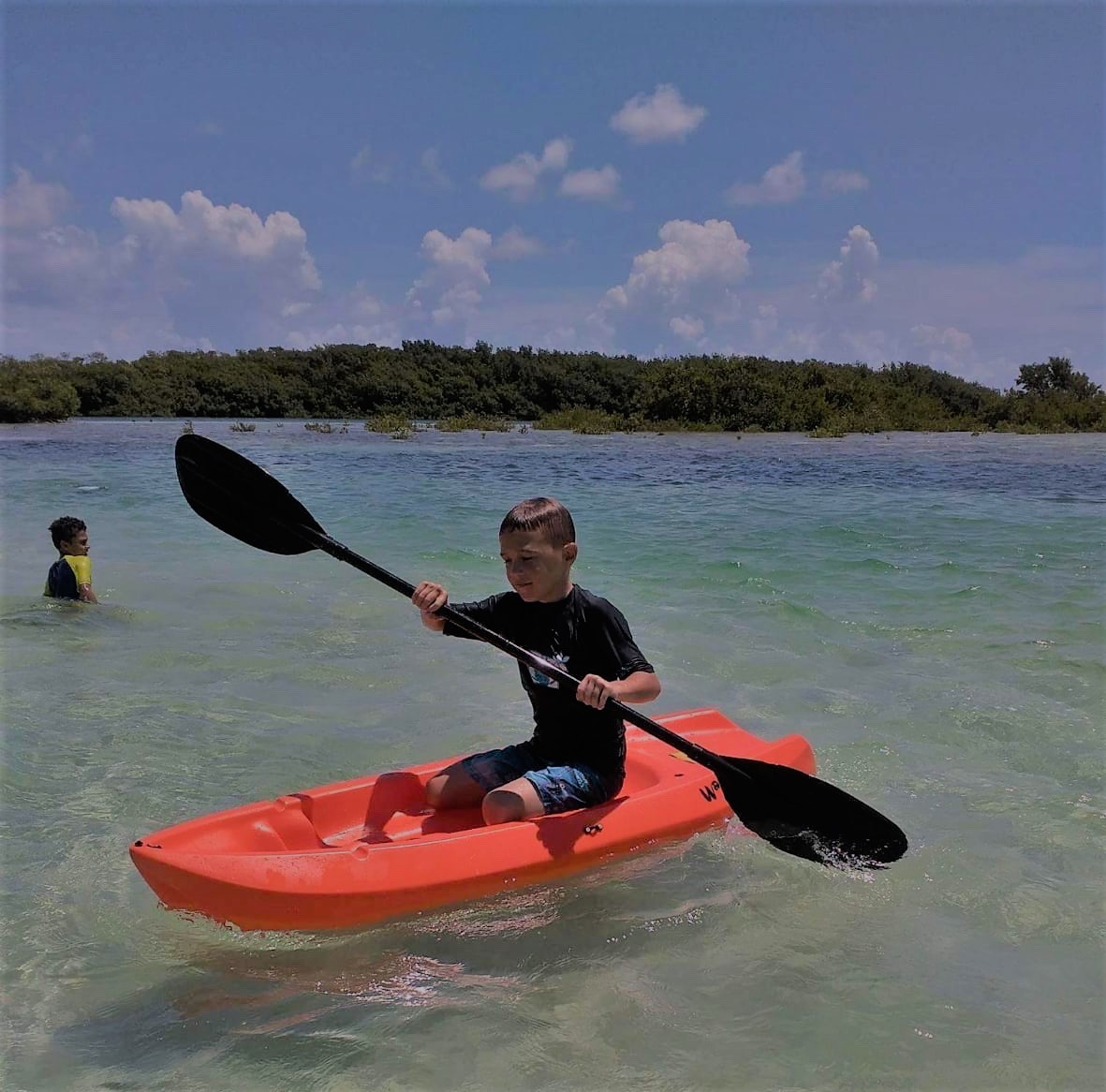 The Tropical Island Vacation of Your Family's Dreams
Originally Posted On: https://vacationhomesofkeywest.com/key-west-family-vacations.html
Key West is more than just the party spot for adults; it is a wonderful and delightful place to vacation with your family, including your kids. Travelers are often unaware of all the great activities and experiences the island has to offer for children. If you choose to
bring your family down to Key West
, we at Vacation Homes of Key West can help you find the perfect place to stay. We will also help you plan the most exciting trip for your family, one that they will never forget!
Learning to Kayak in Key West
Being native to the land, we know all the best places and things to do, making us the best people to plan your trip! We will make sure we take all of your needs into consideration and plan a trip your family will absolutely love!
Everyone that is part of the VHKW family either was born and bred in Key West or grew up in the Florida Keys from early childhood. Several of us are parents to young children ourselves, while some of us are grandparents! Our children and grandchildren adore the island and thrive on it. With these kids in mind, we have the unique opportunity to view this beautiful Caribbean Island from the perspective of all ages.
Based on what we learn from the children and what we experience ourselves, we always recommend that our guests pre-plan their vacation to make the most of what Key West has to offer. Of course, there's nothing quite like spontaneity, but some things just need a little advanced planning.
The first bit of planning that needs to be done is booking your stay, of course. We suggest doing this well in advance so you can get the place that is ideal for you. It is also a good idea to make a list of items you might need for the little ones; if you're having trouble deciding what you need, you can always ask our helpful staff for advice!
Next, you want to think about how you plan to get around the island. You can walk, ride a bike, take a taxi, or take public transportation. We usually advise our guests to avoid driving in the area because finding parking around the island can become a problem.
Finally, you want to have a list of fun, exciting activities prepared. Think about things that your kids and family would like, and you can start your quest to discover all things wonderful in Key West.
Where Should Our Family Stay in Key West?
Deciding where you stay is very important because it decides what your vacation will be like for you and your family. While hotels and bed-and-breakfasts have their own advantages, staying at vacation rental properties can create an environment that is a lot more comfortable and kid-friendly.

Having a private home-like feel rather than a busy hotel can create a sense of security for your kids while they are away from their regular surroundings. This location will become your homebase throughout your vacation, somewhere you can unwind, relax, and rejuvenate between activities.
There are a few things to consider before deciding on your rental property. You want to see the location, the amenities, and the layout of the house before deciding. One of the most popular demands for these properties are properties with swimming pools and fenced in tropical gardens.
A pool is a great feature to have on vacation. It provides tons of fun for the kids and a great place to relax and hang out for the adults. When you rent your own property, you also have the option to set up a grill and BBQ for your family near the pool. Homes that are licensed to rent as weekly vacation rentals are in high demand in Key West, so it's smart to reserve well in advance of your trip.
Tips on Preparing and Packing for Kids on Vacation in Key West
Like we mentioned, preparing a packing list for your kids is crucial. They will be entering a new tropical environment and will need some extra protection from the hot sun. Here are a few items that we suggest you bring on your trip:
A good high SPF sunscreen that needs to be worn at all times of the day
A sun hat to block the hot sun from their heads
Sunglasses to protect their eyes
A comforting reminder of home, so they don't get anxious on their vacation
Swimsuits! Of course, your kids are going to be spending tons of time in the water
Floaties, if your children are not strong swimmers
Entertainment like coloring books and puzzles for downtime at your rental property
Any prescription medications
Of course, when it comes to sunscreen, hats, and swimwear, Key West has tons of shops where you can get them. However, it is always a good idea to be carrying your kid's favorite items from home, so you don't run into any last-minute problems.
What Is There to Do in Key West for Families With Children?
Key West may be small, but it's packed with tons of things to do. Any which way you travel on the island, you will be surrounded by azure waters and beaches. As parents and grandparents, we have come to appreciate that one of the most meaningful opportunities for our children is to develop curiosity, respect, and love for nature.
We have witnessed this curiosity and love flourish in our own children as they have gone boating, fishing, snorkeling, and diving in the warm waters of the Caribbean while growing up. The beaches are also great for kids who want to play, and there are many eco-centers, sea camps, and the Key West Aquarium for them to explore.
If you are looking for specific things to do with your kids on the island, we can help you there too. The water-fun Truman Waterfront Park and Splash Pad, the stunning Key West Butterfly and Nature Conservatory, a ride through Old Town on the famous Conch Tour Train are all part of the fun for kids on the island.
There are also unique and interesting museums to visit. These include the intriguing Mel Fisher's Shipwreck Museum, East Martello Tower Pre-Civil War Fort on the Beach to see the haunted 'Robert the Doll,' the patriotic USCGC Ingham Maritime Floating Museum, the historic Key West Lighthouse Museum where you can climb to the top of the lighthouse, the one-of-a-kind Key West Aquarium, and the list goes on.
Our in house VHKW Concierge is a true local who is raising her own family on the island. She loves helping families plan and book memorable adventures to have together. Additionally, our Director of Operations has created a 3-Day itinerary designed for families with children vacationing in Key West. Itineraries are provided at no cost to our guests when they book vacation rentals with VHKW.
Apart from activities, there are many places where your kids will have a great dining experience. Some of our favorites include Salute on the Beach, Hogfish Bar and Grill, Flamingo Crossing (homemade ice-cream), The Boat House, and Blue Heaven, just to name a few.
What Are the Best Ways to Get Around the Island of Key West with Kids?
Most people don't plan how they will get around in Key West until they arrive. Key West is a tiny island, and you can ride a bike around it in about an hour. However, the weather here gets hot, and there is a notorious shortage of parking, which can be challenging.

Keep in mind that this tiny 4.2 square mile island was founded before cars existed, so it isn't built for them. Many streets are very narrow, and parking is restricted and expensive. We recommend that you think about your transportation needs in advance to avoid surprises and frustration.
If you do plan on driving to Key West, you should know that most of our properties have onsite parking; plus, your car can come in handy for grocery runs and scenic drives. If you plan to drive downtown, scout for parking spots in advance to avoid any last-minute trouble (and keep the heavy price tag in mind).
One great alternative to bringing your own car is using the free service provided by Duval Loop Bus. It runs every 15 minutes from 10 a.m. to midnight and every 30 minutes from 6 a.m. to 10 a.m. With a motto of "Free and Frequent," this service is dedicated to promoting a car-free Key West.
Of course, for short distances, walking is always a fantastic option. Everything is relatively close on this little island – it takes about four Key West 'blocks,' to make a standard city block. Renting bicycles is another option for families, but we recommend this with a word of caution, since there are very few bike paths in Old Town, and when downtown is congested, it's not the best place for kids to be riding.
On the other hand, bicycles are fun to ride along the beach path and out to Fort Zachary Taylor State Park to the Beach. It's smart to plan your bike route in advance, and we can help there too.
Key West also has taxi cabs and UBER, so when you need to get home fast, these options can be less expensive than what you'd pay for parking.
Key West also has a public transportation system. It not only goes around the island but connects to nearby Stock Island too. If you want to see some of the other islands in the Florida Keys, the Lower Keys Shuttle is a convenient service that makes 8 trips a day, back and forth between Old Town Key West to Mile Marker 53.5 in Marathon.
Why not take advantage of these services and enjoy the ride with the kids; savor the views and take some photos of the Fabulous Florida Keys. A stop in a Bahi Honda State Park is a great way to spend the afternoon. The Dolphin Research Center is another exciting and educational stop in the Upper Keys.
When Is The Best Time to Visit Key West?
Key West is a great place for families to vacation at any time of the year. Winter and springtime offer a great sunshiny break from the cold weather. Many families enjoy spending Thanksgiving, Christmas, and New Year's Eve on the island because of the ample sunshine.
Vacation rental houses book up in advance for holidays, so it's good to make plans in advance. Summertime is a great time to explore the warm turquoise waters and hang out by the pool to BBQ. It's also the time to take advantage of great summer rates and discounts on rentals, activities, and dining.
At VHKW, our staff understands how precious your family is to you and that you want to provide them with the most wonderful vacation experience to make memories for a lifetime. We encourage you to contact us directly with any specific questions on booking one of our vacation rentals, planning special activities for your small children, and any family itineraries that include your kids. We look forward to hosting you on our island home soon.