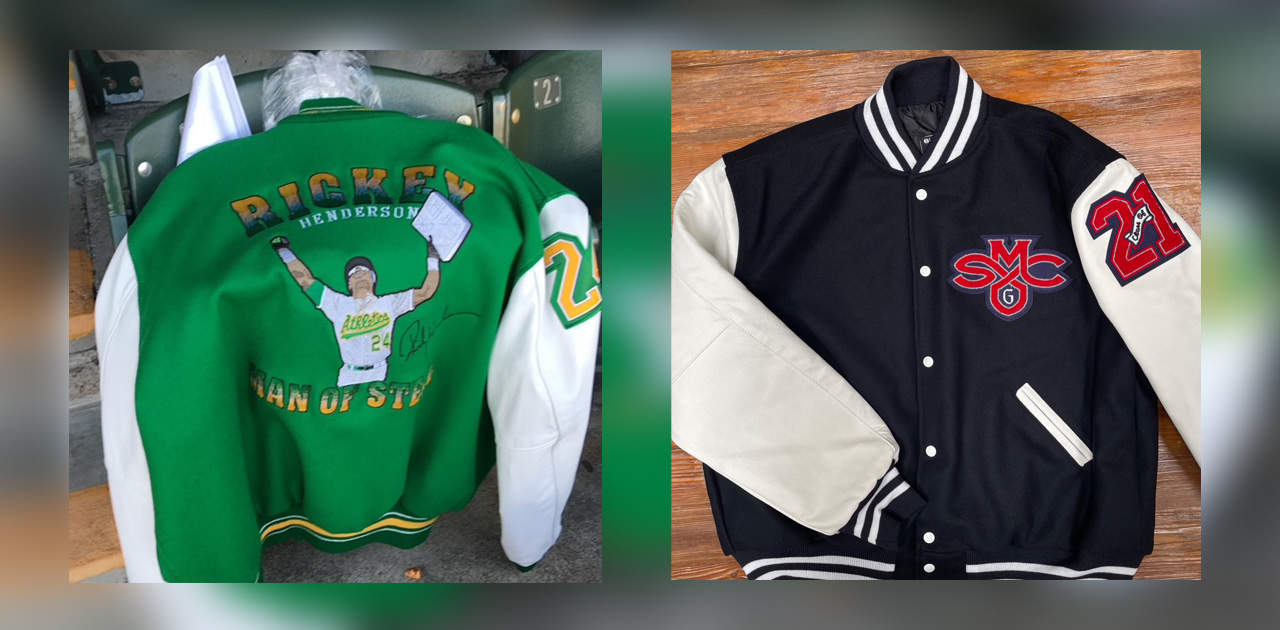 The Time Matt Gould Walked Up to A's Player Rickey Henderson to Give Him a Custom Embroidered Jacket
Photo from BYOGLogo
Originally Posted On: https://www.byoglogo.com/that-time-matt-gould-walked-up-to-as-player-rickey-henderson-to-give-him-a-custom-embroidered-jacket/
"My brother and I grew up as Oakland A's fans. We'd run up on the BART by ourselves and head over to the ballpark to watch Rickey Henderson." Then, with a smile donning across his face, Matt Gould continues, "Well about four years ago they dedicated the field in his name. And when that happened, I turned to my brother Chris and said, 'We need to make a custom jacket for Rickey.'"
"How's that supposed to work?" his brother asked, questioning how they'd possibly get it to him.
"I don't know! Let's just make the jacket and take it up there on the night of the dedication and we'll figure it out," says Gould.
Together, the brothers who owned and operated JacketBack Embroidery alongside their father, got to work designing a full-back embroidered photo of Rickey Henderson holding up a base over his head the day he broke the all-time base stealing record. "It was on a green and white letter jacket with an A's symbol," recalls Gould.
"The night of the ceremony, we bought tickets to the game and brought the jacket in on a hanger all neatly wrapped in plastic." Walking up to a woman guarding the entrance to the suites where Henderson ostensibly was, the brothers said, "We want to bring this up to Rickey."
The guard wasn't buying it. "Really?" she replied.
"Look," says Gould as if he quickly plotted the best way past this point, "We've been lifelong fans and admirers. We made this jacket for him and want to give it to him."
Perhaps it was Gould's calm voice or subtle demeanor that indicated no harm was to come Henderson's way that evening. Or the tactic of sincere honesty. Either way, the guard quietly suggested, "Come by later, sometime between the fourth and fifth inning."
The duo returned later in the game and met Rickey Henderson as he was coming out of his suite. They enjoyed some selfies with the legendary player and compliments from the man who was legitimately impressed with the embroidery work. Gould recalls the whole series of events leading up to as if it was four days ago, not four years.
How Gould ended up in the jacket business is full of as many twists and chances. "I originally went to school to be a PE teacher," says Gould. But the repetition and day-to-day routine turned out to be less creative and flexible than he hoped. "We have to feel some passion for where we work. Something about it has to be fulfilling."
He left teaching, but stuck around as a basketball coach. And struck out to help run the Teen Center with the Fremont Recreation Department. "That's when my dad, a businessman, and my brother, a graphic designer, wanted to start a business."
The family trio's skills matched up."Working with the schools, interacting on campuses — that's what was most rewarding to me." Together they formed JacketBack Embroidery, a specialized business that exclusively made high school and college letterman jackets. "The fulfillment of the order from start to finish and seeing students or staff wearing those items…that's why I stayed in the industry."
Having found a way to combine youth athletics, family, and make a business in Livermore, California was a lucky break combined with skill. But COVID-19 and the subsequent closure of schools, their athletics programs, and no students earning letters changed things. The family shut down JacketBack Embroidery in January 2021.
"I've been in the decorated goods industry for fifteen years," says Gould. "I joined BYOG three months ago. Cathileen has built a strong business here in Dublin and much of the Bay Area and California. Where we used to just focus on the jackets, BYOG offers shirts, hats, lanyards, cups, and other products that really let students show their school spirit."
Gould's father subsequently took the opportunity to retire, and his brother has just joined BYOG this spring. The team hopes to have a letter jacket fundraising program similar to what they used to operate exclusive to BYOG in the future.
In the meantime, Gould is busy working with teams and athletic departments across the region ready to get back to their usual pride and spirit. "We just did our first order for St. Mary's College, outfitting all their seniors on the baseball team in a quick turnaround," notes Gould with pride.
And his luck continues, because he still gets to coach, too. Gould continues to live in Livermore, California with his wife Michelle and son Dylan, whose little league team he coaches each season.