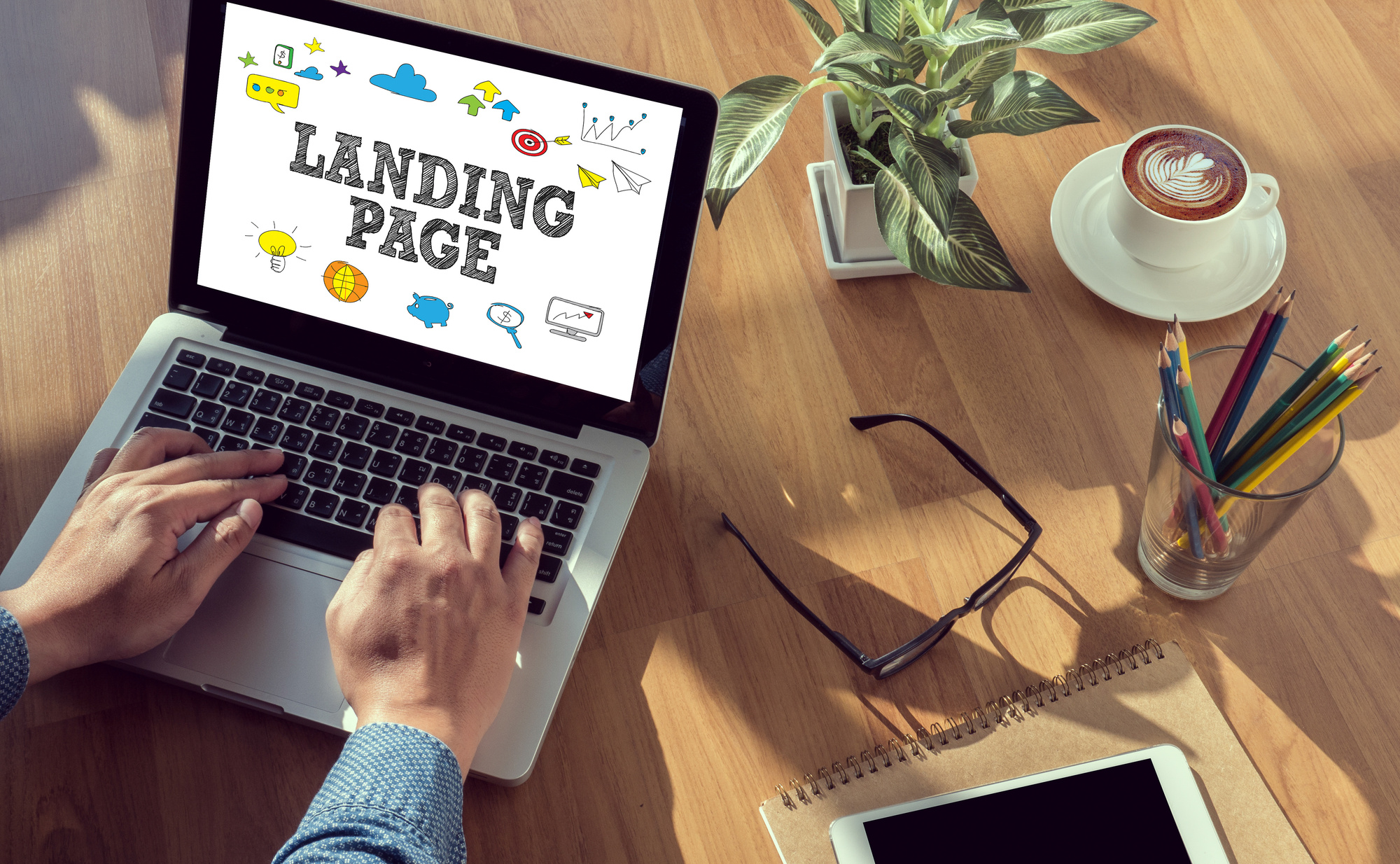 The Most Useful Types of Web Pages for Your Business Site in 2021
With over 1.8 billion websites on the world wide web, getting yours noticed by the masses can prove more than a challenge. That's why having a business website doesn't automatically mean that customers will start pouring in. 
To run a successful business website, you'll need to have everything on lock including, SEO, user interface, and even the types of web pages on your website. In fact, the kinds of web pages you choose for your business should be your next major decision after choosing a domain.
If you're like most entrepreneurs, you probably don't have a clue about the various types of websites, let alone the types of web pages. If this sounds like you fear not, we're here to help.
Today's post will be highlighting the most effective types of web pages you should run on your business website.
Landing Page
The landing page is the first page the browser takes your visitor to when they click on your website on the search engine results. Keep in mind; the landing page isn't the homepage; both pages have different end goals.
Your landing page should convince the visitor to accomplish a specific action. Whether it's to buy a product or even just learn more about the product in question. On the other hand, the homepage sets the stage for you visitor, welcoming them to the site.
A good landing page gives the users what they want without much of a hassle. That's why it needs a clear header that spells out what the landing page is about and concludes with a call to action.
The Homepage
The homepage is what a large chunk of your web visitors will see first. As such, you need to make sure it gives off the right impression. This can be somewhat challenging, but here are a couple of tips to ensure you get everything right:
Make yourself known. Let everyone know who you are with a logo, title, and a brief company description
Be interesting. Make sure the information is enticing enough to capture your visitor's attention
Capture the eyes, too. Don't forget about the visuals and graphics, but don't overdo it. Remember, too many visuals hurt your site's loading speed. It's worth noting that 53% of web users exit any page that takes more than 3 seconds to load.
Have clear links to other pages. You can think of the homepage as a gateway to other pages on your site. Make sure the links to these pages are clear and easily accessible for a seamless user experience.
Lastly, have a small section where you explain your products and services. You can also include contact information, although the contact page should take care of all that.
Products Page
The products page is where you show your potential customers what you have to offer. It's where you delve into the details about what you're selling. For a killer products page, consider including:
A brief description. Your products page should begin with a concise description of the products you offer. This lets the customers know that they're in the right place and encourage them to look further.
Categories for multiple products. If you sell different products, make sure you categorize them to make specific products easier to find. After listing products in each category, you can link each product to a product page that details the product in question.
Sell your product. Ensure you give information that convinces the prospect to get your product.
Tell customers about offers and what they can expect after buying the product. Also include information about why they should buy your product and not your competition's.
Services Page
Businesses that sell services should have a services page instead of a products page. Just like the products page, here you can list all the services your company offers. If you provide numerous services, you can divide them into sections to enhance user experience.
Start with a summary of all the services you offer, but don't list all of them. For instance, you can have a paragraph talking about construction services, legal services, automobile repair, and so on. You'll add links to specific services further down the page.
Don't forget to include:
Links to additional services you offer
Pros of choosing your company over the competitors
What clients should expect from your services
Any offers, discounts, and other incentives
An excellent services page is etched in detail and its ease of use. Ensure your services page doesn't leave the customer asking questions or feeling unsatisfied. A quick link to customer service always will help solve any unanswered questions.
About Page
Contrary to popular thought, the about page isn't solely for flexing your company's muscles. No, the about page should focus on introducing your business to potential customers to let them know who they're working with.
While accolades and achievements are great for convincing potential customers, that shouldn't be the main agenda.
The about page, as the name connotes, should talk about your company. It should summarize what the company does, its history, accolades, and what makes you better than the rest. A complete about page should include:
A brief description of your company
Your company's history from its inception to where it is now
Any special achievements and accolades you've received so far
What makes you stand out from the pack
Put yourself in the visitor's shoes and think of what you'd want to know about the company if you were the visitor. You can also talk about the type of employees you hire and your work, and company culture.
Testimonial/Reviews Page
Testimonial or reviews are a great way to build confidence in your visitors. Reviews and testimonials are first-hand accounts of actual customers who have bought your products or services. This page gives you a chance to show off all those positive reviews you've been getting.
The trick with a testimonials/review page is to make it as credible as possible. That's because many websites are notorious for posting fake reviews to dupe their visitors. Sometimes it can be hard to tell whether your reviews are genuine or fabricated.
To enhance the credibility of your reviews, you should try:
Including photos of the reviews' authors
Adding links to their authors' social media profiles
Including their locations, for instance, Kate Williamson from Long Beach, California
Including the above information goes a long way in enhancing the credible look of your testimonials. Also, it's okay to add one or two slightly negative reviews to make things more believable. Just ensure your positive reviews overshadow the negative ones.
The FAQs Page
Of course, your visitors will have tons of questions, but most of these questions are pretty similar. This page helps you save a lot of time answering questions that you've answered dozens of times before. Instead of asking the question, visitors will first look at the FAQs page and get a quick answer in a matter of seconds.
For the best results, make sure you give honest, elaborate, and straightforward responses to the questions. Your answers should also encourage the visitor to take a particular action like to buy a product, for instance. Consider throwing a few power words into the mix for the best results.
Also, only include frequently asked questions, not every question from your visitors. A crowded FAQ page makes finding the questions difficult, let alone the answers. Don't forget that customers can also learn a lot about your company from the FAQs page.
Blog Page
Ever heard of content marketing? Well, content marketing, as the name suggests, is marketing your products/services through content.
Blogging is an integral part of any content marketing strategy. It's what keeps your readers updated about the latest developments and keeps them engaged.
The blog page consists of multiple blog posts concerning your business niche and even your company in general. Every blog post has a date, and you should list all the posts in reverse chronology, with the latest posts appearing first.
Blogs are especially useful for small business sites because they not only drive traffic but also increase conversions. What's more, blogs don't cost a thing yet improve your sales and brand awareness almost as much as other paid marketing techniques.
It's also an excellent way to connect with your customers and give your company a voice. If you create a blog page, make sure it includes:
A solid strategy that underscores why you're blogging and who you're blogging for
A list of topics that resonate with your target audience and industry niche
Pick a writing style; casual and straightforward works best
Quality, informative, and well-written blog posts
While creating your blog posts, don't forget about SEO optimization and other Google ranking factors to rank high on search engine results pages.  You can check out this company if you need a little help with your SEO strategy.
Contact Page
The contact page should provide avenues for your visitors to contact your business for whatever reason. This page should contain all your contact information, including your:
Email address
Telephone numbers(all of them)
Physical address
However, it might be a good idea to have your contacts strewn all over your website. A great way to do this is by having a footer containing the company's telephone number, email address, and any other contact information that fits. 
You can also use a contact form instead of giving sensitive contact information. This is an excellent way of sidestepping spam emails and non-genuine callers. Regardless of your choice, so long as your visitor can reach you, you're good to go.
Latest News/Press Page
The latest news/press page communicates to the media about the latest events in the company. This is where you let the media or everyone know about changes in management, company policies, or notable commercial achievements. 
Ensure you also include your press or media kit on this page for the media to learn about your company before further publicity. Furthermore, include ways that media outlets can contact you, like your email address or telephone number.
Lastly, make sure all PDFs and photos have download links for the media outlets.
Sitemap Page
As the name connotes, a sitemap is a map for your website that details all your web pages. Sitemaps break down into two formats, which are:
HTML Sitemaps
This is a simple sitemap listing all web pages you'd like Google and other search engines to find. HTML sitemaps are simpler to understand than XML  sitemaps.
XML Sitemaps
XML sitemaps are an index of your web pages for search engine bots. They are crucial for your page ranking, specifically SEO ranking.
Building a sitemap is a bit more complex. However, make sure yours include links to all your web pages. WordPress has excellent plugins to help you create a detailed mind map without breaking a sweat. Include a link to your sitemap page at the bottom of all your web pages.
404 Error Page
A 404 error page or page not found is a page that displays when the page the visitor is looking for no longer exists or has expired. You can customize your 404 pages any way you want, but ensure it has the core message down pat. That said, ensure you 404 error pages:
Tells visitors that the page is no longer available
Includes a link that redirects users back to the homepage
A search box to search for whatever you were looking for
It's okay to add a bit of style to your 404 error page, as long as you have the core message on lock. However, try to get rid of links that you no longer have on your website.
Never Miss These Types of Web Pages 
Your business website can be your number one source for new leads and your gateway to growing your business.
As long as you have the above types of web pages, you're well on your way to running a successful website. And business. That said, don't be afraid to seek professional help if necessary for the greatest effect.
For other informative content, be sure to check out the other articles on the site.