The Meteoric Rise of Pickleball
Photo From Selkirk Sport
Originally Posted On: https://www.selkirk.com/pages/pickleballs-growth
2.815 million players
Catalyst: a surging professional game
Increase in TV Contracts and professional endorsements
Larger prize purses and incentive pools
Tremendous opportunity for cities, facilities, pro-shops, teachers, and more
As one of the fastest growing recreational sport in North America, the game of Pickleball is truly a phenomenon. According to the Sports & Fitness Industry Association's (SFIA) 2017 Pickleball Participant Report, Pickleball currently has 2.815 million players in the US alone.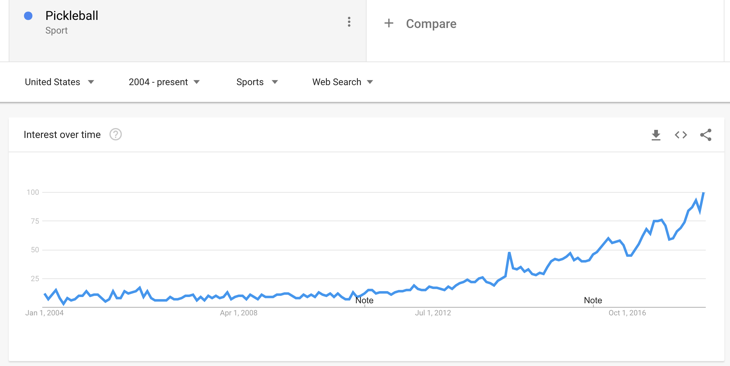 Pickleball Interest from 2004 – 2018 according to Google Trends
Among the sport's leading catalysts is the surging professional game, which is now backed by TV contracts, professional endorsements and players competing in national tournaments for prize purses and incentive pools. In fact, in 2018, more than 2,100 athletes competed in the annual U.S. Open Championships, a seven-day national tournament at East Naples Community Park in Naples, Florida, an event that is growing by an estimated 40-percent participation rate each year.
At the 2018 USA Pickleball Nationals, 2,300 competitors from multiple countries and 46 states competed for the largest cash prize in Pickleball history! Selkirk Sport offered a grand total of $100,000 in prize money for participating athletes.
This year's Nationals were held at the world-class Indian Wells Tennis Garden, the second largest tennis stadium in the world. All courts were repainted into Pickleball courts, and events were broadcasted by ESPN.
With 16,100 seats in Stadium 1 and 8,000 seats in Stadium 2, Indian Wells Tennis Garden was the perfect location to host this year's Pickleball Nationals. Pickleball is growing faster than ever, and the success of this year's Nationals is only propelling the sport further.
Pickleball Nationals is currently contracted to be hosted by Indian Wells Tennis Garden for the next 5 years, with a potential for additional contracts after that.
The Impact of Tennis on Professional Pickleball
Active and retired Tennis Pros are also participating in Pickleball
Selkirk Sport sponsors top athletes

#1 Men's Singles Player: Tyson McGuffin
6-Time National Champion: Enrique Ruiz
Former Wimbledon Doubles Champion: JoAnne Russell
Current Touring Tennis Pro & Rising Pickleball Star: Kaitlyn Christian

Selkirk Sport has committed to a $150,000 prize pool for the 2018 pro circuit
The Indian Wells Tennis Garden will host the USAPA Nationals for the next 5 years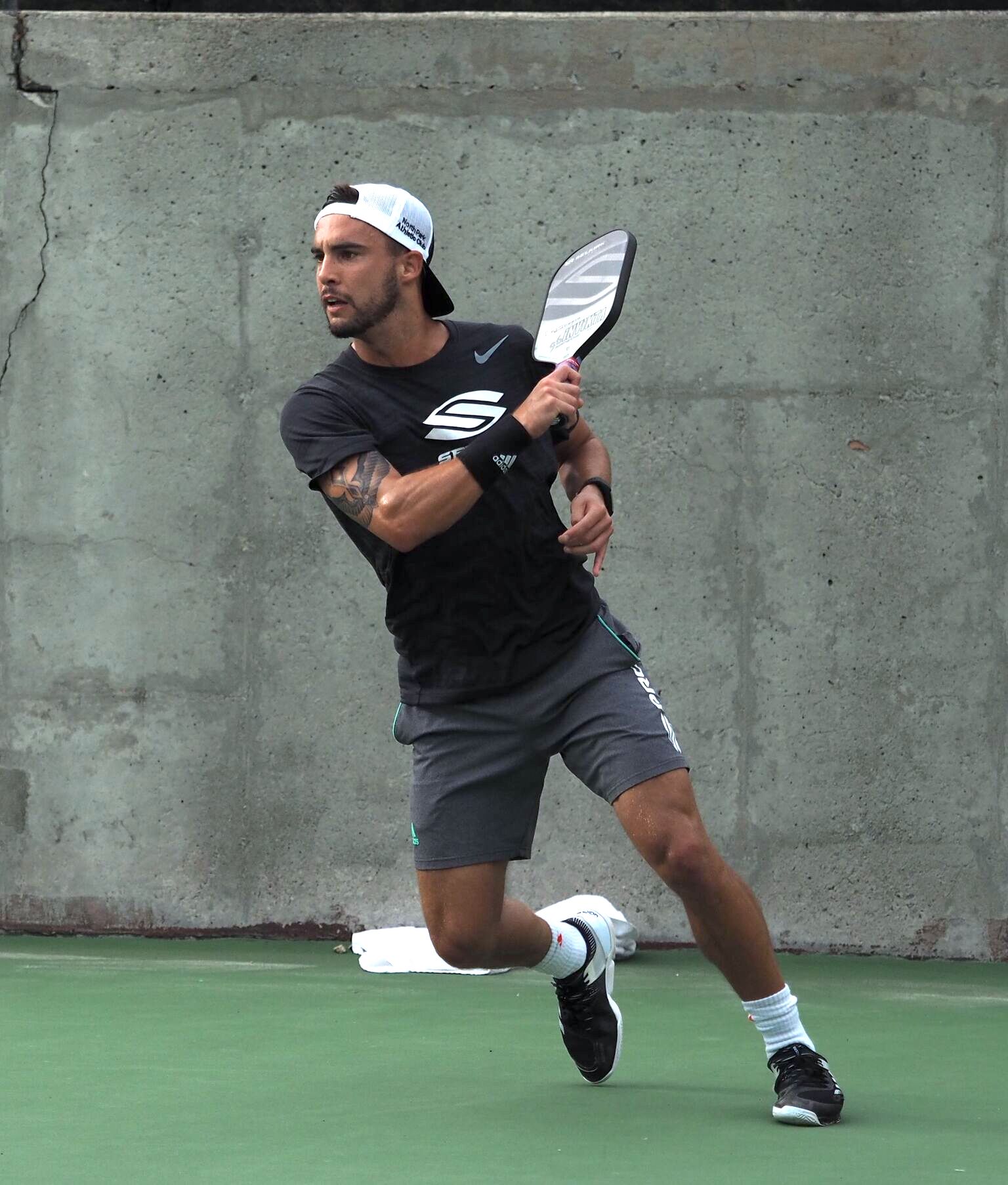 Another rising trend in the professional game is the participation of both active and retired professional tennis players, as well as tennis teaching professionals. In fact, former Wimbledon Doubles Champion, JoAnneRussell (1977), and Cammy MacGregor, a former Top 100 professional tennis player who recently captured the US Senior Open, are among a stable of accomplished tennis pros competing regularly on the professional Pickleball tour.
And, while still in its infant stages, the increase in tournament prize money, endorsement contracts and incentive programs have helped contribute to the growth of Professional Pickleball. Supporting this growth is Hayden, Idaho-based Selkirk Sport, a family-owned, Made-in-the-USA leader in paddle manufacturing that has pledged more than $150,000 in prize money during nationwide tournament play on the 2018 professional circuit.
Today, Selkirk sponsors over 100 professional players, including Tyson McGuffin, the #1 men's singles player in the world; ex Wimbledon Doubles Champ Russell; 6-Time National Champion, Enrique "El Condor" Ruiz; and promising newcomer Kaitlyn Christian, a Professional Tennis Player and Emma Stone's Tennis Double in the Film "Battle of the Sexes," among others.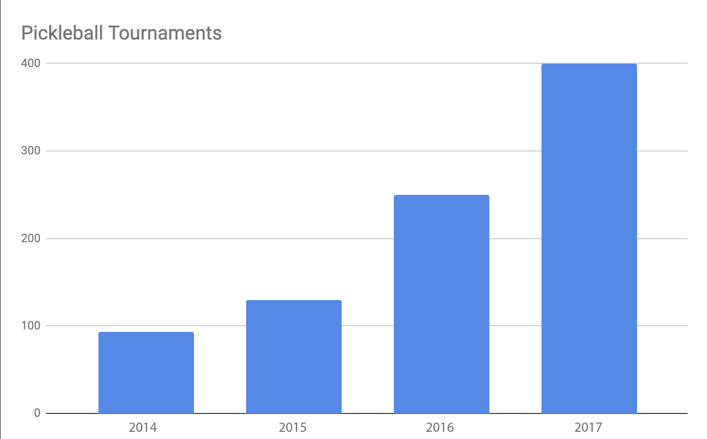 Pickleball Tournaments (on PickleballTournaments.com)
McGuffin, a former competitive tennis player and top-rated teacher in Idaho, recently captured the 2018 U.S. Open Singles Championship and today is one of Professional Pickleball's most accomplished and recognizable players.
He currently competes nationwide playing in singles and doubles events sanctioned by the USA Pickleball Association, the sports' governing body.
Complementing the professional game and serving as the engine of growth in driving widespread exposure is the televised broadcasting of professional events. In fact, the 2017 USAPA National Championships and 2018 US Open were both broadcast on CBS Sports Network. This exposure, combined with an ongoing national and grassroots PR blitz that occurs weekly, and continues to fuel the rapid popularity of the game among adults and children. Currently, the USA Pickleball Association (USAPA) serves as the national governing body of the sport. The USAPA (www.usapa.org) was organized to promote the growth and development of Pickleball, on a national and international level.
In addition to the U.S. Open Championships, the USAPA National Championship is the premier professional event in the game. Further, a teaching association, the International Pickleball Teaching Professional Association (IPTPA), exists to maintain quality levels amongst teachers and coaches.
The popularity of Pickleball has also been felt in cyberspace with numerous digital and social media outlets now dedicated exclusively to promoting Pickleball, such aswww.playpickleball.com, www.pickleballcentral.com, andwww.pickleballchannel.com, among many others.
What is Pickleball and Why is it Growing?
What is Pickleball?
Pickleball, at its core, is a fun and exciting indoor/outdoor sport that combines elements of Tennis, Badminton, and Ping Pong. The game is played on a court the size of a Badminton court, with a low net similar to Tennis, and with what looks like an oversized ping pong paddle and a whiffle ball.
Why is it Growing?
It's FUN!!!
Offers a parallel sport for tennis players
Shorter learning curve than other racquet/paddle sports
Less physical impact on the body
Can be played both recreationally and competitively
Dramatic increase in places available to play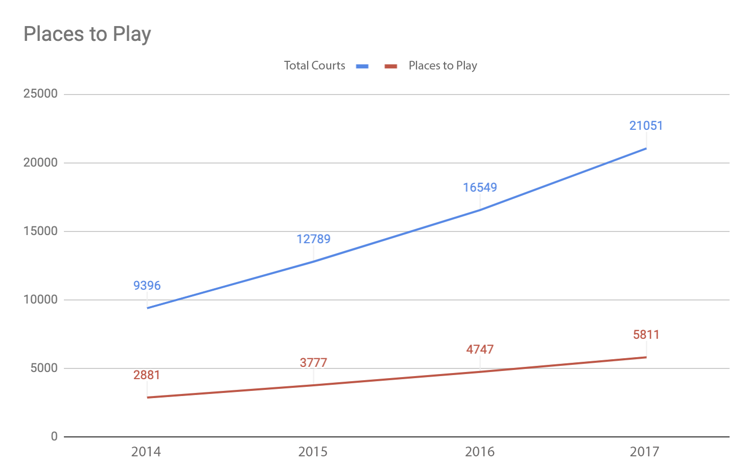 Places to Play
(USAPA.org's places to play list) 2014 – 2017
Pickleball offers an opportunity for recreational and competitive racquet sports athletes to hone their shotmaking, footwork and game management skills while providing a fun, new hybrid game that appeals to millions of men, women and children of all ages and performance levels. However, as Pickleball is played on a smaller court than tennis, it affords athletes less physical impact on the body, enabling them to extend their lifetime of enjoyment on the court.
This has further helped drive interest in the game across all age groups. In addition, as the Pickleball learning curve is quicker than tennis, many tennis instructors are now supplementing their teaching income by offering Pickleball clinics and lessons.
Overall, Pickleball provides athletes with a unique parallel to tennis (racquet/paddle sport) … similar to other competitive/professional sports, including: NASCAR/INDY racing, skiing/snowboarding, swimming/diving, ice skating/ice dancing; etc. All of these sports offer many of the same performance/game elements, but with different styles of play or action.
Overall, Pickleball has enjoyed an estimated 385% percent increase in numbers of places to play since 2010 (A place to play is defined as just that – a place to play. It can be anything from a gymnasium with Pickleball lines to a facility designed specifically for Pickleball). Today, there are approximately 5,000 Pickleball venues and an estimated 15,000 courts covering every U.S. state and all Canadian provinces, including: senior residence communities, YMCAs, local community recreation centers, schools and parks, resorts and many other locales.
The Great Pickleball Opportunity
All of this record growth in participation, as well as available facilities to the play the game, has resulted in a boon for facility builders, teaching pros, equipment manufacturers and retailers alike.
Cities & Facilities
The sport of Pickleball now stands firmly alongside tennis as a recreational activity at sports/fitness clubs and at a collection of leading resorts throughout North America.
Pickleball (blue) vs Racquetball (red) Interest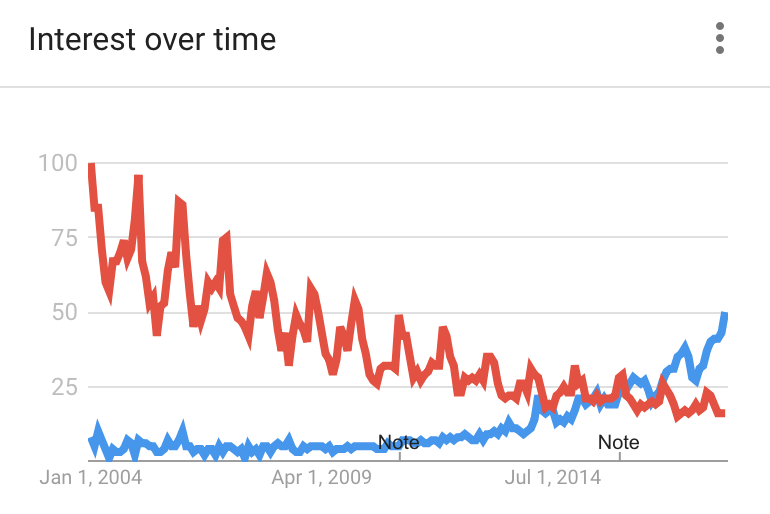 Pickleball vs Racquetball interest from 2004 – 2018 according to Google Trends
Pickleball offers athletes of all ages an alternative entertainment/recreation option to traditional sports, and acclaimed resorts such as Pinehurst (NC), JW Marriott Phoenix Desert Ridge Resort & Spa (AZ), Shadow Mountain Resort & Club (CA) and Sundial Resort & Spa (FL), among many others, offer Pickleball programs alongside of their tennis programming.
The sport of Pickleball now stands firmly alongside tennis as a recreational activity at sports/fitness clubs and at a collection of leading resorts throughout North America. Pickleball offers athletes of all ages an alternative entertainment/recreation option to traditional sports, and acclaimed resorts such as Pinehurst (NC), JW Marriott Phoenix Desert Ridge Resort & Spa (AZ), Shadow Mountain Resort & Club (CA) and Sundial Resort & Spa (FL), among many others, offer Pickleball programs alongside their tennis programming.
Additionally, communities such as the Villages in Orlando and many adult recreational complexes across North America now complement their tennis programs with Pickleball, as the social aspects of the game, combined with smaller courts, make Pickleball a natural transition for tennis players looking to enjoy an alternative paddle/racquet sport that provides many of the same in-game characteristics. Also, as Pickleball requires less space than traditional tennis courts, many school districts in the U.S. are introducing Pickleball as part of their physical education curriculum, as the sport serves as a natural entry into paddle/racquet sports for the next generation of players.
In a recent Tennis Industry Magazine article, builders from the American Sports Builders Association cited an increase in existing facilities (tennis courts, playgrounds, etc.) that are being converted (i.e. lined) for Pickleball, as well as in the actual construction of Pickleball-specific courts.
Additionally, ASBA's supplier members are becoming part of the Pickleball industry, manufacturing and selling nets, lighting and more for courts. Further, while the previously noted surge of popularity in the game among younger demographics, as well as the growth of professional Pickleball, the core of the sport remains Baby Boomers … an audience that is proven to spend more on consumer products and services.
Pro Shops
Specifically for pro shops at resorts, as well as brick and mortar sporting goods retailers, the growth of Pickleball as a recreation sport, and the related surge in both retrofitting existing courts and building new courts, has resulted in a tremendous revenue opportunity for sales of equipment and accessories, especially paddles, balls, shoes and apparel. Further, professional athletes, such as Tyson McGuffin, are pushing the performance aspect of Pickleball equipment and influencing recreational players to improve their game by acquiring the same top-of-the-line performance equipment that is used by the game's elite players.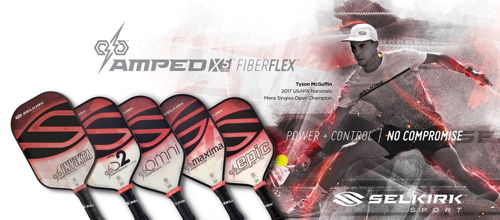 To learn about Selkirk Sport's Authorized Retail Program (ARP), go herewww.selkirk.com/arp. Selkirk Sport is the leading Pickleball paddle brand.
Recreational Pickleball Teachers and Professional Coaches
With the close connection between the sports of tennis and Pickleball, as well as the rapid influx of tennis players coming into Pickleball at both the recreational and professional levels, tremendous opportunity exists for instructors at all levels of the game. Today there are hundreds of stand-alone Pickleball teachers, as well as hundreds more who serve as instructors for both sports at resorts, country clubs and related athletic facilities. In the professional game, the rising level of world-class players has driven demand for expert coaching.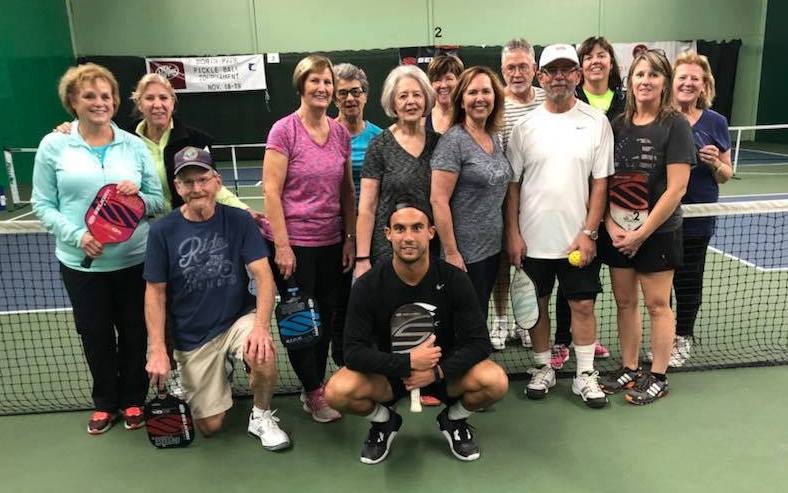 Tyson McGuffin Clinic at the Northpark Athletic Club
In fact, in 2017, TeamSelkirk member, Morgan Evans, was named the first-ever Professional Tour Pickleball Coach (similar to professional golf and tennis coaches), serving as an instructor for the sport's elite players. In Evans' inaugural tournament, he helped guide TeamSelkirk Athlete Tyson McGuffin to his first-ever major Championship, winning the Men's Singles Open Division of 2017 USA Pickleball Association National Championships.
Taking Pickleball to the Next Level
While Pickleball was invented by three dads in 1965 as a way to entertain their children during summer season, the popularity of the game has never been greater. 2018, and beyond, represents the greatest opportunity for Pickleball's growth, thanks to a combination of intangibles:
Growth of young players and newcomers to the game
Surge in new construction of Pickleball courts and facilities
Retrofitting of tennis courts for Pickleball use nationwide
International media exposure
Widespread exposure from digital and social media outlets dedicated exclusively to Pickleball
Consistent grassroots publicity
Influx of tennis players into the professional
Increase in pro-shops carrying Pickleball equipment
Unwavering commitment to players of all levels — beginner to pro — from Pickleball equipment companies and sporting goods brands, alike.
Pickleball … growing by the day across North America. It's Game On!