The Big Game Cannabis-Infused Recipe Party Ideas
Originally Posted On: https://muvfl.com/post/football-edibles-recipes
As the biggest game day in football approaches on February 12, many people are beginning their planning for this year's festivities. While last year's event took place in Florida, the state's medical cannabis patients may have been focused on football for quite another reason—the league's slowly shifting cannabis policy. As we reported in 2021, the NFL continues to penalize players for testing positive for THC, even if the use took place in a legal recreational state.
In addition, the league also prohibits cannabis for medical use. Unfortunately, the NFL's policy on medicinal cannabis does not appear to take into account recent science, which demonstrate that cannabis may help athletes recover, provide pain relief, and combat inflammation without providing an unfair competitive advantage.
Incorporate Cannabis into Your Game Day Festivities
Still, there is a way for Floridian cannabis patients to incorporate medical cannabis into this year's game day festivities—simply create a cannabis-infused drink and enjoy the game from the comfort of your home. In fact, cannabis-infused drinks and dishes can provide a unique twist on traditional game day snacks and also offer an effective way to manage a variety of symptoms and conditions.
If this sounds like a football party that's right up your alley, you're in luck—we've rounded up some tasty game day snacks with a boost of cannabis benefits. Just a note—when it comes to creating cannabis-infused recipes for a party, it's important to remember that the state only supports cannabis use for official medical cannabis patients with approved conditions. That means any cannabis-infused snacks you prepare should be reserved for your consumption only. That said, let's explore some of our favorite canna-friendly game day snacks!
Game Day Snack Recipes
Before we begin, it's important to note that when creating cannabis-infused recipes, dosing is key. Start with small amounts and work your way up to your desired potency. It's also important to remember that the effects of cannabis-infused foods can take longer to kick in and may last longer than inhaled cannabis, so be sure to plan accordingly.
Now, on to the recipes!
Essential Ingredients: Cannabutter and Cannabis-Infused Oil
Many cannabis recipes incorporate cannabis oil or cannabutter to infuse the special qualities of THC or CBD into the food. You can purchase these essential ingredients or make your own. To make active cannabis oil using dried, ground cannabis, you will need to convert THCA into THC, the psychoactive compound that produces the characteristic effects of cannabis. This process, called decarboxylation, can be achieved by heating ground cannabis in the oven for 20-30 minutes at 180 degrees Fahrenheit.
Once the marijuana has been decarboxylated, mix it with your desired oil (we recommend extra-virgin olive oil or canola oil) in a pan. Heat the mixture on low for 3-6 hours, being sure not to let the oil exceed a temperature of 190 degrees. Stir the mixture frequently to prevent burning. After the infusion process is complete, strain the oil through a cheesecloth and store it in a jar. The cannabis oil is now ready for use in cooking or frying.
To make cannabutter, you'll melt butter in a saucepan over low heat. Stir the butter continuously to prevent it from burning. Add the desired amount of decarboxylated cannabis to the melted butter and continue to simmer, stirring occasionally. The standard ratio is about 3 grams of cannabis to one cup of butter, but you can adjust the amounts based on your tolerance. Once complete, strain the mixture through a cheesecloth and refrigerate overnight.
If you'd like a more intensive look at making cannabutter that boasts all the potential therapeutic and psychoactive benefits, check out our step-by-step guide to making cannabutter.
Cannabis-Infused Queso
Cannabis-infused queso is the perfect marriage of your favorite cheeses and some premium cannabis. It can be used as a dip or added to dishes for a flavorful and potent twist.
Makes: 8 servings
To make this delicious cheese dip, you'll need:
1 pound ground beef
1 small white onion, diced
1 jalapeno pepper, seeded and minced
1 clove garlic, minced
1 t ground cumin
1 t chili powder
½ t salt
¼ t black pepper
1 c beef broth
1 (14.5-ounce) can diced tomatoes, undrained
1/2 c heavy cream
8 oz shredded cheddar cheese
2 T unsalted butter
2 T all-purpose flour
1/4 c milk
2 T cannabutter
¼ c diced green onions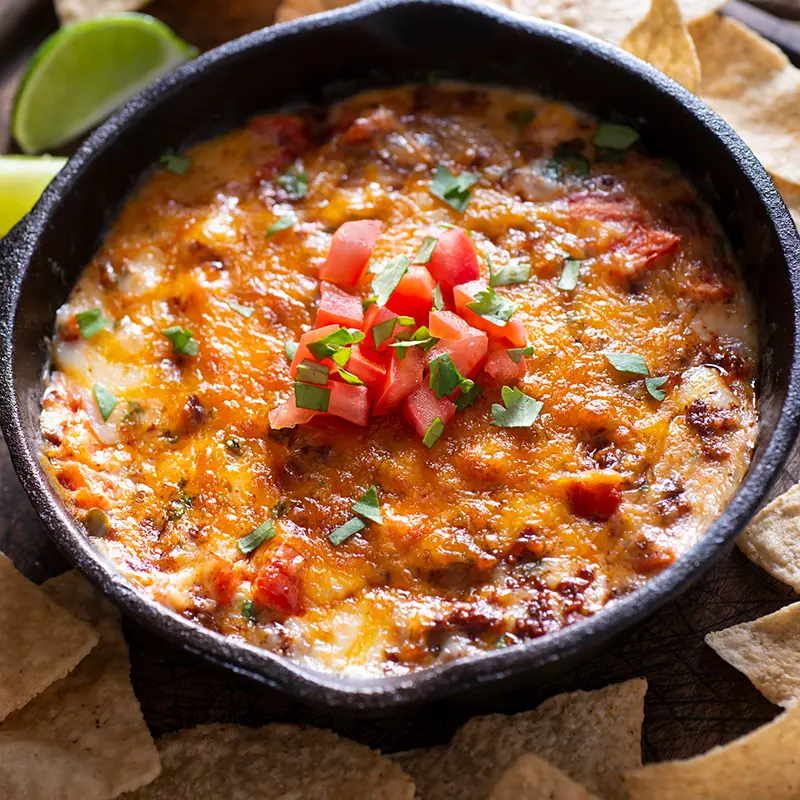 Directions:
In a large saucepan, cook the ground beef over medium heat until it is browned and crumbled. Drain off any excess fat.
Add the onion, jalapeno, and garlic to the pan and cook for 2-3 minutes, until the vegetables are softened.
Stir in the cumin, chili powder, salt, and black pepper.
Pour in the beef broth and diced tomatoes and bring the mixture to a boil.
Reduce the heat to low and simmer for 10-15 minutes, until the mixture has thickened.
In a small saucepan, melt the butter over medium heat.
Add the flour and whisk until the mixture is smooth and bubbly.
Slowly pour in the milk, whisking constantly, until the sauce is smooth and thickened.
Stir in the cannabutter until it is melted and well combined.
Pour the sauce over the ground beef mixture and stir to combine.
Stir in the cheddar cheese until it is melted and the dip is smooth.
Sprinkle the green onions over the top of the dip and serve hot. Enjoy!
Note: This recipe can be amended to fit your favorite queso recipe. Just make your queso and stir your cannabutter or canna-oil thoroughly into the warm cheese mixture.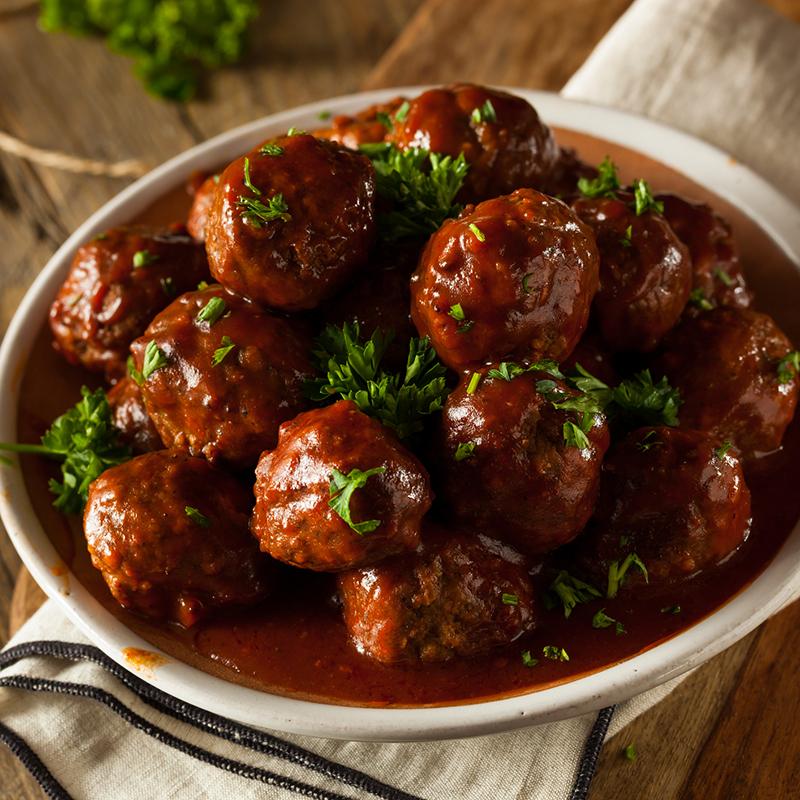 Meatballs a la Cannabis
Cannabis-infused meatballs are a delicious and convenient way to incorporate THC or CBD into your big game day festivities.
Makes: 1-2 servings
To make this tasty game day dish, you'll need:
1 pound ground beef
1 egg
¼ c breadcrumbs
¼ c grated Parmesan cheese
1 t Italian seasoning
½ t salt
¼ t black pepper
2 T cannabis-infused oil
Directions:
Preheat your oven to 350 degrees Fahrenheit.
In a large bowl, mix the ground beef, egg, bread crumbs, parmesan cheese, Italian seasoning, salt, and black pepper.
Roll the mixture into golf ball-sized meatballs.
Place the meatballs onto a baking sheet lined with parchment paper.
Bake for 24-26 minutes or until the meatballs are fully cooked.
Heat your favorite sauce in a pan over medium heat and add cannabis-infused oil.
Serve the meatballs with your choice of cannabis-infused sauce, and enjoy!
Note: While we recommend marinara sauce, you can use any sauce to kick these meatballs up a notch. Try barbecue, sweet and sour, or even your favorite hot sauce.
Buffalo "Pot" Wings
Cannabis-infused hot wings, also known as "pot wings," are everyone's favorite game-time snack with a euphoric twist. If you love spicy flavors and the effects of quality cannabis, give these wings a try.
Makes: 1 serving (10 wings)
To make this delicious cannabis-infused hot wing recipe, you'll need:
½ c all-purpose flour
¼ t ground paprika
¼ t cayenne pepper
¼ t salt
10 chicken wings
2 c vegetable oil for frying
¼ c cannabutter
¼ c hot sauce
1 pinch ground black pepper
1 pinch garlic powder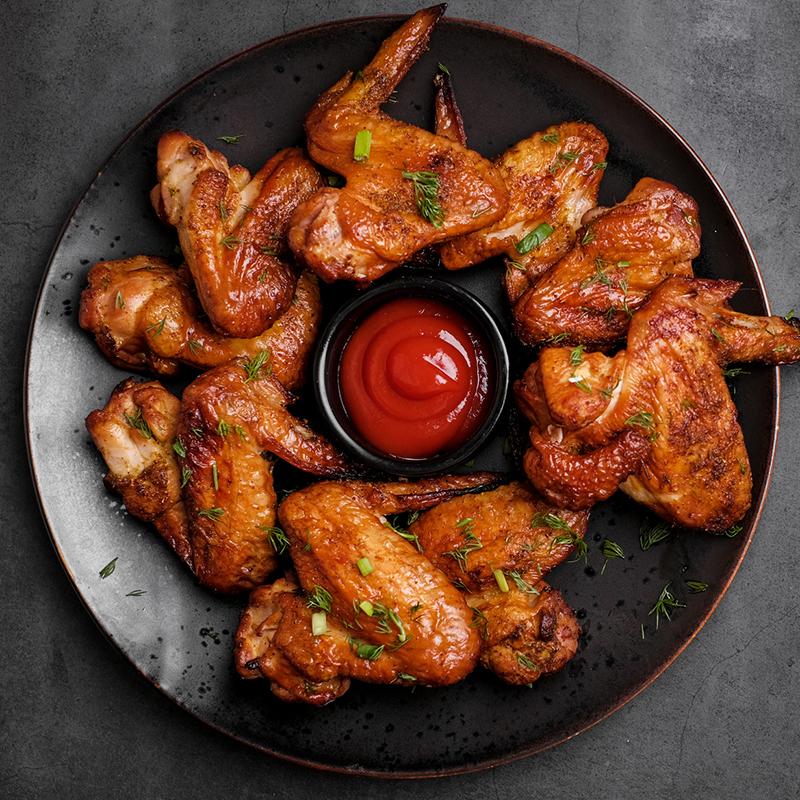 Directions:
Whisk flour, paprika, cayenne pepper, and salt in a small bowl, and toss wings to coat heavily.
Heat a heavy-duty skillet with 1 inch of oil (or a deep fryer) to 375 degrees.
While the oil is heating, season the chicken wings with salt and pepper.
Combine garlic powder, pepper, hot sauce, and butter in a separate smaller pan. Heat on low.
Fry the wings for around 12 minutes or until they start to turn golden brown and crispy.
Let the wings cool for a few minutes
Dip them or toss them in your favorite cannabis-infused sauce!
Note: For a classic buffalo wing flavor, use Frank's Red-Hot Sauce. Alternatively, swap in your favorite wing sauce or even our infused BBQ sauce using the recipe below.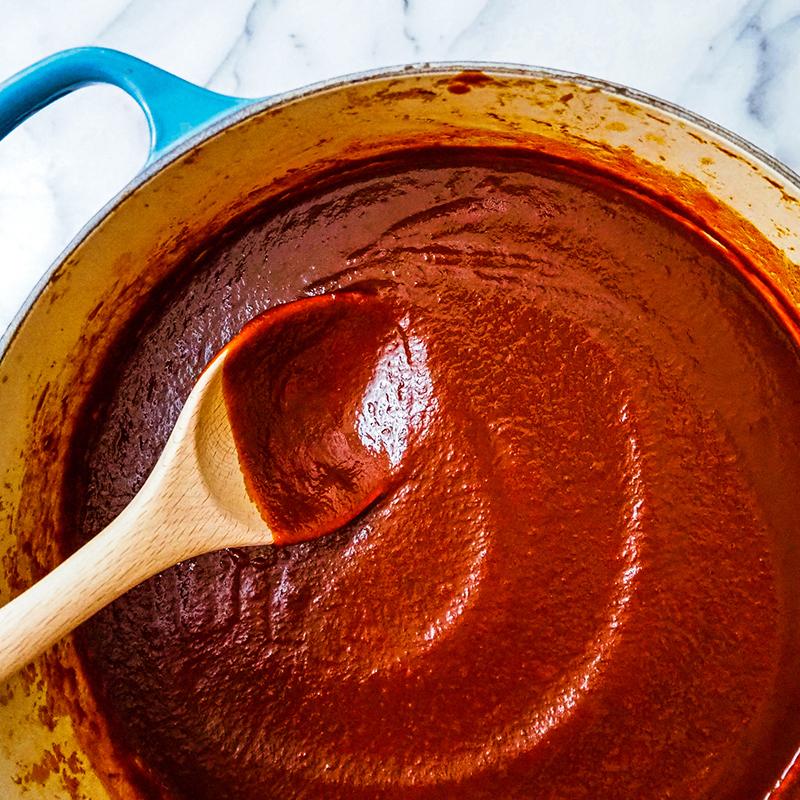 Cannabis-Infused BBQ Sauce
This is a classic barbecue sauce recipe with a therapeutic twist. Our cannabis-infused BBQ sauce is a versatile sauce for a variety of snacks.
Makes: 20 servings
To make this tangy sauce, you'll need:
1 c ketchup
½ c apple cider vinegar
¼ c cannabis-infused oil (such as olive oil)
¼ brown sugar
2 T molasses
3 T yellow mustard
¼ c Worcestershire sauce
1 T paprika
1 T garlic powder
1 t onion powder
½ t cayenne pepper (optional)
Salt and pepper to taste
Directions:
In a medium saucepan, add all ingredients except the cannabis oil. Stir to combine.
Heat the mixture over medium heat, occasionally stirring, until the sugar has dissolved.
Reduce heat to low and simmer the sauce for 20-30 minutes until it has thickened to your desired consistency.
In the last 5 minutes before removing the sauce from the heat source, add your cannabis oil and simmer.
Remove the sauce from the heat and let it cool.
Store sauce in an airtight container in the refrigerator for up to 1 week.
Note: To use your sauce, brush it over grilled meats or vegetables during the last few minutes of cooking. You can also use it as a marinade before grilling or as a dipping sauce on the side.
Little "Tokies" in Barbecue Sauce
"Little Tokies" are a play on the familiar bite-sized smoky sausages that are often served as an appetizer or party snack. These are taken up a level with our signature infused BBQ sauce.
Makes: 3 servings
To make this simple, delicious twist on a traditional game day recipe, you'll need:
1 pound of little smokies sausages
1 c infused BBQ sauce
Directions:
Preheat your oven to 325 degrees.
Place the little smokies in a baking dish and pour the BBQ sauce over the top.
Bake for 20-25 minutes or until heated through.
Enjoy!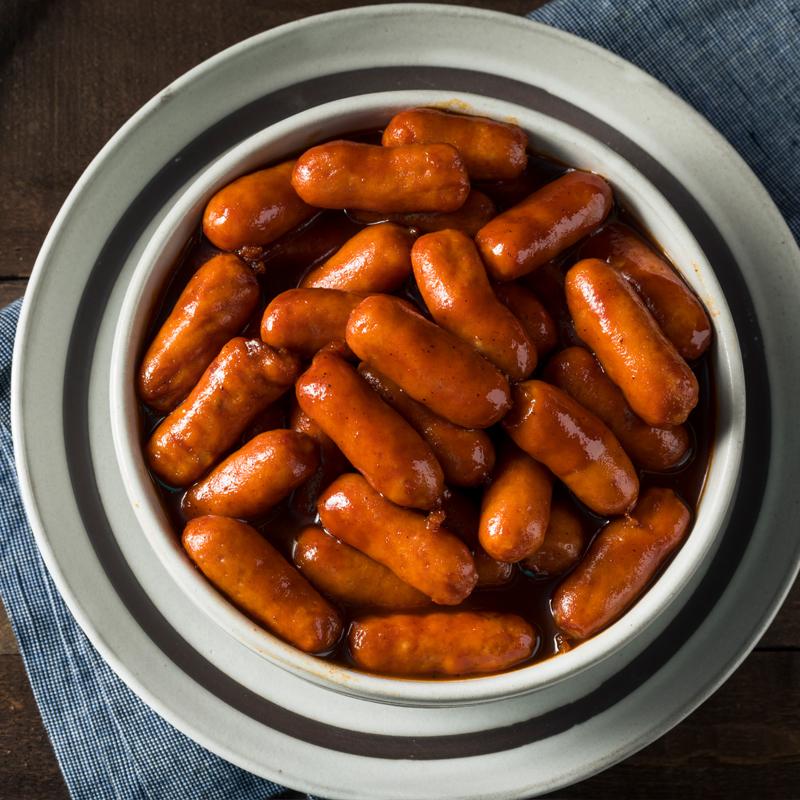 Note: You can also use a crock pot to help keep the smokies warm during the game and prevent overheating your cannabis-infused BBQ sauce in the oven.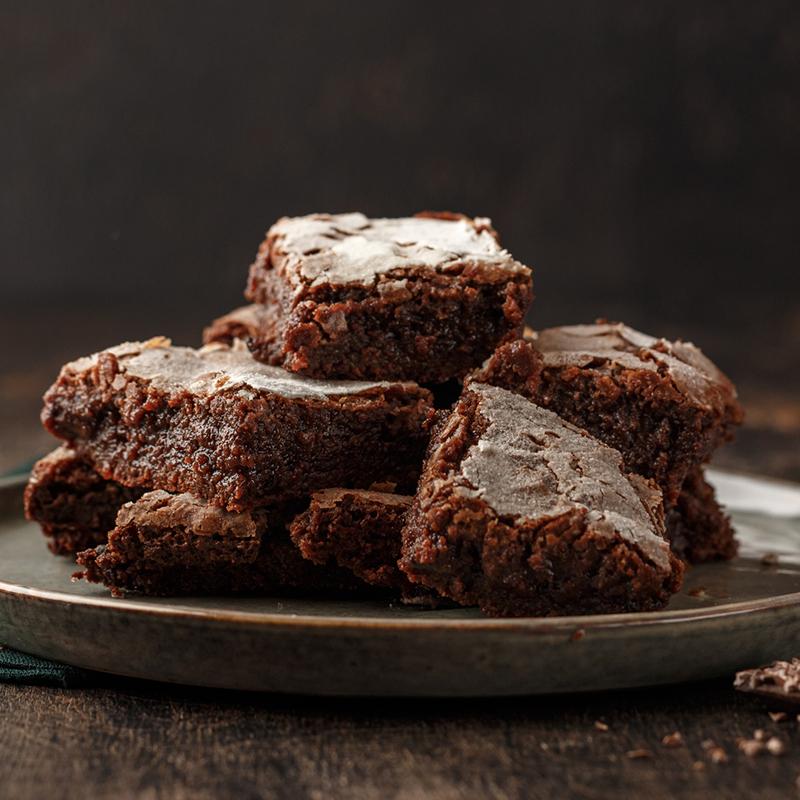 Cannabis-Infused Brownies
Cannabis-infused brownies, also known as "special brownies," are an especially decadent way to consume cannabis. They've long been a popular choice for those who want to consume cannabis in a tasty, yet discreet way, and they're perfect for taking your game viewing experience up a notch.
Makes: 16 brownies
To make this classic cannabis dessert, you'll need:
1 ½ c sugar
¾ c all-purpose flour
2/3 c cocoa powder, sifted
½ c powdered sugar, sifted
½ c dark chocolate chips
¾ t sea salt
2 large eggs
½ c cannabis-infused oil
2 T water
½ t vanilla
Directions:
Preheat your oven to 325 degrees.
Mix the cannabis oil, eggs, vanilla, and water in a large bowl.
Stir in sugar and powdered sugar.
Add the eggs one at a time, stirring well after each addition.
In a separate bowl, whisk together the flour, cocoa powder, and salt.
Gradually add the dry ingredients to the wet ingredients, stirring until just combined.
Add dark chocolate chips.
Pour the batter into a greased 8×8-inch baking pan and level the top.
Bake the brownies for 40-48 minutes, or until a toothpick inserted in the center comes out clean.
Allow the brownies to cool completely before cutting.
Dust with additional powdered sugar, if desired, and serve.
Note: Prefer an extra-decadent version with infused cannabutter? Try our Double Chocolate Cannabutter Brownie recipe.
Blueberry Banana Post-Game Canna Protein Smoothie
This decadent blueberry banana protein shake recipe coats your taste buds in fruity flavor. Plus, it has three different vegan protein sources which will come in handy when  recovering from the excitement of the big game.
Makes: 2 servings
To make this revitalizing protein shake, you'll need:
2 c soy milk
1 c frozen blueberries
1 banana
2 T hemp seed
2 T peanut or cashew butter
1 c frozen spinach
2 T honey
Your preferred dose of cannabis tincture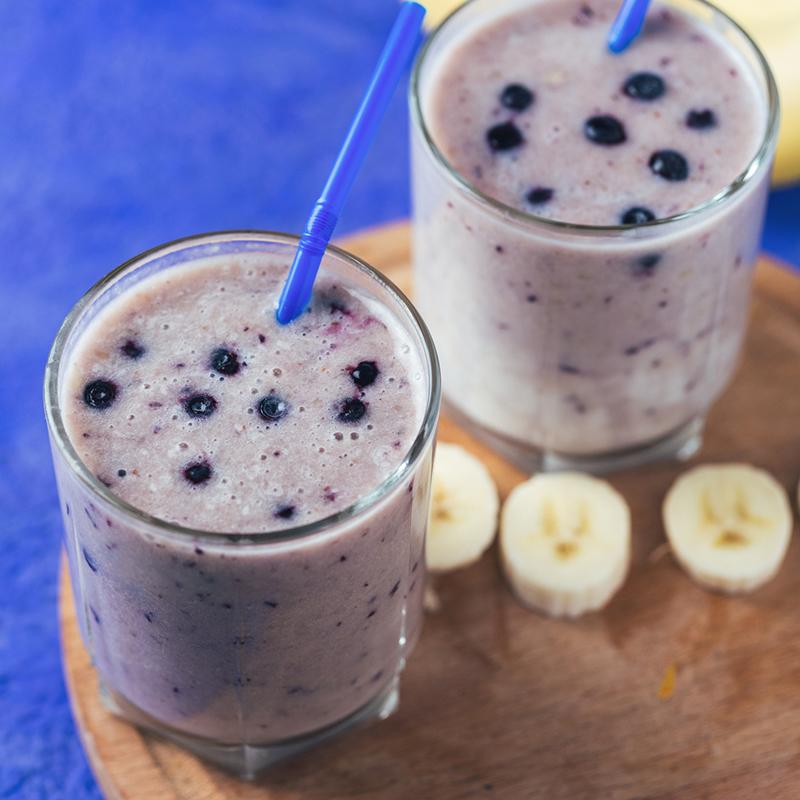 Directions:
Gather ingredients and place all in a blender.
Blend until smooth.
Enjoy!
Make Your MÜV This Big Game Day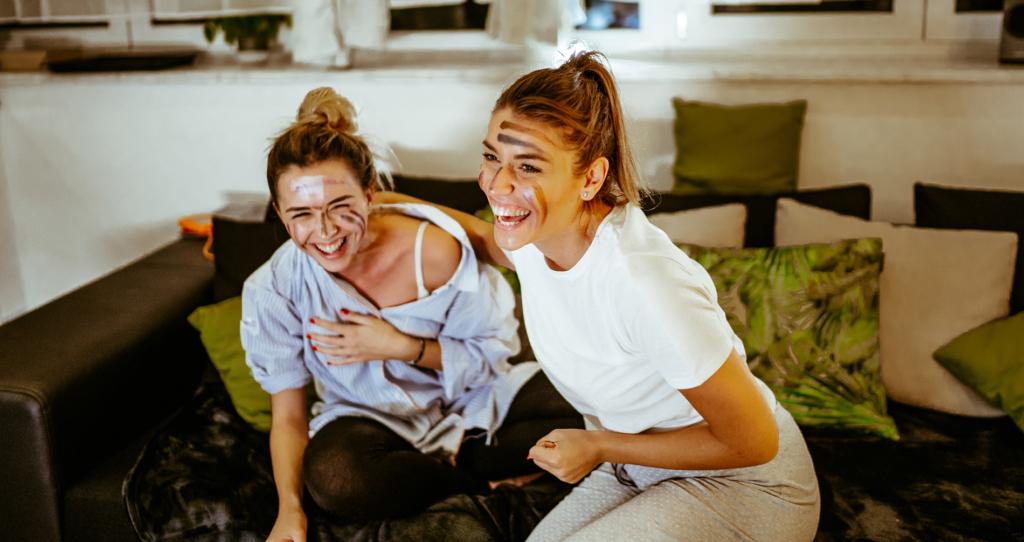 Whether you're looking to have a chill night in or throw the ultimate big game party, these recipes are perfect for both. Just be sure to start small with your doses and enjoy responsibly!
From all of us here at MÜV, we hope you have a happy and safe game day.
Happy cooking, and may the best team win!