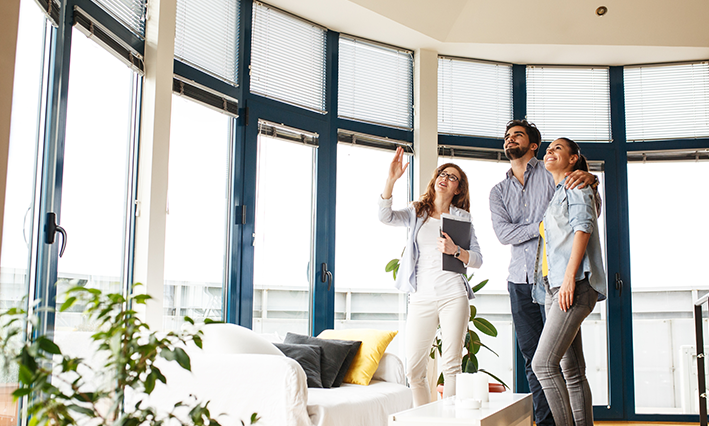 Temporary Housing Trends in 2019
Originally posted on https://www.tacares.com/ta-blog/temporary-housing-trends-2019
In recent years, there's been widespread real estate anxiety as the cost of living in cities across the United States has steadily increased. In fact, in 2018, there was a 2.8% increase in the cost of living, the highest jump we've seen since 2011. While the cost of living is calculated by a wide variety of variables, it heavily relies on housing costs, and the price of houses has been rising almost universally in the United States up to this point. This has led homeowners and renters alike to attempt to offset the rising cost of living in the city by taking advantage of the thriving tourist trade.
By subletting either a portion or their entire home to people visiting the city, or displaced from their home during an insurance claim, people are able to reduce the increased living expense they experience based on location. This is a concept that was widely popularized by Airbnb, and it has dramatically affected not only the way consumers travel but how homeowners understand the overall value of their homes. This impact on both the hospitality industry and the real estate industry has caused dramatic changes throughout the US and introduced a new kind of temporary housing trend that has provided options to those looking for alternatives to long-term hotel stays.
This comprehensive look at the current housing market trends gives homeowners insight into the overall value of their home in today's market and the potential benefits and drawbacks of offering short-term leases on their homes to clients.
How Home Prices Have Changed Since 2013
According to US Census Data collected from 2013-2017, housing prices have been increasing almost universally in the United States. The map below displays the percentage change between the median estimated home value for owner-occupied housing units by state from 2013-2017. In only four cases did the median estimated home value go down over the course of 4 years: Illinois, New Jersey, Rhode Island, and Connecticut. On the opposite end of the spectrum, North Dakota, Nevada, Colorado, California, and Washington D.C. all saw an increase of over 20% median estimated home value.
Homeowner Trends in 2019
According to the Quarterly Residential Vacancies and Homeownership report released by the US Census in July of 2019, 64.1% of Americans own their homes. Meanwhile, demand for short-term rentals has been rising since 2011, causing the vacancy rate to fall from nearly 10%. Since 2017, the rental vacancy rate has stalled at around 7% and the median asking rent for vacant rental units rose above $1000 for the first time around 2018. The demand for rental properties appears to be increasing as the available units decrease and the value of those vacant units goes up.
Meanwhile, the homeownership rate has been increasing since 2016 but is still substantially lower than it was at its peak in 2004 when over 70% of Americans owned a home. Additionally, vacancy rates are falling in the suburbs and areas outside principal cities and slightly higher within the city limits. This suggests that as the cost of living increases within the city itself, people are looking for lower overall housing costs by migrating to just outside the city limits, where real estate is less expensive but the city is still accessible.
Regional Housing Market Trends for 2019
As far as regional trends go, according to that same report rental vacancy was highest in the South at 8.9% as of July 2019, while the Midwest had a rate of 6.8%. This lower demand allows housing costs to be less expensive in general, which tallies with the general assumption that the cost of living in the South or the Midwest is lower than the Northeast or the West. The Northeast had a vacancy rate of only 5.3% and the West had the lowest percentage of rental vacancies at just 4.8%. The only real change in the vacancy rate came in the Midwest, which was lower than the second quarter 2018 rate. The rates in the West, Northeast, and South were not statistically different from the second quarter 2018 rates.
As for the homeowner vacancy rate, again, the highest availability was in the South with 1.7% of properties available. The Midwest had the lowest homeowner vacancy rate at only 1%, followed closely by the West at 1.1% and the Northeast at 1.2%. Homeowner vacancy rates in the Midwest and South weren't statistically different from the second quarter 2018 rates, but vacancy rates went down in both the Northeast and the West since last year.
Overall, the housing market has been hovering at around the same numbers for about a year now, but as rumors about an impending recession take hold, homeowners may be making different decisions based on the financial outlook authorities are making.
The Benefits of Short-Term Leasing
As discussed above, this steady increase in the general cost of living has encouraged people to look for ways to offset their increased living costs. But there is more to the story. Since the 2008 housing market crash, people are less likely to look at their home as a steady, reliable asset and more likely to look for ways to supplement their home's overall value. As booking an Airbnb or Vrbo has become more popular, it's an easy step for a homeowner to take to increase their income and offset their general living expenses.
On the one hand, people are able to invest in nicer homes by offering accommodations to short-term renters for part of the year. This provides an additional cushion for homeowners themselves and gives the real estate market a boost, as people see homes as an even better investment. Landlords also benefit, since they can offer vacant rooms and living spaces for short-term leases between tenants. The tourist trade benefits because the increase in accommodations means lower prices, so more people can take vacations or save money from their ALE budget during a claim.
Displaced homeowners looking for insurance housing or long term hotels now have an entire world of options opened up. There are far more options for people looking for short-term leases or places to stay while claims are being handled and homes repaired. Policyholders have more control over their surroundings during the claims period rather than being limited to long-term hotels in their area, which means they are less likely to be stressed during a time of upheaval. They can choose accommodations that meet their needs and are pleasant for them to stay in. Airbnb and Vrbo have redefined what short-term accommodations look like and given this subset of people looking for temporary housing an enormous range of options.
The Drawbacks of Short-Term Leasing
On the surface, it seems like a mutually exclusive and lucrative option for those trying to make a little extra money. However, the situation is much more complicated.
The financial benefit of renting property on sites like Airbnb and Vrbo has also led to a dramatic increase in home-sharing and a dramatic decrease in available units for locals. The additional demand leads to increased rent, which means even fewer people from the area can afford to actually live in long-term rentals. Beyond that, in some areas the economics of renting out living space on a short-term lease is more lucrative than having a long-term tenant, meaning landlords are likely to stop bothering with long-term leases and instead make their money exclusively through short-term leases. While this hasn't caused a crisis yet, the short-term rental industry has grown by over 800% since 2011, and as the trend continues, people are worried that options for long-term leases will continue to dwindle, raising demand, and dramatically increasing long-term rent prices.
Short-term rentals have also caused friction between landlords and tenants, as tenants offset their living costs by allowing people to stay, while landlords are completely cut out of the equation. In addition, the responsibilities of people using these rentals are not well defined, which can make legal situations incredibly tricky. Tenants also land in hot water if the person they invite into their home causes damages or danger to others. They are legally responsible for what happens on their property and making sure they comply with the contract associated with their long-term lease, but a person taking advantage of a short-term rental might not be aware of certain obligations or unconcerned with making sure they're obeying the rules. Meanwhile, on the management side, these rentals have no official management or oversight, which leads to a lack of protection for both the guest and the owner.
Short-term rentals also aren't regulated or inspected. Hotels are required to provide safety features and have their facilities regularly inspected to ensure the safety of their guests. Short-term accommodations in private residences are under no such obligation and according to this study, only half of these rentals have carbon monoxide detectors and even fewer have first aid kits.
Finally, the legality of these short-term rentals is constantly undergoing reevaluations and adjustments. This is one of the major drawbacks of jumping on an emerging market. As the courts continue to decide what rights landlords, tenants, and renters have, the policies on these rentals continue to change.
In many cases, states are implementing a host of laws and policies to cover these situations that open renters up to fines if they don't carefully follow the policies. For instance, in New York apartment buildings (that is, apartments with 3 or more units) are not allowed to be rented for less than 30 days. Advertising for rentals of less than thirty days is strictly forbidden as well and can result in a fine of $7,500. Apartment owners are allowed to rent out a room in their apartment, but they are not allowed to install locks to protect their personal spaces. Renters must have access to the entire apartment.
Meanwhile, in Boston, the rules are quite different. Hosts are required to register with the city if they want to rent out their property for fewer than 28 days per year. The license to rent a spare room while living under the same roof is $25 per year and those who want to rent out an entire unit can only offer that if it's their primary residence or there's a secondary unit, like a room built on to house family members. The licensing fee for an entire unit is $200. If a person fails to register as a host, they face a $100 fine per violation per day, and if a person rents a unit that is ineligible by being below-the-market-rate, they can face a fine of $300 per violation per day. Finally, hosts for short-term rentals will have to pay 5.7% taxes, the same as hotels are required to pay.
And that's just two cities. Almost every major tourist city has different rules for how they handle short-term rental properties and as the laws continue to evolve, the financial aspect of this market will continue to change.
Overall, temporary housing has been taken by storm as short-term rentals have become more mainstream. While demand for overall housing is inching upward, the market for these short-term leases has skyrocketed, causing financial friction between renters, tenants, landlords, and the legislature. In the years to come, it is likely that the market will continue to evolve and change as expectations for these rentals rise and the laws catch up to the market. And if this new kind of rental leads to a housing crisis, it is likely that strict rules will be put in place. But as it stands now, this type of temporary housing provides more value than it does hassle to homeowners and guests, and the overall consensus is that demand in this market is not going anywhere.
If you're looking for more information on temporary housing options for you or your family, contact Temporary Accommodations here! Our team of experts would love to help you navigate the process of handling your temporary living situation.