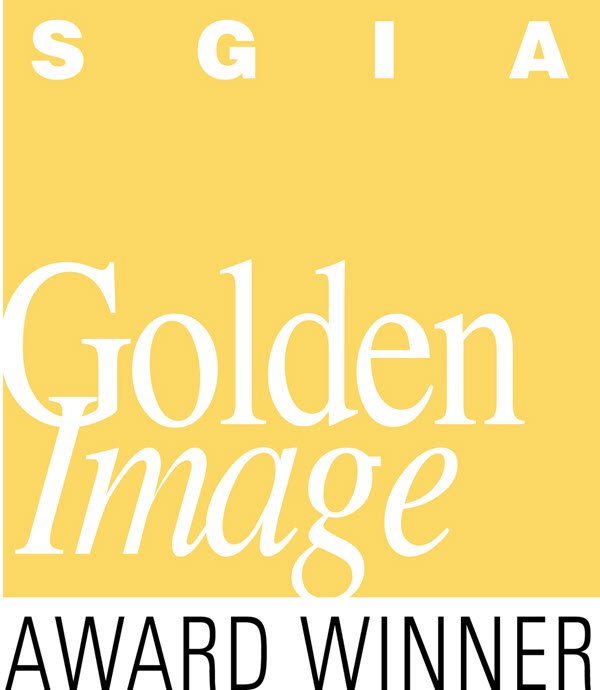 SunDance Shines at SGIA's 2019 Golden Image Awards
Our biggest motivator is making customers happy – but receiving recognition from our peers ranks pretty close. SunDance recently won a silver award and honorable mention from the Specialty Graphic Imaging Association's (SGIA) 2019 Golden Image Awards which celebrates industry-leading excellence for almost every type of print product. The silver award was for a variable data gold foil poster and the honorable mention was for Norfolk Southern Corporation's holiday card. Learn more about what went into these two print products and how competitions like the Golden Image Awards is fueling us to strive for even higher heights in 2020!
Gold Foil Poster
SunDance's variable data gold foil poster won the silver award in the Digital subgroup of the Posters-Single Sheet category. The 18" x 12" poster was printed on uncoated white paper with 4 color process inks (i.e. CMYK) and a spot UV coating, but what really makes the poster stand out is the name personalization in the lightbulb through variable data printing and the eye-catching gold foil. For the finishing touch, we applied a matte, soft-touch laminate that is smudge resistant and creates a modern yet subtle look.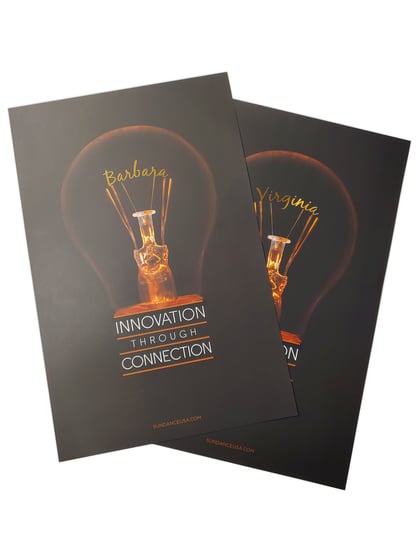 Holiday Card
SunDance received an honorable mention in the Digital subgroup of the Greeting Cards category for Norfolk Southern Corporation's holiday card. The 5" x 7" folded card (or 5" x 14" laid flat) was printed on uncoated white card stock with 4 color process inks. Like the poster, gold foil details were incorporated in the design to create the elegant and festive outline of a Christmas tree and wish the receiver a Happy Holidays. Lastly, we applied a similar but slightly thinner matte, soft-touch laminate like the poster's to protect the card's inks and gold foil from friction and handling.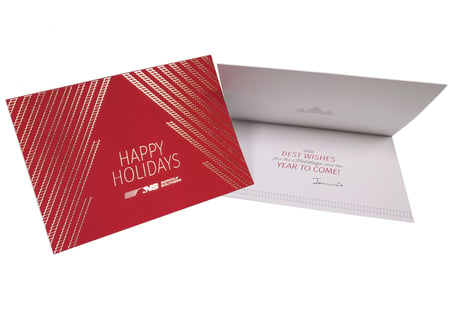 SGIA Awards and Competitions
SGIA is a trade association for the industrial, graphic, garment, textile, electronics, packaging, and commercial printing industries "looking to grow their business into new market segments through the incorporation of the latest printing technologies," particularly digital. The Golden Image Award was created to celebrate industry-lead excellence and covers almost every item created by specialty imaging, no matter how complex. There are numerous award categories and each category is broken into four subgroups: True Process Color, Single/Multicolor, Simulated/Index Color, and Digital.
In addition to the Golden Image Award, SGIA offers five other awards and competitions: Product of the Year, PDAA Pro Team Relay, Dave Swormstedt Sr. Memorial Award, Student Printing Competition, and Sustainable Business Recognition. These awards allow winning participants to show customers that their business is among the best in the industry.
Awards SunDance Has Won in 2019
In addition to the Golden Image Awards, SunDance received recognition two other times in 2019. These awards include:
The Golden Flamingo award for "Florida's BEST Printer" which is awarded in special recognition of the company with the most "Best of Category" wins at the Florida Print Awards.
Three Gold Leaf Awards at the Foil & Specialty Effects Association (FSEA) Awards Ceremony in Atlanta during Odyssey Expo 2019. SunDance received Most Unique Fold (Bronze), Best Use of Special Die Cut (Silver), and Best Use of Foiling/Embossing Self-Promo (Bronze).
As always, SunDance is humbled and honored to be recognized by our peers for our unwavering dedication to printing excellence.
Looking Foward to 2020
While we're proud of all that SunDance has accomplished in 2019, we're not going to rest on our laurels either as we go forward into 2020. For example, this year we've added more print products and services to our offerings like custom covers for marketing materials, singer sewn bookbinding, and biophilic interior design for work and retail spaces. As we look forward to the new year, SunDance will continue to deliver high-quality, cutting-edge solutions for each customer and project.
Contact SunDance today to see how our award-winning products and services can make 2020 the best year for your print marketing.