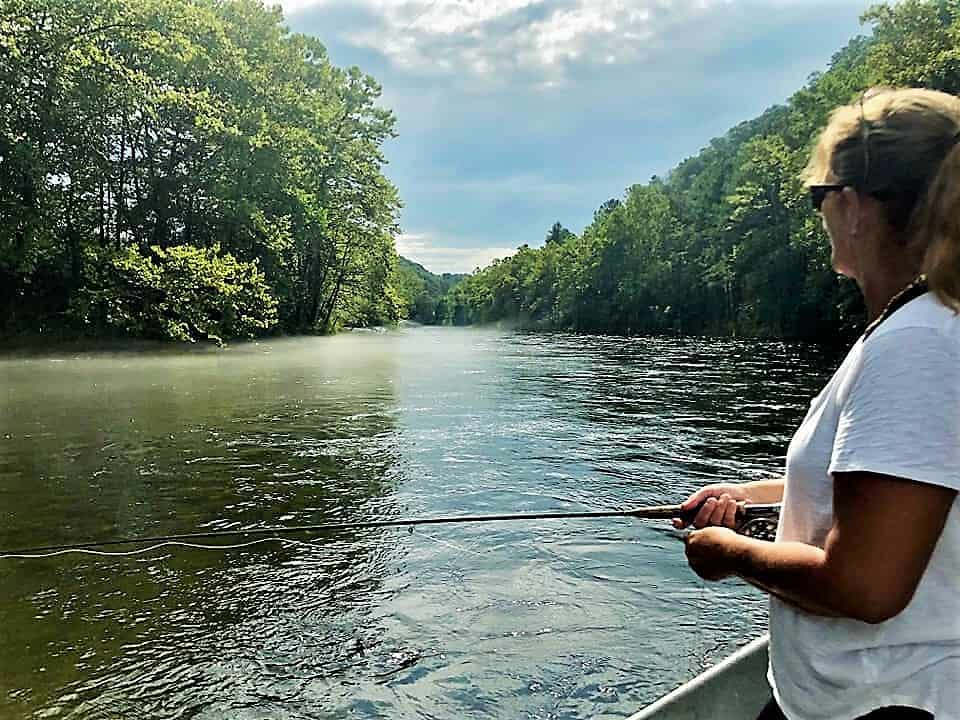 An Ultimate Guide to Northeast Tennessee
Originally posted on https://borntobeboomers.com/an-ultimate-guide-to-northeast-tennessee/
One of my favorite things to do in the summer and fall is head to the mountains. This summer, Northeast Tennesse sponsored us to give you the Ultimate Guide to Northeast Tennessee! All opinions are 100% my own.
This beautiful, unspoiled area offers many outdoor activities, great food and most importantly, wonderful people. We were able to visit the region multiple times and it has become a favorite spot that is also Bo Approved!
Who wouldn't want to take their pooch to visit some of the most beautiful areas in the Appalachian Highlands! The Ultimate Guide for Northeast Tennessee will also show you many pet-friendly areas you can visit as well as all of the outdoor fun you can handle!
An Ultimate Guide to Northeast Tennessee
The Northeast Tennessee area is being recognized as one of the top places to visit for outdoor activities in the South. Northeast Tennesee borders Virginia, North Carolina, and Kentucky placing it in the heart of the Appalachian Highlands region.
In my opinion, it is the best part of the region due to its mild climate and friendly people. It offers almost 300 miles of the Appalachian Trail. You will see some of the best, wildlife, rivers, lakes and falls in this beautiful area of the Appalachians. There is so much to do here you need to have an ultimate guide for Northeast Tennessee!
How to Get To Northeast Tennessee
The Tri-Cities Airport, located in Blountville, Tennessee, conveniently accepts flights from Allegiant Air, Delta, and American Airlines. We had friends meet us in the area who took Allegiant from Florida for under $100!
If you are driving to the area it is easily accessible from the east coast, with two interstates, I-81 and I-26, leading you to the area. It was about a 10-hour drive from Central Florida. The drive is even less coming from the northeastern states like Pennsylvania and Washington, DC, making it an easy trip from anywhere along the east coast.
Day One
Elizabethton, Tennessee
There are several things to see in Elizabethton, Tennessee. There is the iconic Elizabethton Covered Bridge and the Doe River. Most of the downtown area is listed on the National Registry of Historic Places.
The most memorable area will always be Roan Mountain and Carver's Gap for us. It was our first stop on this trip and the swirly, mountain roads take you up to one of the higher elevations in Tennesee. We were ready to climb Carver's Gap!
Carver's Gap
The trailhead for Carver's Gap is located in the Cherokee National Forest about 25 minutes from downtown Elizabethton. The park is right on the Tennessee/North Carolina State line. There is also free parking right at the entrance where the Appalachian Trail comes through the area. The elevation at Carver's Gap is 5512 ft!
It is a really easy hike, but I recommend you stay on the designated trail. There are white markers placed on rocks and trees to help you stay on the right track.
Important Tip!
Tip: Being from a low elevation makes it difficult on our bodies to be at this elevation. Some common symptoms that we experienced were swelling of the legs and feet, memory loss or confusion and shortness of breath. Apparently, we were getting dehydrated. One way to combat this is to drink extra fluids to stay hydrated.
As you ascend on the trail to reach the peak you will walk through a tree-covered area that is cool and damp. You will want to dress in layers, even in the summer. The weather can turn quickly at these elevations. As your blood gets pumping and you reach the Bald areas, you will want to peel those layers off especially if it is a sunny day.
We made it to the peak and there was heavy cloud cover that day. The area is actually called Cloudland, just for that reason. You will be in the clouds when you are at the top of Carver's Gap.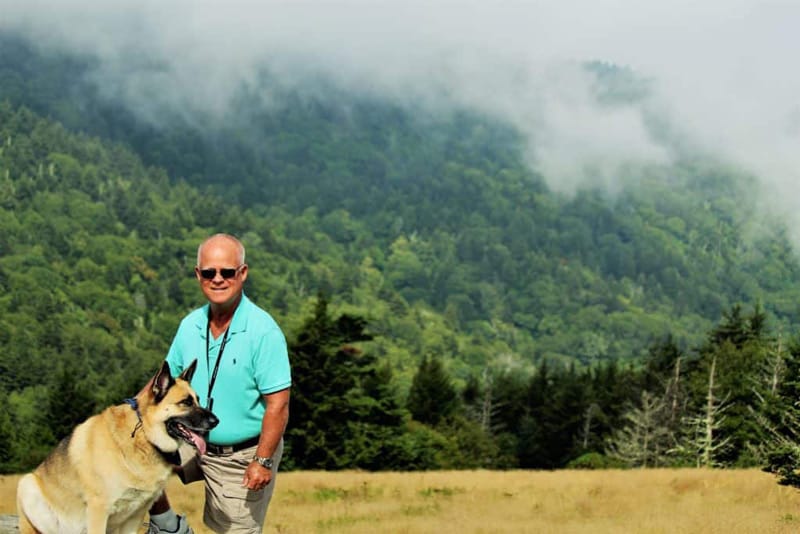 As a few minutes passed we were lucky enough to have the clouds move on and start to reveal the beauty to us below and around us. It is truly breathtaking and should be on your bucket list!
Wild Blueberries on the Trail

Overlooking North Carolina
Roan Mountain State Park
On the other side of the park are the Rhododendron Gardens. During June, thousands of people flock to the gardens to view these beautiful flowers during the annual Rhododendron Festival. You can walk through an enchanted mossy forest to get to the gardens. We were there in August, so they were not blooming, Regardless is is a really cool walk.
The Cloudland Hotel was on Roan Mountain. Here is a video of our guide, Luke, describing the hotel.
As you head back down the mountain, there are other areas to see in the Roan Mountain State Park like the Miller Homestead, camping sites, picnic areas, and the Doe River.
Miller Home

Miller Farmstead Park
Smoky Mountain Bakers
After we had back down the mountain we stop at Smoky Mountain Bakers for the BEST pizza I have ever had in the South. You walk in to see a real brick oven serving unique pizza variation. We were there a few minutes before lunch and thank goodness because by the time we got our pizza it was packed!
Fresh Pastry

Brick Oven

Specialtiy Pizzas

Smoky Mountain Bakers
We were able to sit outside with Bo which makes Smoky Mountain Bakers is "Bo Approved'! In fact, several pet owners showed up with their dogs.
After we had lunch, we dropped Luke, our guide, off at the Carter County Visitor Bureau and also dropped Bo off at our cabin for his afternoon nap. It was time for some fun on the South Holston River!
South Holston River Company
One thing I have been wanting to try is Fly Fishing. I love to fish in saltwater but had never tried Fly Fishing. I was stoked to finally get to try this mysterious way of catching fish. The South Holston River Company is definitely the right place to teach you the tricks of hooking a beautiful trout.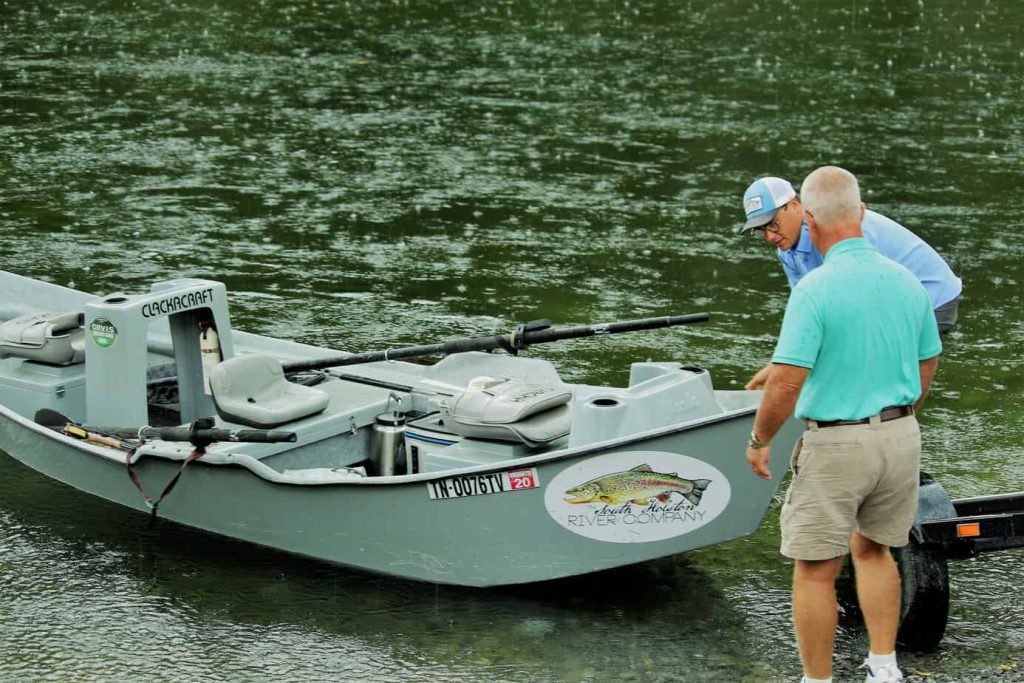 We pull up to meet our guide, Brady Carter. We hop in his truck and head to the ramp to put in the boat. It has started to rain so he offers up parkas as we jump in the boat. He starts the engine and we head towards the TVA Dam to start learning how to Fly Fish.
As we approach the dam there is a beautiful mist covering the river. As you are moving along you can feel the cold pockets of air rising from the clear waters. The rain stops but the cloudy mist remains on the river. The pressure is on though. I was informed that everyone catches fish on the South Holston River!
Fish On!
Then it happens… we get our first hits on the line! Now we have to remember to pull in our line instead of reeling it! We learned so much in such a short amount of time and the fish just kept coming! We finally got Brady to stop calling us Bait Fishers!
Beautiful Rainbow Trout from the Holston River
Then I noticed Brady kept throwing the fish back, so I asked if there was a weight limit to which he replied there was not. I asked if we were going to keep any, to which he replied most people do not. I was a little disappointed. In Florida, we eat our catch!
Brady was a team player and agreed we could keep a couple of our trout for dinner. Then I told him I had 5 guys coming to the cabin from Florida in a couple of days so we kept 8 of them, making sure we released any smaller trout. My plans were to make Trout Dip. Something I have to buy in Florida. Brady even cleaned our fish for us and packed it on ice.
Fresh Trout Dip
I immediately froze the fish when we got back to our cabin. We had plans for the next two nights so I wanted the trout to stay as fresh as possible. As I prepared food for the weekend I defrosted the trout and marinated it in fresh lemon juice then tossed them on the grill with some Himalayan Salt! This would not be an Ulitmate Guide to Northeast Tennessee without some fresh Rainbow Trout on the grill! Thanks, Brady and South Holston River Company!
It's Bristol Baby!!
The whole point of coming to Tennessee in August is to visit for Race Week and Bristol Motor Speedway! Bristol and the Northeast Tennessee region love their race fans and put on several events for them throughout race week throughout the tri-cities area.
First, a little bit about Bristol just in case you come some other time of the year. There is still plenty to see in this iconic Northeast Tennessee town. Bristol is the Original Birthplace of Country Music! There is a museum that is affiliated with the Smithsonian Institute that you can visit to get more information and hear some of the original tunes that were created.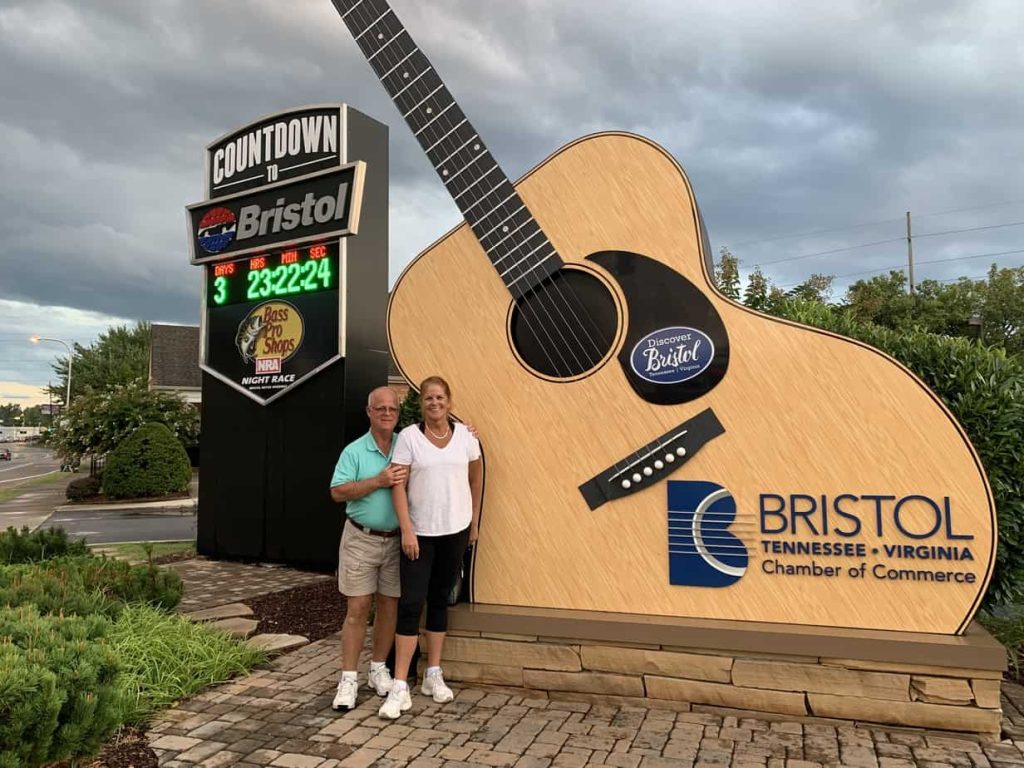 Bristol is also famous for being a town in two states at once! If you remember the Geico commercial with the Gecko standing in two states at once? That's Bristol! Everyone who comes to Bristol sees this as being a photo op and we had to get in on the action.
The Food!
It was time for dinner so we head over to Cootie Browns Restaurant for a locally owned and unique restaurant. Located in the heart of Downtown Bristol you are near all of the action. We chose an outside table so we could watch the race fans having fun in the area.
I can tell you the fan favorite was the Curly Fries with a Chunky Blue Cheese Dip! If you love Blue Cheese this is a must-have! I also tried their famous Tamales which were quite authentic!
After dinner, we head downtown to get to the Blackbird Bakery. This place was amazing and we were lucky the line was still inside!
The Blackbird baker is famous for their donuts. We opted for the brownie tower and key lime cheesecake. It was amazing!
On the way to the Blackbird Bakery, we were able to walk through the Food City Family Night. It was packed with race fans and their families there to get autographs from the drivers.
Wrap up!
That was a BIG day one! We hiked, fished and ate our little hearts out. It was time to go back to the cabin to shower and pass out!
Day Two
Erwin, Tennessee
After a much-needed rest, this morning we are looking for some caffeine and headed back out for another action-packed day! I have been so excited for this day to come. This would not be The Ultimate Guide to Northeast Tennesse, without a trip to Erwin!
On the agenda is USA Raft, Nolichucky Outdoor Learning Institute, Clarence's Drive-In and Union Street Taproom!
Erwin, Tennessee is located in Unicoi County and is the county seat. As you drive through the small town you will see hand-painted elephants adorning the street near the homes and businesses. There is a story behind these elephants.
Erwin is surrounded by the Cherokee National Forest and the mountain views are incredible. The Appalachian Trail is east of Erwin and crosses the Nolichucky Gorge. I actually plan to go back there the next time I am in the area to do some more exploring. It is just beautiful!
In 1916, Erwin gained notoriety due to a circus elephant named Mary who had killed her handler. Mary was brought to Erwin to be executed for her crime, even though the town protested this. In memorial for Mary, the town of Erwin now displays hand-painted elephants in front of the homes and businesses in Erwin. The proceeds go to the only Elephant Sanctuary in the US, which happens to be in Hohenwald, Tennessee.
USA Raft Adventure Resort
As we exit the interstate into Unicoi County I remember seeing this area several times on the way up to our cabin on Boone Lake. The views here are absolutely gorgeous. I have crossed over the Nolichucky River many times but I had no idea what was in store.
Nolichucky River
We enter the Cherokee National Forest. The drive continues to take us along the river and the road turns into one lane as we make our way to USA Raft. Don't be alarmed, you are on the right path and the scenery is just beautiful.
We pull in to a large spacious property with cabins and campsites. There is the Nolichucky River off in the distance. We check-in at the office and they go over some things we need to know about rafting. Jack was able to secure a leash for his glasses and they warned us not to bring anything we did not want to get wet or potentially lose.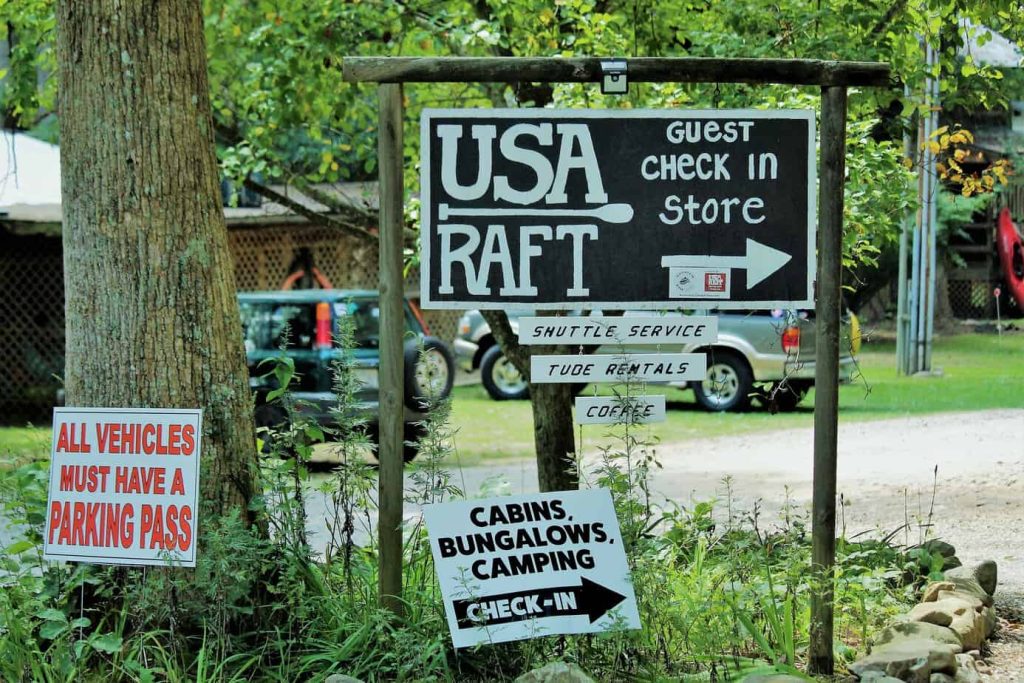 In addition to rafting, USA Raft Adventure Resort offers paddleboarding, kayaking, canoeing, caves and cavern tours, several festivals and concerts throughout the year as well as camping and cabins for rent. I can not wait to do a grandkids trip and come here and explore everything USA Raft has to offer.
USA Raft is Pet-Friendly!
USA Raft is also pet-friendly! Whether you are staying there or coming for a raft ride and need some assistance with your pooch, USA Raft will assist with a pet sitter.
Once we are finished in the office a guide meets us outside to go over next steps. They fit us for personal flotation devices and helmets and we are told to get in the van to go to our drop off point in North Carolina.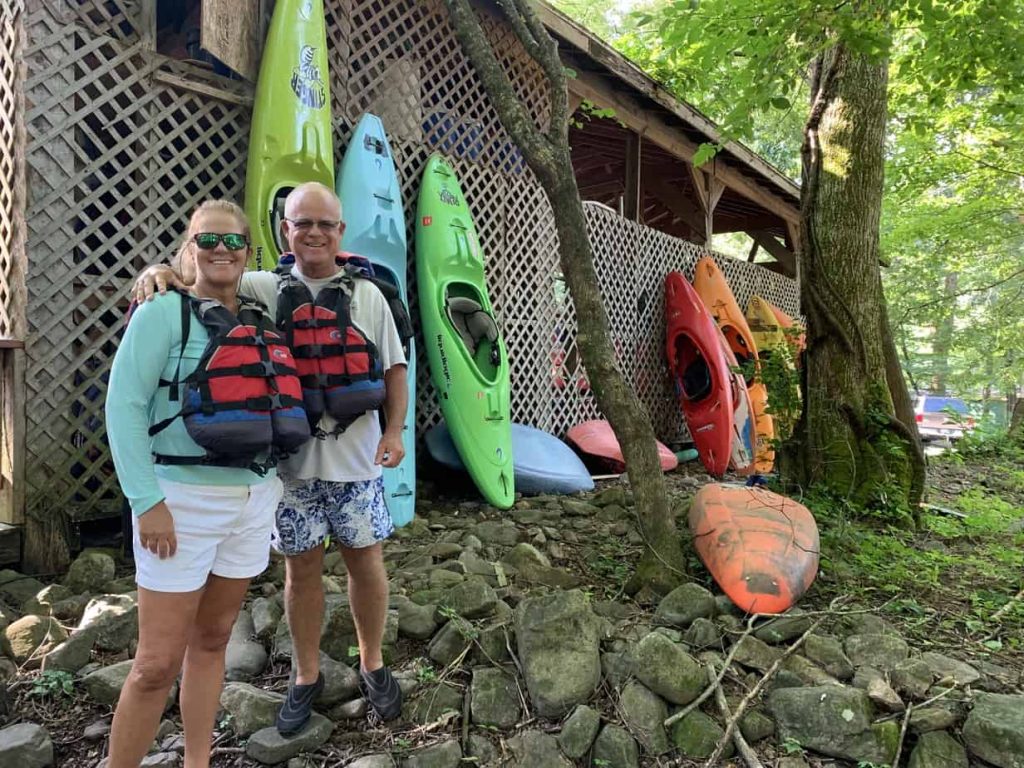 Get On the Water!
It is a 30-minute drive to get to our destination in North Carolina. I will not spoil the fun of the van ride up there, but you are given specific instructions on everything you need to know to go white water rafting. The guides are so much fun you will really enjoy this excursion.
We hop into our raft and we are off with our guide Matt. It is a completely surreal experience of having very little control over your destination. I am completely addicted! The water pushes you through the rocks and down the river. Fortunately, we had a guide who kept us in the boat!
You learn to work with the boat, rocks and water to stay in the boat! We were rafting on level 3 and 4 rapids and it was exhilarating!
Nolichucky Outdoor Learning Institute (NOLI)
After our rafting experience, we were signed up for a Survival Class with NOLI or the Nolichucky Outdoor Learning Institute. The institute is located on the USA Raft property and the shores of the Nolichucky so it is an easy transition from rafting to survival mode!
You can learn everything about outdoor survival. From kayaking, canoeing, water safety and rescue to survival classes. We were there for the survival class. I definitely would love to go back and learn how to kayak in whitewater.
We had a few minutes before our class so I decided to take in the river and listen to the rushing water over the rocks. I just love this place!
I see our instructor crossing the creek. Scott Fisher introduced himself and gave me some of his background. Scott is from the Northeast, graduated from The Citadel and 6.5 years in the military. He left a lucrative corporate job to live out his dreams in the Northeast Tennesse region. I can totally relate to this!
Survival Island
We start our trek to Survival Island. I see there is a rope set up to help us cross the creek. We cross the creek successfully and make it to Survival Island! As we head down the trail Scott starts showing us the edibles that are common in that area.
We come to a clearing in the woods with a fire pit and benches. Scott gets to know us a little better and our current skill level which is about zero! He proceeds to teach us how to build a shelter in two different ways and build a fire to protect ourselves from the elements.
Now we are survival experts! We successfully ate plants, built two structures and started several fires! I highly recommend utilizing the Nolichucky Outdoor Learning Institute for all of your outdoor education needs which is important if you are in the area hiking or on the local waterways.
Clarence's Drive-In
You can not go to Erwin without experiencing Clarence's Drive-In. They rumored to have great southern food and most importantly great milkshakes!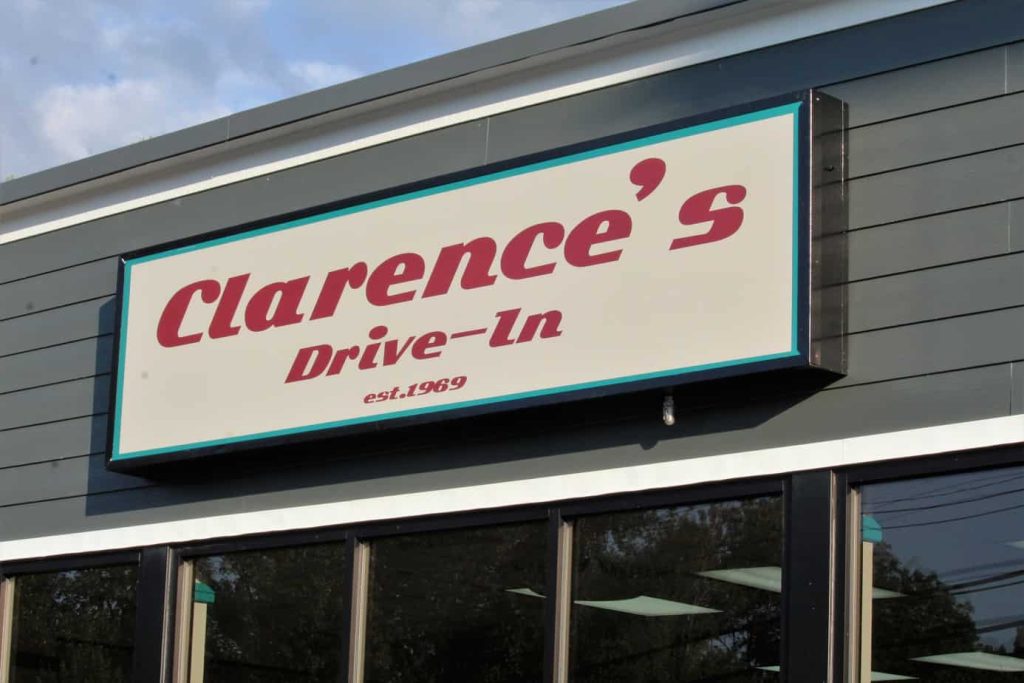 We walk in and the restaurant has the feel of a 1970s diner. The tables and chairs reminded me of my grandmother's kitchen in the 1970s as well.
We were able to go to Clarence's with the owner of USA Raft, Matt Moses, and Michael and Tara Baker, who owns the Union Street Tap Room. I really enjoyed getting to know these local Erwin business owners.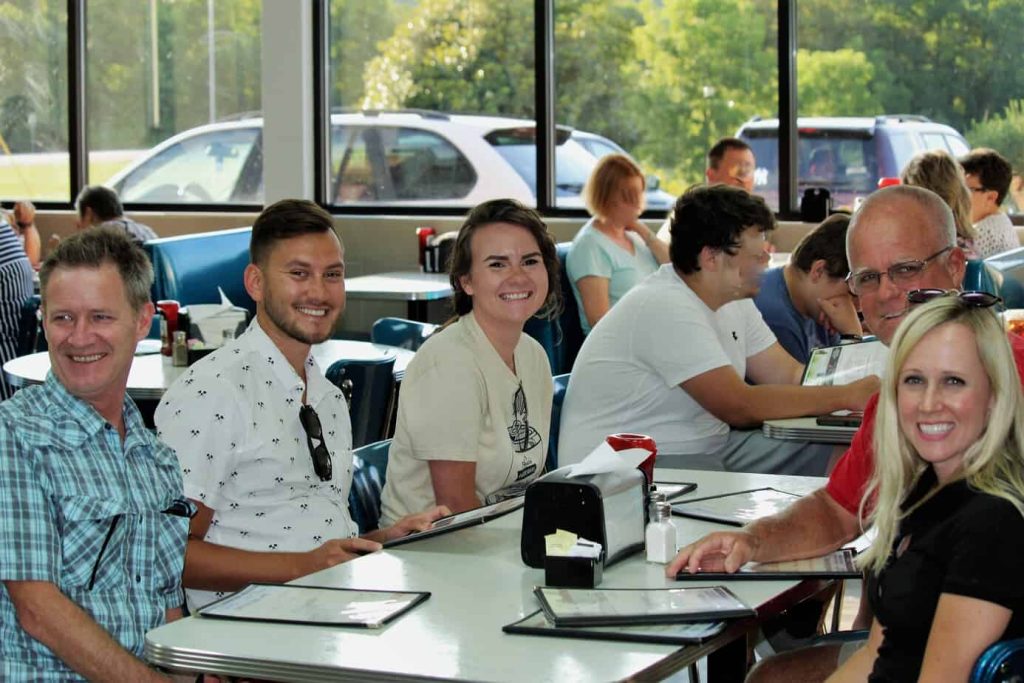 Matt Moses owns USA Raft and has been in the rafting business for more than 30 years. Matt truly cares about the local environment and preserving the Nolichucky area for future generations to enjoy. You can see his passion for his customers and the Northeast Tennessee region.
Tara and Michael are quite the entrepreneurs. Michael is a successful realtor and Alderman for the City of Erwin and Tara is a high school teacher and manages the Union Street Taproom. I was impressed with how much they have accomplished at such a young age.
Clarence's Drive-In was the perfect place to go after rafting and our survival class. The menu offers all of the classics, from breakfast all day, burgers, corn nuggets and a southern favorite, chicken fried steak.
Breakfast All Day

Blueberry Milkshake
Union Street Taproom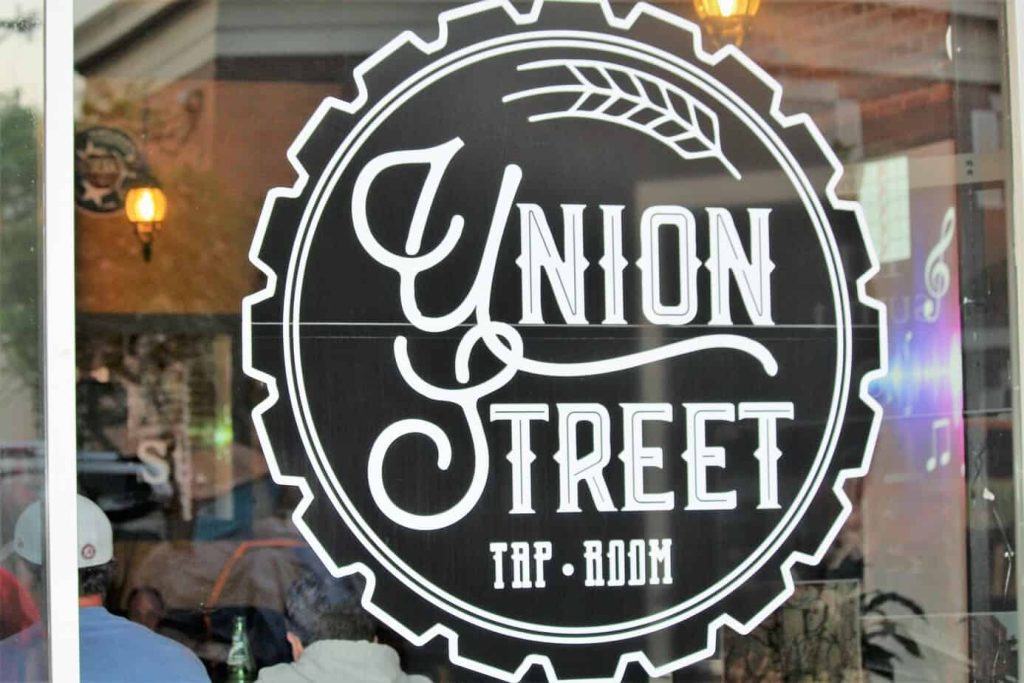 The Union Street Taproom is located in downtown Erwin. We were there on a Wednesday night and the place was pretty packed! They were having their Music Bingo Night!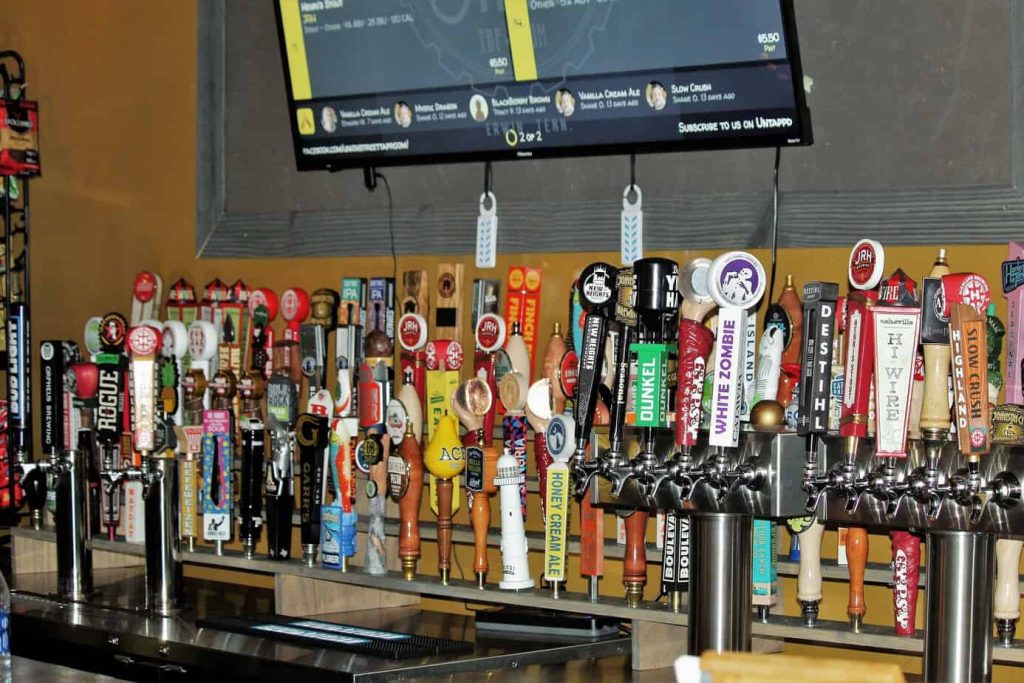 The owners, Michael and Tara, met us there and set us up! There were 48 beers on tap, so we chose to go with a flight. Below there is a video of Tara Baker, the owner, telling us about the differences in the samples.
You can find a list of beers and vote for your favorites, here on UNTAPPD, for the Union Street Tap House.
Day Three
Kingsport and Jonesborough, Tennessee
After taking a couple of days to hang out with friends at Boone Lake, we are back on the road again. Kingsport is the largest of the three cities in the Tri-City area.
Bays Mountain Park and Planetarium
Bays Mountain Park is a 3500-acre park located in Kingsport, Tennesse on Bays Mountain. The park is actually owned by the city of Kingsport and is the largest city-owned park in the state of Tennessee.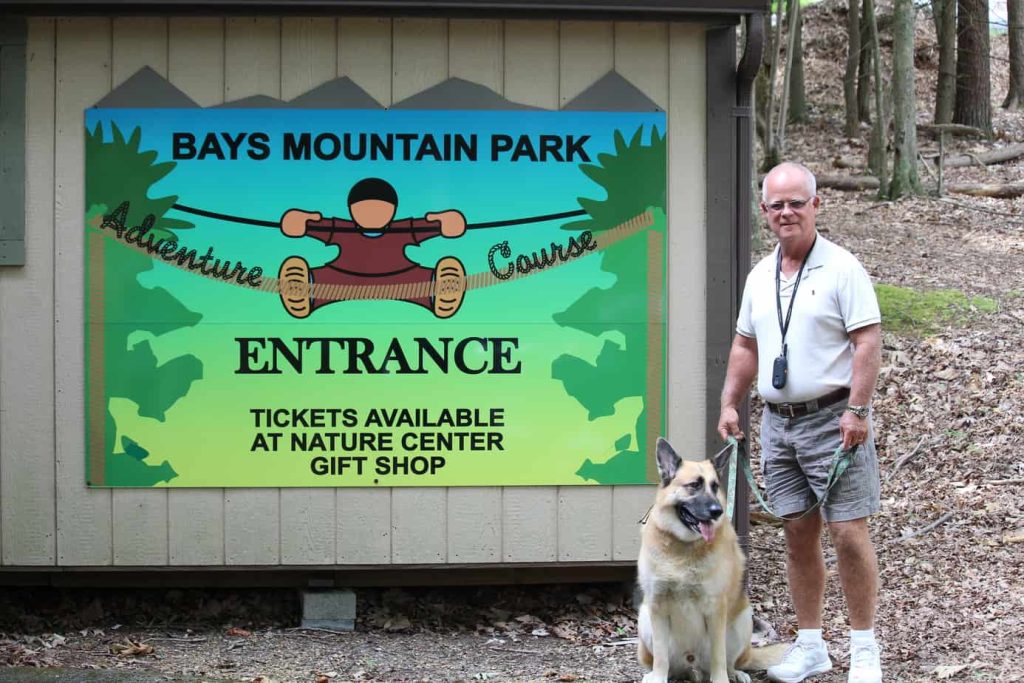 There is a 44-acre lake with hiking trails, a planetarium, snakes and reptile house, wolves, bobcats, and birds of prey. Jamie Fox, a red fox, was the first resident to greet us!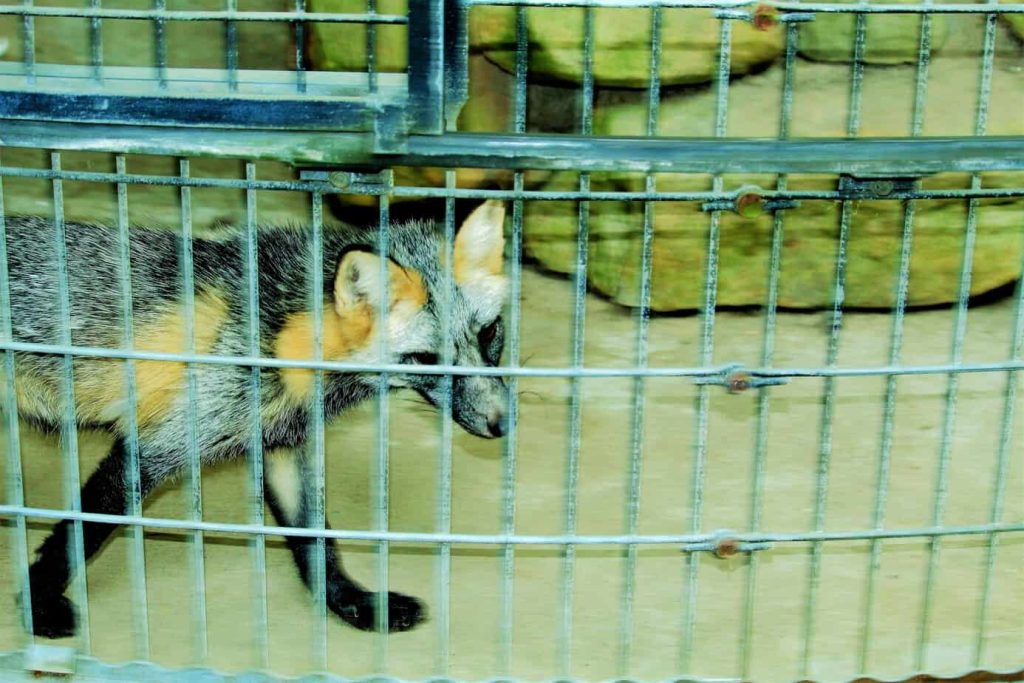 Most of the animals that are kept here were rescued from other humans. The park, for the most part, only houses animals that are indigenous to the area.
Deer
Next to Jamie Fox is the deer area. As we approached the pen the deer became really curious. First, the doe came over to visit and then the buck in the pen spotted us next.
Doe @ Bays Mountain Park

Doe @ Bays Mountain Park
There are deer roaming freely in the park. These deer were kept in a large habitat that they could roam in as well.
Snakes and Reptiles
Jack is an avid snake handler who used to take our snakes and reptiles to the schools to teach kids about the good snakes so we were excited to be there.
Red Rat Snake

Copperhead
This beautiful red rat snake or corn snake came out to say hello. They are very docile and great to have in your yard for rodent control. They had reptiles and snakes that were local to the area for education purposes. The black corn snake below is molting. The camera was able to catch his cloudy eyes.
Wolves
Next, I was able to view the Gray Wolves that are housed at Bays Mountain. They are just stunning animals. Completely relaxed they are used to humans but not trained.
They are used to humans but are not tame which why you see the double fence. They live in a huge pen that provides them with the perfect environment to thrive.
Raptors
The birds of prey are absolutely stunning. They put on shows at the park to show people these stunning birds in action. The Red Tail Hawk was stunning as he showed me his red tail. I was excited to see one up close. They are one of my favorite birds to see in the wild.
Photo Credit Jay Huron
Bays Mountain Park has a 44-acre lake with its own barge, named the Osprey, to show the guests the natural habitat around the lake. You may even be able to get to see some beaver or deer! The lake used to be the original source of water for the city of Kingsport.
Bays Mountain Adventure Course
It is time to try our hand at ziplining! We head over to the adventure course to get suited up. Helmets and harnesses are waiting for us. Many companies utilize the park for team-building exercises.
I am not a fan of heights at all. This was something I was going to push through and get up this rope. Until I looked 30 feet down! It was right about here I had a panic attack. Our guide was so patient with my incessant questions. "How will I get from here to there?" "What will I hold on to?" "I WANT TO GO BACK DOWN!" Realizing it was too late and easier to move forward, I continued and made it to my husband.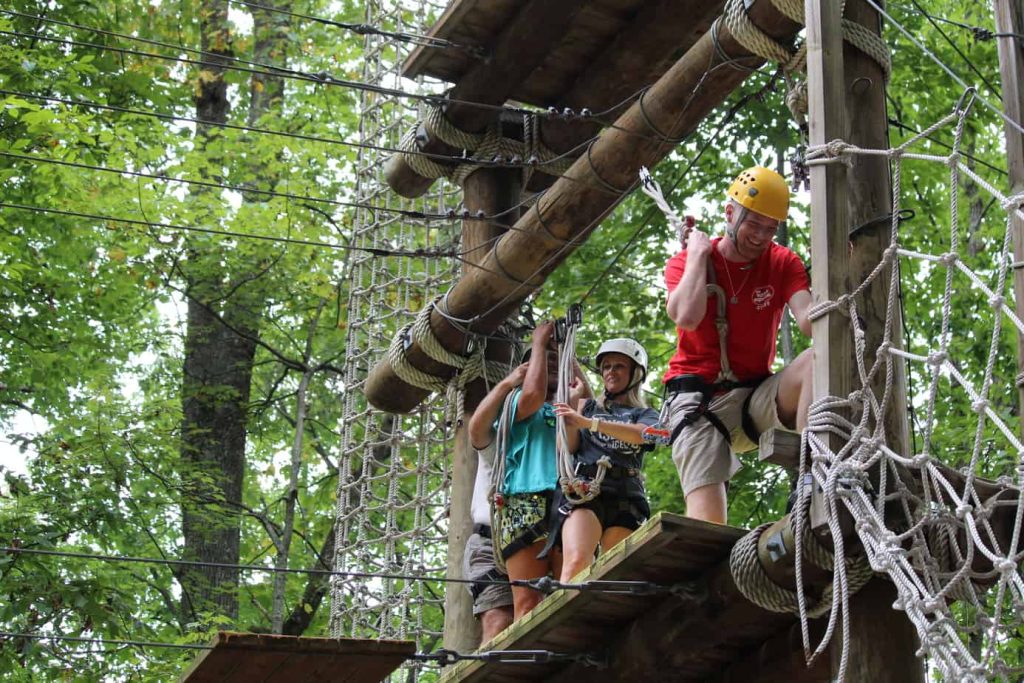 Our guide suggested that I sit down on the platform. Our instructor offers to push me off, which I am grateful for. You can see us both flying through the air!
After he pushes me off you can hear me yell out. I just kept my eyes closed! Clearly skydiving is not in my future!
I survived Bays Mountain Adventure Park! All the little kids that went before me would be proud of me!
Stir Fry Cafe
We head towards downtown Kingsport for lunch. Being in downtown Kingsport was a flashback to the past with iconic shops and tree-lined streets. Our hosts decided on the Stir Fry Cafe. We were able to sit outside with Bo for our meal.
The manager comes out to introduce himself. The next thing I know he adorned our table with some fantastic appetizers! Rack of lamb and a sushi sampler. Rack of lamb is one of our favorites.
Beef Curry

General Tsao's Chicken
The menu was eclectic and the food was fresh! I highly recommend the Stir Fry Cafe.
The Long Island Iced Tea
In Tennessee, it is a well-known fact that they are the original creators of the Long Island Iced Tea! Watch the video below for the history behind this famous cocktail and how it came to be.
Our friends took us over to East Coast Wings and Grill to meet the master at making Long Island Iced Teas! Shane Winegar General Manager, East Coast Wings & Grill Kingsport.
Shane explained how a battle ensued between Tennessee and New York on who had the best tasting Long Island Iced Tea. New York came to Tennessee and Tennessee won the contest. Tennessee went to New York and New York won the contest. The two states decided to meet in the middle in Washington, DC!
Total dedication to the Long Island Iced Tea of Northeast Tennessee!
The recipe!
4 oz. Cola
Squeeze 1/2 Lemon & 1/2 Lime
1 oz. Whiskey
1/2 oz. Maple Syrup
1/2 oz. Tequila
1/2 oz. Gin
1/2 oz. Rum
1 oz. Vodka
I have to tell you that I love this Long Island Iced Tea! I think the difference is the fresh lemons and limes vs. sour mix. It was really refreshing and the maple syrup was a nice change and not too sweet!
Jonesborough, Tennessee
In order for it to be an Ultimate Guide for Northeast Tennessee, I have to mention Jonesborough. Jonesborough was founded in 1779, 17 years before it became a state and was a part of North Carolina, making it Tennessee's oldest town! Once we arrived in Jonesborough, we stopped into the Jonesborough Visitor Center for some information.
We decided to head down to Main Street to see all the things Jonesborough is famous for. You can read more about Jonesborough here!
International Storytelling Center
Storytelling Center

Storytelling Theater
The International Storytelling Center is located in the heart of Jonesborough, Tennessee and is known as the storytelling capital of the world. You can visit in October for the Storytelling festival each year.
Noelle's Gift Shop

Gabriel's
There are several gift shops, holiday shops, and antique stores in downtown Jonesborough. Make sure to stop in the Lollipop Shop for some old fashioned candy!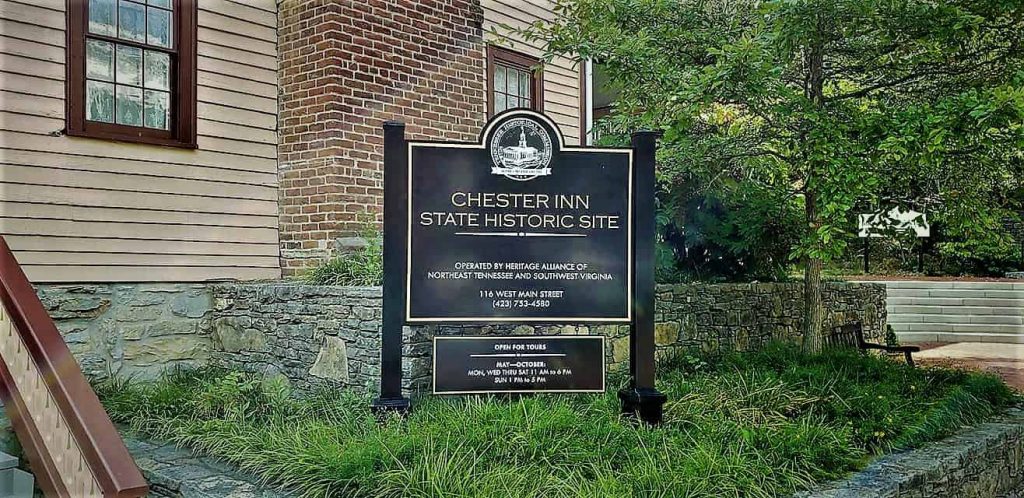 If you would like to learn more about the history of Jonesborough the Chester Inn Historic Site and Museum is the place to stop.
We were able to take a tour of the Inn and Jonesborough to learn more about its history with a local historian. Here is a snippet for you to preview.
Boone Street Market
After touring Jonesborough, it is time for dinner at the local farm to table restaurant and store, the Boone Street Market.
The market was started to help farmers have a marketplace and consumers have access to local fresh food. All of the food at the Boone Street Market is sourced locally within 100 miles.
Watermelon Salad

Beef Brisket with Hoe Cakes

Peanut Butter Silk Pie
By all means, make sure you check out our articles about Bristol, Johnson City and Jonesborough to see many additional features of this great region.
Here is a video with Executive Chef, Neal Smith explaining the courses for the evening.
Ultimate Guide to Northeast Tennesee Wrap Up!
My favorite thing about this area is the unspoiled environment and the lack of crowds! This area of Northeast Tennessee is all about outdoor adventure with a welcoming spirit! You can come find yourself here in Northeast Tennessee but there is still much to do here!
Leave a comment about your favorite thing to do in Northeast Tennessee!