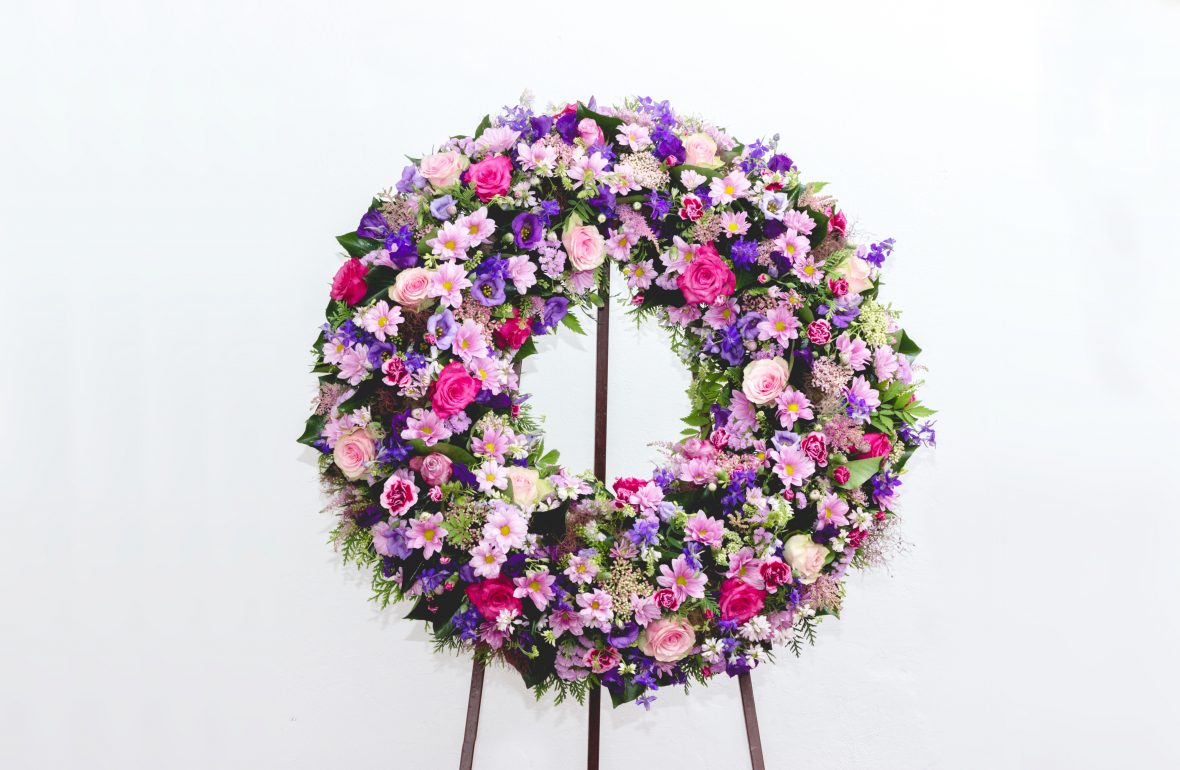 Standing Sprays and Wreaths For Funerals
Photo From flowersnear
Originally Posted On: https://www.flowersnear.com/blog/standing-funeral-sprays/
Standing sprays play a very symbolic and respectful role in a funeral service. When a family loses a loved one they have the responsibility of dealing with service details. They are also tasked with doing so at a time in which they are grieving. This is often difficult, as you must coordinate a very important event while being in a state of mind that is grieving.
Arranging a funeral requires a lot of logistics. Meeting with the funeral director, establishing dates and times, making decisions pertaining to scenery, selecting a casket and communicating with a lot of family and friends…to name a few.
However, more than anything is the importance of the event going smoothly, and succeeding in the proper 'paying of respects' toward the one that has passed away.
The Role of Funeral Standing Sprays
For as long as we've been celebrating the lives of the ones that have left us, memorializing your loved one has always included flowers. The power of expression through floral has been around since the beginning of time. Flowers express love, life, celebration, well wishes and yes, loss.
From the dropping of a single rose during the descending of a casket to filling the funeral home with a variety of sprays, wreaths, and bouquets, it is the family and friends' responsibility to make the environment as beautiful and full of love as possible. Funeral sprays on easels represent both of these and more. But what are funeral sprays, and what different types are there?
Standing Funeral Sprays Placed On Easels
The primary objective of the standing funeral spray is to display as a large assortment of flowers, professionally designed with a selected color scheme, shape, width and height. It generally takes only a few of these impressive, bountiful flower sprays to fill the room, adding color and beauty at a time when it can be difficult to remember that life is full of both.
The standing funeral spray is already of significant size, ranging from 2-3 feet in both width and standing up to 5 feet tall. The easel is considered part of the arrangement and delivered as such. These flower sprays generally comprise of various types of flowers. Roses, carnations, snapdragons, and lilies are some of the more popular flowers used by a florist when designing the spray.
Standing Sprays vs Wreaths: What's The Difference?
When it comes to understanding the difference between standing funeral sprays and funeral wreaths, it's important to know both their likenesses and differences. Sprays and wreaths are often categorized together because they are both large funeral flower arrangements standing on an easel.
Standing sprays are generally a 'mound' of flowing flowers designed to present in a lovely, oval-like manner from the top of the easel down. The popular Shining Star Funeral Spray is a perfect example of a professionally designed spray. Its combination of 2-3 colors of flowers with blended greenery throughout makes for a beautiful memorial floral arrangement.
A funeral wreath is typically designed and delivered on an easel as well. However, a funeral wreath takes on a specific shape, such as a circle, cross, heart or square.
Funeral wreaths take the creativity of the spray one step further by emulating a specific expression within its design. The bleeding heart-shaped spray expresses love and a broken heart. The cross-shaped wreath is for the purpose of expressing one's faith. Wreaths might also appear to have branches and moss as part of its design. Florists generally do a wonderful job designing these. They place a lot of their artistic skill and love into the final spray design.
Patriotic Wreaths & Sprays To Support Our Heroes
In addition to faith, sprays and wreaths can (and often are) designed to honor our fallen heroes, Whether dying in the line of duty or having lived a long life, patriotic funeral wreaths are meant to symbolize the sacrifice made by a lost loved one.
The most popular standing sprays and wreaths to symbolize patriotism are generally round or cross-shaped. Their commonality is the colors of red, white and blue. The colors are among both the flowers and ribbon to compliment the wreath. If you are interested in seeing the many options available when selecting a funeral wreath, go here.
In conclusion, it is important to understand how to best honor and beautify the funeral service environment. As a final 'sending off' of a life well-lived, we can do our loved ones no greater honor than preparing their farewell. Funeral standing sprays and wreaths assist in doing just that.