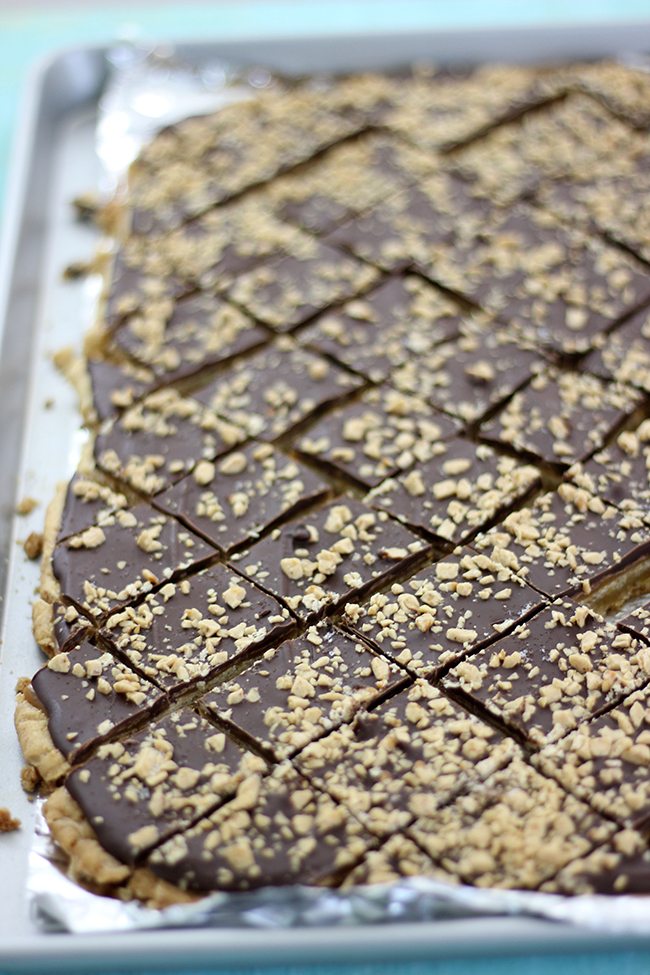 Salted Toffee Bars Recipe
Originally posted on https://cutefetti.com/salted-toffee-bars/
Can you believe how fast this month is flying? Time to slap on those baking mitts and get down & dirty in the kitchen. This is a sponsored post.
Sharing a little love from the oven is a great way to spread cheer for the holidays and we're totally on it.
Your friends, family and neighbors are gonna love these Salted Toffee Bars. Nom.
Prepare to make a double or triple batch, they are that good!
Layers of chocolate and caramel over toffee infused sugar cookie makes for a ridiculously amazing treat.
Top with even more toffee bits and a bit of sea salt and prepare for amazing.
There's no doubt that we're all after the same thing during this time of the year.
We want to feel everything good. It's easy to start a new tradition, another reason to spread cheer around.
Whether it's to friends and family or your entire neighborhood.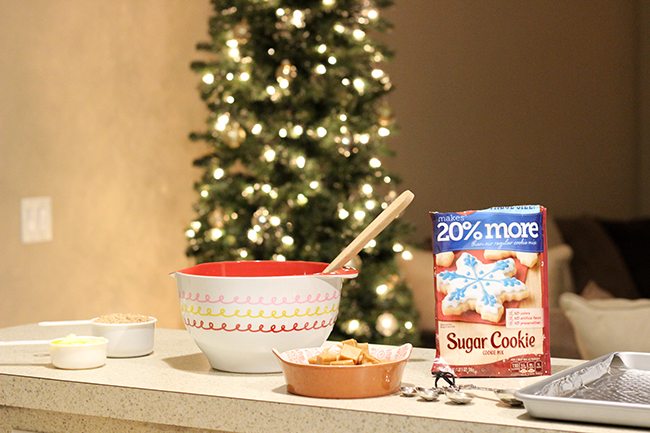 Sadly, now that my son is getting older… he prefers enjoying the fruits of kitchen labor more than helping.
But, he is definitely a sucker for spreading kindness and doing nice things for others.
I was able to get him into helping out for a little fun.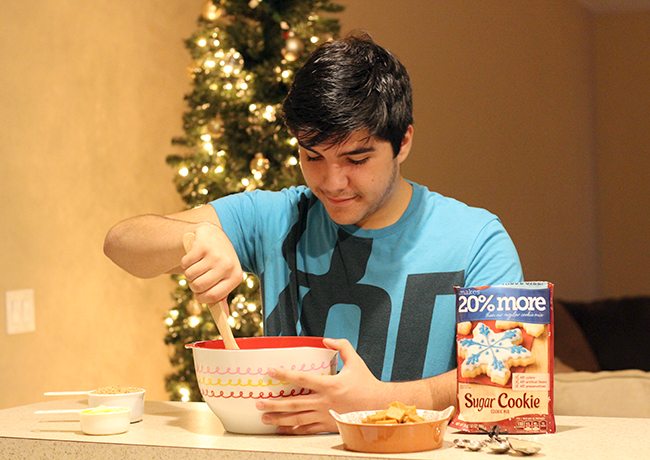 As I mentioned recently, we're pretty new to our neighborhood and don't know many people quite yet.
Baking has been a big help and thanks for tasty treats, I think we're at the beginning of really becoming a part of the community here.
It's truly amazing how easy it is to make someone's day with a baked surprise.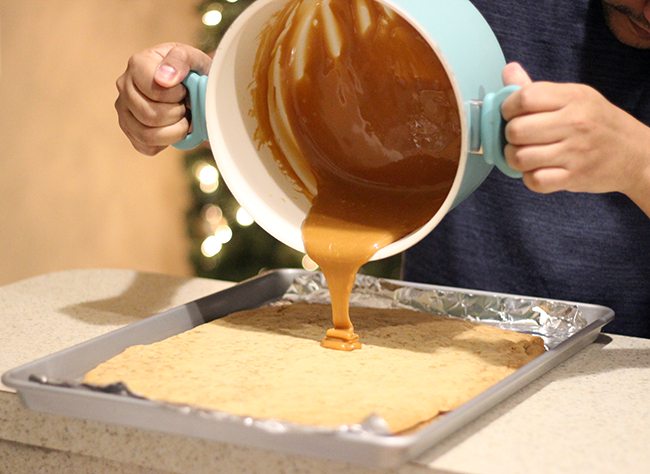 When we took a look at some of the treat ideas, it was love at first sight with these Salted Toffee Bars.
My favorite combo EVER is chocolate and caramel and these do it big.  The recipe bakes up a nice big batch that's perfect for sharing.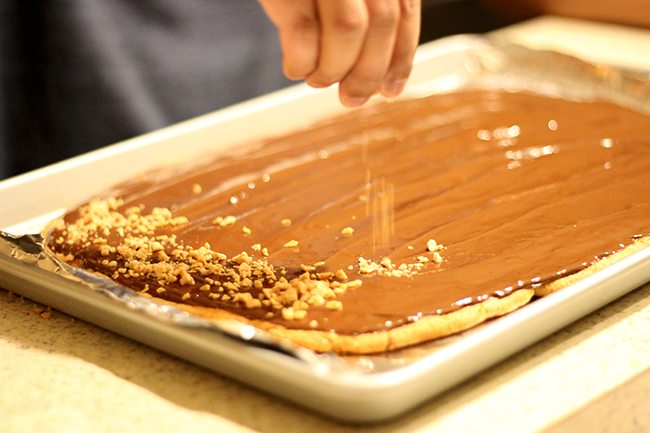 So we set out to make these delicious goodies. It all starts with Sugar Cookie Mix and toffee bits baked together.
Then comes the delicious layer of caramel, then the chocolate. Mmm, the chocolate.
Then even more toffee bits get sprinkled over the top with a bit of coarse sea salt.
All I can say is, trust me, your neighbors have no choice but to be impressed.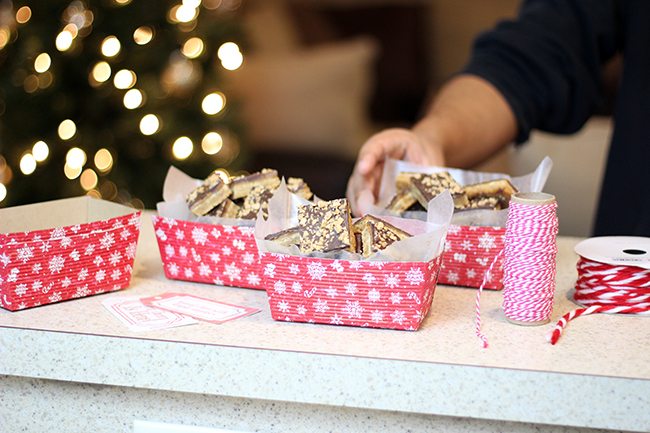 Join us in spreading cheer and brightening somebody's day this holiday season. G
Package up your homemade goodies and add a cute homemade tag.
It's gonna be hard to resist eating all these treats up, you might want to make a couple of batches.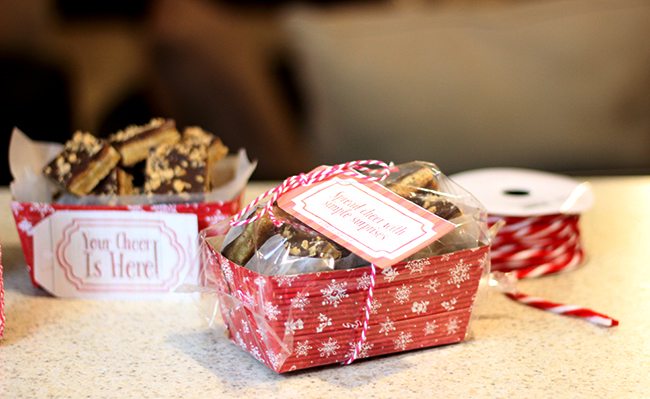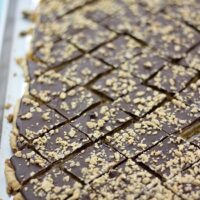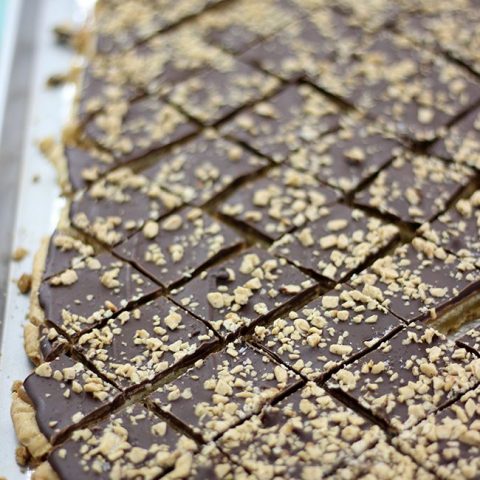 Salted Toffee Bars
yield: 32No RatingsPRINT
Ingredients
1 pouch Betty Crocker sugar cookie mix, (1 lb 1.5 oz)
1/2 cup butter, softened
1 egg
1 cup toffee bits
1 bag caramels, unwrapped, (11 oz)
1/3 cup heavy whipping cream
2 cups semisweet or milk chocolate chips
3/4 teaspoon coarse sea salt
Instructions
Heat your oven to 350°F.
Line a cookie sheet with sides with foil (15x10x1")
In large bowl, stir cookie mix, butter and egg until a soft dough forms.
Stir in 1/2 cup of the toffee bits.
Press the dough into the bottom of pan.
Bake 14 to 16 minutes or until light golden brown. Then, cool for 5 minutes on cooling rack.
In 2-quart saucepan, heat caramels and cream over medium-low heat, stirring constantly, until caramels are melted, 5 to 10 minutes. Remove from heat.
Spread over warm cookie base.
Bake 5 minutes. Return to your cooling rack.
Sprinkle the chocolate chips evenly over top.
Let stand 3 minutes and spread melted chips evenly over filling.
Sprinkle with sea salt and the remaining 1/2 cup toffee bits.
Refrigerate the bars for about 5 minutes, until the chocolate is firmed up.
Cut into 8 rows by 4 rows. Store the bars in an airtight container at room temperature.