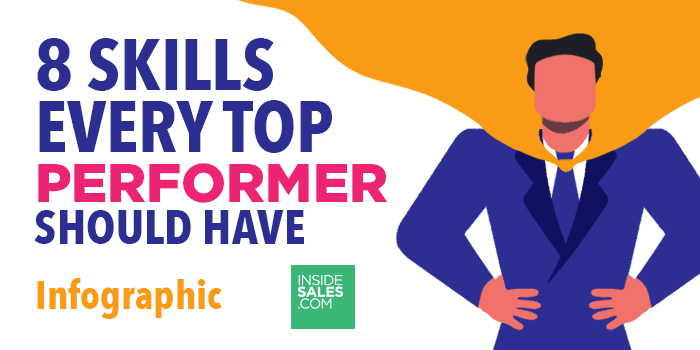 Salesperson Skills Of Top Performers [INFOGRAPHIC]
Originally posted on https://blog.insidesales.com/sales-management/sales-skills-best-performers/
Learn which eight sales associate skills you'll need to empower yourself or your sales representatives to become top performers. Read on to find out more.
What Successful Sales Professionals Have in Common
There are 5.7 million sales professionals in North America – and perhaps millions more throughout the world. And yet, only a few can claim to reach stellar performance or results.
What makes a Zig Ziglar, Grant Cardone, David Ogilvy, or Dale Carnegie?
What separates the good from the truly great? And what sales techniques will help reps get more business, handle objections, and have better overall sales conversations?
We made a list of the sales skills of the best sales reps, and you know what? Talking people into buying things wasn't high on the list.
Why Sales Success Decreases Over The Years
Data from the Miller Heiman group shows that only 53% of sales professionals are hitting or exceeding their quota. This percentage has steadily decreased from 63% over the last five years, showing that something is wrong when it comes to sales performance.
Do sales professionals lose their sales negotiation skills even with constant training, practice, and use? Or do they lose sight of their goals because of the challenges of today's market?
InsideSales.com studies have shown that leadership activities like coaching and mentoring positively impact the growth and retention of top performers, maximizing investment in people and processes.
In B2B organizations, transitioning just 15 % of sales reps from lower performing groups to higher performing quadrants can lead to a significant revenue increase.
So, how do you find the skills that allow some sales representatives to constantly over-achieve and break records – and weed out the behaviors causing others to underperform?
Evaluating Sales Representatives Performance
Evaluating a sales representative's performance and skills should be an ongoing process. To be able to rate sales professionals on a scale, sales leaders can look at key metrics such as:
Closed revenue
Sales conversations
Qualified leads
Number of sales activities
However, the numbers only tell part of the story.
How you get to these numbers is a matter of perseverance, communication skill, and hard work. There's no silver bullet.
The Sales Associate Skills That Make a Great Representative
Some sales associate skills and duties can be developed through training and experience, while others are able to reach their sales goals through existing qualities.
We asked sales managers what skills make a great salesperson, and here's what we found out.
1. Listening Skills
Sales professionals are in a position that requires strong communication skills, and that doesn't necessarily mean their talking ability. It means hearing out your customers and finding what's best for them – not for you, as painful as that may be sometimes.
Whether you're doing face-to-face selling or cold calling prospects, it's important to give your clients ample time to talk. Most of the time, your buyer would willingly share their pain points if you simply let them.
"Successful salespeople don't try to convince customers that their product or service is right for them. Instead, they begin by listening and finding out if the potential customer is a good fit before leaping for the sale," said Joe Zente, CEO of The Alternative Board in Austin.
He added, "This prevents them from coming off as pushy and saves time and money that would otherwise be spent on chasing unlikely leads."
"Great salespeople need to understand the prospect, their problems, and goals," added Steve Benson, founder and CEO of Badger Maps. "They communicate solutions that enable them to be more successful," said Benson.
"The only way to understand your prospect is through listening," adds Matt L. Schmidt, Sales Director of Diabetes Life Solutions – "however, very few salespeople take the time to listen."
"If you listen carefully to a client or prospect, they will tell you exactly what they need or want," said Schmidt.
Building long-term relationships with clients involves having a productive conversation and practicing active listening.
RELATED: Sales Effectiveness Metrics for Evaluating Your Team
2. Resilience and Grit – The Best Sales Representatives Are Hard Workers
"Sales suffer from one of the highest attrition rates of all professions, which is why it serves to recruit salespeople who show resilience and grit," explained Calum Coburn, from the Negotiation Experts.
"Sales pros have to deal with rejection a lot. They do not get calls back, they do not receive feedback after investing a great deal of energy and time on a proposal or sales pitch," said Calum.
He further said, "So when recruiting sales managers and leaders, you would do well to recruit those who have staying power."
"You can measure grit or fortitude," added Calum. "As well as looking for grit from previous roles in the form of sticking it out in the face of knockbacks, ask your sales applicant about their hobbies and extra-mural activities.
"If they stuck with something for two years or more, this shows staying power. One year is the bare minimum," he continued.
Jon Gorman, sales manager at Fundera, added that he looks for salespeople who are hardworking and resilient when hiring. Sales reps who don't give up even after multiple buyer objections are those that become great sales leaders in the future.
"If you're behind on your numbers for the month, how will you deal with it? Are you going to call it in, or work harder, double down and catch up?" said Gorman.
"The right attitude goes a long way in sales, and if you are hardworking and resilient, you will be better at your job," he added.
3. Empathy, A Much Needed Sales Skill
Soft skills, such as empathy can also go a long way in helping a salesperson provide better service.
Being empathetic is also one of the most incredible sales representative skills that'll allow you to tune into customers and anticipate their needs and wants. When you're empathetic, you can build better relationships with your prospects by truly understanding what their pains are.
Plus, it will help you identify what your clients and prospects need. Not even the best sales skills and abilities will help you if you can't provide prospects with solutions.
"Great salespeople are empathic. They need to listen to the prospect and care about their issues," said Carrie Pobre, trainer at Sandler, a Sales skills training school in Los Angeles.
Pobre further stated, "The key here is listening with an unbiased ear. They are humble – they need to be willing to put the prospect and/or client first before themselves and their company."
"A great salesperson knows what the customer wants before they even know it, and guides them to the perfect product or service," adds Eddie Kane, sales manager at Tadi Brothers.
"If the customer has confidence that the salesperson will find the perfect product, it will be a closed deal. The customer will be happy and repeat purchase," said Kane.
4. The Best Sales Representatives Come Prepared
Cold calling isn't dead — it's reborn in the digital age with new tools to incorporate into the sales process. Sales reps now spend a few minutes researching each prospect or contact before calling them to ensure they have the right person and that they can personalize the message.
Plus, prior client research will help the sales team prepare for possible objections during the negotiation process. Reps can create a script they can refer to when their clients and prospects become a bit difficult to deal with.
According to Coburn, the best sales pros recognize that every client interaction is a negotiation. Thus, they really prepare beforehand.
Some of these ways include:
Doing a quick SWOT analysis to help them gain valuable insights
Researching their key accounts and who they're selling to on a company, industry, and personal level
5. Self-Motivated and Competitive
According to Pobre, "Great salespeople are self-motivated and competitive. Most often, they put forward sales goals themselves to motivate them, and don't wait for company direction. They also identify opportunities."
She also adds, "Great salespeople are competitive. It's just in their blood."
"One of the oddest things I've found in sales is that a 'love of people' is actually not required. Some very successful salespeople actually don't really like people, " she pointed out.
Adding further: What they do have is a desire to help others and the sales job skills to help the prospect figure out if their product/service is a fit."
6. Trustworthy
Prospects will think twice about closing a deal with a sleazy salesperson, but not with someone they built a trusting relationship with. How can this trust be built without sacrificing maximum sales opportunity?
By combining all the sales associate skills of top performers together, a great salesperson will be able to compel a prospect to close a deal.
Bombarding the client with products and services he might not need will force him to become wary of your presence. Instead, become a consultant for your client.
Figuring out what more they need to strengthen their brand is already a skill in itself. Build trust from there.
If you can figure out their organization's problem, then they'll trust you to provide a solution to that problem as well. Follow through with quality service or products and you'll have a loyal customer who will think of you first when another problem arises.
It also helps to establish a trustworthy billing process. This way, they'll be sure to know all transactions they made with you are legitimate and legal.
7. Tenacious – Asks the Right Questions
Other skills for sales associates to develop revolve around giving 100% customer satisfaction to their clients. But, time will come when they reject our offers despite an already established relationship.
If a prospect says no, they're either not ready for your offer or have not recognized their issues yet. A good salesperson would try to find another way to turn this around.
Instead of forcing your service on them, ask the right questions. This way, you'll be able to determine their reason for saying no and probably work around that.
Rejection doesn't always mean failure. Tenacious people see it as an opportunity to gain more knowledge and craft new strategies to overcome other possible refusals in the future.
This is where your listening skills, become useful. But don't stop there.
8. Authoritative
No one builds trust with a person who doesn't know what he's selling.
To gain more respect in the sales industry, you need to know your product backward, forward, and sideways. The more knowledgable you are, the more trustworthy you become to your client.
Gaining their trust and respect can move your entire sales transactions to a more positive side of the scale.
Aside from product knowledge, a top performing salesperson should also strive to update their selling skills.
Whether it's about delivering excellent customer service, enhancing verbal communication, or developing people skills, you need to continue learning more skills and improving techniques to become an authoritative sales representative.
Society, technology, and industries evolve every minute and you need to always catch up to these changes.
Bonus Tip: Product Knowledge
Product knowledge is not the most important skill for a salesperson to have, however, it is a requirement for closing deals. Whether you are selling products or services, make sure you know the features like the back of your hand.
The best sales leaders specialize in giving industry-related solutions to their prospects. You can't gain the ability to solve problems if you don't memorize your products by heart.
Besides, product knowledge should be a basic skill all companies and sales associates should know. Without it, your product will be in big trouble.
"Before you sell/serve anyone you must know every detail and history of your products," said Dave Ramsey, author and sales trainer.
Don't forget to download, save, or share this handy infographic for reference:
Develop a sales strategy maximizing effective sales techniques for your sales team to refer to. If you do so, every sales representative in your company will become a key player in helping your business reach success.
Check out the animated video below that demonstrates 8 sales skills every top performer should have:
---
Originally posted on YouTube by
InsideSales.com
 
We hope this guide has helped you learn more about the essential sales skills that will propel the performance of sales representatives and turn them into top performers.
Which sales skills do sales reps need to work on for long-term success? Let us know in the comments section below.