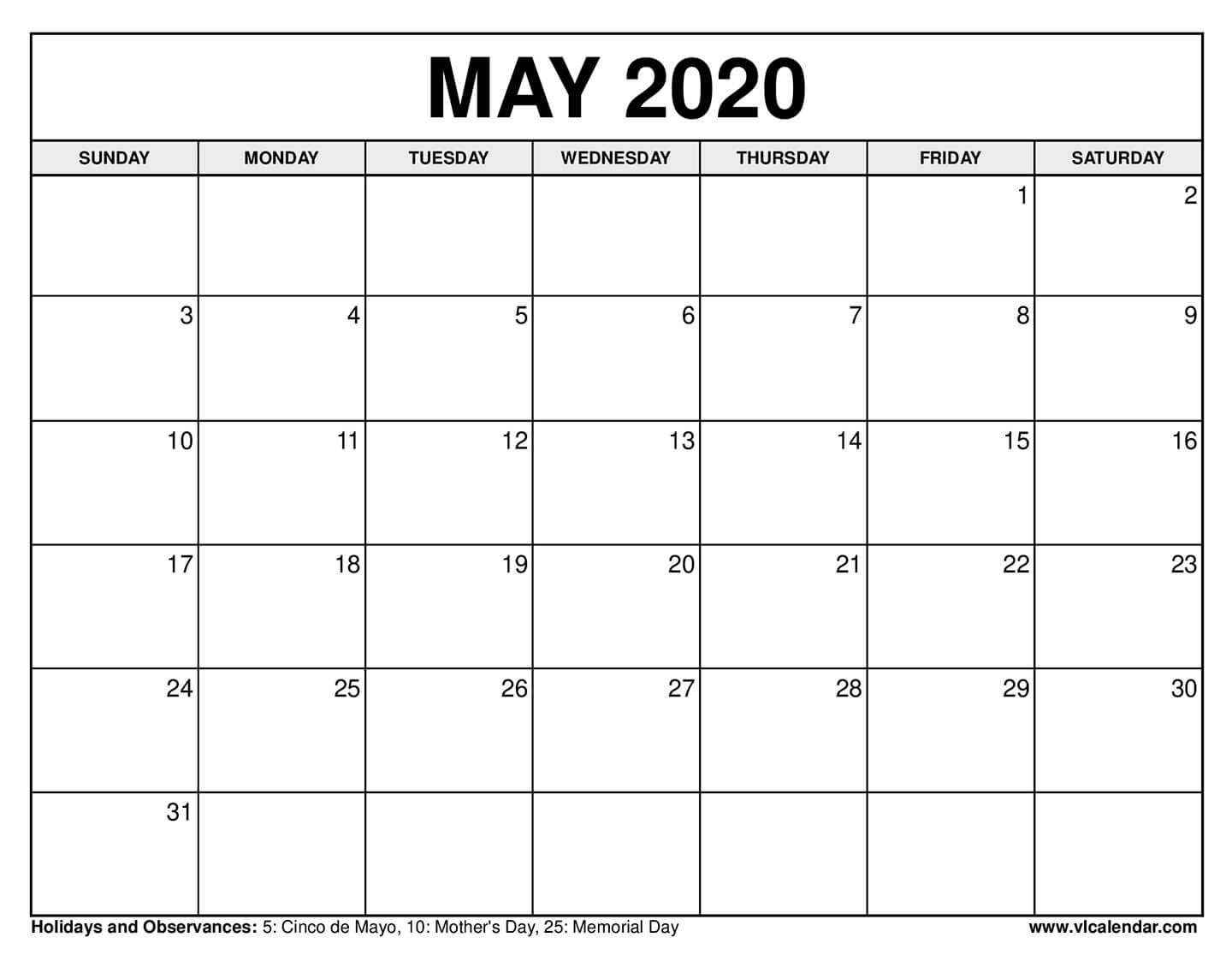 PRINTABLE MAY 2020 CALENDARS
Photo From vlcalendar
Originally Posted On: https://www.vlcalendar.com/may-calendar.html
Have you been looking for a free printable May 2020 calendar? Were you hoping for a simple design, plenty of space for notes, and the convenience of printing more than one copy? If so, then you've come to the right place! Because here at VL Calendar, that's exactly what we do. Whether it's a May 2020 calendar or a calendar for any other month of 2020, 2021, or 2022, we've got you covered. You can access and print all of our calendars right here in three simple steps.
MAY CALENDARS
MAY 2020 CALENDAR
First, make sure your computer has a .pdf reading software like Adobe Reader installed. This will allow you to properly download the calendar file, and even edit it prior to printing if you'd like. Then, you can click the download button below. Next, make sure you've got a printer loaded with traditional sized 8.5″ x 11″ paper ready to go. (This is because we have already formatted all of our calendars to automatically print on 8×5″ x 11″ paper for your convenience.) Finally, click print and enjoy your completely free, new organizational method for May 2020 and beyond! And don't forget to print extra copies for your home, office, friends, and family!
Specifically, in our May 2020 Calendar, we've included all of the major holidays. These holidays include: Cinco de Mayo, Mother's Day, and Memorial Day. While Cinco de Mayo always falls on the 5th of May, the other two holidays vary year to year. However, Mother's Day is always on a Sunday, and Memorial Day is always on a Monday. If you want to know their specific dates, you can either keep reading below or download the May 2020 Calendar right now and see for yourself!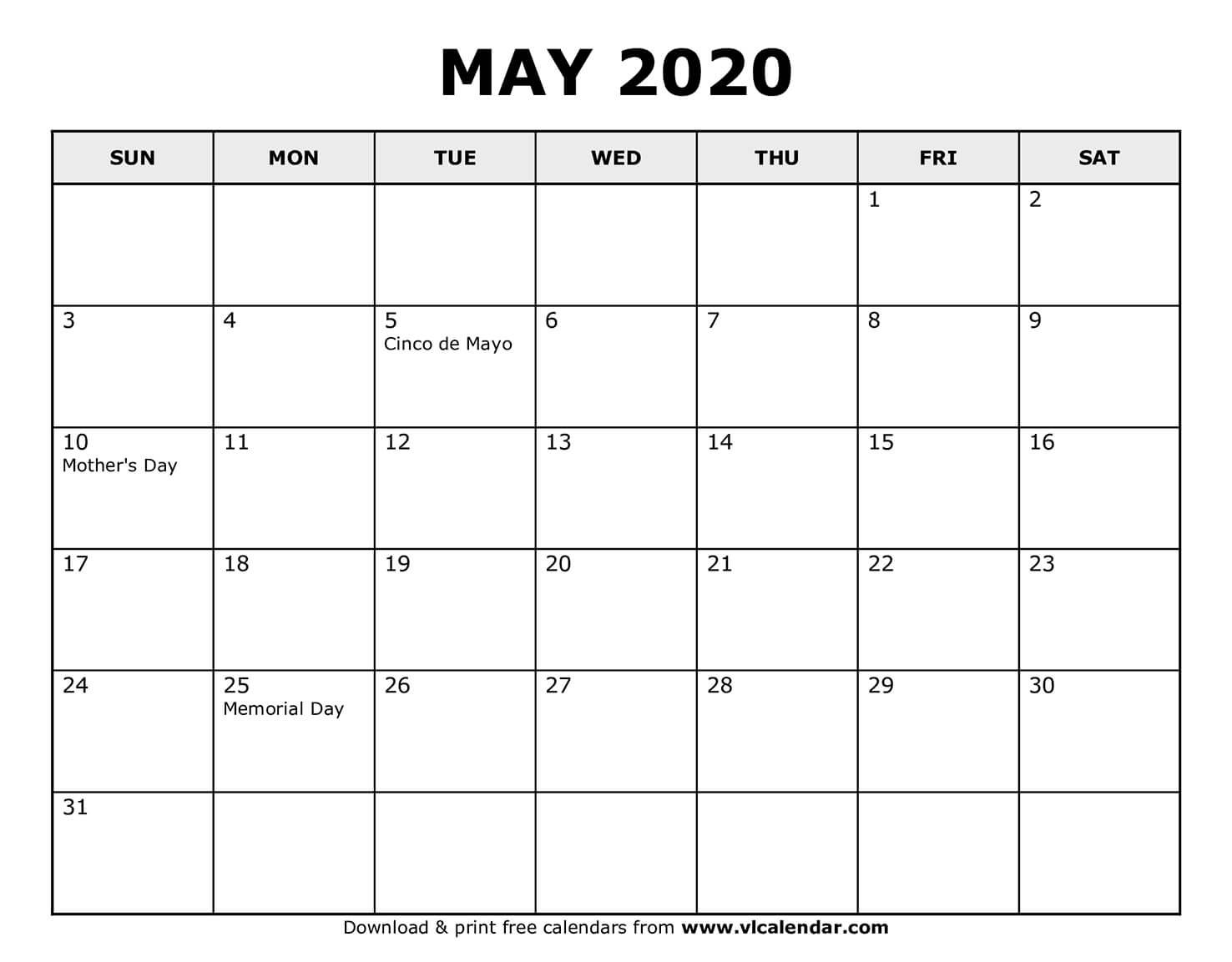 MOON PHASES FOR MAY 2020
Certainly everyone enjoys staring at the night sky every once in a while. And we know that doing so is especially exciting when the moon is in one of its breathtaking phases. So for that reason, we've provided you with all the major moon phase dates of May 2020 below so you can enjoy moon gazing when its most enjoyable and memorable.
Full Moon – Thursday, May 7 (also known as the "Flower Moon" in May)
Last Quarter Moon – Thursday, May 14
New Moon – Friday, May 22
First Quarter Moon – Friday, May 29
THE MONTH OF MAY IN THE UNITED STATES
While you might not realize it, May was not always the fifth month of the year. Although the twelve month structured calendar we use today has January as the first month of the year and May as the fifth, it wasn't this way in ancient times. In Ancient Rome, March started the year as the first month, making May the third. This is because the ancient Romans believed the year should begin with the warm weather of spring.
May always, however, had 31 days and always fell in the spring season. This aligns with where the month got it's name from as well: The Roman Goddess of fertility, Maia. Because, as we all know, spring is the season that brings with it fertile land and new life.
CINCO DE MAYO IN THE UNITED STATES
While Cinco de Mayo isn't a United States holiday from a historical standpoint, in recent years it's become a popular one to celebrate. This is due to many businesses embracing Mexican culture in the form of food and drinks. Certain American towns that have a large population of citizens with Mexican origin will also embrace this holiday with large festivals and parades. These, primarily found in the South and West of America, include Sacramento, San Antonio, Los Angeles, Denver, El Paso, and Phoenix.
Historically however, Cinco de Mayo is celebrated to commemorate a Mexican battle victory over the French on May 5, 1862. In May 2020, Cinco de Mayo falls on Tuesday, May 5. For this reason, you might even find planned battle reenactments occurring on this holiday! Parades and folklore dancing are quite popular to celebrate Cinco de Mayo too.
MOTHER'S DAY IN THE UNITED STATES
Each year, Mother's Day is held on the second Sunday in May. As a result, in May 2020, Mother's Day will be celebrated on Sunday May 10, 2020. While Mother's Day is not a federal holiday it is customary on this day for children to visit their mother and bring cards, flowers, and/or other small tokens as a gesture of appreciate for their mother and everything they've done for them.
Restaurants tend to be quite busy in the mornings and afternoon of Mother's Day. This is because many families celebrate by taking their mother and/or grandmother figures out to breakfast, brunch, or lunch. Additionally, if a child is unable to physically see their mother on Mother's Day, it's traditional to send flowers and/or a card to their mother and call on the phone as well. Finally, the holiday is meant to celebrate any and all "mother figures" and so stepmothers, godmothers, foster mothers, great-grandmothers, etc. would all be acknowledged on this day as appropriate.
MEMORIAL DAY IN THE UNITED STATES
Unlike the previous two holidays mentioned, Memorial Day in the United States is a federal holiday. This means that many business are closed, however federal offices and public schools will certainly be closed in observance of this holiday.
Memorial Day is meant as a day of remembrance to honor those who have served America in war. It is customary on this day for close family and friends to visit cemeteries and grave sites to honor those soldiers. Additionally they may leave behind on their memorials and/or gravestones flowers, American Flags, and other tokens of red, white, and blue remembrance.
In May 2020, Memorial Day falls on Monday, May 25. Similar to Mother's Day, the actual date of Memorial Day differs each year as it is held on the last Monday in May. However, historically it was not always this way. Before 1968, the holiday was always observed on May 30, no matter what day of the week it was.
MAY 2021 CALENDAR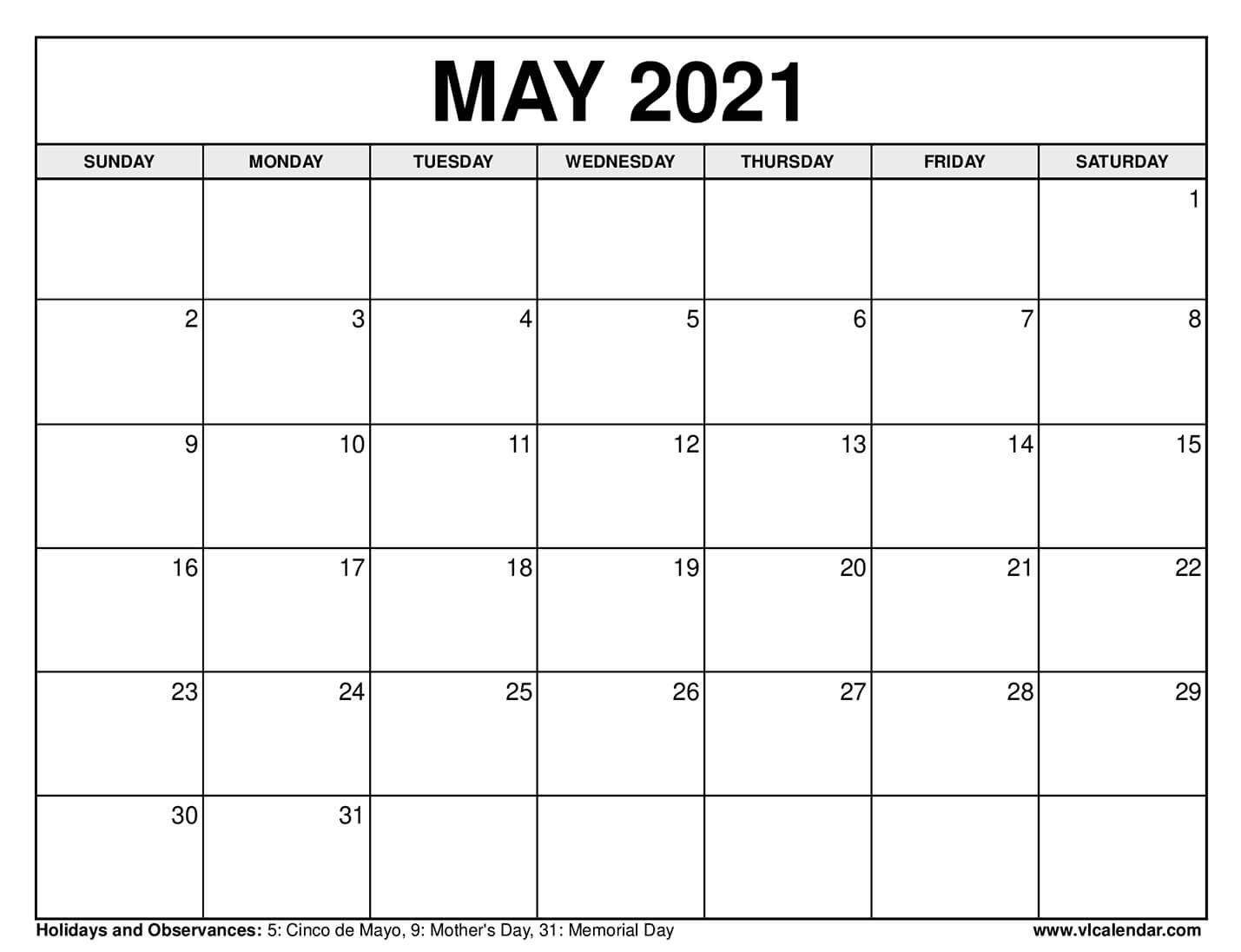 MAY 2022 CALENDAR