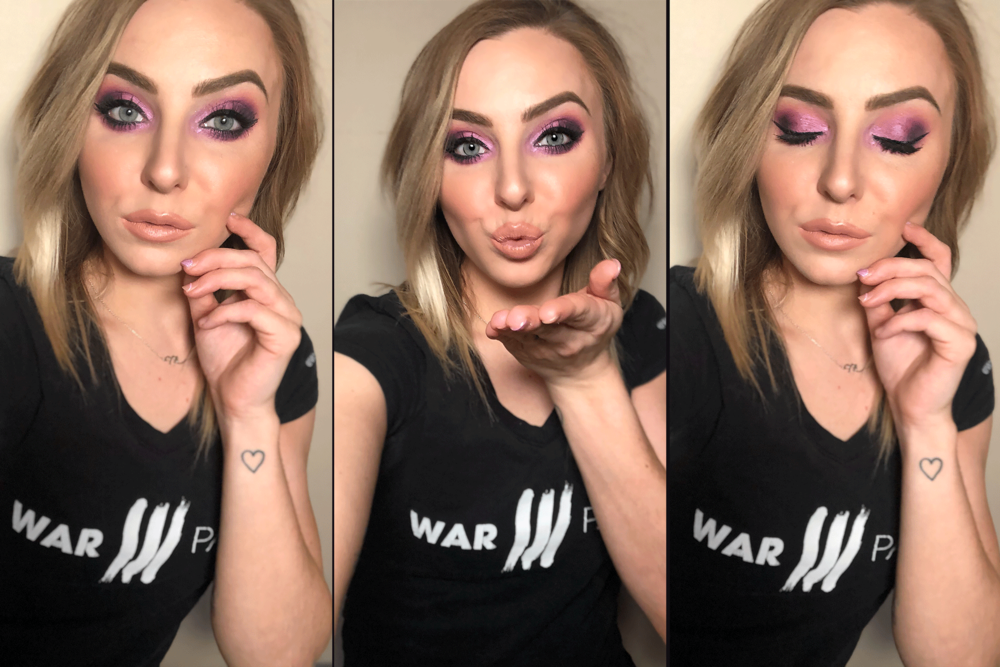 Prince Inspired "Purple Rain" Makeup Look by Minneapolis Beauty Agency
Photo by WarPaint International Beauty Agency
Originally Posted On: https://www.warpaintinternational.com/beauty-blog/prince-inspired-purple-rain-makeup-look-by-minneapolis-beauty-agency
The "Purple Rain" Makeup Look
The First Annual "Purple Rain Makeup Look" by WPI 2020
It's the anniversary of the passing of Minneapolis's Purple Highness – Prince Rogers Nelson. Prince moved from the terrestrial to the celestial realm on April 21st, 2016; just four short years ago today. As Minnesotans, we celebrate the Purple One's achievements more every year. Being a Minneapolis-based company (and residents), living the Lake Minnetonka area, just minutes from Prince's Paisley Park home, we feel his loss even still today.
I wanted the eyes to be the main focal point of this look, so I began there." — Misfit Mia
Prince Inspired Makeup
2020 marks our first annual edition of "The Purple Rain Makeup Look" by WPI. Since we are currently experiencing this unprecedented and historic time, these images are taken at home under The Makeup Light, on an iPhone. You can expect to see a new edition of Prince Inspired makeup looks every year going forward. We guarantee 2021 will be off the hook with live footage from a professional photo studio. So we tasked one of our WPI Artisans, Mia Pietruszewski, with curating a glamourous and sexy look that pays appropriate tribute to his purple highness while also being a look that anyone can wear – and rock it!
As it turns out, purple is the color of Mia's soul, so this project was as natural as it was special for her.
Beauty Products Used
Moisturizer: Sei Bella

Foundation: Hourglass Vanish Stick , shade is Porcelain

Concealer: Tarte Shape Tape, shade is Fair Neutral

Setting Powder: Ben Nye Fair translucent powder

Blush: Seraphine Botanicals, Shade is Lychee + Gold

Brows: Anastasia Beverly Hills Dip Brow Pomade, Shade is Dark Brown.

Highlighter: Estate, shade is Lit

Lips: Maybelline Super Stay Matte Ink, shade is Loyalist

Gloss: Ofra, shade is Smiley for Ryleigh

Anastasia Beverly Hills Contour palette for highlight and contour on the whole face
For The Eyes
Lime Crime Venus III Palette, shades Rapture, Dreamy, Paradise and Bliss

Lime Crime Immortals Palette, shade unseen

Graftobian eyeliner pencil in shade Black

NYX "That's the point" felt tip liquid liner in shade Hella Fine

L'Oréal Telescopic mascara in Carbon Black

Sei Bella Volume Extreme Length and Lift mascara in Black
Mia's Inspiration
I wanted the eyes to be the main focal point of this look, so I began there. It took a lot of building to create the dimension I wanted. I started using the lighter shades in my palette to build shape, and really fine tuned the cat like shape with various shades of purple and black. I have Blue eyes, so knowing that purple is complimentary to that, I wanted to create a way for my eye color to pop even more. Lining all around the eye is a great way to make any eye look FIERCE!!
Of course I had to finish with my signature winged liner- you'll rarely see me without

. A seriously purple hazey-smokey shade with ice cold blue eyes, and skin like glass. Fresh, dewy skin with a pop of blush is always my favorite.
Pro Tips from Misfit Mia:
Don't ever skip the blush!

My highlighter could always stop traffic, and that's the way I like it!

A look is never complete without lips- even if it's just gloss!
About The Artisan
Mia has been a WPI Artisan since July of 2016. She's a talented multi-media makeup artist who thrives on curating Avant-Garde, high-fashion looks, all the while deeply skilled in natural looks for bridal and everyday beauty that can be worn by any woman.
She attended and was certified by Faces, Etc of Minnesota (a multi-media makeup school) and was named the WPI Artisan of the Year in 2017. She lives the values of WPI by helping her clients "Prepare For Battle".
Work With Mia
You can work with Mia when regular artisan safety practices are put into place and the stay at home order is lifted. You can support her now but purchasing makeup applications at 50% OFF. Just drop us a note when you buy them that you'd like to work with Mia.
You can also book onsite hair at half off too! We'll send a WPI hair artisan along to finish the look.