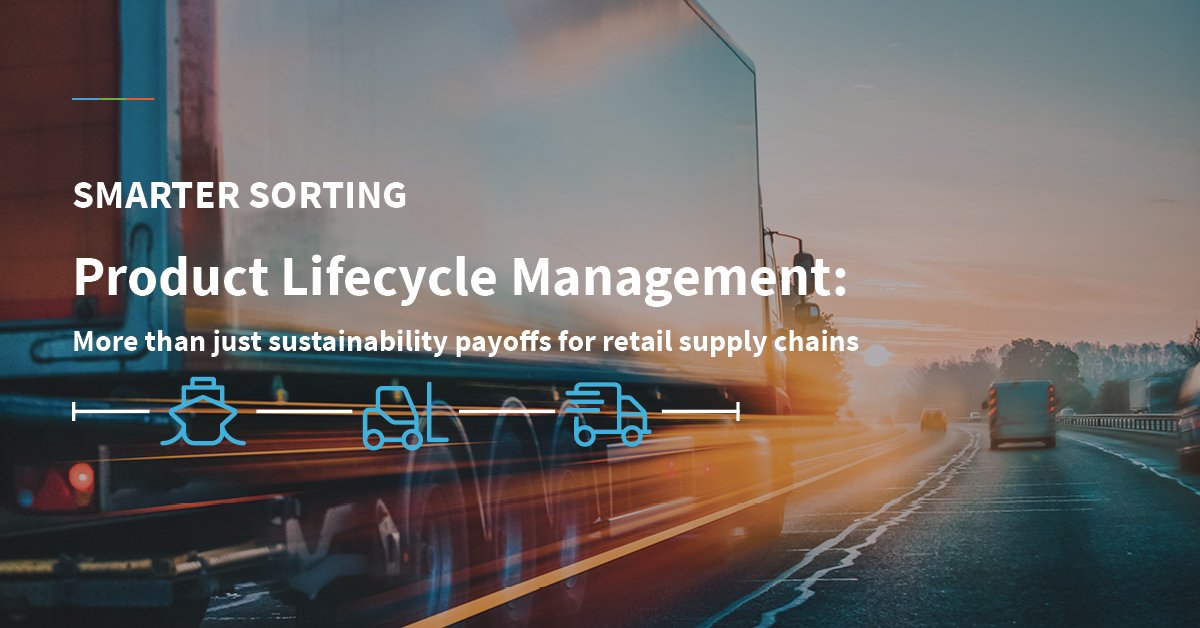 PLM Systems: More than just sustainability payoffs for retail supply chains
The positive outcomes of effective product lifecycle management means different things to different regulated product supply chain retailers and suppliers.
Typically, sustainability "wins" are high on that list.
While admirable, it must be noted that sustainability perks certainly aren't the only advantages.
While the mission of Smarter Sorting is rooted in improving sustainability outcomes for retail supply chains, our platform is more than just a one-trick pony. Today, we'll examine a few of the other tangible gains Smarter Sorting delivers to regulated product supply chains.
Life on the fast-track
The past few months have provided some painful lessons for regulated supply chain resiliency, efficiency, and capacity (particularly evident in the early days of the pandemic). However, from the ashes of hardship came clear logistical questions for supply chain retailers and suppliers to answer moving forward, such as:
• How quickly can I get this product to a store shelf after I produce it?
• Can we make this process better while less expensive?
Currently, regulated product registration takes a good deal of time (often weeks or even months) before products can reach store shelves. In an already unpredictable, fast-moving environment further amplified by COVID-19, the industry has clearly concluded this will not do.
Fortunately, through robust product lifecycle management, Smarter Sorting fast-tracks the registration process from months to days. And time, as they say, is money.
The Smarter Sorting Classification Portal provides retailers and suppliers with opportunities to create and communicate the data (such as chemical information) needed to move products to shelves faster. It ensures the handling of regulated products in the most compliant, cost-effective, and sustainable ways from the beginning of a product's life—and all with limited data entry.
The Classification Portal provides a centralized product record—accessible to all pertinent regulated product retail supply chain stakeholders—that utilizes a variety of cutting-edge technologies. Machine learning algorithms, computational chemistry, and regulatory artificial intelligence (AI) help retailers and suppliers understand every product down to the chemical and physical level.
Classification Portal technology reads and interprets consumer chemical products at a granular level, parsing out the core chemical "truth" of any product—a data output we've coined as the Product Genome

.
Product Genome

identification generates accurate regulatory classifications and automated handling instructions for every supply chain stakeholder regarding the product's full lifecycle, including decisions related to product handling, storage, transportation, e-commerce, and waste.
Automation also eliminates human error, redundant data entry, prevents costly regulatory infractions, potentially lowers generator statuses, and slashes regulated waste costs. Furthermore, the Smarter Sorting platform helps illuminate shipping and e-commerce eligibility options that may not have existed before (due to product over-classification).
This supply chain collaboration allows for maximum agility, boosting the potential for suppliers and retailers to enhance product quality (such as improvements to product formulas), or increase the capacity to quickly identify and respond to potential sales opportunities and revenue contributions.
Ultimately, regulated product lifecycle management is cleaner, quicker, and easier.
Safety first
With Product Genome

data in-hand, vital questions are answerable regarding compliant, safe product handling because product data is accurate and truthful. For example, during the pandemic, suppliers have been forced to grapple with transportation classifications (e.g., is it safe to fly this product?), product placement on store shelves (if proximity between products is potentially hazardous), customer questions about product efficacy or appropriate end-of-life product disposal.
Product Genome

data directly informs these decisions because data is well-documented and authenticated.
Making cents and storytelling
Product data and tracking can be particularly useful at the end of a regulated product's lifecycle, particularly if that product takes on a second life as a charitable donation.
Are you donating a can of paint to a local nonprofit? Or perhaps you have a backlog of cleaning supplies for a hospital? Many retail operations don't take full advantage of these tax deductions available to them because they don't track them.
Smarter Sorting solves this challenge.
Furthermore, with the Smarter Sorting platform, retailers get total visibility into waste streams and can potentially pass disposal fees back to suppliers. In addition to cost-savings, waste reduction and business optimization, retailers can use this data to tell the stories behind donations, reuse, and recycling efforts.
While these stories provide favorable circumstances to share company highlights and gain public admiration, they are also opportunities to inspire stewardship greatness as we all pull in the direction of sustainability.