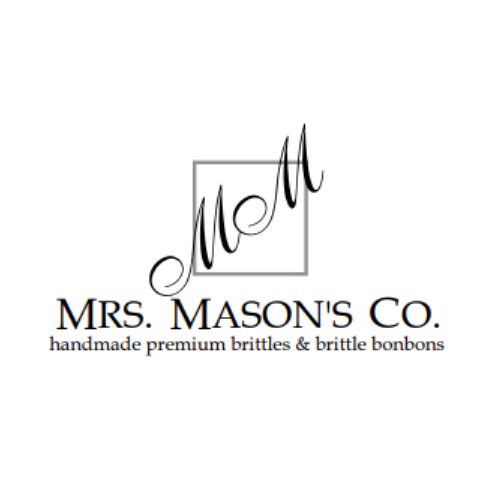 Mrs. Mason's Co. Founder Shares Her Secret Recipe for Success!
For the last 28 years, Mrs. Mason's Co. has been creating the most delicious, high-quality brittles in the Detroit area. Now, Mrs. Mason shares her story and her secret recipe for success.
FOR IMMEDIATE RELEASE
Royal Oak, MI, February 21, 2022 – "Sometime in the late 1980s, while I was contemplating the meaning of Life, a friend of mine gave me a candy recipe, which I immediately changed," notes Mrs. Mason. "I concluded that I was committed to love, kindness, generosity, abundance and peace, and I was going to use the candy company as the means to express that." And thus, Mrs. Mason's Co. was born. In 1994, Mason took the plunge and opened her new business! During those pre-internet days, she sold handmade brittles through department stores and specialty boutiques. Sadly, a decade later, Mrs. Mason's Co. had to close its doors, due to extenuating circumstances.
Thirteen years later, in September of 2017, Mason re-opened the beloved company, purely as an online business. Customers could once again order the scrumptious, made-with-love brittles, but local fans begged for a small place where they could pop in and pick up some essentials. So, in 2018, Mrs. Mason's Co. cut the ribbon and opened a tiny store in Royal Oak, MI. "We're also selling on Amazon now," says Mason. The future looks bright for the treasured brittle company!
What's so special about this brittle, anyway? "Unlike traditional brittles, we do not use any corn syrup or baking soda. We use a slow-cooking process, which produces a crisp texture, and done right, it should not stick to your teeth." Mrs. Mason then packages the confections in exquisite gift bags and boxes. "We're known for our textures, ingredients and packaging."
And it doesn't stop at brittle. The Very Fancy Crumble is a delectable ice-cream topping made from leftover crumbs. Crunchy on the outside and soft on the inside, the Brittle Bonbons also reuse extra crumbs. Not a single speck of brittle is wasted at Mrs. Mason's Co.! "I'm one of six female entrepreneurs in my family. The first was my grandmother," Mason proudly states.
This woman-owned company wants you to love the product, and love doing business with her. Local delivery, shipping within 48 hours to every state, and personalized touches are the norm at Mrs. Mason's Co. "Yes, we will enclose a hand-written card for you, at no additional charge," says Mason. Whatever the customer desires is what Mrs. Mason's Co. delivers! Learn more about Mrs. Mason's Co. and take advantage of the incredible crumble sale happening for a limited time!
About Mrs. Mason's Co.: Mrs. Mason's Co. is a stand for love, kindness, generosity, abundance, and peace. This woman-owned company has been producing high-quality brittles since the 1980s, when they were made in Mrs. Mason's kitchen and distributed among friends and neighbors. Now, the company boasts over 6,000 customers across 50 states!
Contact Information:
Margi Mason
619 S Washington Ave Royal Oak, MI 48067
248-660-0675
[email protected]
https://mrsmasons.com/
Originally posted On: https://syndication.cloud/mrs-masons-co-founder-shares-her-secret-recipe-for-success/