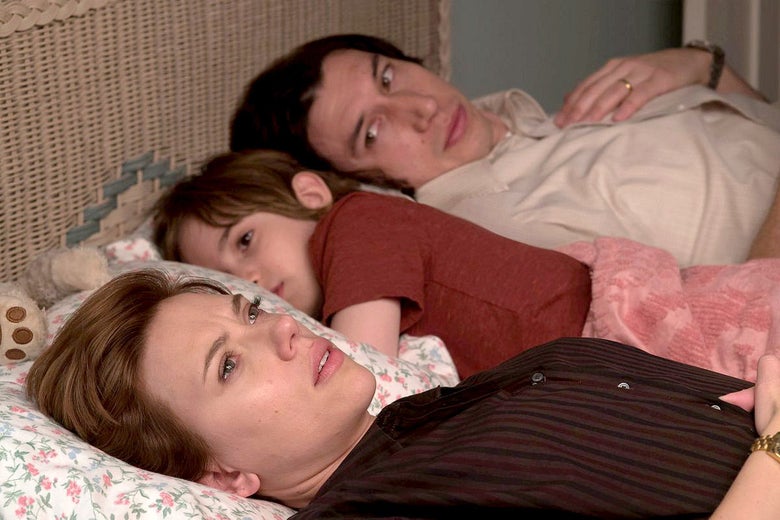 Marriage Story Movie Review
Follow film critic Ant on Instagram @themoviebrutha
'Tis the season for Oscar-worthy films. This is what makes it my favorite time of the year in addition to the turkey, dressings, sweet potato pie, family, and Cyber Monday. You may as well get familiar with the produced and distributed film by Netflix, Marriage Story, if you haven't already because you will hear quite a bit when it's time for Oscar nominations. Written and directed by Noah Baumbach, he has delivered a masterful piece of cinema. Centered around what happens when a couple goes through a divorce, we are exposed to the day to day emotional rollercoaster of ups and downs that come with one of the most horrible things that can happen to a marriage and more importantly a family.
Divorce is a subject near and dear to me as I happen to be on the wrong side of that 50/50 chance of marriage survival. Baumbach nails every aspect of the divorce process. However, that statement doesn't quite deliver justice into what he accomplished. The film is witty, unbiased (we see both perspectives equally of the husband and wife), charming, and fearless. He does it in a heartfelt and honest way that most should be able to relate. Wherever there is honesty, there is an opportunity for humor and Baumbach doesn't waste a drop. So many angles are tackled and rightly so because a divorce involves more people than one could ever imagine. The impact on the kid(s) involved is obvious, but what about the extended family and friends? Is that your friend or my friend? To whom do you "owe" allegiance? Do they have to choose sides now? How close is a divorce to actual war? I think this film answers those questions.
The entire cast is phenomenal. Adam Driver will receive an Oscar nomination for his role as the husband, Charlie. As far as I'm concerned, he is in the lead thus far for the win for Best Actor. The lovely Scarlett Johansson is effortlessly brave in her role as the wife, Nicole. I would be blind to not mention supporting casts that are straight snipers. Laura Dern and Ray Liotta both play attorneys and Liotta should get a nomination for Best Supporting Actor. His scenes gave me goosebumps. Legends Alan Alda and Julie Hagerty are also in the film and bring just the right graceful touch to their characters. I get asked all the time about how I determine if an actor's performance is good or not. The simplest way I can put it is it always goes back to the honesty in the character. I look for a fearlessness required by the actor to be completely irreverent and abandon everything they are and know to sacrifice themselves for the portrayal of the character.
The one-point deduction I'm taking is simply for the length of the film and a couple of the scenes ran a bit long. Withstanding that, this film is excellent, and I highly recommend it. Netflix continues to impress me with its selection of content. Bring some tissues as you might get something in your eye…
Overall, I give this film a 9/10.