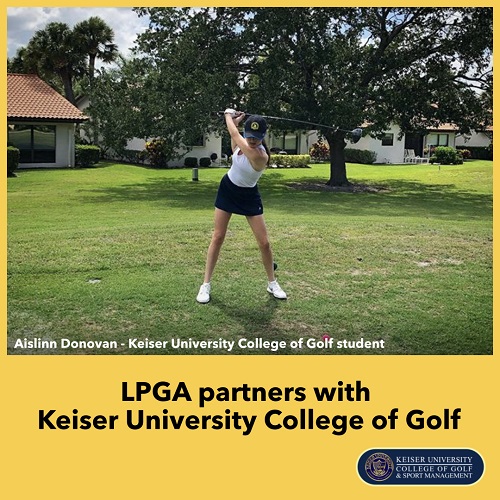 LPGA Launches new 2020 Online Teacher Education Program in Partnership with Keiser University, Its Global Education Provider
Photo From Keiser University College of Golf
Originally Posted On: https://collegeofgolf.keiseruniversity.edu/lpga-launches-new-2020-online-teacher-education-program-in-partnership-with-keiser-university-its-global-education-provider/
The Ladies Professional Golf Association (LPGA), the largest and longest-standing women's sports teaching organization in the world with more than 1,800 members, recently announced the official launch of the first semester of its new online Teacher Education Program. The program is conducted in partnership with Keiser University, the LPGA's exclusive online Global Education Provider.
"We are excited to see this concept go from inception to completion," said Nancy Henderson, the LPGA's Chief Teaching Officer. "Keiser University is a leader in online education, and this program would never have become digital without the technical and design support Keiser University has provided through its online learning management system. This online certification program will help us improve the standard of excellence that we provide in our LPGA Teacher Education Programs and allow us to continue our global expansion."
The LPGA Teacher certification is a research-based and student-centered curriculum designed to train golf instructors in all areas of teaching, swing mechanics, and performance. All members are required to complete the certification, and the LPGA also welcomes non-members to attend the programs. Through three levels of certification, teachers are presented with a scientific theory on golf mechanics and human performance and are then challenged to put the theories into practice with hands-on learning and practical testing. The LPGA launched the teacher certification in Asia in 2012 and has seen an outpouring of interest with members now representing more than 23 countries.
"We at Keiser University are delighted to partner in launching the LPGA Teacher Education Program. As home to Keiser University's College of Golf, we've been gratified to fulfill workforce needs in many industry sectors. With state-of-the-industry training facilities, PGA/LPGA certified and Master certified instructors, and online options, our partnership with the LPGA supports our 'students first' focus," said Dr. Gary Vonk, Keiser University's Flagship campus president.
Key elements of the LPGA Teacher Education, such as the Practical Teaching Evaluation, will still be communicated through in-person programs where LPGA Professionals can interact and learn from hands-on application in both a classroom and an on-course setting. The number of required in-person education hours has been reduced from 96 hours to 48 hours, thereby shrinking the number of required days away from work and family.
"As a busy professional working toward a master's degree, I understand and appreciate the value and convenience of online education. Keiser's innovative online program will allow our members to receive the best education in the golf industry from the comfort of home, with reduced travel and expenses. Our partnership with Keiser University opens new doors for all concerned, and the future of our outstanding LPGA teacher education could not be brighter," said Marvol Barnard, National President of the LPGA Professionals.
Keiser University is pleased to partner with the LPGA, and for the many opportunities the organization offers its College of Golf students and graduates.
If you can see yourself participating in events like these, contact us today to chat about the golf degrees we offer on-campus and online.