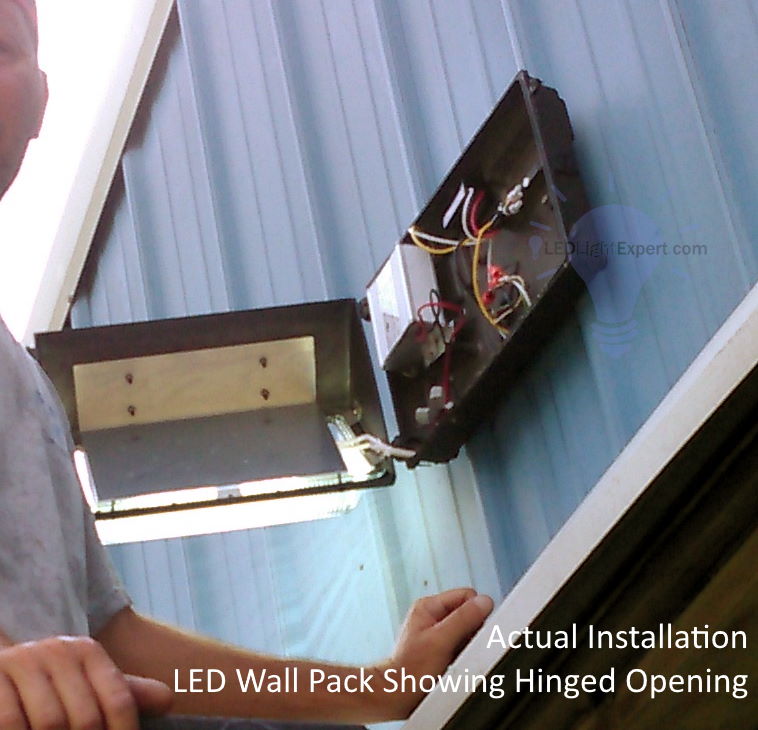 LED WALL LIGHT BUYER'S GUIDE AND WALL PACK INFORMATION
Photo From LED Light Expert
Originally Posted On: https://www.ledlightexpert.com/LED-Wall-Light-Buyers-Guide-and-Wall-Pack-Information_ep_49-1.html
LED Wall Light Buyers Guide – How to Buy Outdoor LED Wall Packs and Other Wall Lights
Are you looking for an efficient lighting solution for your home? LED wall lights provide state-of-the-art technology and a stylish way to illuminate your home. In recent times, the cost of electricity has increased, which has caused people to move towards more energy-efficient lighting. LED lights are considered the best invention that provides better light output while keeping energy output low. As a result, this helps in reducing the cost of energy bills and protects the environment. The LED lights may have a subtle appearance, but they offer an elegant look for your house.
LED lights come in plenty of styles, designs, and colors. This makes it difficult to choose the correct light for your needs.
Take a look at the buyer's guide we created to help you understand outdoor wall lighting. This will help you make an informed decision.
What are LED Wall Lights?
A: LED wall lights are a great way to brighten up any space. These are energy-efficient lights that secure to the wall and are suitable for all types of property. Whether you want to illuminate your house or office LED wall lights are a great choice. They can last for a longer period and various color options are available.
What are LED Wall Pack Lights?
A: LED Wall Packs lights are the most common outdoor commercial light in america. They secure to the wall in a variety of ways and easy to install. The front of the LED wall pack opens on a hinge for mounting and wiring, making them an installers favorite. They are also highly versatile, the wiring can be from behind or through a number of conduit entrances. Accessories such as photocells, motion sensors and battery backups can easily be added.
Why are They so Popular?LED technology is considered as a great invention and there are many creative designs offered in wall lights. Wall lights are most commonly used in homes as they can be placed in any room, from the kitchen to lounge to the bedroom to bathroom. These lights are one of the main elements in your room.
LED wall lights are a popular choice as they are effective and efficient. The LED lights are available in different styles and sizes, from retrofits to luminescent scones. They can easily fit in with any kind of décor. Another reason for using LED lights is that they give a brighter and higher light output. Such lights help you save money by reducing energy usage; hence, saving energy as well.
LED wall lights are also available in lots of new styles. Due to their more efficient nature and compact setup, LED lights are now available as Adjustable Wall Lights and rotatable wall lights. You can also opt for Dusk to Dawn wall lights that have a photocell to stay on throughout the night.
Choosing lumensWhen choosing LED lights, you have to consider many factors. One of the first things you need to focus on is the lumens. Lumens is a way to measure the quantity of the visible light released by a source. Most people pay attention to the watts of the LED light. This is the biggest mistake that people make. Instead of looking at the watts, you should consider lumens. This will help you have an energy-efficient lighting system. In LED lights, higher lumens with lower wattage is the perfect lighting choice.
• When looking at our LED wall lights, for LED replacement for 400-watt metal halide you can view our 100 watts, 120 watt or 150-watt models. These lights will deliver you 12,000 lumens to 18,000 lumens. • If you want to have 250-watt metal halide, you will get 9000-12000 lumens. You can also look at LED corn light bulbs in this area.• Our 80 watt or 100 watt is ideal for efficient lighting solution. • For 150 or 175, you can look at our extensive range of LED wall lights.
Focus on Light ColorAnother thing that you need to focus on is the color of the light. The temperature of the color is measured in Kelvin (K). The yellow light has a lower K number and the white light has higher K number. As mentioned above, the LED lights come in various color options. Here are the colors that you can choose from.
• 3000K– this color light is warm and cozy. It is a great choice for softer areas likes homes or restaurants• 4000K – it is natural or cool white that is radiant and crisp. This makes it a great for businesses or other areas of work• 5000K – this is a daylight that offers active and vibrant light. It is an ideal choice for large spaces and outdoors. This is a good choice as you don't have to spend a lot of time under it. Along with this, it is good for eyes as you won't have to concentrate on reading and detailed activities.
We recommend you not to go above 5000K as the AMA has restricted it. The use of 5700K and 6500K is dangerous for the environment and your health. 5700K adds blue to the spectrum and can affect melatonin, 6500K is very blue, think Audi headlights.
Types of Wall Lights
LED wall lights come in plenty of different styles. They have lots of styles and tons or terms thrown about. Here are some popular styles;
LED Wall Packs
LED Porch Lights
LED Cut off Lights
LED Security Lights
LED Motion Sensor Flood Lights
From Barn Lights to Porch Lights: Different Styles of Wall Lights
There are different types of wall lights, but they can also be though of as different styles.
There are numerous benefits of using light-emitting diode (LED) bulbs in your home. But, once you decide to use them, you need a fixture to put them in. Wall lights are great because they don't take up any floor space and rarely use an outlet so you can keep your home illuminated without much hassle once you have them installed.
These are some of the most common styles of wall lights you can choose from. With most of them, you can find a wide variety of sub-styles so you can find the right light fixture for you.
Flush MountThis type of fixture is right up against your wall with only the lens protruding slightly from it. It's great for big areas and using a wall pack light or a smaller size such as a porch light. These are the most common style of led wall lights.
RecessedIf you want a wall light to be completely tucked into your wall so that only the light emerges from it, you can get a recessed light. Most often, these are downward-facing only and used to illuminate narrow passageways.
Barn LightsAnother type of downward-facing wall light is a barn light. These have an arm that sticks out and the bulb is surrounded by a built-in shade made of metal or transparent glass so they give off a lot of light.
These work well in larger and outdoor spaces because of the brightness. The can be modern and simple but they also have vintage stylings that work well with certain decor and clash with others.
SpotlightFor a more modern look in an outdoor or large indoor space, there's the spotlight style of wall light. These are also fully adjustable and designed to create a focused beam of light so you can direct it exactly where you want it.
AdjustableMany outdoor wall lights can be adjusted or rotated depending on needs. These can be great if you are not sure how far out you angle.
Very brightThis may not be a classic style, but if it meets your needs consider it the in vogue look. Going with some high output flood lights can improve saftety and draw attention and thats certainly a good style.
LED Security Wall Lights, Motion Sensor Wall Lights and Dusk to Dawn wall lights
LED Security Wall Lights, Motion Sensor Wall Lights and Dusk to Dawn wall lights – Better quality LED wall lights – Security motion sensor lights – Directional vs flood lights – LED porch light optio…
How to Choose LED Wall LightsWith so many styles, it can be hard to pick one. Here are a few questions to ask when making this decision to make it easier for you.
How much space is there for wall lights?What is the existing style in my home?Does the fixture match other light fixtures?Do I love this light fixture?
You get the idea. Browse for ideas and then narrow it down to what you need and what works.
Retrofit vs new fixtures
One of the questions you will have to ask is whether to retrofit a fixture such as a wall pack or go all new. In some cases, the fixture is in good shape and a new LED light bulb will solve the problem. Note in this image how the wall pack ballast was bypassed. That will be required on any retrofit. In many cases, a new fixture is more cost effective and easier to install.

Paying Attention to Photocell or Dusk to Dawn sensor
What is a photocell ?
A: A photocell is a Dusk to Dawn sensor that keeps the light on at night and off during the day. Also known as a photo sensor these devices go in line on the hot side and turn the power on or off to the light based on the amount of ambient light in the area.
When choosing led light fixtures you need to consider is whether the wall light offers photocells or not. Nowadays, wall lights often offer a photocell. Dusk to Dawn Outdoor LED Wall Lights is is a good way to enhance the security of your residential or commercial space. It is an effective way to add safe lighting to your location. You can easily set the timer in order to avoid failure. The timer can be replaced at any time without any trouble.
Measuring The SpaceThe LED wall lights are available in distinctive shapes and styles. Most people consider LED lights small, but this is not always true. There are some lights that are larger than the others just to have a different appearance or because they put out a lot of light. Before buying a light, it is advised to refer to our measurements provided in the images. Another thing that you need to keep in mind is the space; you should leave a little space for cooling of the lights. If the light is not fitted properly, it will cause inconvenience for you.
VoltageThe last thing that you need to focus on is the voltage. The LED wall lights work from 90-277 VAC. So, 120 volts, 208 volts, 220 volts, 240 volts, and 277 volts are all used commonly. You can select the voltage of the light that suits your needs and requirements. An important thing to keep in mind is that you should not use voltage that is higher than 277volts. 480 volts requires special drivers.
Ultimately, you should choose LED wall lights thoughtfully, according to your needs. We hope this guide helps you in picking the suitable LED wall lights that will add sophistication and class to your home. With so many choices in lights, it is easy to get confused. This is why our experts are always ready to guide and help you select the best-LED lights for your space.
InstallationSee this video to see how easy installing a wall light typically is. We can never stress enough to turn off the power and ALWAYS double check the power is off with a secondary means.
Wall Light Installation & Demo – How to install a wall light in a junction box – Outdoor wall light

Wall Light Installation & Demo – How to install a wall light in a junction box – Outdoor wall light How to install a wall light to a junction box. Unboxing and installation video of our 40 watt LE…