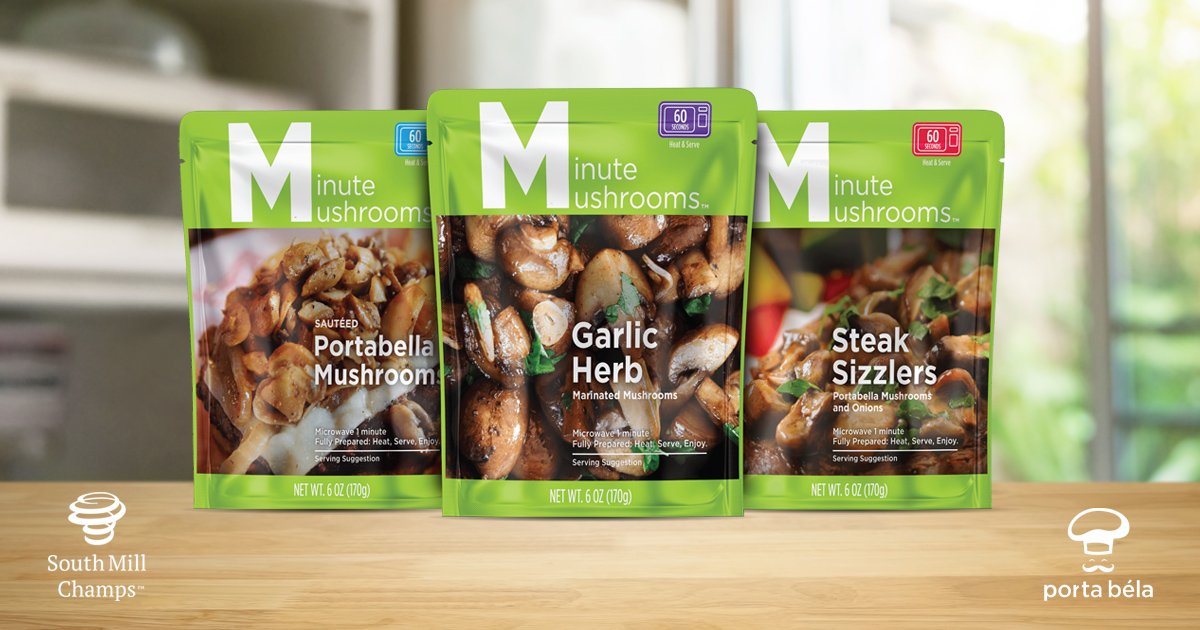 Introducing Minute Mushrooms
Photo From southmill
Originally Posted On: https://southmill.com/blog/introducing-minute-mushrooms/
Got a minute? Get Minute Mushrooms and enjoy anytime, anywhere.
Grown and selected from our farm in North America, Minute Mushrooms amp up the taste of any dish or recipe. These premium mushrooms are picked, washed, sliced, prepared, and immediately packed to preserve their intense, savory flavor and ideal texture – perfect with your favorite burger, steak, pizza, chicken, salad, side dish, or even as a snack.
Minute Mushrooms are available for direct purchase at Walmart or for wholesale through KEHE and UNFI.

Steak Sizzler Marinated Mushrooms
UPC 081453812037
UNFI Item Codes:
KEHE Item Code: 361937

Sautéed Portabella Mushrooms
UPC 081453812013
Item Codes:
UNFI East: 258664
UNFI West: 71681
KEHE Item Code: 361939

Garlic Herb Marinated Mushrooms
UPC 081453812006
Item Codes:
UNFI East: 258665
UNFI West: 71682
KEHE Item Code: 361938
Minute Mushrooms (SRP $3.99, 6.0 oz) come in three delicious flavors: Garlic Herb, Portabella Mushrooms, and Steak Sizzlers. All flavors are vegetarian, low carb, low sugar, and a great source of potassium. With over one daily serving of veggies in every bag Minute Mushrooms are a convenient way to add vegetables to your meal and amp up the taste of any recipe.
Mushroom Creations. Responsibly Grown.
As farmers, we have a duty to nourish the planet responsibly. Our mission is to supply people with responsibly grown, great tasting mushrooms. By continuing to educate people on the benefits of mushrooms we believe we can address health & well-being, climate, and global farming constraints.
Many consumers are beginning to realize the nutritional and culinary benefits of mushrooms, but did you know Mushrooms are one of the most sustainably produced foods in the United States?
Sustainability initiatives at our farms include:
Healthy soil is essential for nutritious crops. We prepare our composting completely indoors using 100% agricultural by products, under a controlled atmosphere. Environmentally friendly and operationally efficient.
Clean, plentiful fresh water is essential to agriculture and human health. We trend and graph our water usage. This allows us to analyze usage, spot trends and identify new opportunities to save. In addition to our routine monitoring, by design we are extremely water efficient. All water used in growing and composting is recaptured and reused.
Recycling and keeping waste out of landfills results in cleaner land, air, and water. We recycle most of our waste streams such as mushroom roots, cardboard and paper, waste oils, waste water, etc. 100% of our used growing medium is reused—most of it by farmers who use it to replenish their farmland— which significantly reduces the use of chemical fertilizers.

We are dedicated to reducing air pollution and conserving energy. We grow our crops entirely indoors. Nearly all our growing rooms are heated with clean and efficient natural gas, and are equipped with energy-efficient cooling units.
Add Minute Mushrooms to your favorite mushroom recipes!
Product availability and sample requests:
Minute Mushrooms are available for nationwide distribution through Walmart, KEHE and UNFI.
For wholesale purchase information please contact Derek Warner, VP of Sales [email protected].
For further press inquiry contact us at [email protected].