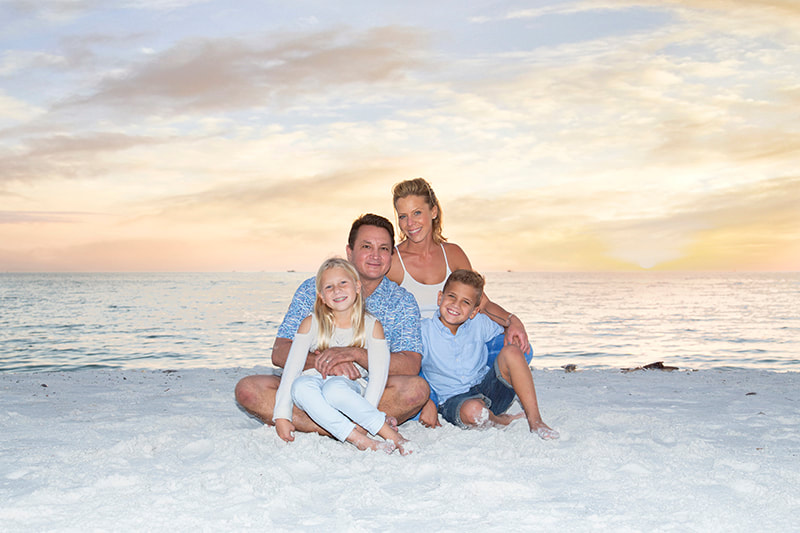 How to Get a Great Family Portrait
One of the best decision that I ever made was to become a professional photographer in the beautiful Naples, Florida area. When I began my career in 2000, I specialized in only Family and Children Photography. After a long career in the wedding industry, I have returned to my first love…Family and Children Portraiture. Over the years I have been asked countless times about clothing recommendations, location ideas, etc., so I decided to write this post to help answer a few questions.
Keep reading for 9 helpful tips on how to have a great experience during your next family photo session.
​1. Choosing the Right Location for Your Portrait Session
Let's start with the location of the photo session. You are going to want to coordinate your clothing with your location in mind. Will you be on the beach during sunset with the beautiful, soft and warm tones? If so, you will want to select colors that won't compete with the sunset colors and build from there. No shoes on the beach! That is my rule. Years ago, I had a gentleman refuse to remove his bright red high-top sneakers, I was mortified. Unfortunately, all you saw in the photo was his big bright red shoes. Ugh!
If your session is in a park with greenery as your backdrop, keep that in mind and select lighter colors that won't cause you to disappear into the foliage. ​
2. Color Choices Make a Big Difference
After the location has been decided upon, it is time to select a "focal" color. I recommend blending colors, not matching clothing for everyone in the group. I always recommend avoiding distracting patterns and clothing with large logos. It is very important to feel good in what you are wearing. If you like the way that you look in what you are wearing, you will feel more confident and relaxed in front of the camera. If you are a blonde with fair skin, you might want to avoid light colored clothing which may wash you out.
3. Accessories to Accent Your Attire
Accessories are a great way to tie other members of the family together. This is where you can add a cute plaid scarf or fun hair accessory. Layers are great too and add texture to the photograph. I photographed a large family a year ago and each family group wore matching scarfs or ties. It was a clever way to distinguish each separate family out of the large group of families.
4. Deciding on the Perfect Family Portrait Clothing
Once you have decided on your wardrobe, lay your outfits out across your bed to see how everything looks together. If you have teens, it is a good idea to get them involved in the clothing selection.
5. Creating a Timeless Portrait
When you have a family photo session, you are creating a family heirloom that will last a lifetime. Keep that in mind when selecting your attire. Trendy clothing is cool, but do you want that "trendy" look to hang over your fireplace for years to come?
6. Displaying Your Personality
Your clothing should match your personality. If you are a casual group of people, keep your clothing casual. On the other hand, if you tend to be a bit more formal, dress it up.
7. Happy Children Make Great Portraits
If at all possible, make sure that the little ones are fed and rested! There is nothing more challenging than an angry two year old. I love bribery, so bring along your child's favorite "clean" snack, just in case we need backup.
If your child/children are misbehaving, please don't scold them, that just makes things more difficult. Usually if the child can get a short break, I am able to get he or she back on track and smiling within minutes. Also, make certain that your little ones are comfy in their clothing or they will let you know just how uncomfortable they are. ​

​8. Including Your Pet in the Family Photo Session
If Rover will be included in your family photo session, be sure to remember to pack doggie treats, a leash, and poopie bag.
9. Prepare and Relax
Getting ready for your family photo session can be stressful. Plan ahead. Have your outfits pressed and ready to wear. Allow plenty of time for you and your loved ones to get dressed, have a bite to eat or drink, and consider traffic in route to the photography location. Keep calm Mom!
As a portrait photographer in Naples, Florida, it has always been important for me to capture the true essence of each and every family member, creating a family heirloom that will last a lifetime. Photographs are the perfect way to document history, and tell our life story. It is a gift for me to be able to create these precious moments in our lives that will never be repeated.
If you have a special vision or request, just let me know and I will do my best to make it happen. I try to always go the extra mile for my clients and give 100% when I am on the job.
Tell your story, and let me capture the beauty of your family. Give me a call or email me today.
I look forward to working with you!
– Michelle