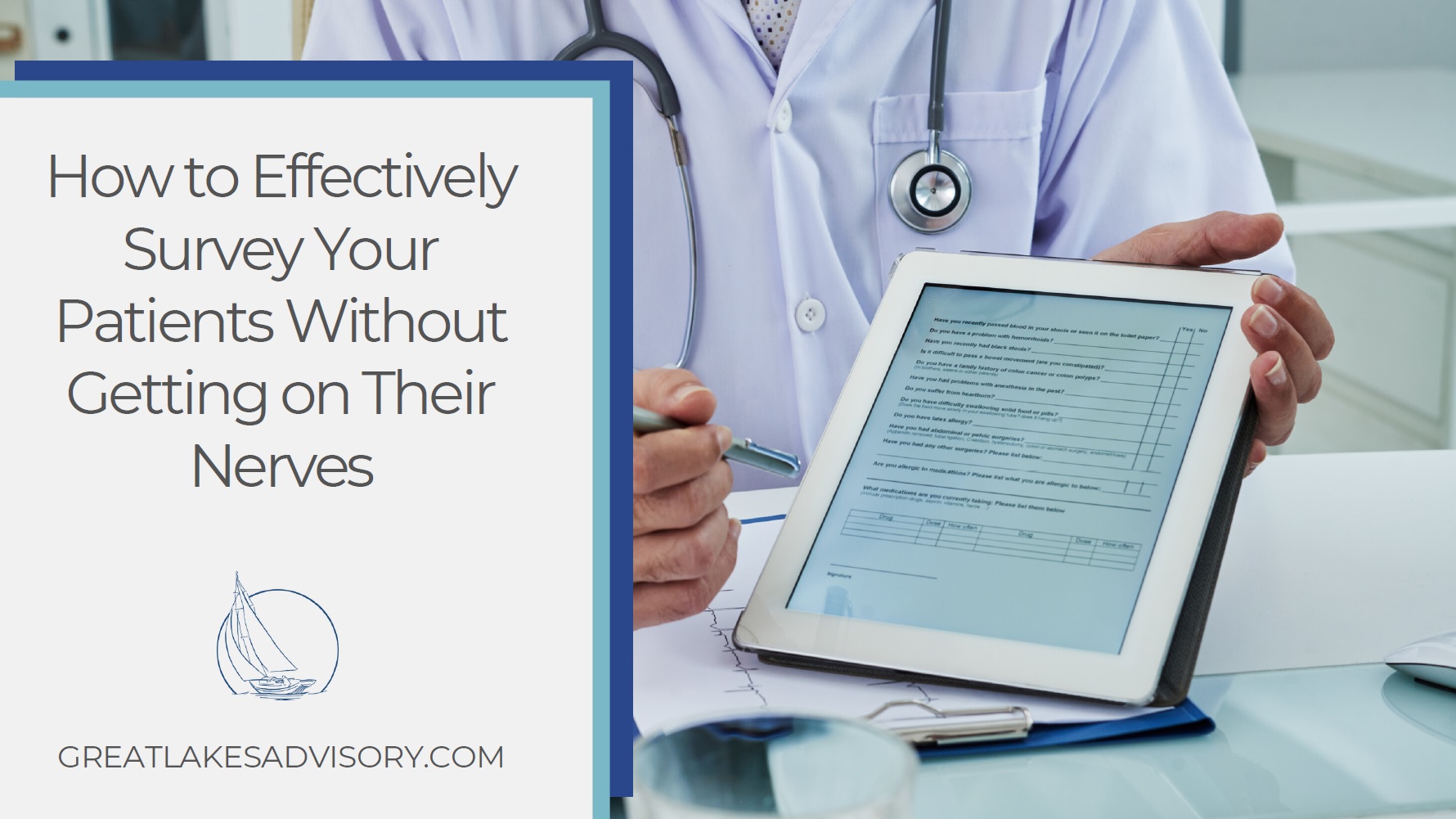 How to Effectively Survey Your Patients Without Getting on Their Nerves
The best-performing medical practices take a patient-centric approach to providing care. They deliver a tailored experience to patients that fulfill the needs and wants of the patient.
These practices have a deep understanding of the behavioral economics of their patients, but their knowledge does not stem from guesswork. Patient feedback is a critical input to determine actions that will raise the level of service for medical practices. However, suboptimal response rates reveal that patients are not eager to offer their opinions.
As a medical practitioner, there are plenty of ways you can design your surveys to increase participation and receive more insight-rich responses.
The best part? Surveying your patients does not have to mean pestering them!
Today, we are going to share a few tips that can help you navigate this tricky but valuable initiative.
Why Measure Patient Satisfaction?
Countless tasks burden your office each day, so why should you prioritize patient satisfaction surveys?
The answer is simple: you cannot improve your quality of care without patient feedback.
Despite the myriad of tools available to gauge your team's performance, the most useful discoveries come straight from the mouths of your patients.
As you learn what is and is not working, you can implement strategies to create better patient outcomes. Not only will your patients continue to return to your practice, but they might introduce you to more patients by spreading the word about your practice.
Also, collecting patient satisfaction information will help your practice thrive as the healthcare industry shifts towards value-based care.
Yet, today's patient is more discerning than ever before and less willing to offer up information via traditional survey methods. Historical approaches, such as telephone and mail-based surveys, are less effective due to the guarded nature of today's patient.
That said, what methods can you employ to increase your response rate and improve the quality of your survey feedback? Let's take a look…
Surveying Methods That Do Not Annoy Patients
Cold calling your patients weeks after their visit is unlikely to yield the kind of feedback your practice needs to improve. Instead, take a more methodical approach to surveys, starting from the very beginning.
Let's review a few patient survey tips that can make a material difference in your campaign's effectiveness.
Tip 1: Plan Your Questions
Before you draft your first patient satisfaction survey, bring your team together for a brainstorming session. The best answers stem from thought-provoking questions, so develop a list of issues your patients may encounter when visiting your practice.
Important issues to discuss could include: Are our wait times too long?
Do patients feel they are receiving enough time with the physician?
How easy is it to communicate with our office?
Can patients access their medical records with ease?
Why take time to do this? You want to make sure the questions you ask are both relevant and actionable. That means you can use the answers you receive to drive real change in your practice.
Resist the urge to curate a survey of binary, "yes or no" questions. Leading questions such as the ones listed above can help patients expand and explain their answers.
Tip 2: Order Your Questions the Right Way
When designed the right way, a survey should feel like a conversation. As such, pay attention to the flow of your questions to ensure they read logically.
It is best to begin with general, impersonal questions. Asking for too much sensitive information early on may lead a patient to become disinterested in completing the survey. Save those for later, when the respondent has already invested time in the survey.
Tip 3: Watch Your Wording
Are you asking vague or multi-layered questions that are open to different interpretations? If so, revise the wording of each question for clarity and conciseness.
At the same time, reread every question to ensure the entire set is free of any bias. We recommend that multiple reviewers check the list before you send it out to your patient base.
Tip 4: Know When to Stop
Sure, you would love to ask 20 questions on your survey, or at least enough to cover every aspect of the patient experience. Yet, reverse the roles for a moment and consider the time you would have to invest in answering each question yourself.
To increase your response rate, limit your surveys to seven questions or fewer. This way, you are only utilizing your best questions. It also lets your patients know you value their time.
There is a secondary benefit to short surveys for you, too: you will have less data to analyze. You will then save time on developing actionable strategies and begin improving your patient experience sooner.
Tip 5: Tailor Your Approach to Your Patient Demographics
Does your office primarily treat older adults? If so, a more traditional survey approach, such as a mail-in postcard, might work best.
On the other hand, if you manage a pediatrician's office that sees mostly young mothers and children, a more tech-savvy approach might be ideal. In this case, you can send an electronic survey via e-mail or text, allowing patients to respond on their own time. You can also create online surveys and share them to your social media pages.
There are several programs, both paid and free, that allow you to create an online survey in seconds. Many of them even include integrated promotion tools and real-time results so that you can analyze responses instantly.
Tip 6: Analyze Feedback Rates
You have been issuing patient satisfaction surveys for the past six months. How successful have they been? If you do not know the answer, it is time to review the data at hand.
If a particular survey method is working, the numbers will speak for themselves. Likewise, low response rates may reveal when a process is not working. Use this data to your advantage, tweaking your approach as you learn.
Surveying Your Patients Just Got Easier
As a physician, you pour your heart, soul, and resources into your practice. You want to make sure your efforts are paying off and that your patients are receiving the best care possible.
Therein lies the importance of surveying your patients. If you ask the right questions, in the right way, and on the right platform, you will receive the answers necessary to sharpen every area of your clinic.
Looking for executive leadership and management support as you navigate this next step? We would love to help. We offer comprehensive advisory services for the healthcare industry, and we are well-versed in physician-to-patient communication strategies.
Contact us to learn more and get started today.