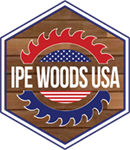 Highly Demanded Ipe Back in Stock as Wood Prices Skyrocket
With the real estate market still red hot, the wood industry is also booming with high demands for new construction and renovation projects. Ipe Woods USA sees an increase in their bestselling decking wood materials, and they are officially back in stock this summer!
FOR IMMEDIATE RELEASE
Salt Lake City, UT, September 9, 2021 – Ipe Woods USA, an online hardwood supplier, is stocking up in preparation for the increased demand for their exotic and domestic wood, including the bestselling Ipe wood. According to their official website, "no synthetic materials or modified woods can compare" to Ipe, and the numbers back that up. The company has seen an 80% increase in demand for both domestic and exotic hardwoods in 2021, and it's not hard to see why builders, renovators, and homeowners love Ipe.
Ipe (pronounced "e-pay") is also known as Brazilian Walnut. This hefty wood is prized for its longevity, low maintenance, and natural resistance to scratches, bugs, decay, mold, and weather conditions.
The common lifespan of IPE is 75+ years and has a Class A Fire Rating, which means it can withstand exposure to fire longer than other woods. IPE wood is the only type of wood to pass the test of being placed underground for 15 years and come back up with no termite damage. It's no wonder why
Given the condition of the housing market, those looking to build new construction with the best materials, or someone who wishes to increase the market value of their home to sell may consider Ipe for their next big project.
For more facts and statistics about Ipe to determine if it is the best choice for you, see how it compares to alternative wood types here.
Despite the rise in demand and shortage of lumber, Ipe Woods USA guarantees "the best Ipe decking at the best prices" for your construction and renovation needs.
They state, "We use many different carriers to ensure we find you the lowest prices and fastest delivery possible." With the entire wood industry seeing as much as a 118% increase in pricing, Ipe Woods USA's "buying made easy" model and fast shipping make things easier and less stressful for their customers.
More shipments of Ipe hardwood are coming soon in August and September 2021, with new containers arriving on a weekly basis. Stock is available for shipment worldwide or can be picked up from one of their hundreds of terminal locations.
Click here to find a terminal site near your location.
For more info on decking materials for your next project, check out the Ipe Woods USA catalog at www.ipewoods.com.
About USA Woods: Exotic decking supplier Ipe Woods USA is one of the largest Brazilian hardwood suppliers in the USA, and is the Premier Importer of Ipe Wood all over the world. Their online catalog includes decking, siding, fencing, hardwood lumber, and more. With the combination of great prices, quality materials, and outstanding customer service, the company was awarded for "Best of Houzz Service" in 2018, 2019, and 2021.
Contact Info:
Contact Name: Brandon Smith
Organization Name: Ipe Woods USA
Address: 869 E 4500 S, 212
Business Phone Number: (844) 674-4455
Website: www.ipewoods.com
Originally Posted On: https://syndication.cloud/highly-demanded-ipe-back-in-stock-as-wood-prices-skyrocket/