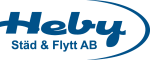 Heby Städ & Flytt Provides Quality Insured Cleaning, Storage and Moving Services in Västerås
The sustainable well-established family Swedish company, Heby Städ & Flytt, provides a variety of professional -and insured- cleaning and moving services in Västerås while actively working to reduce the company's overall environmental impact.
FOR IMMEDIATE RELEASE.
Sala, Sweden, 10 August 2021 —  Mess. When it comes to moving or cleaning, if you're not a professional in the field, there comes a point during the task where you feel like you will never end what you've begun. The mess around you seems so overwhelming that you even wonder if you shouldn't start at all. In those moments, Heby Städ & Flytt has your back.
By offering a full service in cleaning, relocation, and warehousing, with Heby Städ & Flytt, you will never have to worry again about the order around you.
Knowing the importance of first impressions and that everyone wants a clean space around them, they perform cleaning services on individuals and companies. And since cleaning must be high quality and cost-effective, regardless of which cleaning service it is, such as weekly cleaning, window cleaning, or building cleaning, they offer a quality guarantee. They have three different services for each necessity you might require in Västerås:
Home cleaning: With a weekly cleaning, general cleaning, display cleaning, or full cleaning. At Heby Städ, they will help you with the daily chores that stand in the way of your relaxation, in terms of cleaning in any case.
Moving cleaning: All you need to do is make sure that the home is empty and that they have access to it. The rest is in them, by providing the right materials and equipment for cleaning.
Corporate and office cleaning: A clean and fresh environment stimulates the people at the office, creating a most efficient job space. As a cleaning company with over 30 years of industry experience, they know how to achieve it. You can be calm and confident that the cleaning is done quickly and without problems. Visit hebystad.se/stadfirma-vasteras/ to learn more.
They also know that the key behind an effective move is to be as smooth as possible. So by creating a pre-plan in consultation with you, the company will take care of the mess: from filling moving boxes to placing and assembling your furniture and the moving cleaning of your home, their trained packers will take good care of your belongings. It doesn't matter if it's a home, an office, a light, or heavy handling, their professional packing masters, will transport everything in a safe and structured way. And if you're living in Västerås, you can also rent a truck for a B driving license from them! Visit hebystad.se/flyttfirma-vasteras/ for more information.
And if after the move you discover that you have more things than space to room them, or simply believe it will be better to store some things away: their many years of experience in storage will find safe and effective solutions for your specific needs. Their storage room is staffed during the day and is always temperate, insured, and connected to Sector Alarm with alarms and camera surveillance. So whether it is short-term or long-term storage, their household insured by Protect will give you a qualitative solution that you can trust.
So if you're ready to experience a top moving, cleaning, or warehousing service, that's quality insured and suited to your specific needs, visit hebystad.se and find out more about this great company that will simplify your life.
Contact Info:
Organization: Heby städ & flytt
Address: Bergslagsgatan 1, 733, 31, Sala, Sweden
Phone: 0224-77 500
Mail: [email protected]
Website: https://www.hebystad.se/
Originally Posted On: https://syndication.cloud/heby-stad-flytt-provides-quality-insured-cleaning-storage-and-moving-services-in-vasteras/