Great Tools to Grow Your Business Long Term
Scaling your business is now more straightforward and manageable these days because of technological advancements that benefit the industry. From customer relationship management systems to a predictive dialer, it has become possible for entrepreneurs to oversee all aspects of their venture.
In the early days of your enterprise, you may still be able to handle all processes and responsibilities for your company. However, it shouldn't always be like that. You ought to think ahead and prepare for the growth of your company. This foresight entails hiring the right people for various roles in your organization, as well as investing in appropriate programs and apps.
If you're looking for tools that can help you grow your business in the long run, here are a few you should consider investing in:
1. Point-of-Sale
For those in retail, a reliable point-of-sale (POS) system is necessary for you to track each sales transaction. On top of that, this tool can help you monitor inventory and pull data for monthly reports.
At the start of your venture, you may have used a combination of manual calculations, cash registers, and spreadsheets for your bookkeeping process. However, if you have bigger goals for your company, you should invest in a POS system to make your operations more efficient now while helping prepare your business to accommodate more customers in the future.
A typical POS system has the following components:
Software – POS system providers develop their software for keeping track of sales and inventory. Look for one that works with the tools you already have right now. Aside from integration, flexibility is also a crucial factor when choosing this type of program.
Monitor or Tablet – This hardware is necessary for displaying relevant information for each transaction in real-time. It can also be used for other functions, like viewing weekly or monthly sales reports, as well as employee clock-ins.
Barcode Scanner – For businesses involving physical retail stores, this peripheral is used for the automation of the checkout process. With barcodes, it retrieves product data and adds the price to the total amount that should be paid. Moreover, it also deducts stock levels automatically.
Cash Drawer – Although more and more consumers are opting to go cashless, cash continues to be a primary medium of exchange for most businesses. That's why this tool is still a necessary part of the POS system. It's a place where you can store your cash securely.
Credit Card Reader – Most businesses are accepting credit card payments. That's why POS system providers typically include this accessory in their business packages. Make sure that the readers they provide are EMV-compliant to avoid legal complications.
Receipt Printer – While receipts are also going the digital route through email and text, printing paper ones remain dominant in business. This tool provides customers with their purchase information at a glance.
2. Communication
Communication—whether with your customers or your employees—is a vital aspect of a business. For contacting consumers and suppliers outside your company, you must remember to provide multiple channels on how they can reach you.
Email is a particularly valuable platform for companies. As a business owner, you can expect to send and receive loads of emails. From distributing company-wide notices, talking to customers, and deciding the next steps for your enterprise, tools, such as a dedicated program, will make this task more manageable.
Cold-calling is also a useful method in reaching out to current and new customers. This marketing method has gained a negative reputation because of how it interrupts the recipient's day.
Fortunately, you can go around this problem with ringless voicemail software. Companies like Drop Cowboy specifically developed this tool to ensure that your sales pitch is delivered to your target audience without the annoying factor of them having to stop what they're doing to listen to it.
Meanwhile, for internal communication, the medium of choice is instant messaging and video conferences. This way, you can ask questions and obtain resolutions to minor problems immediately.
Technological advancements in communication have also allowed companies to hire the best employees even when they aren't based in the same location. Remote work has become prevalent because teams can contact each other effortlessly as long as they have a stable Internet connection and a reliable PC or smartphone.
3. Sales
Your revenue and profit may be the most crucial aspects of your business. Not only should you invest in finding the best sales representative or team, but you also ought to ensure that they have the necessary tools at their disposal for maximum productivity.
These are three tools that you should have for your sales department:
Customer Relationship Management System – A CRM program is also known as your contact database. It stores all your leads and their contact information, such as mobile numbers and email addresses. Your POS software must integrate seamlessly into this system to make tracking transactions more manageable.
Communication Software – As your marketing team works to generate leads for your company, it's the responsibility of your sales team to convert potential customers into paying clients. With this, they will need communication tools, such as email automation and mass text messaging, to keep prospects updated on your latest deals and promos.
Scheduling Apps – Scheduling is a tedious but necessary task for sales representatives. It can take a lot of back-and-forth through email or chat. There are lots of programs explicitly created to smoothen out this inconvenience. You just need to ensure that you invest in one that is compatible with the calendar app that your team is already using.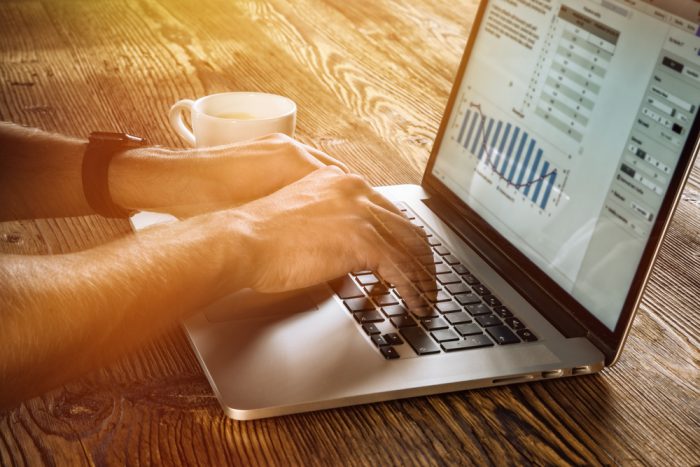 Depositphotos
4. Marketing
As mentioned above, the primary role of your marketing team is to generate or pull in leads from various channels. These days, the most dominant platforms are search engines and social media.
Aside from looking for leads, they also aid the sales team in converting prospects into paying customers. Plus, increasing the likelihood that clients make recurring purchases is another one of their responsibilities.
Some tools that are useful for this department include:
Content Management System – This software serves as a single location for all your marketing efforts. It allows you to create and modify digital content that's published on your brand's website or blog. The core functions of this app include indexing, search and data retrieval, publishing, revision access, and format management.
Brand Website – Every business needs a website nowadays. This digital home for your brand can contain relevant information on your products and services. Putting up a blog section in your site also allows you to offer insider knowledge on the benefits that your merchandise can provide to consumers.
Landing Pages – These web pages are dedicated destinations for your web visitors with the intent of capturing their interest and making them read your post enough to convince them to purchase your goods. It's where they're sent after they clicked on your link in the search engine results pages.
Search Engine Optimization Tools – SEO is crucial for your business because it allows you to reach your target audience by taking the top ranks on search engines. The primary tools for this digital marketing process are keyword planners and web analytics.
Social Media Management System – Social media sites are also valuable platforms for generating leads. Social media analytics is a useful tool to know what the favorite websites of your customers are. By being active on these channels, you also make your brand visible to potential customers.
Data Collection – Forms and calls-to-action (CTAs) allow you to gather the contact information of an interested client. You need tools to optimize these features so that you can collect customer data and send it to your CRM system with ease.
5. Accounting
While some business owners are proficient with accounting processes, a majority of entrepreneurs outsource this task to another employee or an agency with specialized knowledge on the intricacies of bookkeeping and its legal compliance. It's vital that you look for accounting software that will enable you or your staff to monitor your sales efficiently.
Your accounting app must have basic features, such as reporting, automation, and customization. Reports are a necessary part of this department because they need to provide quantifiable proof that your business is solvent.
Automation, on the other hand, ensures the productivity of your team by eliminating the need for them to do some tasks manually, like backtracking expenses and calculating employee salaries. You should also look for the customization function in an accounting app because you want it to be able to meet the needs of your company.
Plus, taxation features are a lifesaver during tax season. Some accounting apps offer this function, so you should avail of it if your budget permits it.
6. Storage and File Sharing
Cloud-based storage software and file-sharing apps have made collaboration more accessible and convenient for businesses. These tools are especially valuable to companies with employees living in various areas.
Google has its Drive and G Suite products, which already provide you with tools for internal and external communication, as well as file creation and access. Plus, you can be sure that your team knows how to navigate through the software.
The benefits of cloud storage include:
Less Maintenance – Cloud technology calls for minimal maintenance because you don't need to store your data in physical servers and centers anymore. Not only do these devices require constant check-ups and repairs, but you'll also need to hire a dedicated IT specialist or staff to oversee and manage them.
Decreased Overhead Costs – You can save more money each month because you no longer have to spend money on the upkeep of your servers. Instead, you can allocate your financial resources to subscriptions to reliable cloud storage and file-sharing platforms.
Flexibility – Digital tools have paved the way for remote teams. This versatility concerning schedule and location can result in happier employees because it increases work-life balance. They can spend time with their loved ones without having to sacrifice their careers and income capabilities.
Improved Communication – Before, you needed to transport data through flash or hard drives. The process can take time, which could have been used to work on the project. Now, collaboration is made more convenient because you only need to share a link to the other person, and they can make the necessary modifications almost instantaneously.
Data Security – Cloud storage companies encrypt their data. With this type of protection, even if hackers get a hold of your files, they'll have a difficult time deciphering the information.
Even if you already have your CRM and CMS software, you still need a reliable cloud storage and file-sharing platform for business files. These may be digital copies of legal documents or employee records that should be stored safely.
7. Customer Feedback Collection
Knowing what your customers think about your brand, as well as products and services, can help you and your team improve. You should look for tools that aid this process with features like feedback collection, online reporting, real-time notifications, and occurrence management.
Getting client reviews provides two primary advantages to your company. First, as mentioned above, you get a clearer view of whether your customers enjoyed your merchandise or service. With this, you can make developments to your product if a lot of people are saying that one aspect needs to be improved.
Another benefit is that you establish your credibility as a business when your company receives genuine praise for your product and service. Reviews are a new word-of-mouth advertising tool, so you should take advantage of it.
Conclusion
Technology has made business processes less complicated for entrepreneurs and their teams. If you're in the retail industry, you must invest in a POS system to track your customer transactions. Other sales tools you should have are your CRM and scheduling apps, which allow you to connect with your customers while also managing your time efficiently.
Communicating with your clients, team, and suppliers is also an integral part of being in business. Fortunately, some tools can make this process more manageable for you.
You also need to invest in marketing, accounting, storage and file-sharing software, as well as customer feedback collection tools to make your business operations more seamless.