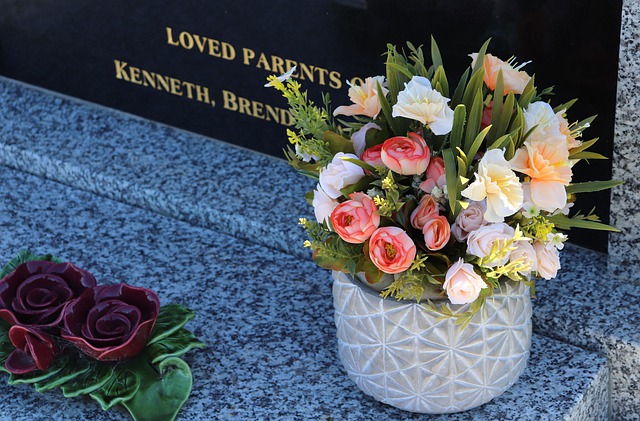 Funeral Flower Etiquette: How to Send Flowers in 2020
When someone passes away, many people choose to send flowers. Flowers are symbolic of life but they are comforting in a time of death. In most cultures, flowers are a large part of remembrance at the time of one's death and are a ubiquitous part of funeral traditions.
Although people die all the time, and almost all of us have attended a funeral over the course of our lives, when the time comes, questions about funeral etiquette immediately arise. No matter how many times you have experienced the loss of a loved one, reminders of the proper, respectful acts, dress, and behavior for the occasion are often needed.
Funeral flower etiquette is one topic about which some people have questions. When and where should you send the flowers? Who should the flowers go to? What type of flowers is appropriate for the occasion? Many are unsure of what to do when it comes to funeral flowers.
If you have recently lost someone, you may have some of these same questions, too. Read on to learn everything you need to know about flowers for funerals. Then you can proceed in a respectful and confident way.
Why Send Flowers?
Although it is traditional to send flowers when someone dies, the flowers are not really for the deceased but are instead for the living. Everyone enjoys the beauty of flowers and they are comforting to see during an overwhelmingly sad time. 
When we send flowers to someone in sympathy or for a funeral, we are demonstrating our love for the person who has passed, and our support for and condolences to the people he or she left behind. 
Sympathy Flowers vs. Funeral Flowers
Mourners send flowers tot he funeral home and the funeral home staff displays them during the wake and funeral. They are usually ordered only by close family members or relatives. If the deceased had a large family, there might be a large number of funeral flower arrangements, but for most funerals, there are only a few.
On the other hand, people send sympathy flowers to family members of the deceased by others as an expression of condolence. These can vary in size and type. They are often delivered to the recipient's home, but they can be delivered to the funeral home too.
Funeral flowers need to be sent in time for the funeral but sympathy flowers can be sent at any time.
Of course, it's important to be timely in the delivery of either, but sending additional sympathy flowers, later on, can really brighten someone's day. You may even want to consider a flower subscription to keep flowers coming throughout the coming year. 
Funeral Flower Etiquette and Religion
Funerals by most religions include flowers as part of the tradition and ritual. However, there are some in which flowers are considered inappropriate. 
Catholic and Protestant Christian funerals happily accept flower arrangements and it's not surprising to see more than a few at both the wake and the funeral itself. Eastern and Greek Orthodox funerals also welcome flowers, and people of these religions prefer white flowers on these occasions.
Mormons and Buddhists also appreciate flowers, but avoid arrangements with crosses or crucifixes. Hindu funerals usually feature garlands of flowers.
In some sects of the Muslim faith, mourners welcome flowers, but to others, they are not appropriate. If you will be attending a Muslim funeral, it's best to simply ask what is best.
When someone who is Jewish passes, flowers are not present at his or her funeral. You can still send flowers in sympathy to the family, however, but something like a fruit basket may be preferred.
Types of Funeral Flower Arrangements
There are so many different types of funeral flower arrangements available to you.
Casket sprays and interior casket flowers are usually chosen by and are supplied by the immediate family, so if you are not that closely related to the deceased, leave these arrangements for them.
Standing sprays are also often chosen by the family, but sometimes smaller versions of these are chosen by friends.
Wreaths can be displayed on a stand at the funeral home and can be placed around the casket of the grave. Smaller sprays can be used in these ways as well.
When choosing an arrangement, you will want to avoid any arrangements that include embellishments like balloons or stuffed animals. Even if the deceased is a child, these are usually inappropriate, and some might even consider them tacky. 
If you are having trouble choosing an appropriate arrangement based on your relationship with the deceased and his or her family, do not hesitate to call a florist for help. These hardworking individuals work with flowers professionally, and they will be more than happy to offer their advice.
Funeral Flower Arrangements for Different People
The proper funeral flower etiquette varies depending on how close you were to the deceased. This can make sending the proper arrangement for a specific person seem even more complicated. However, it is not difficult to understand.
Immediate Family
The flowers from the immediate family will be displayed closest to the casket during the wake and funeral. These arrangements are usually quite large. Things like large wreaths and elaborate standing sprays are often reserved for immediate family members.
Spouses, children, sisters, brothers, parents, and grandparents are all members of the immediate family. Flowers from these people may also be displayed inside the casket lid and in the casket itself. Heart-shaped arrangements from immediate family are not uncommon.
Extended Family
Other family members like aunts, uncles, cousins, nieces, nephews, and friends who were like family can also offer arrangements for the funeral. Sometimes these people may choose to coordinate their arrangements by agreeing upon a common base color, but often each person chooses their own arrangement independently. 
Extended family members can also offer smaller wreaths and sprays, but sometimes traditional arrangements are preferred. That way, the family can easily take them home to comfort them after the funeral is over.
Friends and Colleagues 
People who are friends or colleagues of the deceased do not usually send funeral flowers. Instead, these people send sympathy flowers in most cases. Again, these can be sent to the home of the family members or they can be delivered to the funeral home. 
When to Send Funeral Flowers
If you are sending funeral flowers to a church or funeral home, you should arrange so that they are delivered on the morning of the funeral. This will ensure freshness; however, make sure the florist knows the date and time of the funeral so they can arrive on time.
In order to ensure that your flowers are delivered in time for the funeral, it's best to order flowers as soon as you know when and where the services will take place. This will give the florist enough time to create the arrangement and to have it delivered.
Where to Send Funeral Flowers
When sending flowers to a funeral, they should be addressed to the church or the funeral home. Include the name of the deceased on the delivery order so the person that receives them at the location knows which funeral they are for.
If you are a member of the immediate family, you can send the flowers to the funeral home or church or you can bring them yourself. If you are an extended family member, you should have them delivered.
Messages on the cards of funeral flowers should address the deceased directly instead of his or her family. "Rest in peace, "we will miss you" or "fair winds" are all appropriate messages. If you are at a loss for words, you can find other ideas online. 
What Type of Flowers to Send
The best flowers to send for a funeral are flowers that you think the deceased would have loved. If you know his or her favorite color, or better yet his or her favorite flower, then that's what you should get. 
However, if you don't know what to choose, then you can fall back upon traditional funeral flowers like roses, lilies, carnations, and chrysanthemums. Don't feel trapped by these options, though; truly, any flowers will do.
Some flowers are symbolic of different feelings and emotions. If you are someone who is drawn to symbolism, you might want to consider sending a message to the deceased and his or her family in this way.
Roses
Roses are a common flower used at funerals. The color you choose can say a lot. Red roses are symbolic of love; yellow roses represent friendship. Pink roses evoke feelings of admiration and gratitude. White roses symbolize general remembrance.
Calla Lilies
These elegant flowers represent purity and beauty and are often seen at weddings, but they also symbolize deep sympathy. They work well in horizontal arrangements.  
Freesias and Dahlias
These two flowers both symbolize eternal and unconditional love and connection. They are often paired in arrangements for a deceased spouse. 
Chrysanthemums
This popular fall flower is full of petals and is long-lasting. Mums have a great deal of symbolism in a number of Asian cultures and are representative of a heartfelt goodbye.
Orchids
Orchids are difficult to grow but once they bloom, they are long-lasting. These qualities make this class of flowers a perfect representation of true friendship. They are a touching way to say goodbye to a dear friend.
Solidago 
These strong, wildflowers will bend in the wind but they will not break. They offer great symbolism of strength and support and that makes them symbolic of the love of relatives. 
Agapanthus
These flowers are considered by many to be symbolic of love. These are beautiful in any arrangement for someone for whom you felt deep love.
The Cost of Funeral Flowers
Flowers for funerals or for any occasion can range in price, but they are rarely inexpensive. A small funeral or sympathy arrangement will cost you at least fifty dollars, and the prices increase from there.
Very large standing arrangements that include a variety of different flowers can cost well over a thousand dollars.
However, don't let this number scare you away. You can get a perfectly nice arrangement at an affordable price, and remember, you are sending your love and sympathy, but the purchase and display of funeral flowers should not be viewed as some sort of competition.
After the Funeral 
You might wonder what happens to all of the beautiful arrangements after the funeral. There are several places that your flowers may end up.
Some flowers are brought to the cemetery and are left on the grave after the burial. 
In many cases, though, the family will take them home to enjoy them after the funeral. However, sometimes there are so many that some end up being left behind at the funeral home. If you want to make sure your flowers make it home with the family, you might just want to send them to their home in the first place.
Later, the family may dry or press some of the flowers to keep in cards or albums as a memory of the deceased. This is a lovely way to keep them around forever.
If the flowers you purchased end up being left behind, they will not go to waste, though. You'll be happy to learn that many of these arrangements are taken to hospitals or nursing homes to be enjoyed by the living. Often the funeral home will re-arrange them a bit so it is not evident that they came from a funeral.
A Beautiful Tradition
The tradition of sending flowers when someone passes away is not new and it will likely continue to be around for many decades or even centuries to come. Flowers are a comforting force that can add a little color and beauty into an otherwise sad and tragic occasion. When you send flowers to a funeral or in sympathy, and follow funeral flower etiquette, know that they will be greatly appreciated.
If you want to read more about lifestyles, celebrations, and traditions, check out the rest of our site. We have advice for moms on every topic under the sun, and we're here to help make your life easier.