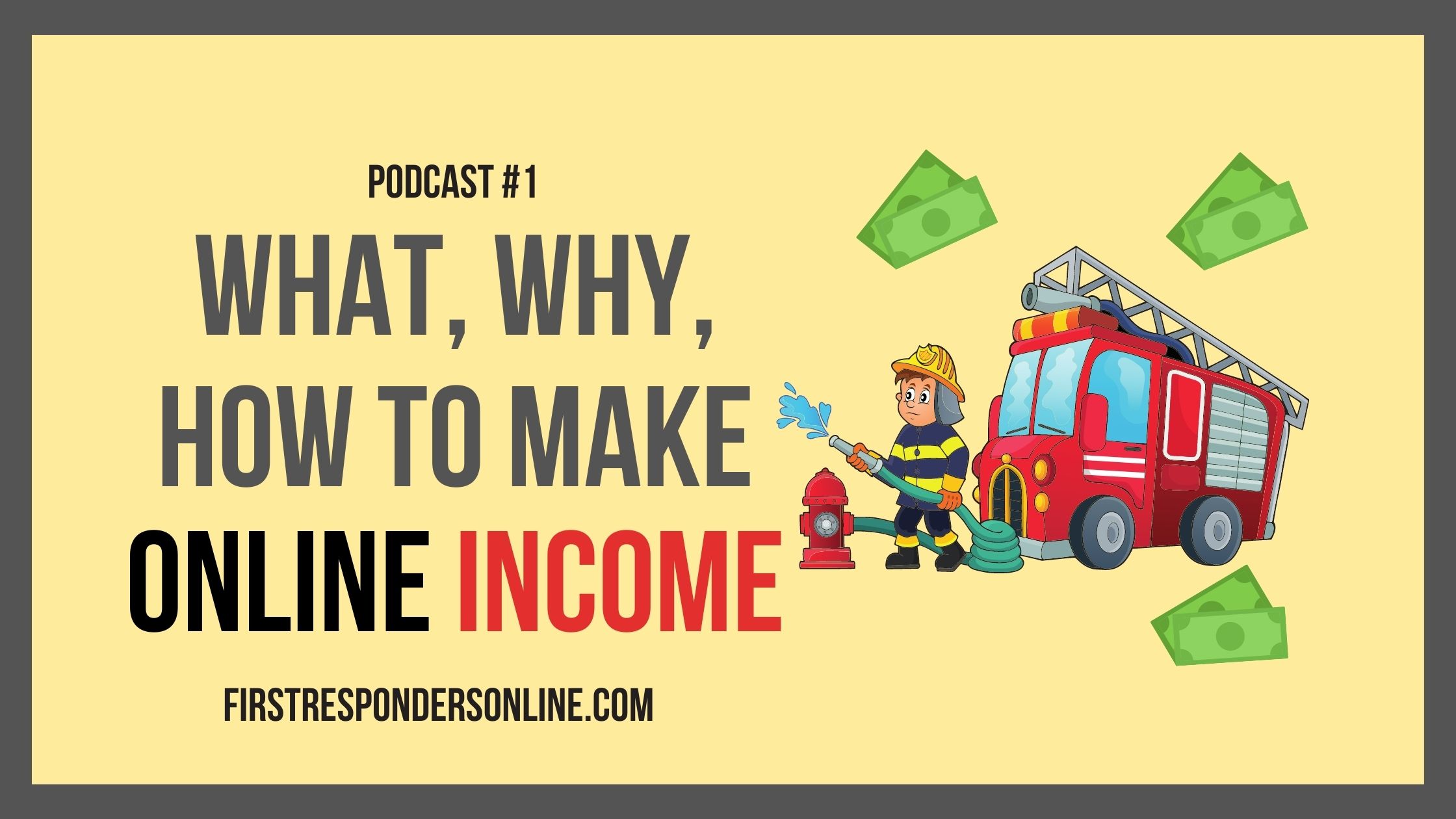 First Responders Online | Podcast 1 – Firefighter Side Jobs
Photo made in Canva
Originally Posted On: https://www.firstrespondersonline.com/blog/bestsidejobs_podcast1
This post showcases our first podcast and gives you insight as the how First Responders Online will help Firefighters and other First Responders get online and learn how to create a side job with passive income.  This podcast is an actual example of how you can bring potential customers to your website and on our next podcast we will discuss some specific methods based from this month's First Responders Report.  You can see how we recording this podcast and the software that was used below in this post. You can also get a free copy of our First Responders report by visiting the link at the bottom of this post. Our goal is to show you the various ways a First Responder can make passive income their best side job.
Listen to our first podcast below or you can "watch" our first podcast on Youtube below.
[Introduction to First Responders Online.  First Responders Online is for Firefighters, Paramedics, Police, Nurses, EMTs, Military, Emergency Dispatchers and family members to learn how to create additional income online. Our mission is to bring First Responders together and show them how they can build passive income online.]
You can visit our Youtube channel to watch the podcast.
Photo uses elements from Deposit Photos
If you're a Firefighter or other First Responder and you are looking for the best way to make additional income, then check out our First Responders Online membership.  This membership will help you come up with your own idea and teach you how to make money from your idea.  If you already have an idea, or business and you need to know how you can scale your business or service online, this program is for you.
In the program you will learn "what" to sell, "why" you can sell it, and "how" to sell it online.  No worries if you are not interested in creating your own product, because we can show you how to make money by reviewing products that you love.  There are so many different ways to make money using affiliate marketing, youtube monetization or selling your own product.
We are currently offering a free 30 day trial to our program.  Check out our program risk free and join our First Responder Community.  Family members of first responders are also welcomed to participate.
We look forward to seeing you in our community learning how to create passive income.
Thank you,
Ray
http://firstrespondersonline.com
*We created our first podcast from my home office to demonstrate that you don't need a studio to start a podcast. In our first podcast I simply pressed record on Camtasia and included my iMac webcam in the recorded.  There was no special microphone or camera used.  After the podcast, I exported the audio file and sent it to my podcast aggregator and then changed the video elements inside of Camtasia and then exported the video to Youtube.  The last step was to submit my video to my transcription service to get a copy of what was said for the content on my Youtube channel.
Our next podcast will be shot in the video studio at my office to show you the difference.