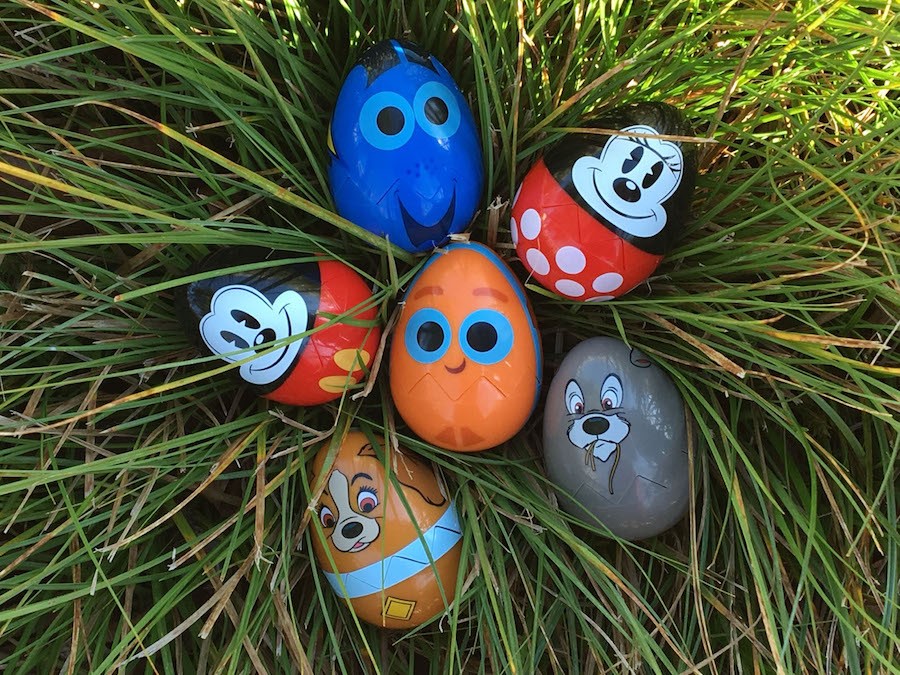 Easter at Disneyland 2020: Disney Egg-stravaganza, Easter Treats, and Spring Time Characters
Photo from mickeyvisit
Easter Day falls on April 12th, 2020 this year and if you're visiting Disneyland during Easter (or even the weeks surrounding it!) you can enjoy plenty of Easter themed fun at the parks.
Easter Activities at Disneyland
Unlike celebrating Halloween and Holidays at Disneyland Resort, Easter at Disneyland Resort is a bit non-descript. There are no special parties, fireworks, or parades. The Resort does offer some seasonal activities but you may have to hunt for them. Instead, save those egg-ceptional sleuthing skills for the Disney Egg-stravaganza and follow our guidelines for the best Easter at Disneyland including some spring round-up events.
Easter Egg-Stravaganza
Clearly the highlight of Easter at Disneyland during springtime is the Easter Egg-stravaganza. This Easter egg hunt usually begins two weeks prior to Easter Day.
This egg-themed scavenger game quickly has become a springtime tradition at the Resort. Guests can purchase map and sticker sets from designated locations then hunt throughout Disneyland Resort for the corresponding eggs on the map. Once the egg is located, place the sticker on the mirrored map egg and then return to the purchasing spots for a surprise collectible egg.
Maps can be purchased at Showcase Plaza in Disneyland Park, Elias and Company in Disney California Adventure Park, and in World of Disney in Downtown Disney District. The cost is $6.99 (no annual passport discount). You can also just purchase the map and surprise egg simultaneously- with no return trip needed. The three maps differ from one another but not the collectible prize. And, since the event is offered in Downtown Disney District, guests not visiting the two theme parks can still partake in the fun.
You can redeem your completed map at these locations: Disney Showcase in Disneyland park, Elias & Co. at Disney California Adventure park and World of Disney Store in the Downtown Disney.
Spring Break at Disneyland
Spring may seem like a daunting time to visit Disneyland Resort due to the fact most area school districts are on spring break. This translates into higher crowd levels. But, just like visiting Disneyland Resort during any busy time, pre-planning can help you enjoy your Disney experience. Make sure to look at our Disneyland calendar to follow crowd trends, use MaxPass and our Disneyland touring plan to help you maximize your time.
Personally, I love visiting Disneyland in the springtime. The Resort blooms with color, the air is a bit warmer, and my favorite fluffy friends are scattered all around. Bring your camera because you'll be stopping every few feet to take shots of the trees spotted with vibrant hues. Definitely head to Main Street USA in Disneyland for your photo opportunities including the baby ducklings near Jolly Holiday Bakery Café.
Easter Characters at Disneyland
Besides the little quacking characters, you'll find the main Easter icon himself on Main Street USA. Meet-and-greets with the Easter Bunny usually begin a week prior to Easter at Disneyland.
Don't forget to hunt for other Easter-themed characters. Mickey and Minnie will be dressed in their Easter finest. And, in years past, Easter at Disneyland has included the rabbit residents hoppily joining the Easter Bunny. Look for some of Disney's best bunnies including Brer Rabbit, White Rabbit, Thumper, Rabbit (Winnie-the-Pooh), Roger Rabbit, Oswald the Lucky Rabbit.
Easter Sweets and Treats
What would Easter at Disneyland Resort be without some sweets? Disneyland Resort does holiday confections right. You'll find character Easter cake pops, Easter-themed cookies, and Mickey and Minnie egg caramel apples all throughout the Resort. Stop in at Candy Palace and Candy Kitchen on Main Street USA and Hunny Spot in Critter Country in Disneyland Park to check out their seasonal treats. Trolley Treats in Disney California Adventure Park and Marceline's Confectionary in Downtown Disney District also both carry the same treats. These locations also offer the homemade peanut butter chocolate-covered candy eggs. Yummy!
Jolly Holiday Café also creates a scrumptious carrot cake cupcake for springtime. This tasty treat is always a must for me during my spring visit.
Easter Celebrations at Disney Resort Hotels
If an Easter celebratory meal is on your to-do list, you'll have some buffet options from which to choose at the different Disneyland Resort Hotels.
Visit Disney's Paradise Pier Hotel for a character Easter Day dining experience. Dine on a variety of savory and sweets while your favorite characters interact. At Disney's Grand Californian Hotel and Spa's Storyteller's Café, guests can also take delight in a special brunch. This location also offers the character dining experience.
Although not a buffet, Disneyland Hotel's Steakhouse 55 alters their afternoon tea specialty with an Easter theme. Enjoy specialty sandwiches and desserts with a spring flair alongside your favorite iced or steamed tea. This specialized presentation is offered Fridays, Saturdays, and Sundays starting a few weeks prior to Easter weekend.
All Easter dining experiences are popular so make your reservations ASAP. Disney Dining accepts reservations at 714-781-DINE up to 60-days in advance. Annual Passport discounts are also honored.
Easter Disneyland Souvenirs
Traditionally for Easter at Disneyland, the Disneyland Hotel has hosted an Easter egg hunt in the morning. Younger Disneyland Hotel guests are invited to participate but check with guest services beforehand for confirmation.
And if you hope to take home an Easter souvenir from your Easter at Disneyland visit, you will find some Easter themed souvenirs around the park. You can always find cute plush featuring favorite Disney characters dressed as bunnies or chicks. You can also stop at any of the pin-trader locations for Easter-themed pins. Every year seems to bring a few new items for that Easter basket collection.
Plan Your Easter at Disneyland!
Don't forget to subscribe to our newsletter for the best tips when planning your trip. For more information about visiting Disneyland Resort during spring, take a quick look at the pros/cons of a springtime visit.