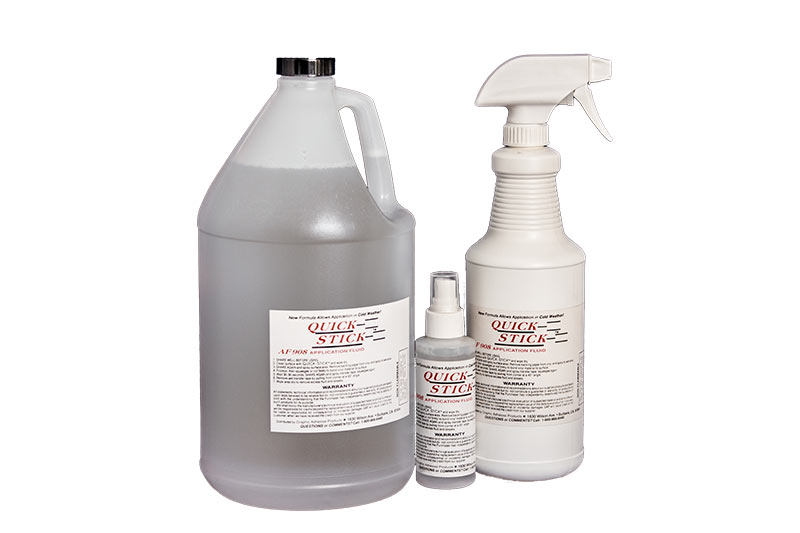 Don't Let The Cold Slow Your Vinyl Application Business Down
Originally posted on https://www.buysimplesolutions.com/quick-stick-vinyl-application-fluid/
Application Fluid Basics
Application fluid allows for more flexible placement than traditional wet application techniques, but there are some basic elements you should understand before you decide whether or not it's right for your project.
Application fluid is designed to help easily, and quickly affix vinyl decals and graphics for precise placement. These graphics are commonly found on storefront windows, on vehicles and watercraft, building walls, and signs or landmarks.
Historically, this process was fraught with anxiety since it required that the letters or decals be placed very precisely. The only way to be certain that you were accurate was to carefully measure and mark prior to placement – a process that could take an immense amount of time. Application fluid simplifies this process by allowing you to move the vinyl around until it's placed exactly where you want it. It's a temporary lubricant that lets you lift up and reposition until its placement is correct.
Since application fluid doesn't require that you apply the vinyl perfectly the first time, it means that installers can save tons of time while still ensuring that placement is perfect.
Using Application Fluid Correctly
Application fluid is very easy to use and requires just a few simple steps. Completing this process quickly is imperative though since leaving the fluid on too long can impair the decal's ability to properly adhere and cause problems with the application tape.
Clean the surface thoroughly with a cotton or paper towel and water. Do not use solvents or cleaners unless you must remove a contaminant. If the surface has oil or water-based adhesives, wax, tar, oil, chewing gum, or ink on it, you may use Simple Solutions International's Orange Peel Adhesive Remover or Gold Solution Adhesive Remover to eliminate these contaminants.
Spray or coat the surface with Simple Solutions International's Quick Stick Application Fluid. You may also spray it directly onto the back of the decal if the backing is removed.
Peel the backing off the decal and place it on the wet surface. Lift up and reposition the decal until it is in the desired position.
Secure the decal using a squeegee and paper towels to remove excess fluid, starting from the center and moving towards the edges in all directions to prevent wrinkling of the vinyl. You will likely have to squeegee several times before all of the fluid is removed, but it's crucial to be thorough. Leaving excessive fluid under the vinyl and tape may cause the adhesive layer to detach and become a get-like residue on the vinyl.
Can I Use It When Affixing Vinyl Graphics in the Cold?
The installation of vinyl graphics is not generally recommended in cold temperatures, and the ideal recommended temperature is at least 60 degrees Fahrenheit (though 70 degrees is ideal). The primary reason is that the adhesive may not form a solid bond in cold temperatures, which would lead to the eventual separation of the decal or graphic. This generally means that vinyl graphics cannot be placed on storefronts or on outdoor locations during the winter, and sometimes part of spring and fall, in cooler regions. For vehicles in cold locations, it is often recommended that the vehicle be left indoors for 48 hours prior to the placement of the vinyl.
However, Simple Solutions International's Quick Stick Application Fluid can improve adhesion tack levels in cold temperatures, even down to 15 degrees Fahrenheit. This provides installers with the opportunity to place vinyl graphics in a much more diverse range of temperatures without worrying that it will not form a strong adhesive bond. It also means that it won't be necessary to bring many of the vehicles indoors prior to placing the graphics. The Quick Stick Application Fluid ensures that adhesion will be successful across a much broader range of temperatures than would normally be recommended.
About Simple Solutions International Quick Stick Application Fluid
Simple Solutions International's Quick Stick Application Fluid allows for optimal placement of vinyl graphics in almost any temperature and across a variety of smooth surfaces including boats, vehicles, aircraft, fleet marking, glass, and acrylic. It can be purchased in many different quantities, allowing you to purchase exactly what you need. Options include a 4 oz. spray bottle, a 1 qt. spray bottle, a 1-gallon jug, a 5-gallon jug, and a 55-gallon drum. No matter what type of surface you are affixing vinyl on, Quick Stick Application Fluid can ensure that your wet application process goes much more smoothly and quickly!
Simple Solutions International offers a full selection of plotter blades and plotter pens as well as a variety of useful tools for use in plotting and sign making such as plotter adapters, masking film, spray mask, and other sign making tools and accessories.