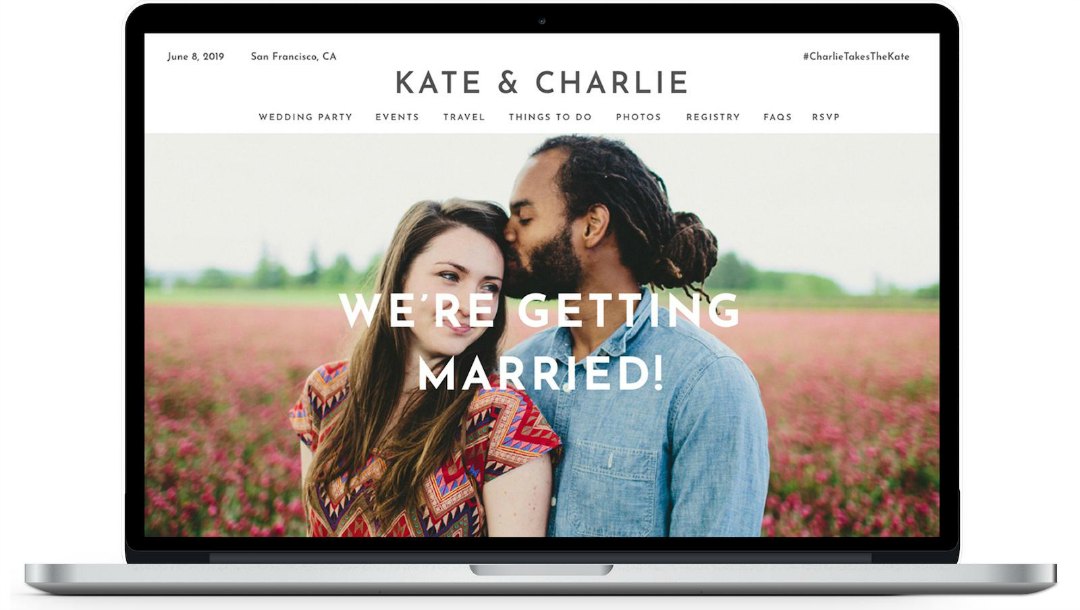 Do You Need A Personal Wedding Website For Your Big Day?
No longer the domain (mind the pun) of wedding obsessed bridezillas, wedding websites have worked their way into the normalcy of wedding planning for many couples. Are they useful, or just another thing to worry about? We investigate.
As you sort through all of the elements you'll need to make the most out of your big day, you may find yourself mulling over whether or not you should build a personal wedding website. If you're on the fence about whether or not a wedding website is something you need, keep reading.
A wedding website is a private site that couples use to help plan and communication around their wedding day. They make communication with guests easier, and include such information as the location, date, and time of the wedding, plus gift registry details, transport arrangements and dress codes.
Here are six benefits of creating a wedding website.

#1 – They're free
It'll come as a relief to learn that personal wedding websites are one part of your wedding day that won't cost you a dollar. As a matter of fact, some of the best wedding websites can be built without the help of any paid services. Simply create an account with a wedding website-building application, drag and drop a few things and you'll be ready to share your website with your loved ones in no time.
#2 – They help you keep your guests informed
Wedding planning is time-consuming and stressful enough without having to personally field hundreds of emails and texts from wedding guests about all of the tiny details of the day itself. So – rather than communicating with all of your guests individually as questions arise, you can relay important messages through your wedding website. This work-around will save time and help you avoid forgetting to clue somebody in on important information.
#3 – RSVP tracking made easy
When you build a wedding website, most applications will allow you to track RSVPs directly from one of your web pages. It might seem simple, but there are huge benefits from being able to tell your guests to just log onto your website and check a box if they're coming rather than having to call or send something in the mail.
#4 – Share your wedding theme early
Having a personalised wedding website allows you to set – and communicate – the tone for your wedding from the beginning. All you need to do is customise the look and feel of your website to showcase the theme you have chosen for the day. This is a great opportunity to share your wedding's colour scheme and theme in advance of your ceremony which will start getting people in the spirit from the get-go!
#5 – Add your gift registry
Rather than using a single, third-party gift registry like one offered through a department store, you can build your registry on your website from various retailers for even more flexibility. Most wedding website builders will allow you to integrate registry accounts that you have with several retailers into a single, streamlined page.
#6 – Photo sharing made easy
Your wedding website makes for the perfect, off-social-media place to share photos and videos after your wedding. Some websites will also allow guests to upload their own photos onto the site so everyone else can see the event through other people's eyes.