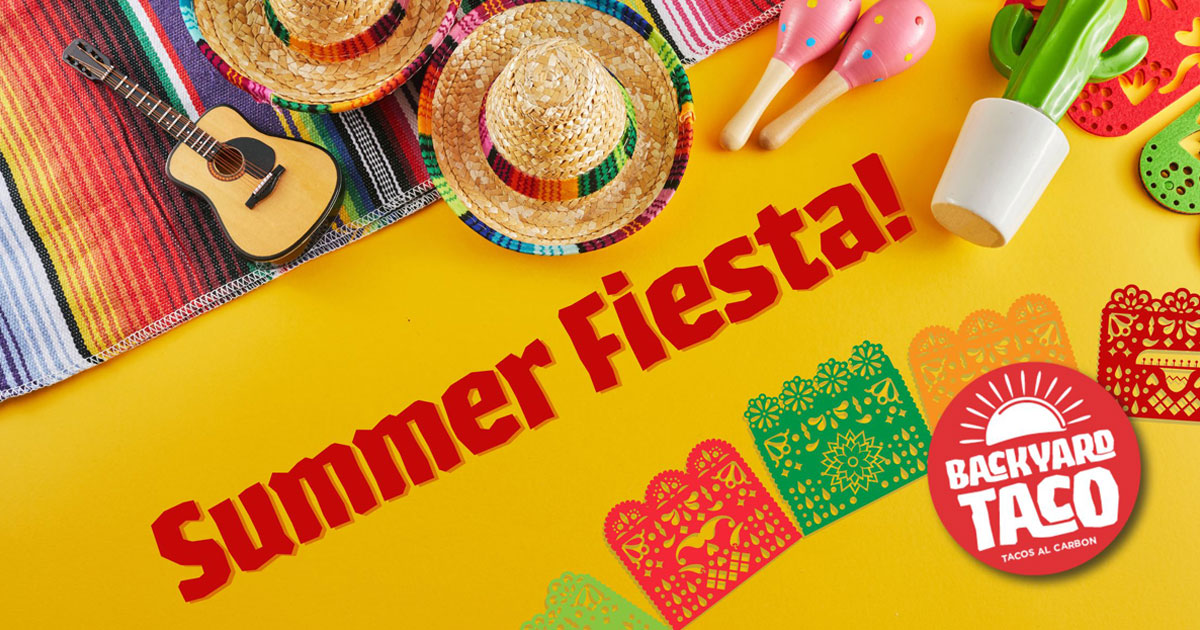 Creating a Taco-Themed Summer Fiesta
Photo from Backyard Taco
Originally Posted On : https://backyardtaco.com/blog/taco-summer-fiesta/
Taco-themed parties, especially in the summer, are a fun and delicious way to celebrate the season, eat some amazing food, and kick back with friends and family. If you're wondering how to throw a taco-themed party beyond simply providing guests with a taco bar and some cold drinks, we have some tips for making your summer fiesta taco party a success.
If you're anything like us, you love the summertime because it's a great time to host a fiesta and enjoy some beautiful weather. Again, if you're like us, you're sure to love tacos, as well as other fun Mexican dishes. One way to make the season great this year is to combine these two awesome elements into a Mexcellent summer party.
Why a Summer Taco Party?
A taco party might seem pretty specific, perhaps even a little bit too niche. However, it's actually a pretty popular idea, and there are quite a few great reasons why.
Suggested Reading: Hardshell vs. Softshell Tacos
A Reason to Celebrate the Season
In Arizona, the summers get hot – and we mean really hot. Yet, that's not a reason to stay inside all season. Summer in Arizona can be beautiful, and the weather can vary depending on elevation. You can still enjoy the hotter months of the year if you make them fun with various activities for everyone to enjoy. Many of these activities can be done in the comfort of your own house or allow you to incorporate a siesta-style schedule by relaxing during the hottest part of the day.
If you're looking for a way to make the most out of your summer, a taco fiesta is just the thing. Not only can all the food be kept indoors where it's cooler, but you can enjoy a variety of fun activities that will make you forget about the weather. Best of all, summer-themed activities are designed to help you cool off, allow you to stay in the shade, or even just relax with some good food, fun decor, and your loved ones.
Perfect For Any Group
Whether you're a busy parent who wants to have a fun family day with the kids or a young adult who craves a party with all your friends, a summer taco party is an ideal solution.
For a family gathering, your taco party can be kept small with casual events and a nice taco lunch or dinner. Meanwhile, if you're more interested in throwing a larger group party, a taco party will also be great. All you have to do is perfect the decor, make sure you have an activity an entire group can enjoy, such as swimming or listening to music, and definitely ensure you have a large enough taco and drink bar to satisfy all of your guests. You'll soon be having the time of your life with your friends, enjoying a good atmosphere and even better food.
How To Throw a Mexican-Themed Party
A proper Mexican-themed or taco-themed party goes beyond just having the right food and a few decorations. The more you do, the better and more fun the party will be for everyone involved. That means that you have to have the right activities, great decor, and of course, the best possible food you can get your hands on! Here are some tips to make the most out of your summer taco party.
Suggested Reading: How to Throw a Fiesta
The Importance of Good Decor
When you're hosting a themed party of any kind, it's important to spend some time preparing the vibe. Sure, you could just go buy some taco-themed decorations from your nearest party supply store, but you can also be a bit more creative:
Do Some Arts and Crafts – Allow your kids to help out by making and hanging Mexican-themed art and set the table with a gorgeous, homemade Mexican table runner.
Get the Colors Right – Getting the colors right is a big deal, so aim for bright colors, such as red, yellow, orange, lime green, and purple. It's also a good idea to focus on the colors of the Mexican flag: red, green, and white, so your decor is bold and impressive without going overboard.
Add Some Plants – Whether you use succulents, flowers, or even a cactus, a little greenery will go a long way. Enhance your house and yard with vivid florals to add a pop of fun, and be sure to place plants on tables and other surfaces throughout the party area.
Get Silly – Being as creative as possible while building a fun party to make the most out of the summer means getting a bit silly with the decorating. For instance, you can make everything seem cuter with sombrero decorations, from little toothpicks to make the food look like it's getting in on the fun to large centerpieces that will scream, "Get your food HERE!"
Ultimately, the decor is a big part of getting into the theme. If done well, your bright colors, fun use of imagery, and simple-yet-essential touches will transport your guests right from your backyard to a true Mexican taco fiesta experience.
Awesome Activities
It's not enough to just have the decorations down. A party is nothing without something to do at the party, and your taco party can't be carried by decor and food alone, no matter how creative and delicious it is. Instead, you're going to need to find ways to keep you and your guests entertained, which can sometimes be easier said than done in the Arizona heat.
Make It a Pool Party – If you have a pool, you can make it a taco-themed pool party! This is a great way to allow all of your guests to cool off and have fun: in fact, the hotter the weather, the better time people will have swimming around.
Have a Water-Themed Party – If you don't have a pool, you can still plan a party that will allow you to have your party outside, even during the warmest time of the day. Try water guns, water balloons, slip-n-slides, and sprinklers for a pool party without the pool.
Throw a Movie Watch Party – Alternatively, if you don't have a reliable way to cool off outside, go indoors! Your food can stay nice and fresh on your dining table while you and your guests hang out and watch a movie. For the occasion, we suggest something Mexican-related, such as Nacho Libre, a classic comedy that everyone will enjoy. Kids will enjoy Pixar's Coco, a beloved family movie about a Mexican boy.
Play Some Music – Music is another great way to keep everyone having fun, with the benefit of allowing everyone to move about or just sit and enjoy some tunes. Try playing a party playlist through Bluetooth featuring some traditional Mexican music mixed with some modern staples.
Hire Live Music – If you want to go all out, try hiring a DJ or another form of live music; that's when your day will go from a fun, taco-themed hangout to a proper party. A DJ is certainly the most common live music option, but you might consider a mariachi band or other traditional Mexican musicians.
Dress Alike – Consider establishing a dress code for your taco party that really amps up the atmosphere. We suggest finding some funny taco shirts right here at Backyard Taco.
Play Some Mexican Games – The traditional Mexican party feature is definitely the pinata, but you can take it a step further by providing a selection of Mexican games. Pin the Tail on the Donkey, Hot Potato, and Mexican Kickball are all great for both kids and adults.
Summers in Arizona get hot, and when the heat turns up, people tend to slow down. You don't want your party to be slow, so by incorporating these events or other fun ways for people to get involved, you can keep the event going indoors and out.
Suggested Reading: Get Your Taco T-Shirts
The Main Event: Fantastic Fiesta Food
You can't have a taco party without an assortment of delicious tacos. However, if you really want to have a great party, then you can't stop at tacos alone – you need the right food in order to really make this party one to remember. Luckily, Mexican food is often fun, simple to prepare, and all-around delicious, so you can't go wrong as long as you make sure a few specific things are in place.
Choosing The Right Drinks
What's a party without drinks? The key here is to go with something refreshing and thematically appropriate. Fortunately, there are all sorts of Mexican drinks that you can look to in place of typical American beer, soda, or lemonade.
One simple thing you can do is to stock your coolers up with Mexican Coke, which is often purported to taste even better than regular Coca-Cola. Even if it tastes the same to you, you're still staying on theme with a delicious, cold soft drink!
However, if you want to really cool off the Mexican way, then be sure to feature some Aguas Frescas. These are simple drinks made by infusing cold water with fruit and herbs, such as a citrus-based limonada. These refreshing and traditional beverages will have you partying with something you can make right in your own kitchen, with a few ingredients and a little creativity.
Suggested Reading: Why We Love Aguas Frecas
Suggested Reading: Why Mexican Coke Tastes Better
Fantastic Food
The main event of any taco-themed party will, of course, be the tacos. As a result, getting these right is crucial.
You could spend a while cooking your own tacos in your kitchen, but you really shouldn't. Not only is grilling enough meat for an entire taco party a tiring and time-consuming endeavor, but it's also summer. As hot as it is outside, the last thing you'll want to do is stand around in a hot kitchen or sweat over an open mesquite grill. Save yourself the stress and order the tacos instead. You can even pick up a delicious dessert as well, such as the classic Mexican frozen treat known as a paleta.
Contact Backyard Taco for Fiesta Catering Options
Backyard Taco is an excellent choice if you're looking for authentic Mexican cuisine this summer. Whether you're throwing a full-fledged fiesta or just want to have a taco-themed day with the family, we can help make it a good one.
As for the larger taco-themed gatherings and fiestas, we can cover that as well. Let us cater your fiesta, or go all the way and rent out our patio for your group. We'll be able to provide all the food you'll need, from the drinks and sides to the desserts, plus our Mexcellence Taco Bar.