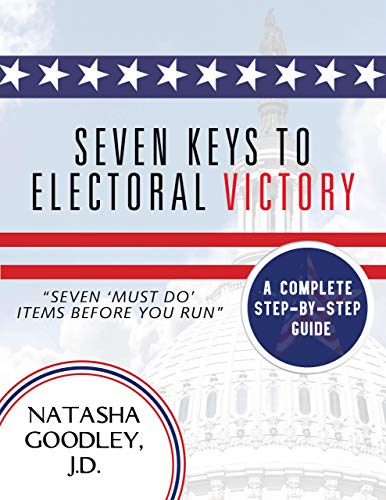 Consultant Offers Secrets to Winning Elections
Originally posted on https://www.publictriumph.com/consultant-offers-secrets-to-winning-elections/
TAMPA, FL—As one election cycle ends, another starts shortly after with a lot of attention, and millions of Americans just like you become curious about participating.
"Could I actually run and win?"
Natasha Goodley thinks you can. Natasha's firm is Tampa-based White & Black Consulting. She has helped many a political novice win elections at all levels of government. Her outreach strategies have made the difference in close races, and current officeholders at the city council, mayoral, county, state and national levels credit her for their victories.
Many of her tips almost seem counterintuitive, such as when to enter a race (hint: the candidate who files first is often at a disadvantage) and how. But they are tried and true. She offers these secrets, and the reasons behind them in her new book, Seven Keys to Electoral Victory.
Natasha is a trained attorney and civic leader. She routinely raises funds to help disadvantaged children by paying off school lunch balances. She also leads a major economic development organization in Tampa. Natasha demonstrates a connection between acts of charitable and civic leadership and business success. As a result, she also provides consulting for startup and small businesses owned and managed in people in economically and socially disadvantaged neighborhoods.
Whether you are Democrat, Republican, or independent, you will find Seven Keys to Electoral Victory to be an enlightening and entertaining read. The advice is invaluable and if followed, will lead to victory on Election Day, just as they have for Natasha's past clients.
Download your copy today on Amazon .