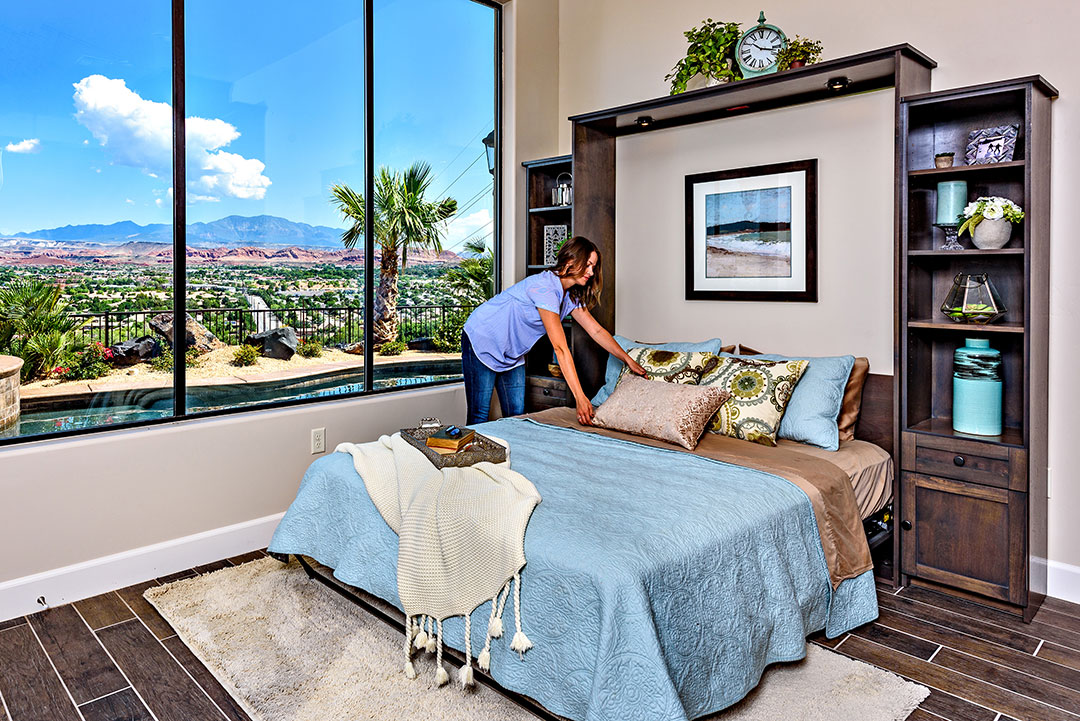 Choosing The Right Murphy Bed
Photo from Wilding Wallbeds
Originally Posted On: Choosing The Right Murphy Bed (wallbedsbywilding.com)
Getting a Murphy Bed is a great way to add more style and functionality to your home. Through Wilding Wallbeds, you'll have a selection of both traditional and contemporary designs that will allow you to find something that will work perfectly for your home.
Our vision at Wilding Wallbeds is to allow you to save space in your home in a way that is beautiful, high-quality and innovative. As you search, you'll find that there is a Murphy Bed designed to meet your unique situation. Keep in mind that your needs are tied to the amount of space you have and the jobs/roles you're trying to fulfill. These jobs/roles include everything from helping you accomplish more to providing a place for your guests to sleep. Every home is different so it's important you know the diverse options you can choose from.
Your needs are unique, so it's important to understand how our different Murphy Bed styles can be beneficial in each situation. Here are the most common scenarios for someone who is considering a Murphy Bed:
Improve productivity at home
If you work from home and don't want to choose between a desk or a bed, our Murphy Desk Bed may be the best choice for you and your needs. You can get more out of the space you have since Desk Beds serve two purposes. The desk portion of the bed stays in an upright position meaning you can leave your computer on your desk when you're using the bed. This feature is user-friendly due to its intuitive design and can hold up to 40 lbs. on the desktop itself.
Here are the different styles of Murphy Desk Beds available:
Original
Venetian
Remington
Scape
Paris
Park City
Prairie
Mission
Brittany
Aspen
You'll be sure to find a style you like with all of the different choices you have.
Bed sizes
This Wilding Wallbed is available in the following sizes: Twin, Full, and Queen. These size options can be great for college students, single working professionals, and high school students.
Upgrades and wood types
You can add a few upgrades such as a Light Bridge (LED Lights), a Pillow Guard, and Crown Molding. Other upgrades include glass doors, glass shelves, and a slide-out tray. The different types of wood are oak, maple, alder, and cherry and mahogany.
Raise your level of comfort
The Sofa Murphy Bed is a popular choice since it helps you save space and is functional. It's an excellent solution for your living room or movie room. When it's set up as a sofa, the Sofa Murphy Bed is a great place for you and guests to hang out. You could even get cozy enough to do anything from reading a book to binge-watching your favorite TV series. It'll become the hangout spot in your home.
Although you may have had uncomfortable sleeping experiences with sofa beds in the past, you won't have to worry about this with a Wilding Wallbeds Sofa Murphy Bed. Choosing a true Sofa Murphy Bed allows you to experience the comfort that comes from a true Premium Mattress. All Wilding Wallbed mattresses are designed specifically for Murphy Beds to ensure anyone who uses your Sofa Murphy Bed will sleep well.
Below are the following styles available for the Sofa Murphy Bed:
Monaco
Scape
Remington
Newport
Park City
Santa Fe
These options each have their aesthetic so you can find a style that works for you.
Bed Sizes
The Sofa Murphy Bed is available in the following sizes: queen and king. It's spacious and a great option to lounge and sleep in.
Upgrades and wood types
There are several miscellaneous options available to customize your Sofa Murphy Bed. These upgrades include LED bed lighting, LED cabinet lighting, glass doors (both clear gas and art glass), power outlets, and three different headboard options.
Saving on space with kids in mind
To provide a space for kids to sleep every night without taking up too much space during playtime, consider the Murphy Bunk Beds. They're a great solution when you have two children sharing a room. It's also a practical space-saving solution you can use in cabins, dorm rooms, and small apartments. Murphy Bunk Beds are strong and sturdy. The top bunk can hold up to 250 lbs.
Included with the Murphy Bunk Bed is a sturdy guard rail and a ladder. This ensures that whoever sleeps on the top bunk at night can easily get into bed and not have to worry about rolling out of bed in the night.
There are multiple styles available for the Murphy Bunk Bed such as:
Avery Park
Brittany
Cape Cod
Edge
Hampton
Harmony II
Mission Street
Newport
Park City
Presidential II
Tuscany
These designs range from modern to traditional and you'll be sure to find a style you (and your guests) will love.
Bed Sizes
The Wilding Bunk Bed is available as twin over twin, meaning both bunks house twin size mattresses. It's also available for purchase in twin XL (extra long) to be comfortable for taller people.
Bookcase Murphy Beds
Love books and knick-knacks? The Bookcase Wallbed can be a practical option since it has built-in shelves on each side of the bed. Our Bookcase Wallbeds are available in queen, full, and twin.
There are two types of Bookcase Wallbeds you can choose from. The first is the Standard Bookcase Wallbed which holds 200 lbs. per bookcase section which adds up to 400 lbs. The second option is the Bi-Fold Bookcase Wallbed which holds up to 60 lbs. per bookcase section which totals 240 lbs.
Bed sizes
We offer twin, full or queen in any of our bed styles, as well as king size in select models. We find that most guest bedrooms are outfitted with a queen size bed, so that tends to be the most popular option.
Lower Doors
We also offer optional lower doors on the Bookcase Wallbed which will allow you to turn the bottom section of each bookcase into a closed cabinet space rather than open bookcases. This option can add a lot of style to your bed as well as provide you with a portion of the bed that doesn't have to be decorated and dusted.
A freestanding, multipurpose option
If you want storage options and a bed that you can easily put away, consider the freestanding Murphy Cabinet Bed. When the bed is not pulled out, it looks like a simple credenza with a bottom drawer. This drawer is usable even when the bed is set up. You can easily store extra pillows, blankets, or even sets of clothing in the drawer.
Along with the drawer feature, the Murphy Cabinet Bed also has a flip-up nightstand on each side of the bed. This makes it convenient for anyone using the bed to place their glasses, books, or even a cell phone when they go to sleep. The Murphy Cabinet Bed has two 110v outlets and two USB outlets to easily charge any electronic devices.
Like the Sofa Murphy Bed, the Murphy Cabinet Bed is a popular choice for guests rooms, dens, living rooms, or any other rooms that serve more than one purpose. You can use the top of the Murphy Cabinet Bed to set up a TV or display framed family photos. It's a sturdy bed that can support up to 600 lbs. The mattress is a gel-infused memory foam mattress that is comfortable and firm.
Due to its freestanding design, you don't need to attach it to the wall or the floor to use it. This is a great feature if you're renting since you don't have to drill anything into the walls. It has a lower profile and is a practical choice for homes with low ceilings.
There are four styles you can choose from:
Clover
Poppy
Sagebrush
Cube
These four styles have a unique look and feel. You can easily select a design that matches the mood of the room it'll be in.
Student/tiny housing
Like the Murphy Desk Bed, you can leave items on your desk when sleeping in your Studio Desk Bed. The desk surface stays level and parallel to the floor. Your laptop and other items won't fall off when you lower the bed. It's a space-saving Murphy Bed that's perfect for anyone who lives in a tiny place. You can count on this Wilding Wallbed to be a comfortable spot to sleep in each night and a reliable work spot during the day.
The six styles of Studio Desk Bed are:
Dakota
Scape
Remington
Newport
Park City
Santa Fe
You'll be sure to find a Studio Desk Bed style that matches your home.
A Murphy Bed for every scenario
Whether you're looking for a Murphy Bed that works with your home office or you need a place for your friends to sleep when they're visiting, there's a Murphy Bed just for you. You're sure to find a Murphy Bed that works perfectly with the space you have available. To recap the different Wilding Wallbeds we've covered, here they are:
Murphy Desk Bed: An excellent option if you also work from home or do a lot of studying at home. It's a reliable space saver that makes it easy to leave your computer on the desk when the bed is pulled out.
Sofa Murphy Bed: Consider this Murphy Bed a comfort-plus option. It's cozy and can be used in your guest room, living room, or even your entertainment center. The Sofa Murphy Bed is a great choice for anyone who wants to lounge/sleep for hours at a time.
Murphy Bunk Bed: Whether you have kids at home who share a room or need a way to make it easy for having a sleepover, the Murphy Bunk Bed is a reliable option. It's strong and sturdy. The Murphy Bunk Bed is also an excellent choice for cabins, dorm rooms, and small apartments.
Bookcase Wallbed: Every book lover will consider the Bookcase Wallbed. It can support several books on each shelf due to its design. The Bookcase Wallbed makes your favorite literature easily accessible whenever you want to read in bed.
Murphy Cabinet Bed: This Murphy Bed from Wilding Wallbeds is freestanding and has a low profile. It's a practical choice if you're renting and/or have low ceilings. There's a drawer at the foot of the bed that can store extra bedding or clothes.
Studio Desk Bed: This is the more minimalistic option compared to the Murphy Desk Bed. Like the other Murphy Beds, the Studio Desk Bed comes with miscellaneous options to customize it. You can add options like extra lighting to take your Studio Desk Bed to the next level.
All Wilding Wallbeds are designed to last. We provide the best beds with the combination of high-tech, fast-paced manufacturing toolset with artisan handcrafted techniques. We guarantee you'll love any of the Murphy Beds you choose for your needs.
To answer your questions about Murphy Beds, give us a call at (866) 877-7803.