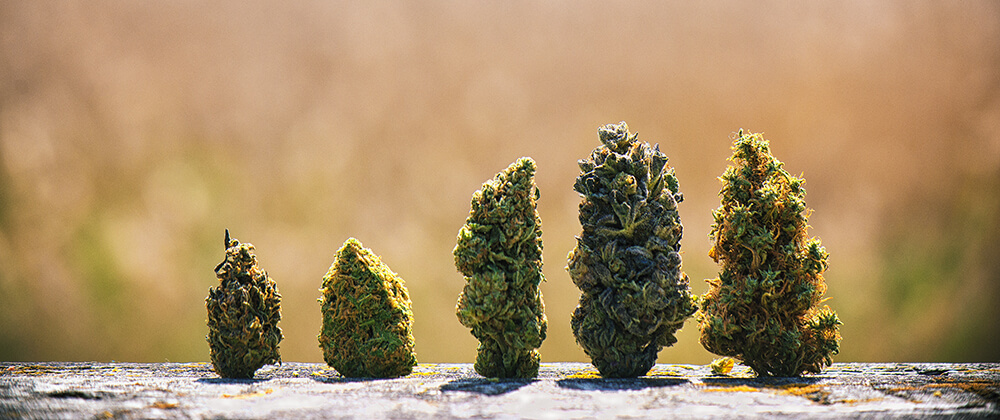 CBD Flower: A Guide to Smokable Hemp Flower
Originally posted on https://cbdincubator.com/hemp-flower/smokable-hemp-flower/
An Industry In Bloom
The CBD flower market is just beginning to blossom with premium grade smokable hemp flower becoming more widely available, both online and in stores.
Whether you're wanting to feel health benefits from taking CBD, or you want to enjoy an herbal smoke without the high, smokable hemp flower may be the answer you're looking for.
Today we look at what smokable hemp is, how to shop for it, as well as some of the benefits it offers. We can even tell you some of the best places to buy it online to ensure you're getting the good stuff.
What is Smokable Hemp?
Smokable hemp is the flower or bud of the hemp plant that has been cultivated specifically for smoking.
Cannabinoids such as CBD are found in greatest abundance in the flower of the plant, so while a CBD oil could be extracted from the whole plant, smokable hemp is all about pure and rich concentrations of CBD.
Other cannabinoids can also be found in the buds, including CBG, CBN, and CBC, to name just three of over 100 cannabinoids that we know to exist.
The buds are also the parts of the plants that contain various other compounds, including flavonoids, chlorophyll, and terpenes, which are the compounds that give each hemp strain its unmistakable aromatic identity.
Benefits of Smoking Hemp
If you're reading this article, we'll assume that you're not against the idea of smoking which is great, because the benefits of smoking hemp are extensive.
First and foremost, it goes without saying that CBD flower is possibly one of the most enjoyable ways to consume CBD. Good quality smokable hemp flower is extremely aromatic and a delight for all the senses. Similar in many ways to its marijuana sister, hemp can look, smell, and taste exactly like marijuana, but it won't get you high.
One of the other main benefits to be gained from smoking CBD hemp flower is that you will feel the effects from the CBD almost instantaneously. Inhalation is second only to intravenous injection when it comes to getting compounds into your bloodstream quickly. Taking CBD oil under your tongue follows in third, with edibles taking the longest time.
Quick Effects
When you smoke CBD it enters into your bloodstream through 1,000's of capillaries on the insides of your lungs.
This makes smokable hemp one of the best forms of CBD for anxiety, and for any type of pain spasm, due to the speed at which you can alleviate symptoms.
People also enjoy the fact that what you see is what you get. When you have smokable hemp in your hands you know you're holding the richest part of the plant when it comes to cannabinoid and plant compound content. And it's also very easy to see that nothing has been added to make your breath unsavory.
CBD flower is also being widely used as a tobacco alternative. Mix it into your marijuana, or smoke it on its own, smokable hemp provides a much more attractive and non-addictive offering than tobacco.
You will also benefit from the entourage effect when you choose to smoke CBD, meaning you will feel enhanced effects as many of the compounds found in hemp are known to work in synergy with each other.
Common Misconceptions About Smokable Hemp
Many people are worried that smoking hemp will get you high, but as long as your hemp is sourced from a licenced grower then there's absolutely no chance of that happening.
Hemp must contain 0.3% or less THC to be defined as such, and licenced growers have their crops regularly tested to ensure compliance.
If you're worried about being arrested for smoking CBD joints then worry no more.
Hemp and all its derivatives are federally legal now, thanks to the Farm Bill that was passed last year (2018).
You just need to check whether your state has added their own restrictions regarding THC content as if your CBD must be completely THC-free, then smokable flower may not be the right choice and instead you should look for broad spectrum CBD or isolate product.
Hemp Flower Buyers Guide
In an ideal world, you'll want to find a supplier that can offer you the most premium , best-tasting CBD flower on the market, at any given time.
There are a few things you can look out for that will identify a quality supplier, such as:
Lab Results – If the supplier doesn't make third-party lab results available online for you to look at (for each strain), then don't bother considering them. Lab reports are easy to obtain and are there to ensure that you are getting the right amounts of cannabinoids, and to prove that the hemp hasn't been grown using pesticides (you want pesticides in your lungs? No, us neither).
A Retailer That Cares – We would also only recommend buying CBD from sources you feel you can trust. One of the things we always look for are signs that the retailer cares about the products they sell. What extra information do they give you to help you make an informed decision? Was it grown indoors or outdoors? Where was it grown? How does it look and smell?
Our favorite retailer at the moment is Green Unicorn Farms. They sometimes run out of stock, but that's only because they're so fussy with the products they sell, which we love.
CBD Flower Power
As the CBD market continues to explode by popular demand, smokable hemp is carving itself out a tidy niche as it presents a fast, effective, versatile, and reliable source of CBD.
If you enjoy smoking then CBD flower is everything you want it to be and more.
Benefit from almost instantaneous effects, a tasty joint without the high, and a tobacco alternative to mix in with your marijuana, all-in-one.
There are already a couple of really great suppliers on the market so you'll be spoilt for choice.